16 Delivery Drivers Share The Wildest Situation They've Ever Found Themselves In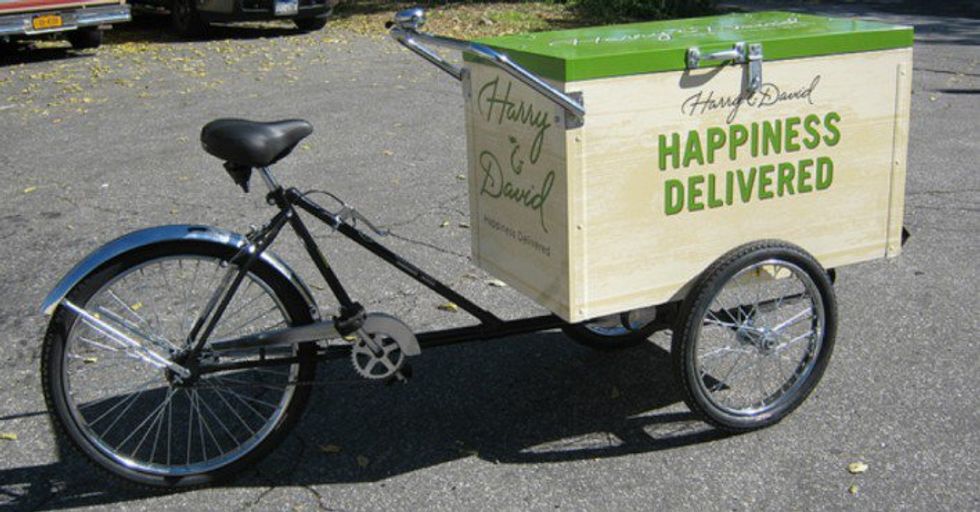 When you have to show up to dozens of random addresses a day, you're bound to stumble on some weird stuff every once in a while. Delivery drivers from around the world came together to answer the question: What's your weirdest delivery story? Here are some of our favorite answers.
Thanks to all the delivery drivers who shared their stories!
1/16. I used to deliver pizzas for a while back in college. One afternoon I was scheduled to work, despite the fact there was a severe thunderstorm approaching and even a tornado watch. On the one delivery I had that day, I got a raging boner for absolutely no reason while driving through a torrential downpour to the customers house. I sat in my car for 5 minutes waiting for my dong to deflate to chub status. It didn't. I ended up tucking into the waistband and delivering some weird, old moustached guy a large pizza while I was stoned, soaking wet and with a boner at full mast barely concealed in my gym shorts. He gave me a good tip though.
rick_snyper

2/16. I used to deliver furniture and me (a Jew) and my coworker (a Black guy) were carrying a sofa into a customers house to find a disturbing amount of Nazi flags, uniforms and other items. Needless to say we were both a little worried. Turned out he was just a big WWII buff and he showed us his whole collection. He even had one of the Nazi General's full set of uniforms smuggled out of Germany.
StonedColdSteveAusti
3/16. My friends refer to this story as when I got "Buffalo Billed".
I was a closing driver for a local pizza place. It was about 15 minutes to close and we got our last order. When I show up at the house and ring the door bell the guy inside cracked open the door, upon seeing me he said "oh sh*t it's a girl!" and shut the door.
...Okay..
I stand there another minute, not sure what just happened, and then the front door pops open again. This time three men are standing in the door frame, two middle aged, bedraggled looking guys and a dude who looked like he was 80.
The older guy then starts complimenting me, and I start to get pretty sketched out. Then he stops mid-sentence and says, "What size pants do you wear? You look like you're about a size twelve."
I was struck speechless. Just standing there wondering what was going on.

He continued, "I got a pair of pants in here that might fit! You can come in and try them on!"
After another few minutes of refusing to go into this guys house he finally gave up and paid.
He tipped me twenty bucks, then grabbed my waist and "tickled" me. Then exclaimed, "you're pretty! But you could go jogging more!"
Only after getting to my car did I realize how stupid I was for even sticking around to wait for him to pay.
Shanekwa
---
Continue to the next page to read more weird delivery stories.
4/16. Our UPS man was really cool and would always drive around with a box of dog treats in the car (pretty smart, considering there are some vicious dogs out there). My dog learned pretty quickly that when his truck drove up, she would get a treat. Eventually, she learned that the treats came FROM the truck and so one day, while he was at the door, she climbed into the back and started sniffing around. She tore open the box of doggy biscuits, and another package of food, I think. The UPS guy didn't know she was back there and didn't notice till his next stop, which was far away (I lived in the middle of nowhere). So, he drove back and returned the dog. To compensate, the driver got another box of dog biscuits and my mom baked something for the people whose food my dog had eaten.
bechus
5/16. I used to work at a packie back in college, and we used to do deliveries to close residences. There was one older lady who we used to deliver to a lot, and one day I brought her case of wine to her door, and rang the bell. When she opened the door, she was in a bath robe, but it wasn't tied. I was shocked, but didn't want to be rude, so I brought the wine in and said have a nice day, trying to avoid eye contact. She then said, "Wait, what about your tip?" I turned around and she bent over for her purse and the robe just flew wide open. I saw old everything. Dear god I have tried to erase that memory forever but not all the liquor in the world could undo what I saw. She acted like nothing happened, handed me $10 and I went on my merry way.
[deleted]
6/16. Delivered for Papa Johns for 3 years in Atlanta.
---
Continue reading zany delivery stories on the next page.
7/16. One time in college at a party we ordered pizza and the guy that came never said a single word. We were all wasted and were like dudeee!! Come take a shot! So he shrugs and nods yes and comes in. Ends up getting handed two shots of jack, which he downs like a champ with no chaser. Then somebody passes him a bong and he smokes. Then we were like dudeee!! Do a strikeout (hold in bong rip, chug a beer, take a shot, exhale) and he did. Again, said nothing just put up his hand to say thanks, nods, and left.
wolfpack86
9/16. I work for a company that delivers household appliances. A lot of our customers are larger property management companies, and we do a lot of deliveries to large apartment blocks. I have seen many places that were so filthy you wonder how someone can live there. But one in particular takes the cake...
Standard procedure is to talk to the onsite management to get access, deliver the new stuff, haul out the old stuff, get a signature and bounce. Usually the manager will follow us around and make sure we don't mess anything up along the way, but at this one delivery, a haggard looking manager told us "Go on up to the unit, it's open, I'll meet you up there later"
"Ok, no problem."
She wouldn't have fit in the elevator with a fridge, stove and two big guys anyway. So we get up there, and sure enough the apartment is open. The door was kicked off it's frame and missing. But that was just the start....

The drywall was smashed and kicked in all over the place. Pink fiberglass insulation was all over the floor. Light switches were ripped out of the wall, hanging from wires pulled through the drywall. The windows to the outside were smashed. Random pools of congealed liquids dotted the floor. There was garbage EVERYWHERE. We looked at our invoice to see if we had the right unit number, and we sure did. We decided to hang back and wait for the manager.
When she came up, I asked her if she actually wanted brand new shiny appliances in that terrible place.
"We have cleaners coming later today, can you just haul the old ones out and leave the new ones here in the hallway for now?"
---
Continue reading this story on the next page.
"No problem."
So we tucked the new fridge and stove out of the way and went into the kitchen of this place to haul the old ones out. As I'm in there sliding the range out of place, she finally lets us know what's up.
"So sorry about the mess in here today boys, but it's been a really wild few days here. You hear about that guy that took a hostage 2 days ago?"
"Yeah, it was hard to miss on the news."
"Well, yeah... that happened in here. You're standing where the cops shot the guy."
I looked down, and sure enough, I was standing in a 3 foot wide puddle of dried blood, right in the middle of the kitchen.
The most disturbing part about it was that I wasn't as disturbed by it as I thought I should be.
thepoo
10/16. I delivered pizzas for 3 or 4 years. One time I had a extremely drunk guy take 30 minutes to find his check book. He fell over about 5 times, would walk into the kitchen and forget what he was looking for. Ended up writing it in crayon. I had multiple girls come to the door topless. I saw a kid holding a crack pipe for his dad while he paid in quarters. I went to an apartment once and there was a huge butcher knife in the mailbox. Once a guy grabbed me and called me a chicken f*cker because, "MY PIZZA WAS TOO EXPENSIVE." Please tip your pizza girl/guy. You have no idea what she/he deals with on a daily basis.
11/16. I used to deliver pizza for a small place in Santa Fe. Outside of one house, I noticed a very strong weed smell that only got more potent as I got closer to the house. When the dude opened the door the first thing I noticed was some very serious high intensity lights hanging from the high ceilings. That and it smelled like someone had jammed a few buds into my sinus cavity. There was also a makeshift black plastic curtain blocking off most of the living room and my view.
I did not say a thing. I was honestly too stunned. I did, however, think that I would run my grow house a little differently.
In that same town I worked at a video store where, during one staff meeting, we were told that we could accept drugs as payment for rentals, as long as we put the approximate cash value of the drugs in the till out of our own pockets.
hoffa_lives
---
Continue reading weird delivery stories on the next page.
12/16. I delivered pizzas for a year and a half, and thinking back, most of it is a blur.
Although I think the weirdest experience I had was an old shut-in who would tape a check to the front door, and not come out to get the pizza until she was sure you'd driven away. One time she forgot to put a check, so I knocked on the door, rang the doorbell, called her phone number, and so on... she didn't answer, so I took my other deliveries. 10 minutes later, she calls me back.
She says, "yeah, I saw you down there, but you didn't leave my pizza!" I say, you didn't leave a check. She says, "yes I did! Did you check around the back door? Sometimes it's at the back door, sometimes it's at the front door, you need to check both doors." I said I'd looked at the back door, and there was no check. She says, "well go look again, there should be one. you just need to look harder."
So I go back, and there is the check taped to the front door. Taped to the check are 2 dollars in quarters, rolled up in tape. That was the only time she ever tipped me.
gordonjay2

13/16. Pizza delivery driver here- Weirdest delivery ever was to one of the top floors of these super tall public housing structures. Definitely not the worst in the city, but still never fun to deliver to because the elevators are slower than molasses, the tips are usually small, and public housing can get kind of unsafe.
Anyway, I get up to the door after waiting like 10 minutes in this rickety elevator, and the man on the other end of the door softly tells me the door's open and to come inside (I hate going inside people's houses, especially public housing, because 1. I am a female and 2. some people have some straaaange living habits).
Anyway, I see this guy, sitting in his chair, with nothing but a diaper on, acting like absolutely nothing is amiss, and he cheerfully tells me to put the food inside the oven. Huh? At this point, I am thoroughly weirded out, but I need him to sign the receipt. He tells me he did not order the pizza, so I need to go in the bedroom if I want my tip. The logical side of me was saying "nope. don't do it." but I will go to shameless lengths for an extra few dollars and diaper dude was pretty old and clearly wasn't a threat, just weird.
So I go into the bedroom and find another dude, completely naked, laying in bed with a pen waiting for me. WHAT THE HECK IS GOING ON? Awkwardly, I kind of threw the receipts on top of him, not wanting to get close. He casually signed them, acting like absolutely nothing was out of the ordinary, and politely handed them back to me. I bolted out of there as fast as I could. $6 dollar tip. Not bad.
EatsHerVeggies
---
More delivery stories on the next page!
14/16. I used to deliver pizza/Italian food to a sex worker that was living and working out of a local hotel. She kept two rooms; one for living, one for work. If the order had two meals it would be one room, if it was one meal it would be the other. She also had a chihuahua in her living room. She would only pay in 20's and we always got to keep the change, sometimes getting us $17 dollar tips. It was great, but she eventually stopped ordering or moved out.
peaceyadig
15/16. My first (pizza) delivery one morning was to a regular customer. His order came to 32.80. I went to his house and he had a hundred dollar bill and nothing else. I didn't have nearly enough change, so I told him I'd have to head back to the store and get change for him. He said, "how about this, you get me a hard pack of Newports and I'll throw you a couple extra bucks." The convenience store was closer than the Domino's, so it was a no-brainer. I took his hundred, bought a pack of cigarettes, and went back with exact change. He handed me three 20 dollar bills and I started by day with a $27 tip.
NotMarkus
16/16. I'm a girl who used to deliver pizza in high school. One day we got a call for a delivery and after hanging up the phone my coworker informed me that the same man had called the day before and seemed like a creep. Greaaaaat. I arrive to his house with the pizza and notice that it is the only house that is a ways up from the street. The neighborhood isnt the best either and most of the shrubs are overgrown and poorly maintained. I ring the doorbell and this 6 foot older man wearing a yellowish stained tanktop with ratty gray sweatpants just stares at me.
He has a huge overgrown scraggly beard and just looks like a total creep. It is apparent that he hasnt bathed in a while. Then all of a sudden his dog, a weird mini black greyhound, appears out of nowhere and starts jumping all over me. The scary man doesnt even try to get the dog to stop attacking me or anything, he just lets it jump all over me. I finally hand him his pizza while trying to dodge the dog's claws and he gives me this blank stare again. At this point I realize I'm probably not getting a tip. Frazzled, I try to get out of there as fast as I can and when I turn around to leave his dog follows me to my car.
After walking about 5 feet I notice that the creepy man is following me too and all of a sudden I hear him yell "Where are you going?" as he proceeds to walk even faster. At this point I'm freaked out so I high tail it to my car and jump in the drivers seat. His dog is still going wild and jumping all over the car, which is preventing me from driving away. He then comes right next to my window and I see him try and reach for something in his pocket. Im so freaked out I can barely move but I finally manage to start the car and speed off in a panic. Ill never know what was in his pocket but I made sure we never delivered to him ever again.

Sharing is caring!
Medicine is a difficult profession. Thanks to the wonder that is human nature, healthcare workers are subjected to incredible Darwin-award-winning scenarios daily, so it's no wonder that many of them feel the need to go home and scream into their pillows at night. From self-inflicted injuries to dangerous prescription misuses, these Redditors revealed the most facepalm-worthy patients they've ever encountered.
But be warned: They'll all leave you wondering how we've survived this long as a species.
In the United States, it's no secret that sex education for minors is inconsistent at best.
But some people learned very unexpected stories about how babies were made, and those stories had a way of making a lasting impression.
Curious about other's stories, Redditor ILoveYourCat asked:
"How did you think babies were made when you were little?"
One Time's the Charm
​"I knew babies came from sex as a fairly young child. My parents never sugar-coated that. But for some reason, as a kid, I thought you only had to have sex once to have multiple pregnancies. I seriously didn't fix that misunderstanding until early middle school."
- Crazey1988
"At some point, when I finally accepted that you had to have sex to have a baby, I thought the only time people have sex was to make a baby, and it only took one time to get the job done."
"Then when I figured out teenagers were having sex, I thought you had to be married and have sex to make a baby, but then when my unmarried cousin got pregnant, I was just confused."
"But I was sure my parents only had sex four times, and then when my mom got pregnant with number five, I thought, 'Wow, they did it again.'"
- Raw_Combination_438
Stealing Storks
"A stork delivered them, of course. What the f**k, lol (laughing out loud)."
- Dells51
"Storks... I thought people trained them to steal babies from a factory and you would leave special treats on your doorstep as payment and encouragement for the stork to steal one for you."
"I was scared to death of birds for the longest time and would have a tantrum at the zoo when I saw a flamingo."
- No_Finish_3144
Young Conspiracy Theorist
"The government. I used to think that we lived in a totalitarian society and that the government was in complete control of everything."
- bebotak**t
"I thought the President sent people their babies when asked by mail."
- GustavoAlex7789
Scheduled Baby Delivery
"The women in my family explained to me at the age of six that a doctor calls you sometime after reaching adulthood at the age of 18 to schedule a baby delivery date."
"The husband either pays to schedule the appointment or the government does after verifying that you have been married and financially stable for quite some time."
- Lokikat00
Marital Kissing
"When two people kissed."
- Short-Reality7353
"I thought the same thing, but I understood that when my mom gave me a kiss, there was no risk. Being someone raised in a very Christian background, I assumed that when you got married, God made kissing a reproductive act."
"Since I made this assumption, I remember questioning why teenage pregnancy could possibly be an issue."
- meuserj
The Ultimate Christmas Gift
​"I thought Santa was bringing them."
- NorskoTheScorpion
"He was. I mean, Christmas comes but once a year..."
- Nouveauuuu
"I MAY NEVER ENJOY CHRISTMAS AGAIN."
- NorskoTheScorpion
A New Meaning to 'Forest Friends'
"When I used to ask my dad where I came from, he'd say he found me under a rock in the forest. Of course, I would go look for babies under rocks, too, but all I ever saw was dirt and those rolly-polly pill bug thingies."
"It was so gross thinking babies were just found THERE that I was actually relieved to find out how they were actually made!"
- melodie-artist
Pregnant By Proximity
"I thought women got pregnant by just being around a man, and I was always confused about what would happen if a woman still lived with her parents or dad after she's an adult."
- ILoveYourCat
Coming of Age Story
"I thought it was a 'just happens once you reach a certain age' sorta thing. As a woman, I was terrified because pregnancy sounds like the most awful thing, lol (laughing out loud)."
"(I know the end result is worth it but even as a 31-year-old, I'm like, nope.)"
- BansheeShriek
Sounds Plant-Based
"I thought they grew like a seed inside the mother's belly."
- maclaglen
"Technically, that's true."
- ManagementFresh4960
"Watermelon seeds."
- bravovice
"Well, not like that."
- ManagementFresh4960
The Power of Marriage
"My mum told me you couldn't have a baby if you weren't married. Note that she said 'couldn't', not 'shouldn't'."
"When my unmarried cousin was sleeping a lot my mum told my aunt 'she's having a baby'. I thought 'she can't be having a baby, she isn't married.'"
"A couple of weeks later she had an engagement party, quickly followed by a registry office wedding. She had a baby a few months later."
- MolassesInevitable53
Baby Trees
"I thought they grew on trees. True story."
- 8inchsalvatorre
"Baby trees, lol (laughing out loud)."
- ILoveYourCat
"I was surprised when I learned how it really happened, lol. I was like, 'You mean there are no trees?' And Mom just shook her head."
- 8inchsalvatorre
They Were Just There
"I don't recall a time where I gave the matter any thought without knowing the reality of it."
"Like, literally, until the day I was first introduced to the concept of birth, I don't think I cared where babies came from."
- N_Who
"Right, the little guys just EXISTED."
- Mizar97
Educated Is Best
"I asked my mom and she told me the truth."
"Educate your kids, folks. They can handle it."
- Bite_Me_23
Spontaneous Babies
"I didn't... They just showed up, honestly."
- badguywindow
"That's what I thought. I was terrified as a little kid that I'd wind up being a teenage mother because I thought it just happened spontaneously."
- dinosore
"Exactly what I thought would happen. Like one day you were just, boom, six months pregnant."
- badguywindow
While these responses might be funny, it's an important reminder of an area in the educational system that's often lacking.
But in the meantime, while the system's curriculum is getting sorted out, at least we can take comfort in the fact that we weren't alone in believing these tall tales.
What is it that makes people confess their deepest, darkest sins to millions of strangers on Reddit? While we may not know the answer, we do know that the following confessions run the gamut from funny to salacious to nasty nightmare fuel. In fact, you might want an Ouija board to send some of these skeletons back to the closets from whence they came.
One of life's many challenges to being successful and happy is to work hard and stay focused on our respective goals.
There are many obstacles that can discourage us, but persistence and a drive to overcome can be rewarding.
Unfortunately, there are some things that are simply beyond our control, and it has nothing to do with fate.
It's the qualities we're either born with or without that can impede us or prevent us from ever achieving what can only be seen as a pipe dream.
Curious to hear examples of one of life's cruelties, Redditor G00dR1ddance asked:

"How did your genetics f'k you over?"
These Redditors were unhappy with appearances.
Uncooperative Vision
"Lazy eye, and a total lack of depth perception."
– Crow_of_Judgem3nt
"Same. Do you struggle with driving? I just moved to a big city and I can't drive here bc navigating all the traffic is too hard with no depth perception. It's so scary!"
– Subnautica24

The Worst Parts
"Moms Family: Perfect teeth, male baldness. Dad's family: Terrible teeth, perfect hairline."
"Me: Sh**ty teeth, bald before 25. My 2 brothers: Perfect Teeth, Perfect Hairline."
"Feels FN bad."
– Yogannath
"They should all chip in for a trip for you to Turkey for a cheap hair transplant and dental work."
– turboprop123

Made For Farming
"All 4 grandparents were farmers. I look like I was bred to farm and f**k to make more little farm workers. Broad shoulders, big boobs, no waist, no @ss worth mentioning, and thick legs. I just look like I was bred to work forever until I die. 120 years ago."
– bwvdub

Stop With The Flattery
"I too am sturdily built. I am not tall but I am muscular and broad with the big boobs and the broad hips and sturdy legs. I could carry very heavy sacks of feed from when I was very small. My family nickname was 'the forklift truck', so that's.. nice."
– LibraryOfFoxes
Room For More

"My mother's OB said she had a pelvis 'you could drive a bus through'. I was a natural breach birth and share those genetics. You could host the last supper on my a** and have room for plus ones."
– Elephant_axis

These Redditors are living on borrowed time.
Cardiovascular Health
"Bad heart. I'm the first male in at least 4 generations to make it to 40. And that's only because I was finally properly diagnosed and treated. I wouldn't have made it to 35 if I didn't find the right cardiologist."
– socteachpugdad
"Bum ticker - dad's aorta exploded when I was 11 and my brother died from the second heart at 41. Just hoping to see my 60s."
– poontong

Being Kept At Bay
"I have a blood condition where I retain iron. It's slowly killing me. Destroyed my liver, pancreas, and led to a massive heart attack."
​"Fortunately, I live in the 21st century where modern medicine can keep me going with...bleeding."​
– Objective_Stick8335
"Sad Aspect" Of A Family
"Huntington's disease"

– alc1864

"My oldest uncle married a woman who had Huntington's, but they were very young and she wasn't symptomatic yet. In the 70s so no genetic testing or much public awareness. They had 5 daughters. My aunt and their eldest have long since passed away, and the remaining 4 are in various stages of the disease. It's always been a sad aspect of our family. A truly cruel disease."
– Wasyloosker12

BRCA Genes
"I'm BRCA2 positive, giving me roughly 74% chances of developing an incurable genetic breast cancer in my life. It also gives me about 22% of having an ovarian cancer."
"On the other side, double mastectomy lowers my chances to about 3%, but it should ideally be done before I reach 30. I will also need a hysterectomy in my 40s."
"I had 50/50 chance of getting the BRCA2 gene mutation so well, genetics did f'k me over!"
– PoutineMaker
Redditors share more of their crosses to bear in life after being blessed with these traits.
"I'm more attractive to mosquitoes than most people. If I'm out when mosquitoes are around, I end up covered in bites (which I'm also allergic to, so I end up with quarter sized welts that itch for daaaays after the fact)."
– p1013

It's sobering to realize the ailments your parents struggled with are starting to become our own to bear. ​
High blood pressure, arthritis, and predisposition to atherosclerosis are some of the undesirable parts of my family's genetic makeup that I never really thought about until I noticed how fatigued and in pain I've become with age.
Although I have so much gratitude for surviving every year I get to celebrate my birthday, getting old still sucks.