Super Bowl 53 has come and gone. People agree that the game was boring, the commercials uninspired and the halftime show beyond disappointing.
---
That last one was not what people expected going into the show.
While the internet may be divided on the idea of Maroon 5 performing, something else was meant to elevate the show to a new height.
Something absorbent and yellow and porous is he.
There's even an underwater tropical fruit domicile involved...
SpongeBob SquarePants "Sweet Victory" Performance 🎤 Band Geeks | Nick www.youtube.com
If you're unfamiliar, the above video is the song "Sweet Victory" performed by Spongebob Squarepants and the other denizens of Bikini Bottom for the episode "Band Geeks."

It is an original song for the show, performed at the halftime of a human sporting event, similar to the big game.
After the passing of Spongebob creator Stephen Hillenburg, fans shared their appreciation for the long lived cartoon show. They talked about the highly meme-able series and shared their favorite moments. At the top of the list was "Sweet Victory".
Soon after, fans put together a petition to have the Super Bowl halftime show play the clip in honor of Hillenburg.
The song is only two minutes. It should have been easy right?
The hype began to build.
Things seemed positive when the businesses involved kept mentioning Spongebob.

Then the day finally came.

Super Bowl 53's lackluster game gave way to the halftime show. And we got…
An 8 second clip.
Pepsi Super Bowl LIII Halftime Show youtu.be
We barely got the horns.

It was half new animation of Squidward calling Travis Scott a musical genius and half hype for a performance we would never get.
People were not pleased.
Fans were disappointed in the show, and while Adam Levine's tatted torso made for some great meme fodder, they needed that "Sweet Victory."

As you can see above, Nickelodeon has the video on their YouTube channel. In addition, the song was released on the third Spongebob soundtrack album called Spongebob Squarepants: The Yellow Album.
Streaming of the song increased 566% after the game.
To give a comparison, Maroon 5 saw their streaming numbers increase about 35%, and Big Boi's "Kryptonite" got a 95.3% increase in play.

Travis Scott's single "Sicko Mode" only rose 1% but it was already a very popular song.
The halftime show was already a controversial move, after artists refused to perform in solidarity with Colin Kaepernick.
Rihanna turned down the offer, citing Kaepernick. While Maroon 5 was eventually signed for the show, fans started a petition to get them to drop out.
Adam Levine refused to cancel his performance and got Scott and Big Boi to perform with him.
Maybe the show would have been viewed better if Levine got a yellow sponge too.
Or at least Gary.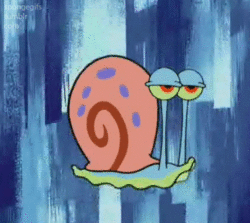 GIPHY