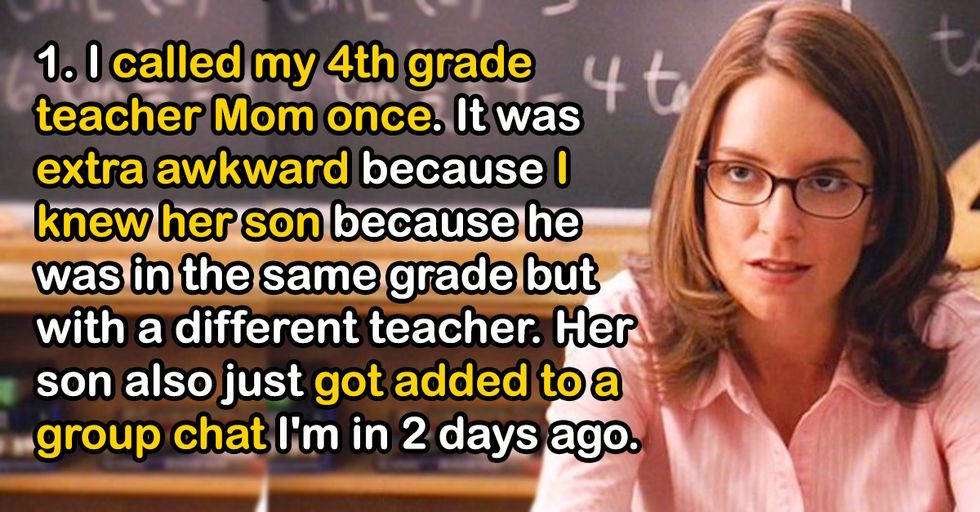 Students Reveal The Most Awkward Experiences They've Had With Teachers
[rebelmouse-image 18357424 is_animated_gif=
dam=1 expand=1]

School can be an awkward time for everybody. We tend to forget (or really just ignore and focus on ourselves) that our teachers are going through it on the daily just as much as the student body. And it doesn't matter where in your academic career you are, everyone in attendance is nuts! Kindergarten through college is all a battle. And sometimes when emotions are on overload interactions between students and teachers can lead to an 'out of the ordinary' moment.

Redditor _u/valdeeee asked the oddest question of Reddit... What is the most awkward experience you had with a teacher? You're going to want to re-evaluate your educational past after this.

I KNOW WHO YOU ARE!

First day of English class in my senior year of highschool. Our teacher is giving us the rundown about his whole career, life, etc. because why not.

He goes "Am I forgetting anything?" I happened to know that he had his own radio show on a little volunteer station outside town (stumbled onto it by complete accident the previous summer). So I threw that fact out in the air...

"I...wasn't going to tell anybody about that."

After that, he was cool.
THEY'RE PLAYING OUR SONG...
[rebelmouse-image 18360504 is_animated_gif=
dam=1 expand=1]

Science teacher and I both bent over our desks, mine which was facing away from his. Moon landing. Cheek to cheek for at least a whole second.
FOR A GOOD TIME CALL...
[rebelmouse-image 18360013 is_animated_gif=
dam=1 expand=1]

After turning in my final exam, my English professor (basic class at uni) hands me the grade sheet to my presentation from the week before. On it is a sticky note over where the grade is posted:

"Now that you're not a student of mine, how about we get coffee sometime?" "Call me anytime xxx-xxx-xxxx"

It's at that point I realized she had been dropping hints all semester. She giggled when I looked away from the grade sheet. I just walked out of the room dumbfounded. Cougar trying to get her some, but I wasn't into a woman in her late 50's. I felt complemented though.
ARMS WIDE OPEN...
[rebelmouse-image 18360505 is_animated_gif=
dam=1 expand=1]

Last day of senior year in high school. I went into my World History teacher's classroom to tell him how much I appreciated his class (he was a real grump but a lovable grump). I thought he was leaning in for a hug and I was going to oblige, but then I realized he was just readjusting how he was standing and would NOT be giving me a hug. So I had to recover from the hugging stance instantly. He didn't even crack a smile during the whole thing. What a guy.
I SEE YOU!!!
[rebelmouse-image 18360506 is_animated_gif=
dam=1 expand=1]

In Eigth grade, I walked in on an autistic student with his shirt off, waving it around over his head in the bathroom. All of the sudden he stops and stares into my soul. He slowly moves hand to his stomach and vigorously rubs it, all while chanting our math teacher's name.
IT'S A FAMILY AFFAIR!!
[rebelmouse-image 18980039 is_animated_gif=
dam=1 expand=1]

I called my 4th grade teacher Mom once. It was extra awkward because I knew her son because he was in the same grade but with a different teacher. Her son also just got added to a group chat I'm in, like 2 days ago.
WINTER HAS COME!!
[rebelmouse-image 18980040 is_animated_gif=
dam=1 expand=1]

This happened to me with then sixth graders. It coincided with a food drive competition that I promised to win for them. The competition got brutal, but the kids were so invested they'd do just about anything. The mom thing happened and they suddenly had their battle cry. I actually showed them a clip during advisory of 'Game of Thrones' just when they lift up Emilia Clarke and chant "Misa" _(or whatever it was exactly) because that's what it reminded me of... and it took off. The next thing I know I have this group of 25 sixth graders who seem to all be _"on my team" and never break ranks. The principal came to observe and she couldn't get over how the class ran and I was honestly just as baffled as her that the damn thing wouldn't die... but it lasted three years until they went to high school. They all just call me mom and come to me anytime they have trouble. I've never felt closer to a group of kids.
NOT ALL IDEAS SHOULD BE IMPLEMENTED...
[rebelmouse-image 18347332 is_animated_gif=
dam=1 expand=1]

I heard a joke at lunch and thought it was hilarious so I told my French teacher that I was going to start a new band and name it 'Syndrome of a Down'. She stared at me blanked-faced for a solid 5 seconds before bursting into tears. I had no idea her son had down syndrome. People hated me. People still hate me. The teacher loves me now tho, she comments on my Facebook posts occasionally.
KEEP MOVING... NOTHING TO SEE HERE!
[rebelmouse-image 18980041 is_animated_gif=
dam=1 expand=1]

He was tutoring me and his wife busted through the door yelling at him for flirting with another teacher. She told him to get his s**t together or she was going to divorce him. After she stormed off he pretended I didn't just witness a potential breakup and kept giving me this tense tutoring session where it felt like an eternity before I could leave.