People Share The Strangest Thing They Have Ever Witnessed That They Still Can't Explain
"Reddit user fuzzyloulou asked: 'Married people of Reddit, what's something you just hate about your in-laws?'"
Blending families is always a roll of the dice.
Sometimes people get lucky... because their in-laws are dead.
I jest.
Sometimes lovers and in-laws get along famously.
But a lot of the time significant others have to deal with in-laws that can be a lot.
Just because someone has become instant family doesn't mean you have to adore them.
They can still be horrible people, that you learn to live with.
Chosing a partner comes with strings.
And some of those strings are chains.
You have figure out how much you can bare.
Redditor fuzzyloulou wanted to see who was brave enough to call out what they despise about their in-laws, so they asked:
"Married people of Reddit, what's something you just hate about your in-laws?"
I've never had in-laws.
And I have a feeling, that was a blessing.
The Horror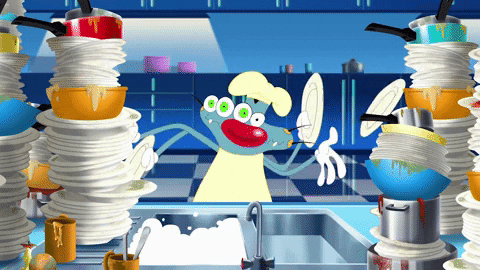 never ending wash GIF by Oggy and the Cockroaches
Giphy
"My in-laws are nearly perfect. But if my MIL comes over and there are clean dishes in the sink drying, she will dry them and put them away. Even if she doesn't know where it goes, she will just guess. My life is horrible."
meyerjaw
Family Matters
"My FIL called my wife and her 3 sisters wh*res all while standing I'm MY house. The reason you ask? They all got married outside of the Catholic faith. We haven't spoken in 6 years. Best 6 years of my life."
Patrick2337
"I could have had things turn wrong the moment I handed back the baptism contract to my mil and told her I wouldn't sign it."
"She asked why and I proceeded to tell her about how and why I dropped out of college. I took business and accounting, I don't f**k around with contracts or numbers. Then I told her about my Catholic upbringing. Changed her mind real quick. It pains me to know that my time is now limited with this woman."
KnowItOrBlowIt
Not into you...
"My MIL isn't too nice to the kids. Granted, she has 15 grandkids, you can tell which ones she likes more. And less. My kids are in the middle."
wclure
"That sucks. I was one of those kids the grandparents liked less too. If it's any consolation, I wasn't too upset it just meant we weren't as close so when they died I wasn't super torn up."
whitepangolin
Overloaded
"The way they travel. The constant need to overpack, shop for s**t to take home, etc always results in like half a dozen overweight suitcases and carryons that they then ALWAYS have to re-organize to handle the weight and they ALWAYS expect everyone in the group to pack light to accommodate in case they have to dump s**t on you. I hate it and it pisses me off every time."
Sorry-birthday1
Not Real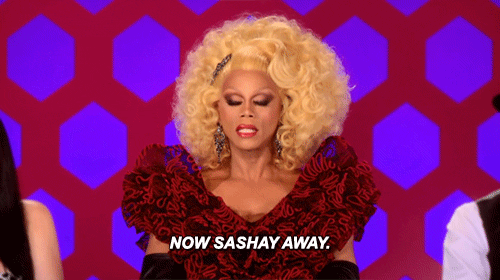 Sashay Away GIF
Giphy
"How fake they are. They just care about their image and how they appear to others, very little, if anything, is genuine about them."
Unhygienictree
Why don't fake people know we see the fake?
No matter if they're strangers or family... the transparency is real.
Be Quiet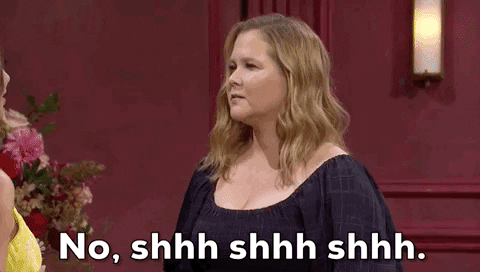 Amy Schumer No GIF by Saturday Night Live
Giphy
"I absolutely love my inlaws, but compared to my family they are REALLY loud. Like instead of taking turns talking they just talk louder over each other until someone listens. I leave with a headache, and that's including times I sneak to an empty room for peace."
kannakantplay
Just About Everything
My MIL? Love her, she's great. My FIL? Cheated on my MIL with her sister, and still sees said sister on a weekly basis while somehow still remaining married to my MIL. Bought himself and the sister a new car while my MIL drives a 20-year-old F-150. When he is home all he does is drink Budweiser from 11 am on while watching TV. And complains about everyone else in the family."
"Doesn't come to his grandkids' birthday parties and just hands us some cash to go buy something and to say it's from him. On several occasions, he's been at nice dinners and gets drunk and belligerent to the point of embarrassing everyone with him. So when it comes to my FIL, to answer the question... just about everything."
Tiberius_Jim
This Christmas Sucks!
​"Oh God, do I have stories? My MIL is one of the cheapest people I have ever met and a hoarder. For my son's first birthday, she gave him a roll of paper towels because... 'Look! He loves it, doesn't even know whether it is a toy or not!' At age 3 for Christmas, she gave him some random toiletries and cleaning supplies she bought at the dollar store, wrapped them, and everything. Now I have to give my boy credit on those... after he opened them he said 'This Christmas Sucks!' which caused major drama for my wife and I."
who519
Vampires
"Oh man, how much time do you have? The number one thing is that they are drama vampires. They can't live without it. Everything is about them, and if it isn't, it will be soon. They are cartoonishly childish and it's as ridiculous as it is sad. I feel terrible for my spouse and her siblings. Every family get-together is a sh**show. Number two is that they can't make a plan without overcomplicating the ever-loving sh*t out of it, which my wife has inherited."
Studlum
Toxic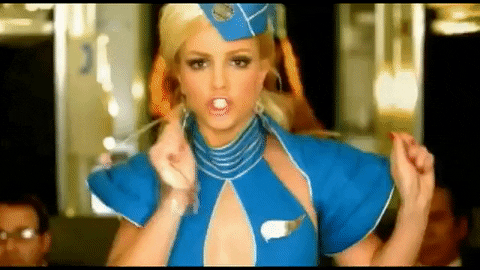 music video britney spears toxic GIF
Giphy
"My sister-in-law is one of the most toxic people I know. Total narcissist. Everything must be all about her at all times. And her husband is a codependent simp who enables her behavior. The rest of my in-laws are cool though."
celiacsunshine
Well if there was any reason to stay single, all of this it!
In-laws sound like a lot.
Some people absolutely dream of the weekend each week, and don't even get us started on how people dream of the perfect vacation.
But sometimes even the most thought-through trips wind up being a total mess, and some of the reasons why can be really surprising.
Redditor UndercoverSports asked:
"What's the worst way to ruin a vacation?"
Getting Laid Off
"Getting an email from your boss, scheduling you for a disciplinary meeting as soon as you're back from vacation."
- theassassintherapist
"A buddy of mine got a call from his HR department saying he was laid off in the middle of his vacation."
"With his family. At Disneyworld. Right in front of the Cinderella Castle."
- Whizbang35
Different Strokes for Different Folks
"Traveling with people who aren't on the same travel 'vibe' as you."
"If you're super active and want to see all the sites, go with people who are looking for the same experience. If you want to lounge and spend days being lazy, you're going to be miserable and vice versa."
- RandomValentina1980
A Vacation Is What You Make It
"Something I realized as an adult is that a good vacation is 75 percent just willingness to have a good vacation. If you want to have a bad time, you'll find a way to make that happen."
"Relaxing? Say it's boring."
"Eventful? Say it's chaotic."
"Busy schedule? Complain about how stressful it is."
"Fun evening out? Say you're tired, have a headache, and be cranky."
"Beautiful walk? Think of it as an exhausting hike."
"So basically, always look for the worst in everything and be loud and vocal about it."
- Cody6781
Too Real.
"Usually my period."
- motorgurl86
"I know, right? I feel like my body actually plans it out to annoy me, because even if I organize a holiday a week and a half after my period is due on short notice, then that is the month that my period is a week and a half late (and the same goes for early)."
- xa12349
The Worst Kind of Company
​"My ex-FIL had... unreasonable expectations. Any experience less than 'perfect' in his opinion was ruined."
"The worst way to ruin a vacation was to be on one with him."
- midOrWild65
Inconvenient Injury
"I twisted my ankle and messed up my foot the night before flying to France."
"Just so happened to be a trip where we had planned to visit many small towns and villages."
"It didn't exactly ruin the vacation, but let's just say being on crutches with a swollen, f**ked up foot while hobbling through many old cobblestone roads and paths isn't all that fun."
- DevappaJi
Any Plans in 2020
"A pandemic."
- TheGreatGamer1389
"I was helping my SO (significant other) with a photo shoot in Vegas in March 2020. It didn't get canceled. We still had fun."
"But when we got there and turned on the news, we saw reports of a melee breaking out at a Costco over toilet paper."
"I had no idea this was happening everywhere until I got back home."
- flibbidgygibbit
A "Lit" Friday Night
"Having your car burst into flames next to a 300-year-old pub on a Friday night."
"It makes the firefighters hate you because they can't go to the pub. The whole village hates you because they can't go to the pub. The pub owner hates you for ruining his pub."
"The recovery dude hates you because the fire was so hot the remains of the car are sunken into the asphalt which has hardened again overnight. The owner of the parking lot hates you for ruining his parking lot."
"Your insurance hates you because you just bought the car an hour before with the intention of driving it back and importing it into your own country and you managed to insure it on the VIN so they have to pay for all the damages. Local police hates you because it was a V5 vehicle but still on English plates and with foreign insurance."
"Source: Friends and me."
"(To be honest. The townsfolk were absolutely amazing when they got over the fact that they didn't get their Friday night beers and fish 'n chips. We had a place to stay before the fire was out and got an amazing breakfast the next morning.)"
"Other than that, I really need some like-minded people around me when traveling. The way I travel it happens all the time that strangers are part of the group and as an introvert that can be quite tiring. It can be nice to just sit apart from the others with one or two others for an hour or so after a long day of having to interact with many, many people."
- akamsteeg
Too Tight of a Budget
"I don't understand people who aren't willing to spend money at all during international vacations. You already paid good money to be in this place you're visiting, and it may be the only time in your life you see it, so why not experience it?"
"Obviously, you can't splurge on everything but spend money on things that spark joy. For me, I like treating myself to good food and live music when I travel. I also don't mind spending a bit extra to get around quickly and comfortably. It's different for everybody."
- KWONdox
Poor Money Management
"Going across the United States and getting stranded on your way home because you ran out of money and you have to hitchhike all the way back home."
- Aries_Forever
"I knew a girl who did this in college. Didn't account for any expenditures and blew her money on souvenirs. Didn't plan for hotel fees or gas and severely underestimated the cost of food."
"She had to get a waitressing job somewhere one-third of the way into what was supposed to be an incredible road trip vacation because she just had no concept of not blowing every cent she had to her name."
"She was really irritating, stuck-up, and awful, so I thought it was hilarious."
- coconut_greek_yogurt
The Vacation Patch
"Just do what my dad did and quit smoking a week before every vacation."
"By the time you're traveling, you'll be such a f**khead from jonesing for a smoke that you'll make everyone's lives miserable until you have a massive, blowout fight."
"Then you give up, start smoking again, and wait for the next vacay!"
- bellrunner
Don't Forget the Essentials
"Just do what I did, and lose your wallet/phone/passport. You won't be able to go anywhere, and you'll be panicking the whole time. A great trip!"
- Jimmy_whispahs
Simply a Safe Environment
"The worst vacation I ever experienced was as a young teen (only child) accompanying my parents from Texas to Florida by car."
"Dad drank and raged and parents fought the whole time. I was miserable, lonely, and frankly, frightened, for the whole trip."
"So the way they ruined our vacation was by being selfish, narcissistic, dramatic, drunk, and lacking empathy for their child."
"Think of others, be nice, and keep your self-centered, moody attitudes to yourself if others are with you."
- peachesswearengen
Pack Extra Drama
"Make every possible thing go wrong."
"Book the wrong date for when you have to leave or the place you're staying at."
"When you're going somewhere for fun, like maybe a boat ride, make sure you make everyone wait for you so you're all late."
"Pretend to or actually get sick."
"If there's someone on the trip you don't like, try excluding them. Bring someone everyone doesn't like."
"There are so many more options, lol (laughing out loud)."
- anonymousgirlonhere
A Positive Spin
"I've never had a bad vacation."
"I can say, though, that if I went on vacation with someone that was negative or poking holes in everything, etc, I'd probably straight up tell them to shut the ever living f**k up, and that would be the end of that relationship (if friend or boyfriend) or hamper it (if a family member)."
"I don't care about your misery on vacation. Suffer in silence for one week or however long the vacation is. Start up your s**t when we get back to our day-to-day lives. Though I always get tired of victims/oh-woe-is-me people so HA."
- Inside_Scheme_2883
Though vacations are meant to be fun, it seems there are countless ways to ruin them.
But there are ways to save trips, too, if everyone can be accountable for their own behavior and consider what they are bringing to the trip emotionally.
Dean Martin was one of a kind. The child of working-class Italian immigrants, this shy, stammering boy grew up to be a boxer, a comedian, a singer, an actor, and everything in between—but it didn't all come easy to the King of Cool. Dean Martin faced simmering feuds, rocky marriages, and life-altering tragedies on his road to the top.
When it comes to defining our sexuality, we all have our different journeys.
For some, it's not about arriving at a destination. It's about a constantly evolving state of being and the individual they find along the road to self-discovery and love that dictates who they are in the moment.
Nothing is ever set in stone.
And for others, it's about an innate conviction that informs their sexual identity, even at a premature age prior to having any sexual experiences.
Curious to hear from strangers online about where they fall, Redditor jacklawd asked:

"How did you conclude that your sexual orientation is what it is?"
For some, it was love at first glance.
Love Them Melons
"I was sold on boobs from an early age."
– maclaglen
Nudie Magazine Was Revealing
"I saw a Playboy when I was like 6 and my mind was blown."
– puma721
"Me too, I was 7 (female) and it definitely did something to me. That said as soon as I could could see porn with guys in it, that's what I wanted to look at. I've had sex with women but I never fantasize about them. So I don't really know what I am. Mostly straight but a bit bisexual I guess?"
– sravll

Study In Contrasts
"Look at woman with big chest -> Ooga Booga"
"Look at man with attractive body -> No ooga booga."
– IntermidietlyAverage
"Ripped dude -> good for him."
"Hot woman -> Oh, baby!"
– CCPMustGo

When You Know, You Know
"Basically this lol. I can look at a guy and say he's attractive guy with nice body but past that I'm just happy for him."
"See an attractive woman though and yeah thoughts are more like she's pretty I would want to take her on a date and do stuff."
– MysteryMan999
These Redditors were put through the test.
The Influence Factor
"Spaghettisexual - straight until wet."
– IllPanYourMeltIn
"'Six beer queer' is the other one."
– oopsneedathrowaway
"I've never felt more understood than I do right now."
– Malhablada
Very Fluid
"I'm kinda the same. I used to say I was 'straight-leaning pan' because I actively prefer and seek out relationships with women but a strong emotional connection isn't dependent on gender. Eventually I discovered the term 'heteroflexible' and immediately identified with it. My preferences are hetero, my heart is demi-pan."
– GingerlyRough

Innocent Observation
"I was putting clothes back on my daughter's Ken doll. My son asked why I was doing it and I told him it's because she took his clothes off. He wanted to know why she took his clothes off. I told him maybe it was the same reason he takes the clothes off her Barbie. He thought about it a moment, looked confused and said, 'But Ken isn't fun naked!'"
– KennyanneConway

It was never up for a debate, and experimenting wasn't an option.
Siren Of The Screen
"I saw Selma Hayek. And my brain shut down."
– 1w2e3e
"Hooolyyyyy SH*T. Do you remember her in Dusk til Dawn, or Dogma? Oh my Gawd. It's like a mental hard reset. My brain is panicking just thinking about it. Good lord."
– hail_SAGAN42

Just The Fairer Sex

"Idk I've always been attracted to women Never really wanted to try anything with guys."
– CephalonPhathom
Standing Bi Their Decision
"Saw a hot girl. Saw a hot guy. Thought 'yeah both is good.'"
– HailYourSelf717
"both?" "Both.." "Both." "Both is good"
– Attack_AC130
Hot For Teacher
"At 15 all my friends constantly talked about their crushes on our male classmates or their favorite male rock star. I was constantly thinking about my female teacher. My thoughts were never physical; they were about mundane things. So I tried to convince myself I wasn't gay. But I knew I couldn't talk about my feelings. One day in class I was sitting on the floor with some other students and the teacher randomly put her hand on the top of my head. I felt like I was going to faint. The infatuation lasted a couple of years. If I saw her walk by all the way across the cafeteria I would be in a good mood the rest of the day."
"A couple of years later it happened again with a coworker closer to my age. The constant thoughts started up, just mundane things like replaying our discussions in my head. One day I had to talk to her about something. I was standing about 3 feet in front of her and looking at her, and I felt like I wasn't going to be able to breathe."
– mythrowaweighin

The thread demonstrated that many of us have fought against or contemplated various scenarios before being comfortable with who we are to allow ourselves to experience defining life moments.

Nothing is hardly ever black or white.
It's interesting then that the ignorant contingent repeatedly argues that people "choose to be gay," because that makes sense. Do they think people deliberately choose to live a life being constantly subjected to ridicule, judgment, and endless bullying?
Not only does that rationality not make sense, but, unfortunately, statements like that only invalidate the existence of people in the LGBTQ+ community, or worse, prevent them, from coming out of the closet.