The Strangest Requests From Make-A-Wish Kids That Actually Were Granted
The Make-A-Wish foundation and similar organizations arrange to make the dreams of children with life-threatening or terminal illnesses come true.
As a result, children have been given trips to Disney World, the chance to meet celebrities, or throw a pitch or shoot a basket at the stadium or arena of their favorite sports team.
Moving and tear inducing stories to say the least.
However, not all children's wishes are lavish and extravagant.
For some, just getting the chance to enjoy a picnic with their friends, away from hospitals, doctors and nurses, is the only thing they want more than anything int he world.
While other wishes might result in confusion before they induce tears.
But knowing it's what the children dream of these foundations waste no time in making these wishes happen.
---
Redditor The_King123431 was curious to hear about some of the most bizarre wishes received by the Make-A-Wish foundation or similar, which were granted nonetheless, leading them to ask:
"Make a wish employees What was the most strangest thing a make a wish kid asked for and actually received?"
Simple Wishes
"I shot an internal promotional video for Make-A-Wish once."
"I got to read through a big book of wishes they had granted."
"Some of them were so extravagant and amazing."
"Family vacations, celebrity meetings."
"And then I saw a 3 year old who wished for a banana split for breakfast."
'And that's what they gave him."
"No one was like 'ayo'."
"'Wish higher'."- josiemarcellino
To The Moon And Back
"I helped host a visit to a planetarium by a kid whose wish was to go to the moon."
"The front office folks thought I could just give her a personal tour of the planetarium and show her some nice high-resolution visuals, but I thought she deserved better than that."
"I commissioned a jeweler friend and meteorite enthusiast to make a silver crescent moon necklace, which he graciously donated to the cause, and I donated a small lunar meteorite from my own collection."
"It was a gorgeous necklace very much to the credit of my friend's artistry and generosity."
"We couldn't take her to the moon so we gave it to her instead."
"She was thrilled, but later said her real highlight of the trip was the astronaut ice cream."
"Ah, kids."- aluminum26
Always Wise To Have A Back-Up Plan
"My daughter was a Make-A-Wish kid."
'She asked to go to Australia to meet the Wiggles."
'Unfortunately, she wasn't able to travel that far, we live in the US, health wise."
"She made a second wish, to meet Captain America."
"We never told Cap that he was a back up wish after the Wiggles were a no-go."
"LOL."- Allyson244
A Gentle Nudge Never Hurt...
"When my sister was 5 and I was 8, she had cancer and had the opportunity to make a wish."
'When our mom and the Make-A-Wish person sat down with her, they told her she could wish for whatever she wanted."
"She just kept saying she wanted macaroni."
"They kept saying 'but it can be anything you want!'"
"Yet she simply wanted macaroni and cheese."
"After some strong encouragement to think bigger, and the Make-A-Wish person suggesting Disneyland, she chose to go to Disneyland."- tinbasher97
Some Wishes Come With Baggage
"I was granted a wish after beating brain cancer in 2015."
"They flew my mum and I out to the capital city of our state and we stayed in the flashiest, most expensive hotel suite with all the bells and whistles."
"We got free dinner, drinks and dessert on arrival, got to chill in the VIP lounge while we were waiting for our room."
"Our room was decorated with teddy bears and chocolates and MAW decorations."
"The next day we were chauffeured to the local mall in a limo and I went on an eleven hour shopping spree with a pre-loaded VISA card and bought every solitary thing you would imagine a 16 year old girl wanting."
"I ended up having to buy another suitcase to take everything home with me but it was the most epic 3 days of my life."
"I'll never forget it."- lizzierose456
Detective For A Day

"A friend of mine is a K9 police officer. "
"He helped Make-A-Wish grant a wish to a set of twins with the deadliest form of Cystic Fibrosis."
"Most of the time kids with CF aren't allowed to be around others with it because of cross infecting bacteria."
"Them being twins shortens their life expectancy even more."
"Well these 10 year old boys wanted to meet a police dog."
"My friend and some of his buddies upped the wish and during their meeting of his dog they got called to help solve three 'crimes' in their town."
"They pulled over a high jacker, found and arrested a robber and helped find a 'missing' six year old, my friend's nephew."
"The town police department gave them certificates and honorary police badges for their work."
"Around 200 people showed up to where they got their awards to cheer them on."
"At their eleventh birthday they gave my friend a plaque they made with their dad thanking him for the best day ever."- hisamsmith
Becoming Their Heroes And Role Models.

"To be a 'merman', a boy mermaid."
"He got a tail and swam in the giant tank with other mermaids at the aquarium."
"To play football with 'the red team'."
"No pro or college preference , just had to be red."
"USC made it happen."
"To be a 'cool kid'."
"Got a limo ride to the mall."
"Red carpet entrance with cheering fans, signed autographs, shopping spree for clothes."
"5 years old, so cute- and very 'cool'."
"To be Robin, not Batman.. he said he wasn't ready for that."
"Went on an epic adventure fighting crime with Batman."- scootercomputes
The Enviable Sloth
"I worked at a hospice and we had a wishing program. One of our patients, 24 year old with brain cancer, wanted to hold a sloth. Apparently, sloths are very nervous creatures, so it's a little tricky to actually hold one."
"I found a local company that does visits to schools and whatnot who had a sloth. Sloths only poop about once a week and the sloth could only travel the day after he pooped (because they get nervous, any longer than that and the sloth has stress diarrhea). So basically, we had to wait until the sloth pooped and then set up the visit for the next day. The sloth pooped on Thanksgiving, so we set up the visit for the next morning. The patient was able to hold and pet a very sweet sloth. The patient died about three weeks later, and I am very happy I was able to help give her some joy in her final weeks."
"The hospice I worked at had a special program called Faithful Wishes for any of our patients, regardless of age. As the Volunteer Coordinator, fulfilling these wishes was part of my job. I do believe there are other non-profit organizations that grant wishes to adults, but nothing as large as Make-a-Wish".
"Yes, the sloth was tame and lived in an animal preserve. He would also visit schools and retirement communities, schedule permitting. And yes, I absolutely learned more about sloth bowel movements than I ever wanted to 🤷♀️"- ByteAboutTown
Stepping Up
"I worked at a LEGO retail store in the 2000s and Make-A-Wish approached us for a child with terminal Osteosarcoma who wanted to be in the store for a day. LEGO unfortunately denied the request (which surprised myself and the rest of the staff because LEGO was a pretty great company). Staff decided to honor the request ourselves. We closed the store early on a Sunday, then invited the kid and family in. He had a full run of the store, we collectively paid for like $1000 worth of toys for him to take home, and just spent the entire evening building w/e he wanted. He died a few months later 😭"
-JakeRogue

Pickle Party
"There was a Make-a-Wish kid in a class I taught once and their wish was to tour a pickle factory."
"Pickles were their all time favorite food and they wanted to see how the sausage was made so to speak."
"Apparently Vlasic rose to the occasion in a major way and she had the time of her life." - ligamentary
​Veterinarian 
​"I was approached by a similar organization who wanted to arrange a day for a kid to shadow a veterinarian. I'm just a small animal veterinarian with a small hospital so I found it odd that I'd be approached."
"I said yes (who tf would say no?) and we picked a day and had our regular patients in the hospital and the kid got to watch us do our thing for a day. We gave him a lab coat and a stethoscope and let him tag along and see x-rays and ultrasounds and watch surgeries. I brought my dog in so he could try the ultrasound on her."
"He seemed to enjoy it. It wasn't a terribly strange request really, it just seems like my day-to-day isn't something anyone would consider their dream experience."
-TankVet

NPCs
"In wizard 101 there's a quest with an NPC named Brandon, named after a make-a-wish kid who played the game, and his request was to design a side quest for the game. You meet Brandon and go help him clear out this dungeon with 2 really hard bosses, was a lotta fun. At the end U get a gem you can socket that lets you summon Brandon into battle as a follower, pretty cool. Not sure what ended up happening to Brandon, but it's really cool that thousands of ppl have gotten to enjoy being a part of his wish tbh." - Arkneryyn·
Happy Camper
"I'm a Wish Granter! My strangest personal wish was a refurbished 80's camper so that she could have her own space (she couldn't go out in public while her transplant was new-ish, and she was going crazy in the house with two younger siblings). It was actually pretty cool, although the strange part was that MAW can't actually use "used" things like that. So we had to get her a new VW camper (or something like that, it's been a while) and "artfully" make it look vintage. So strange."
"Anyways, please feel free to apply to be a Make-A-Wish volunteer! It's such a rewarding experience, and even if you don't feel like you can work with the kids, there's also other volunteer positions like fundraising, event planning, and more!" -SemiSweetStrawberry·
Dog Days
"I had a coworker at my student job in college who had leukemia as a child. He wished to be in the Iditarod so they flew his family to Alaska and he got to meet all the dogs and ride in a sled for a leg of the race. If I remember correctly he also got a husky puppy."
"He was 20 when I met him. I was a couple of years older and graduated college and never saw him again. The leukemia came back and he died in 2016. I don't think he was much older than 25. One of the nicest guys I've ever met. I hope heaven is real just for you, Ben." - gaycryptid
Some young children dream big, while some still aren't aware just how big they can dream.
Strange as some of their wishes may be, anything that brings a smile to the face of a child with so little to smile about is as close to a dream come true as anyone is likely to get.
While also rapidly decreasing the world's supply of tissues.
"Reddit user Shinfekta asked: 'What red flag is an instant break up reason for you?'"
When you're in a relationship, it's important to stay alert.
Yes, you of course want to give in to love.
But when you start seeing red flags, be vigilant.
You're gut always knows more than you give it credit for.
Sometimes those flags are a sign that it's time to jump ship.
if you see them... run.
Redditor Shinfekta wanted to compare notes on why people would immediately end a relationship, so they asked:
"What red flag is an instant break up reason for you?"
The signs are always there, but I tend to put on blinders.
I need to do better.
A Big Deal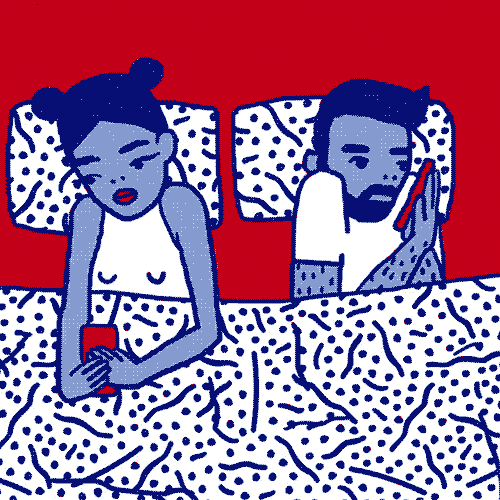 Illustration Text GIF by Jacqueline Jing Lin
Giphy
"Someone that casually says they've cheated. There's no way around that for me."
Kitchen-Bid-8235
"Or worse when they treat cheating as somehow noble."
2diceMisplaced
Hear Me!
"Wanting and demanding my attention but not reciprocating whatsoever."
Cranky_Windlass
"My ex. She would get pissed when she would talk to me about something while I was working and I wasn't giving her my full attention. But every time I wanted to tell her something while she was doing nothing, she would get 'ADHD distracted' and completely ignore me or interrupt me to say something completely irrelevant."
ModestMustang
"I had a friend like this! he literally completely ignored me for 6 months and then blew up at me for not responding to him within an hour. Very strange."
KindBrilliant7879
Wronged
"Never admitting a mistake."

Curious-Force5819
"I know a total hottie that is notoriously known for not being able to admit he's wrong, sucks because he's a gem outside of this. Don't get me wrong, he's a fair and responsible person in general… but he 100% can't admit he was wrong in banter or a light argument even when he realizes he realizes he's wrong hahaha lost confidence in him ASAP."
Zomgirlxoxo
"This is a big one, even when these types of people apologize they still pass the blame. 'I'm sorry for my behavior but you made me really angry.'"
space_being135513
Never Again
"Unmanaged mental illness. Never again."
RuggedHamster
"I was with a girl that had that and I helped her through all of it and it was so hard to deal with it all but somehow I managed but when she felt better she just left me for her best friend's ex and I was left with all that trauma because I loved her with all my heart and soul but she was just using me to feel better… and when she broke up with her best friend's ex she came crawling back begging me to be with her again but it was too late.. the damage has already been done and I can't do that again even though I still love her but I can't tell her that... sorry for venting."
d7oomy998899
Afterthought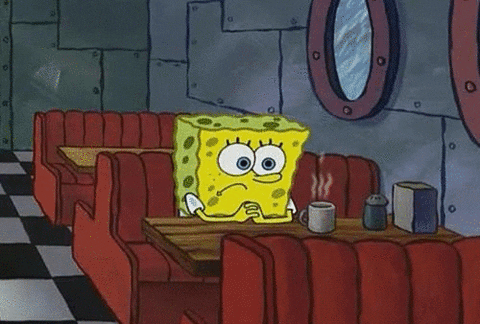 Sad Sponge Bob GIF by SpongeBob SquarePants
Giphy
"If someone makes you feel alone, that you don't matter, or if you are a second choice on most of the occasions, you need to leave."
​Mycatsnameislegolas
Always know when to acknowledge your feelings.
And know when to depart.
Behavior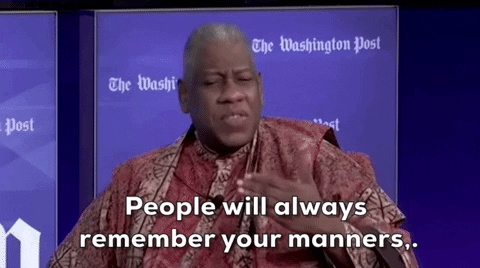 Andre Leon Talley Manners GIF by GIPHY News
Giphy
"How they treat animals, children, elderly, handicapped, and service workers."
REDDIT
"A wise man once said: judge a person not by how they treat their equals, but by how they treat their inferiors."
Major-Ad148
Just Kidding
"Being mean as their 'thing' or 'just a joke.'"
netsbr
"'I'm just sassy!'" No, you're a bi*ch."
BansheeShriek
"I'm going to be honest, with certain friends I am absolutely ruthlessly mean, to the point that people are actually concerned it's just bullying."

"However with strangers, I'm nothing like that. And the friends that I am meant to, they do the exact same thing back to me. We also know that if we need each other, then the meanness is dropped instantly, and it's nothing but support and love."
5tr4nGe
​Well-Meaning
"Zero accountability for anything. Everything they do is absolutely justifiable because, well, they mean well."
Throw_thethrowaway
"Yeah, I was looking for this answer! And it's true outside of romantic relationships also! I had to end a friendship over this exact behavior- it was never her fault, always the victim, and her hurtful behavior shouldn't be addressed because she 'meant well…' but my feelings are still hurt so why don't I matter?!"
helibear90
"This. Can't stand people who always play the victim or blame everyone else and never take accountability for what they do."
_5minutesalone
Boundaries
"This one may take a while, but I would break up if I notice them creeping over personal boundaries, and not stopping when I tell them about it."
"People cross each others' boundaries all the time. I'm happy to give the benefit of the doubt until it becomes apparent that they have no intention to respect me."
"For example, if I don't like tickles or being startled, don't do that. It's not about the tickling, it's about them respecting me. And if there's no respect, there's no relationship."
Ptatofrenchfry
Talk to Me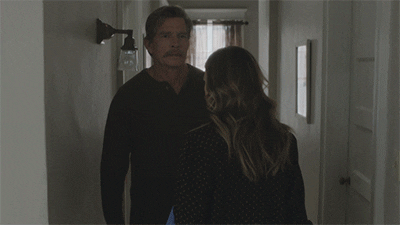 Sarah Jessica Parker Hbo GIF by Divorce
Giphy
"If I'm hearing about a problem in our relationship from someone else rather than the partner. It shows huge trust issues."
"I've seen three divorces in my life, and they all were the result of the girl venting to her mother and her friends about issues she should have discussed with her husband."
michajlo
Communication is key.
If you're not talking to you're partner, why are they you're partner?
People accumulate facts throughout life on a wide variety of subjects.
Some are mundane while others are weird, wild or wonderful.
One subject a lot of people focus on is animals. Most people have a favorite animal that fascinates them that they want to know all about.
Reddit user FunChemical3182 asked:
"What is the weirdest animal fact you know?"
Like Perry
"Platypus glow blueish green under ultraviolet light."
"They also don't have nipples, they just exude milk from glands under the skin and the baby's lap it up."
~ WakingOwl1
"They have electrolocation in their bills that lets them detect their food under water."
~ DrPlatypus1
"And they lay eggs."
"The more I find out about them the more I understand why people first thought they were fake."
~ Reidroshdy
"After seeing all these platypus facts I am convinced these things are aliens that have been abandoned on Earth."
~ SeattleOne206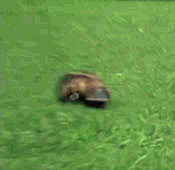 Giphy
Kapow!
"Mantis Shrimp have 16 different sets of cones. Rods and cones are in your eyes. Cones see color, rods see light and motion."
"Dogs have 2 sets of cones—green and blue. Humans have 3 sets of cones—green, blue and red."
"Mantis Shrimp are seeing colors we can't comprehend and explains why they're very colorful."
"That's not even the strangest thing about them."
"They can also punch as fast as a .22 bullet which cause a cavitation bubble which boils the water around them at temperatures of several thousand Kelvins."
~ RigzDigz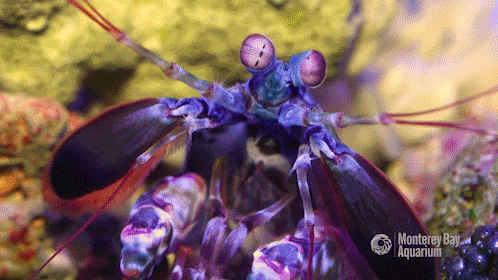 Giphy
Terrible Twos
"Cats have the mental capacity of a 2-year-old which makes a lot of sense."
~ Alive_Ad823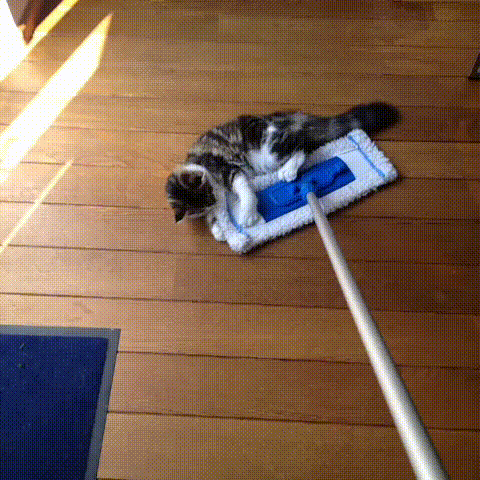 Cats Dragging GIF
Giphy
Like Tinder
"When a female sloth wants a mate she'll hang onto a tree branch and just scream."
~ Remarkable_Sink2542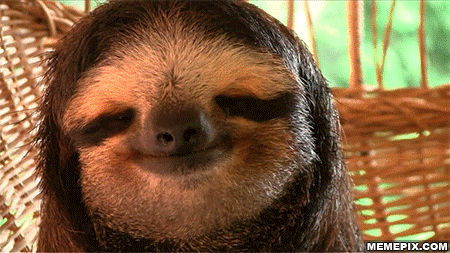 Giphy
Good Thing They're So Small
"Dragonflies are the most successful predators on Earth."
"When lions choose prey they have like a 10% chance of catching it."
"African painted dogs—who hunt in packs—have the highest kill rate of any mammal, successfully catching 51% of their prey."
"When a dragonfly locks onto a target, it has a 99.9% success rate!"
~ PurpleInevitable2103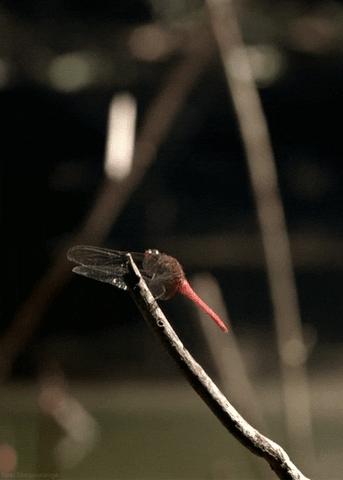 Giphy
On A Swivel
"Owls have really long necks, but it's hard to notice that because their feathers are so fluffy."
~ ergonaut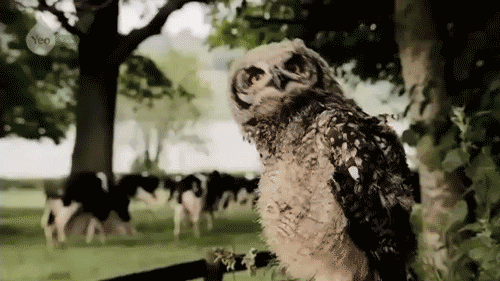 Giphy
What About Cousin It?
"Sea otters are the most densely furred animal with 600,000 to 1,000,000 hair follicles per square inch."
"Dogs have about 15,000 per square inch, humans on average are between 800 to 1,290 hairs per square inch."
~ atom1129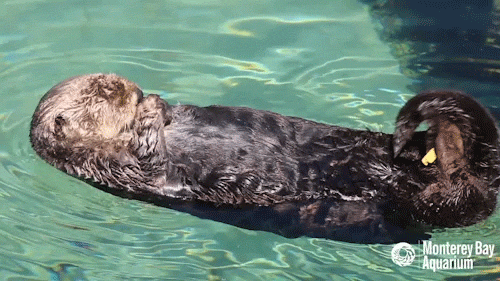 Giphy
Or Two Sets Of Twins
"Armadillos always have offspring as quadruplets."
~ Uncle_Bill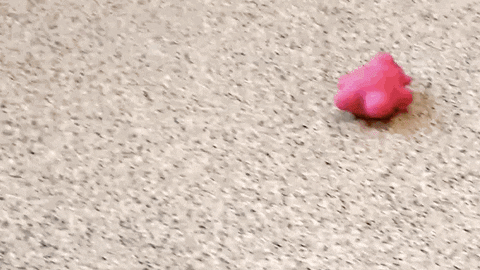 Giphy
Sucker Punchers
"Octopus punch other fish for no reason—so, for fun."
~ Samanthalynn8915
"There's a direct correlation between species' intelligence and dickish behavior."
~ TheDesktopNinja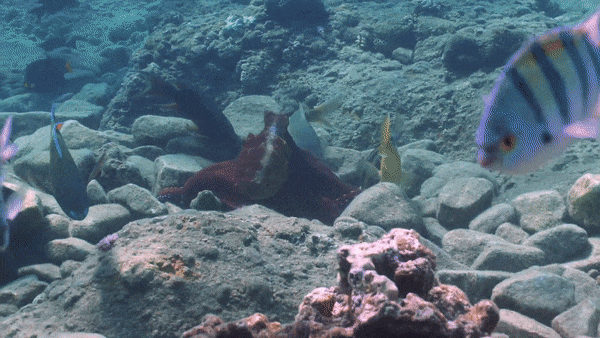 Giphy
Looks Are Deceiving
"Polar bear fur isn't white—it's translucent (for most frequencies of light). And they have black skin underneath."
"So polar bear fur lets all the light through to their black skin to warm them—except for a few visible frequencies to keep them camouflaged as white."
~ seedanrun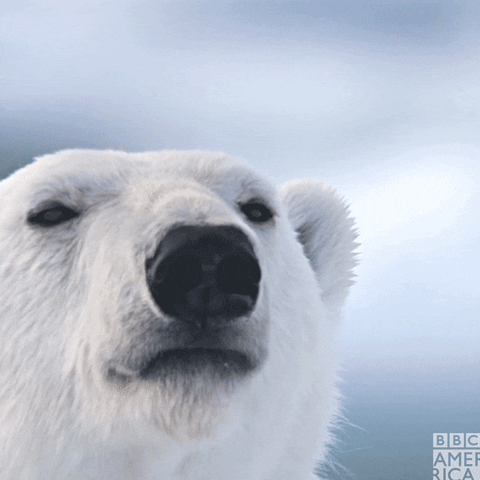 Giphy
Who's Going To Attack One‽‽
"Honey badgers can turn their a**holes inside out and use the smell to deter attackers."
"Not sure what exactly has the guts to attack a honey badger, but if they have the courage to do so, the badger sure as hell isn't gonna make it easy."
~ nonexistantauthor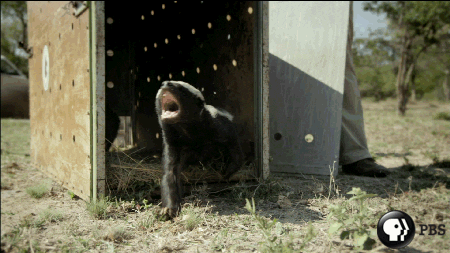 Giphy
Big Momma
"The Blanket Octopus exhibits the highest degree of sexual dimorphism known."
"Females: About 6 feet across."
"Males: About one inch."
~ Fabulous-Pause4154
High Times
"Dolphins will intentionally use puffer fish to get high."
~ altkaldra
"They upset blowfish so they inflate, and therefore emit poison. It gets the dolphins high. Then they pass it around, literally."
~ smack4u
"Not just the dolphins. I recently saw a video about 10 animals that like to get high. Very interesting."
~ s137leo__
"Lemurs do that with giant centipedes/millipedes too."
~ chubbyknuckles420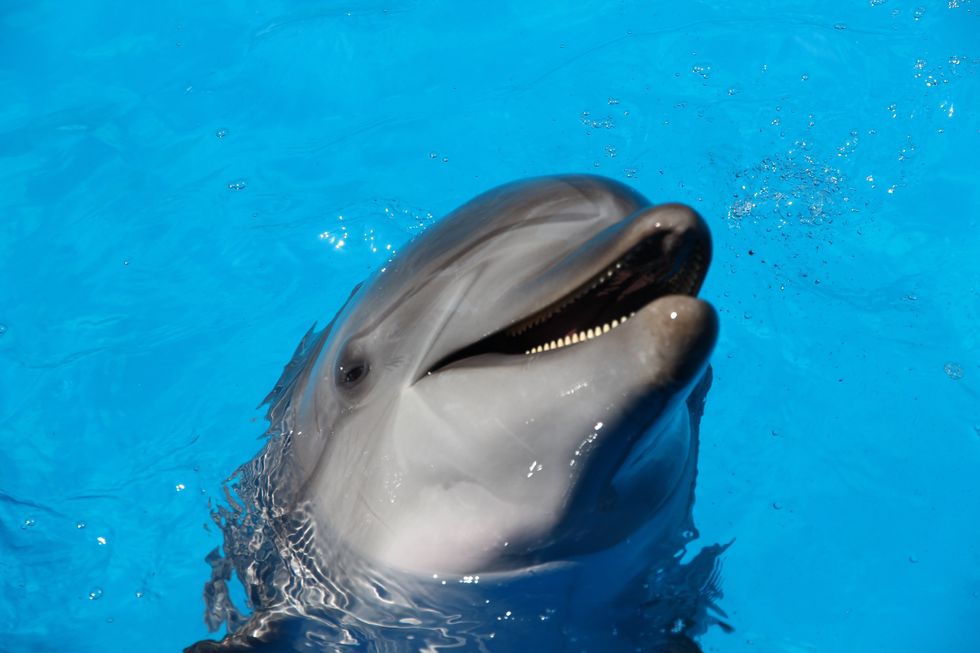 Fabrizio Frigeni on Unsplash
Better Than Bike Helmets
"Woodpeckers' tongues wrap around their brains to cushion them from the vibrations of slamming their face into trees all day."
~ we_made_yewww
"Their tongues also have barbs to grab bugs out of the holes."
"Their brains have additional cushioning because, you know, they spend their days smashing their face as hard as possible into trees."
~ RhynoD
Detachable Organs
"Argonauts [paper nautili] are small octopuses that are too lazy to have intercourse."
"They detach their penises and toss them into the open sea to mate with female argonauts."
"The detachable 'd*ck' is a tiny tentacle, complete with suckers and sperm, that develops in a cavity under the eye of a male argonaut [paper nautilus]."
"When it's time to mate, the tentacle explodes out of the cavity, instantly killing the male argonaut. The tentacle then swims towards a female argonaut to insert itself."
"Sexy, huh?"
~ Schwarzes__Loch
What's your favorite weird animal fact?
Content Warning: Mental Health, Suicide, Domestic Violence
We all know that we technically can't make anyone else do anything, and we certainly can't "fix" other people. Other people will only change or do something if they choose to; the only person we can really control is ourselves.
But some people really love to try, often to hilarious and terrible results.
Already cringing, Redditor Dapper_Algae6280 asked:
"People who entered a relationship thinking 'I can fix them,' how did that go?"
Time for an Upgrade
"There is a weird thing that happens when you 'fix' someone. They tend to think if you liked them broken, then they deserve better than you now that they are better than they were."
- TheRealLifePotato
"As horrible as it sounds, to have a happy, emotionally healthy relationship you need two happy, emotionally healthy people. If you want to be in that sort of relationship, you need to fix yourself first."
- inactiveuser247
"This right here. After three sh*tty relationships in a row, I realized this is a me problem. I took a few years off from dating to reflect and really learn to see red flags and understand myself so I wouldn't make that mistake again."
- MikoSkyns
No More Spark
"My now ex had PTSD, depression, and a variety of other issues she claimed. After two and a half years of dating (being my first and only relationship), she became more social, less suicidal, and overall happier as a person."
"She decided to cheat on me with someone else due to 'lack of communication' and us 'no longer having a spark". The irony."
"For context, we were 17 at the time, in high school, and I worked full-time hours with initiatives to hang out, which were refused. Red flags everywhere."
- elteragxo
"Your situation is eerily similar to mine, what the f**k?"
"I met a girl with mental and emotional issues and decided to fix them through a healthy relationship. She recovered and found someone else because 'the spark was gone.'"
- Aimlessdrifter8778
Misery Loves Company
"Now we are both broken."
- Brave-Butterscotch76
"The same thing happened to my sister-in-law. She married a very negative and miserable guy while saying 'he will get better' or 'we're working on it,' and now she's a very negative and miserable person."
- Moreofyoulessofme
Getting to Watch a Partner Grow
"At first we were only f**king. I don't know if I ever thought I could fix her, but I did fall in love with this beautiful lady with severe anxiety, depression, and trust issues after being in a domestically violent relationship."
"We were f**k buddies for about six months and I got a glimpse of her issues but I still went ahead and asked her to be my girlfriend The heart wants what it wants."
"We dated for a year and a half (two years since meeting), and I actually got to see her at her worst a few times, but I was finally able to get her therapy with a great psychiatrist and treatment, this is when I asked her to move in with me. We've been living together for six years."
"Four years ago, she had the worst breakdown I've seen. She went full-on paranoid, wall-scratching nervous, she was even doubting me and my motives to be there. It was a very difficult week, and she left the house and went to her mom's house in the middle of the night."
"Eventually, her therapist was able to get a hold of her and get her back to her senses. Her doctor then suggested that I also should go to a counselor or at the very least we should do couples therapy so we had strong bases for our relationship and we did."
"I now look back and won't change her for anything in the world, she has grown so much, and she glows right now. I now see her smile and it's glorious. She's achieved a great position too and it's amazing just to see how much happier she looks."
- Spiritual-Narwhal666
Not a Match
"I fixed what I wanted to fix, but that still didn't make us right for each other. In the end, I think she's in a much happier place than she could have been, so I think it was worth the time invested."
"We were wrong for each other, but at least we both came out better positioned to receive the happiness that would come to us later."
- MrWeb20
In Their Nature
"A couple of months into the relationship, I fixed him."
"After some irritation, he stopped peeing on the carpet. Now, my cat still brings mice, but I guess, that's just his nature."
- mobileJay77
The Importance of Boundaries
"I don't know if I would say that I 'fixed' her (and I wasn't trying to), but I definitely taught my last ex the importance of being able to set boundaries and to stop going out of her way to please people who consistently hurt her."
"Eventually this would lead to us breaking up, but I have no regrets. I have issues of my own that were wearing her down and she did what she had to. Same rules apply. We're both better off because of it."
- TylerTexas10
Happily Ever After
"She fixed herself and I fixed myself with each other's support, and we are living happily ever after, it seems, with ongoing work on ourselves and our relationship."
- DonPronote
An Uncommon Ending
"I didn't fix them. But I tried my hardest to be patient and supportive while they fixed themself. Sometimes I was better at support than other times. Sometimes they were better at fixing than other times."
"It ended up being worth the patience. Things have been great with us for years now. I know this isn't the normal outcome though, and I feel incredibly lucky."
- I_Invented_Frysauce
A Little Help from Our Friends
"Usually I'm the one people try to fix.. I think the repeated attempts definitely helped me. Now my current partner gets to enjoy the previous hard work."
"...I think I just got tired of hurting the people who love me and fixed myself, though."
- addrien
All Their Idea
"You can't fix anyone. You can only fix yourself, but if you really want to try and fix someone, you have to make it seem like it's their idea."
- BuhrZap
A Helping Hand
"I don't think you can fix anyone. You can only help them fix themselves, which is very different."
"If someone is actively trying to fix themselves, and you can actually be the person to support them through it, then it can work, but it could also not work."
"I do think there should be a distinction between the two. I mean, trying to fix someone is a bad idea, but if you like someone and are willing to support them in their journey to fix themselves, it's probably not the worst idea in the world."
- brooksie1131
Lesson Learned
"It went so well that they managed to cure me of the desire to 'fix' anybody."
"I'll toss you a life preserver if you're trying to save yourself. But I'm not jumping in the water with anyone so they can drown me on their way out."
"People who need to hit rock bottom in order to better themselves will use you to soften their landing if you let them."
- GlobalPermit5428
Best Friends Forever
"It went well but it didn't work out."
"So we kind of fixed each other we were both at very weird points in our lives and we only dated for about one and a half years. We didn't need a romantic partner but we did need a friend in each other."
"We're both in better places now and the best of friends. We both want each other to be part of our lives just not as lovers."
"All and all, I say we got the best outcomes in our lives."
- CODMAN627
So Worth the Investment
"He was an Uber driver with only a high school diploma."
"I married him anyways and bankrolled his education because he was fun as f**k to be around, was the smartest person I've ever met, and loves me like I'm the only woman on Earth."
"Now, he's a computer engineer and we are landlords together and have bought investment properties. We are very happy together."
"Partners work together to create success. I think selfish people ask, 'what's in it for me?' Marriage is about selflessness."
"I'm glad I sacrificed for his education. His mind would be wasted otherwise and he's a genius."
- BabyElephantWalks
In most of these cases, the situation went poorly after a Redditor tried to change someone, and for good reason. If that person isn't ready or doesn't want to be fixed, it's only going to damage the relationship.
There's also something to be said about unconditional love. If you don't want to date the person exactly as who they are right now, why are you even trying to date them?
If you or someone you know is struggling, you can contact the National Suicide Prevention Lifeline at 988.
To find help outside the United States, the International Association for Suicide Prevention has resources available at
https://www.iasp.info/resources/Crisis_Centres/
Tough guys put on a facade that indicates to others that they always know what's going on.
But their confidence doesn't always match their intellect, which is probably why they cover their insecurities by walking around and trying to show everyone who's really the boss.
If that's the case, they should keep their mouths shut because not everything that comes out of their mouth needs to be heard.
Yet, it can be amusing to everyone else.
Curious to hear examples of these, Redditor PrototypeShadowBlitz asked:

"Reddit, what is the stupidest thing you've heard from the 'alpha male' community?"
You might find these guys at a bar.

The Dude Must Be Hungry
"Had a run in once with a group of young lads about something in a bar and one of them said we are top of the food chain bro and you will be the prey."
– insertitherenow
"'Whatever, mall ninja" -proper response."
– TheEighthLord
If The Shoe Fits
"That they were an alpha male."
– I_Have_A_Name37654
"The use of 'Alpha Male,' unironically is every indication that you're dealing with a child's understanding of manhood."
– 88Dubs

Brat Pack
"Me and my bros are all alpha males."
– SonOfDadOfSam
"I was skiing one time and rode the lift with a guy that said, 'I don't feel no pain. I live with 5 roommates and none of us feel any pain.' Okay, bud. That's a really interesting coincidence."
– NicPizzaLatte

They sure thrive on making sexist comments.

Contagious Femininity
"A coworker said, 'I don't spend too much time with my girlfriend because I'll become too feminine.'"
– Lazy_Natural6154
"FELLAS IS IT GAY?!"
– aliebabadegrote

Sexist Categorization
"I have been called a beta for saying that my wife makes more money than I do. She works in a more lucrative field and is more educated than I am, so it makes perfect sense that she makes more than I do."
"So I came back, and this post has really blown up. There's just a few things I want to clarify."
"1- I have only ever been called a beta online."
"2- I work full-time in project management. I have a master's degree. I have a 6 figure salary."
"3- My wife has a PhD and works in finance. She also has a 6 figure salary, it's just a higher salary than my own."
"4- I'm sorry to anyone who might feel as though my original post misled them."
– ExaminationDouble240
It's Teamwork
"A real man would be proud of his wife for achieving success, and not fall for that sort of insecure bullsh*t."
"It's not a contest, that's the real joke here. Good on you for seeing the big picture."
– Mrbeardoesthethings
Do these roles about parenting sound familiar?
Childish Things Are Too Girly
"Real men don't take their kids trick or treating is one that I heard recently."
– constructionguy89
"Related. Guys who brag about not changing diapers, not playing 'girly' games, etc. Essentially guys who brag that their only contribution to fatherhood is money and masculine things like fishing or football. Even then some of them brag about not paying a lot of child support to prove they didn't let the system take advantage of them."
"I can't imagine a life so empty my only accomplishment worth bragging about was being a terrible parent."
– Green7000

This Woman's Work
"I was told that taking care of my kids is woman's work. Apparently it's concerning that I try to spend so much of my free time with them. Oddly enough the meatheads at my grappling club think it's sweet I occasionally have my daughters' hair clips on and nails painted."
– MrFunktasticc
People discussed rules in the bedroom.
Never Submissive
"That a man is turned off when their wife/girlfriend seduces them, because if she wants sex and shows it she is a sl*t, also making the man the submissive one…"
– kamalaophelia

Stifling Emotions
"Not the whole community, but was cuddling with a guy once and could tell he was trying not to get emotional over something that was bothering him. He said, quite literally, 'it's not alpha male behaviour.' I told him that I liked that he showed emotions sometimes, and he looked disgusted by the fact that I pointed it out."
– LambLifts

In high school, a classmate who was on the football team said I was a "sissy" for listening to classical music.
The other classmates laughed at me, which was hardly surprising since all of the guys on our unbeatable football team were considered stars on campus.
This kind of mockery was a typical day for me.
I can laugh at their idiotic comments now but back then, I don't know why I ever let them get under my skin.