Straight Men Confess Who They Secretly Have A 'Man Crush' On
Reddit user winkeltwinkle asked: 'Straight men of Reddit who is the hottest man?'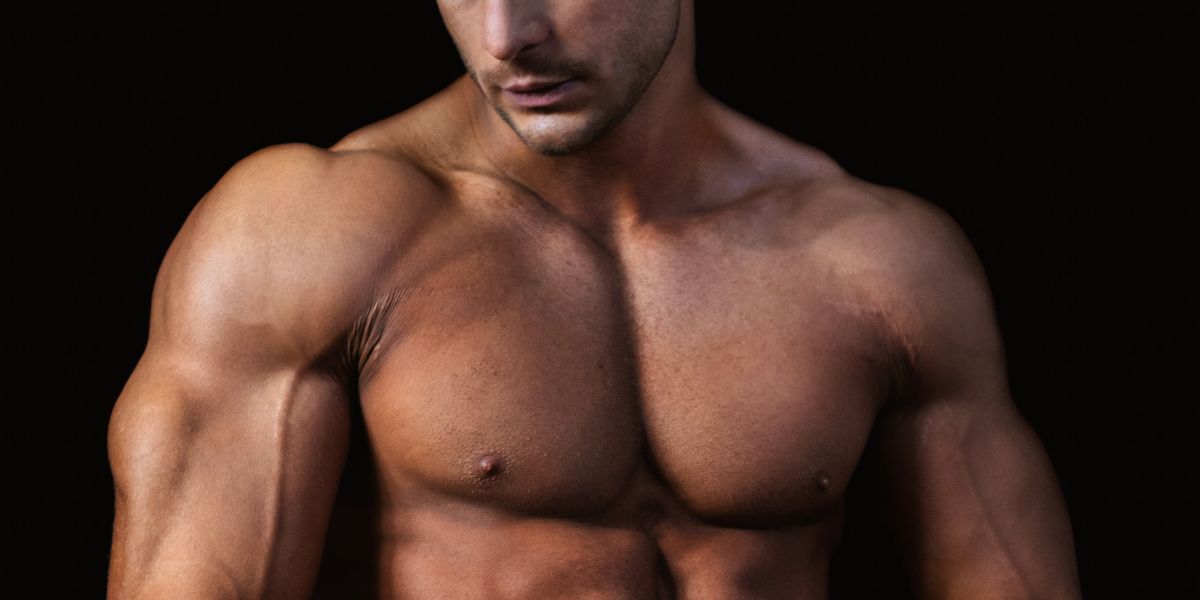 Norbert Buduczki on Unsplash
Personal preferences aside, there are some people that are almost universally recognized as physically attractive.
It's common in society for most people to comment on another person's looks.
But heterosexual men are generally discouraged from remarking on other men's appeal.
That doesn't mean they don't have man crushes though!
---
Reddit user winkeltwinkle asked:
"Straight men of Reddit who is the hottest man?"
But would heterosexual men respond?
"Society: Most men are insecure about their sexuality."
"Reddit: Straight men of reddit, who is the hottest man?"
"Most Men: OH f*ck yes, here we go!"
~ Zetawilky
"Bless this site and bless these men."
~ Fluffy-kitten28
Respond they did, with enthusiasm.
Viggo Mortensen
"Aragorn, son of Arathorn."
~ CHIM_Jim
"Every man will momentarily hesitate when scheduling a haircut, because deep down he feels like if he let his hair grow just a little longer, he could look exactly like Aragorn."
~ CaptainOverthinker
"Funnily enough Legolas was my favourite as a kid."
"Now I'm grown up, I realise how humble and headstrong Aragorn is. He's my favourite."
~ Le_Jacob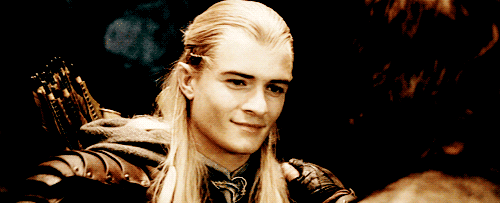 Giphy
Henry Cavill
"Henry Cavill. I'd gladly spend a day with him just talking about geek stuff."
~ Ockial
"Look I'm as straight as they come. Married with two kids and everything."
"But all I'm saying is if Henry Cavill wants to tie me down and whisper the specs to his new PC tower in his Geralt voice, who am I to say no?"
~ WaffleBlink
"Samehere, but he won't even need to tie me down."
"For him I'll switch teams willingly."
~ Centralredditfan
"I didn't say I would be tied down involuntarily."
~ WaffleBlink
"I usually couldn't tell you if some guy off the street is handsome or not. Like... am I the handsome one out of my group of friends or am I the ugly one? Somewhere in the middle? I have no clue."
"Henry Cavill, though, that dude is a 10. Even I can tell you that."
~ Ocksu2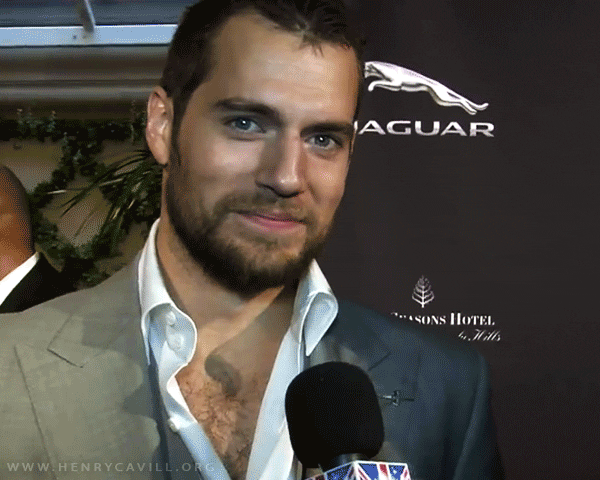 Giphy
Chris Evans
"I'm not gay, OK, I'm not. I like chicks."
"But if Chris Evans' Captain America needed to get off, like, to save the world from Hydra or something, and I was the only one around?
"Well I'm a patriot dammit! I'd let him [have sex with] me."
~ CheeseNBacon2
"Hell yeah brother, a true patriot you are."
~ daddydilly694-20
"I understood that reference."
~ imsorryisuck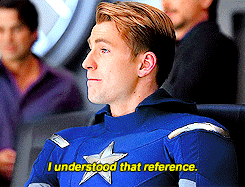 Giphy
Harrison Ford
"1980s Harrison Ford."
~ CurlSagan
"Specifically as Indiana Jones."
~ SuckItClarise
"Handsome face. Lean build. Shirt hanging open. Sweaty as f*ck. Littlebit of 'tude."
"Yes please."
~ Kalfu73
"Harrison Ford in Blade Runner is peak male form."
~ RubberRoads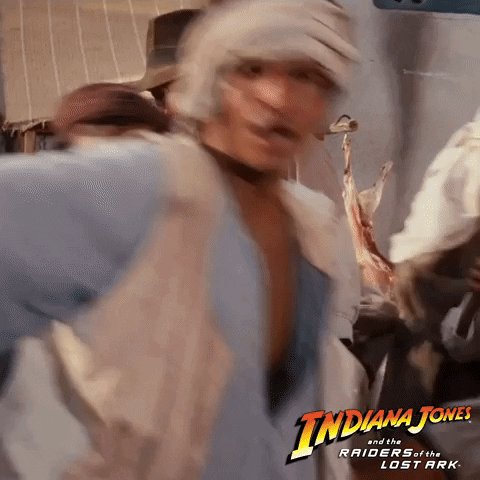 Giphy
Hugh Jackman
"I would totally go gay for Hugh Jackman."
"Good looking, great actor, great singer, great dancer and seems like an all around cool dude with a great sense of humor."
~ Krinks1
"This is the one! He is beautiful and talented, inside and out."
"Humble, honest, caring, down-to-earth, and shredded as all heck."
"I thought I didn't have a homosexual bone in my body, but that scene where he comes popping out of the tank as Wolverine … something awoke inside of me."
~ monkeymanlover

Giphy
Great Guys
"I love that so many of the gruff and tough characters are usually played by such kind and fun men.
"Say what you will about the Fast and Familyous movies, but Vin Diesel looks like he would be fun to hang out with. And Dwayne Johnson looks like he would be able to make you enjoy getting into a workout routine."
~ Fyrrys
"[Hugh Jackman is a] super nice guy as well."
"I met him a few years ago while helping a friend to move, who incidentally was a Broadway actor. Hugh was there as well lugging boxes with the rest of us."
~ fulthrottlejazzhands
Ryan Gosling
"I went to Barbie for Margot Robbie, I stayed for Ryan Gosling."
~ Leemur89
"My straight male fiancé says the same."
"As soon as the 'I am Kenough' sweater appeared, he leaned over to me and almost tearfully whispered- 'I really need that sweatshirt'."
~ janet-snake-hole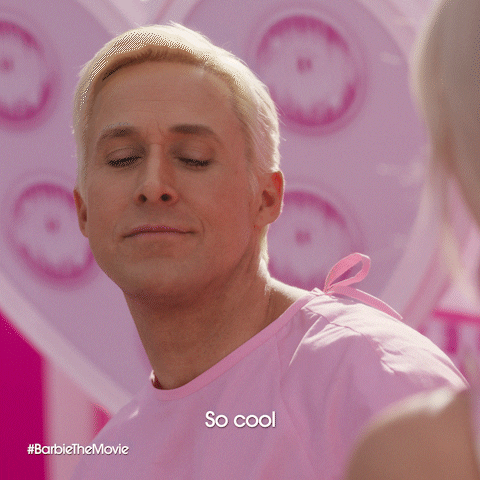 Giphy
Jensen Ackles
"Jensen Ackles"
~ Aggressive_Finding_7
"The only time I thought my wife was going to legit fight her bestie was a group road trip to his brewery west of Austin, and they were arguing over who got 'dibs' if they spotted Jensen."
"I finally told them I did."
~ ATXGOAT93
"I'm a straight man and I binge watched Supernatural and I think it was the only time I was actually emotional when the show ended, like I genuinely missed Dean for a minute there."
~ Im-a-cat-in-a-box
"Deep voice, tall, perfect face genetics, total dork. I'd love to see him in something with Cavill."
~ sendabussypic
"I keep forgetting he's tall, considering he spent 15 years standing next to his moose of a brother/costar."
~ bluegiant85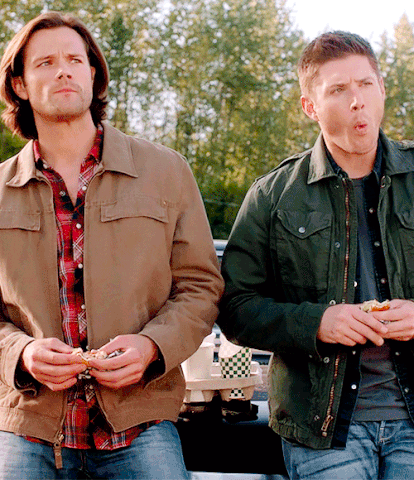 Giphy
Ewan McGregor
"Ewan McGregor. Surprised I haven't seen him mentioned."
"He looks good, has a Scottish accent, and seems genuinely nice and wholesome."
~ NuggetPilon
"My husband is straight but he would literally push me out of the way if it meant making eye contact with Ewan McGregor."
~ DoctorofFeelosophy
"I've had a man crush on Ewan McGregor since watching The Long Way Around."
"My wife understands I'd leave her for him if he asked me."
~ Calan_adan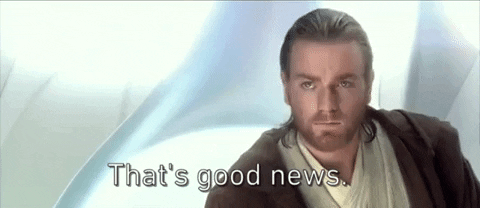 Giphy
Hollywood Legends
"Robert Redford in his younger years. The guy had an annoyingly winning smile that just reminded us all of what we'll never be."
~ bdbr
"Add Paul Newman to that list - the movies he did with Redford are gold. Great chemistry between those two."
~ TheTalentedMrTorres
"I know it doesn't need to be said, but a young Marlon Brando is probably the hottest actor of all time."
~ Reddit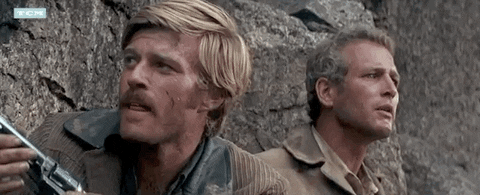 Giphy
Define Hottest Man...
"Power went out last night, so we don't have air conditioning."
"Not to brag, but it's me."
~ Dystopian_Divisions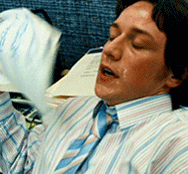 Giphy
We all have our personal preferences, but some men just seem to be almost universally admired.
So did your hottest man make the list?
A bride has a lot to do before her big day, from planning the dinners, to getting her dress, to deciding on the decorating details. This quest for the perfect wedding can sometimes be even more stressful than finding a lifelong partner—but that doesn't mean these women had any excuse for going full Bridezilla in front of their staff.
"Two roads diverged in a wood, and I— I took the one less traveled by, And that has made all the difference." ~ The Road Not Taken by Robert Frost
Life is full of choices. Each one we make can send our lives in entirely different directions.
Sometimes our decisions work out for us and sometimes disaster ensues.
But let's focus on the positive.
Reddit user Kai6180 asked:
"What's the best decision you've ever made?"
Relocating
"In 2012 I got an offer from Amazon. It meant leaving Arizona and all my friends and family to move to Seattle. I stressed about it for a long time and finally decided to take it for a year and then move home."
"Met a girl my first week here and married her 5 years later."
~ Lotan
Trusting Instincts
"I found [what I thought] a US Army grenade simulator as a kid. It had a pull string."
"I held it and was going to pull it but changed my mind. Instead I tied it to tree and got more string until it I had about 10 feet."
"It blew a hole in the pine tree about the size of pie tin and about 2 inches deep. The cops came. I would have lost my hand or worse."
"The year was 1968."
~ enkiloki
"Changing my major."
"I have so much more motivation for school now that I actually love what I'm studying."
~ user8203421
Isn't It Romantic?
"I don't give a f'k if it's cheesy, but proposing to/marrying my wife."
~ Derekeys
"Right there with you, buddy."
"If this answer is cheesy then call me Mr. Rella."
~ GreenManTenTon
"Was going to say same. 34 years happy."
~ Factsaretheonlytruth
"Accepting an accidental friend request from the woman who'd eventually become my girlfriend."
~ warlordwinters
"I agreed to snap with a girl who texted me first on an Online Dating site last December. Just reached 8 months with the woman that will most likely become my wife."
"I thought she was a bot or something when she first texted me."
~ Murphy338
Setting Goals
"A bit over a year ago, I decided it was time to lose weight. Now, I had the yearning to lose weight before that, because being fat sucks."
"But I got a haircut that looked really good and I looked in the mirror and it was as if I were seeing myself for the first time. I looked at myself and thought 'I could be pretty. I really could. You know what? I'm going to give this an honest try'."
"So I did. I researched the hell out of weight loss, began calorie counting and I am proud to say that Ihave lost 127 lbs... so far."
"Now it isn't even a matter of 'Gee, will I ever reach my goal weight?' It is a matter of WHEN."
"My whole life has changed, and 95% of those changes have been positive. I have met a version of myself I never knew existed. And it is f'king beautiful."
~ Rearldeen34
"At 30 years old with a wife and two kids, go to college."
"My standard of living dramatically improved after graduating."
~ Spud9090
"I'm 36 and in my second year."
"My daughters will know a better life than I had."
~ mrw4787
Moving On
"Leaving my ex. We were horribly toxic together and I'm so much happier now."
"Give yourself time to grieve and process. Even when it's the best decision, the pain from the loss is still there. It will be ok. A new kind of ok."
~ HeyJoe459
"Needed this, just left a very one way relationship where everything was about her and now I am free but still hurts to lose that talk every single day aspect."
~ 1trickana
"Leaving and going no contact with my abusive family."
~ tvcxsxalty
"Congratulations on that, ❤️ people have no idea how hard that is."
~ loveloveyourself7
"I just did this. I knew I had to get away from them. COVID made things worse."
"I hired a company to help me fix my credit and I bought a house in a small town in a different state."
"Right now the heat is keeping me indoors but once fall comes it's going to be heaven."
~ BookmarkThat
"Right there with ya'."
"I feel much more relaxed."
~ ActualFirelord
"Divorcing my husband just short of 50 years!"
"No more negative influence."
~ jennifer3333
"My aunt divorced her husband after 38 years and she has been a new person ever since."
"You can tell the weight was lifted."
~ rb928
Facing Addiction
"Stopping drinking alcohol."
"Today I have my life back and I am very grateful."
~ Outrageous_Duty_8738
"Getting sober from alcohol - 1,290 days but who's countin!"
~ slycooper89
"Quit smoking and drinking, started to exercise!"
~ PeachFuzzTamer
"I quit drinking and smoking on the same day about 14 years ago....it was a rough couple of weeks..."
~ Psychological-Joke22
Waiting
"After college I started interviewing for graphic design jobs, and I realized 'Oh, this would be excruciating corporate bullsh*t'."
"I had a moment in time where I knew I needed to decide between a miserable "grownup" job that pays well after a few years, or just working wherever and focusing on enjoying life."
"I wanted to live life, not devote myself to joyless adulthood and a career. I ended up meeting a lot of awesome people, including close friends I still hang out with a decade later, and making countless memories I cherish."
"Recently I started focusing on making more money and being a serious adult, and it feels like the right time for that."
~ UStoAUambassador
Unconditional Love
"Getting a Golden Retriever puppy.
"That was 11 years ago and now I have 3. So much happiness and love."
~ the_best_taylor
"Animals help in ways I don't think some humans really understand."
"My girls [cats] act like they hate me but they are always there for me...for one minute."
~ Flamesclaws
Like we said, life is full of choices.
So which ones worked out well for you?
When I was in college, a cousin of mine who lived in London all her life came to visit me. We went out to my favorite restaurant on her first day and I warned her right of the bat not to order too much. She'd never been to New York, but I had been to London, and I knew there was a difference in portion sizes.
Portion sizes in England are usually just enough to satisfy you while potion sizes in America are usually too much to finish in one sitting. I explained this to her, but she waved me off. It was a point of pride for her that in any given group of people, she was always the one who ate the most, and the one who never slipped into a food coma.
Big mistake.
She was surprised to find that the chicken finger appetizer she ordered, which she refused to split when I suggested it, came on top of a mountain of loaded fries. She was struggling to finish it when the entree she ordered came out. She paled when she remembered it came with four sides.
In the end, she had to pack up a lot of the food, which was a totally new concept to her.
Ordering too much thinking you are going to finish it all is just one of the things foreigners should avoid doing when visiting America. There are plenty of other things to avoid or places not to go, and Redditors are eager to share what those things are.
It all started when Redditor AlainasBoyfriend asked:
"What should a foreigner avoid while visiting the United States?"
Rain, Rain
"Don't be bullheaded when it comes to the weather. If the locals are worried, you should be worried."
– TakeThisification
"Friend was gored to death by a mountain goat. Right through the femoral artery."
– Sharp-Procedure5237
Say Cheese
"If you go to the national parks, don't attempt to take selfies with the wildlife. A full grown bison will throw you through the air like a crumpled piece of paper."
– Juergen2993
"In Washington DC, avoid taking pictures in front of DC District court thinking it is the Supreme Court. The Supreme Court is 6 blocks away."
"Also, the White House is MUCH smaller than you think it is."
– SafetyMan35
"And eat and eat..."
"Ordering a large at a restaurant, or especially a movie theater. I don't care how hungry you think you are, you will not eat/drink it all in one sitting."
– Amazing_Excuse_3860
"Especially stupid if there are free refills on drinks lol."
– sigaven
City Folk, Beware
"If you are visiting a more rural area, like Montana where I live, don't underestimate the rural-ness. You might not be able to get a hotel in a small town and there are plenty ty of places where there aren't any hotels or accommodations. You can take highway and run out of gas because there aren't any gas stations for 70 miles."
"Also, if it is a dirt road, and there are a lot of them in the rural U.S., don't ever assume that you will have cell/GPS reception or that the dirt road goes anywhere besides 50 miles into the mountains where you can get stuck or break down. It's hard to conceptualize for people who live in more populated areas."
"Your best bet is to plan ahead and read reviews. It is absolutely worth it to visit areas where there is wilderness. That is why I live here. That being said, it's dangerous in a different way than visiting a city."
– Violet624
"Damn, as an American city dweller, you made me scared of Montana."
– DasBeatles
Road Trip
"Driving from New York to LA."
– No_Finish_2144
"Unless you're planning to spend 2 weeks visiting places in between. The drive will not take just a few days!"
– VG88
"We had an exchange student from France staying with us (NY). one day, we saw her with a map of the US, said she was going to take a bus to California because she had heard so much about it on television."
"We had to sit down and explain it was going to take a week, each way."
– medicinaltequilla
"Yep. I lived in France for a longtime and took the bus everywhere. on a 10 hr ride there you could easily cross three countries..."
– No_Finish_2144
Six Feet Apart
"I find a lot of foreigners have about 2 1/2 inches of a personal space bubble, while us Americans value our space. Keep at least a 2-3 feet distance when conversing with strangers. I've had an Italian guy come so close I thought he was going to kiss me. Very uncomfortable for someone who isn't used to a lack of personal space."
– MasterPip
Keep Your Mind Wide Open
"Leave all your stereotypes about America home, it's a hugely diverse country and your experience in one part of the US will be very different to your experience in another. Keep an open mind and have fun."
– zerbey
"Well said. I don't think most first time visitors to the US get just how different one state can be from the next."
– TacohTuesday
Smokey Home
"Don't smoke in public buildings, this is illegal."
"Don't smoke in someone's house, apartment, or condo without asking for permission. This isn't illegal, but it's still extremely rude."
– Max10imus
"This feels like common courtesy anywhere in general. Even in houses where people smoke, I still go outside to smoke. I'm really uncomfortable smoking in other people's houses."

– Conditions21
Don't Forget To Tip You Waiter
"Remember that our service staff do not get paid a living wage. They rely on tips to survive. If you can't afford to tip, don't eat out."
– kindest_asshole
"Tipping is compulsory here. It's super fucky, and really shouldn't be. But it is. Especially if you plan on sticking to one area and eating in a place more than once, you'd best tip. Don't toy with the people who handle your food out of eye-shot..."
– MothraWillSaveUs
Where To Eat
"Don't go to the big chain type places. Go to the mom and pop little restaurants and coffee shops and specialty shops. You will usually find new cool things you enjoy."
– ElectionProper8172
"Agree but check reviews. Not all small businesses are created equal. Chains are good if you don't have time to do research. You know what you're getting (probably)."

– UnihornWhale
American Health Care
"Avoid a hospital visit. Whatever you think it costs, it's more."
– pug_fugly_moe
"Whatever a European thinks is a cartoonish amount, and then triple it, and that'll cover the ambulance ride there."
– liketreesintheforest
"Right? I remember listening to a Dutch person complain that their Healthcare wasn't actually free despite what Americans said. He went on to explain that he has to pay something like a $20 copay to go to the dentist and some vague circumstance where you might theoretically have to pay close to a hundred dollars at some point. It was cute."
– UnspecificGravity
Get Me A Map!
"Avoid looking lost and unorganized in areas of big cities with high crime rates. Dress functionally, always keep the illusion of knowing where you are and where you're going, pay attention to your surroundings. Bad people will target folks who look lost and unorganized more often than people who appear oriented."
– xtrasmolpp
"That kind of applies to any big city in the world."
– the13bangbang
"If I am legitimately lost, I will walk with purpose until I find somewhere to sit. Once seated, the phone comes out and I try to make it look like I am texting someone and not studying a map. Nothing stands out like a group of people, standing in the middle of the sidewalk, all staring at one person's phone."
– Lothar_Ecklord
I'm not even a foreigner and I follow this rule all the time. Extremely important!
Ideally life is a rollercoaster of highs and lows.
Constant highs set up an unrealistic expectation of the world that can come crashing down hard over the smallest setbacks.
Constant lows are just plain cruel.
A mix helps develop coping skills and problem solving while not crushing the spirit.
Curious about what constituted low points, Reddit user beesechugersports asked:
"What was the worst year of your life?"
Childhood Trauma
"1987. I was 13."
My dad was killed when he was hit by a car. Total accident."
"I think about the driver sometimes. I hope he forgave himself."
"I honestly don't recall ever feeling anything toward that guy. I think I was more upset with the neighbor who came to our door to tell us he thought my dad was in an accident."
"My mom piled us in the car and we drove down the street to the scene. My dad's body was under a sheet.
"That night I was numb until my mom hugged me and I bawled in her arms. After that I pretty much shut down emotionally for a couple decades."
"Took me a long time to get help for my own PTSD."
~ surfingonmars
Losses
"2011 - Lost my job, girlfriend, friends, had to move back in with my folks where I fell into a deep depression."
"That went on on until 2014 when I was able to turn the ship around."
~ max-peck
"People underestimate how horrible those 2-3 yrs of depression feel."
"I was in rock bottom depression for 2 yrs and it felt like a decade passing by."
~ secondhand_bra
Future Derailed
"2012. The year started out great. I met and befriended an adult film actress on my birthday and had an active sex life for the first time ever."
"I was finally off the night shift at my job. I applied for grad school. I was accepted into a program for veterans at the Writer's Guild of America."
"I had finally arrived."
"But by September it was all over. My relationship with 'Nadia' had turned toxic and ended in a huge fight."
"I was rejected from grad school. The WGA program didn't pan out for me."
"Worst of all, I was fired from my good job. I nearly became homeless and had to go back to working the night shift guarding a gated community in Beverly Hills."
"By the year's end, I was alone and broke (I would declare bankruptcy early the next year) with no hope for the future."
~ SgtSharki
Economic Downturn
"2014. My business suffered a 4 million dollar loss."
"Then my fiancée who I was with for 6 years left me for her boss just 3 months before our wedding."
"I wasn't able to find another partner but I did recover from the absolute shambles I was in."
"Just the fact that I'm able to function normally and interact with people again without breaking down is a big win for me."
~ S_MZ
Post College Struggles
"2014—the year I graduated college and was looking for work and had bad acne and unrelenting pressure from my parents and a poor social life and I worked Uber while studying for the Chartered Financial Analyst exam that I ended up failing."
~ Damerman
Friends Lost
"2017. I lost my best friend that year.. we met during our first year of university and immediately hit it off and became close."
"We were inseparable for 7 years. I've never been the same since then.. I died with him."
"I wish I could've helped him.. I wish I could just take one last drive and smoke one last cigarette with him ,and tell him how much I love him and how much he means to me."
"Please tell your friends that you love them whenever you get the chance.. you never know when will be the last time you hang out together."
~ Syouf
Seeing the Light
"2018. Realized I was part of a cult."
"It was called the Great Commission Churches when I attended though they've changed their name multiple times over the years when they've been accused of abusive practices."
~ Consistent-Way-2018
Long Road to Recovery
"2019. Last straw at my job, where the management team turned on me, resulting in me putting in my 2 weeks after my complaint against a lying supervisor was dismissed."
"Had no more income, so I couldn't pay rent, and thus had to move out of the shared house I had with a friend and his fiancée (wasn't on lease, had no obligation to stay, and the fiancée even told me "you know, you don't have to live here" during an argument)."
"Said fiancée convinced him to turn on me and drop me as a friend, which resulted in him going off and convincing the only other friend I had to do the same."
"Covid hit."
"My cat developed a genetic illness that paralyzed her and my step-father put her down behind my back. My childhood dog developed cancer and was suffering so she was also put down, but I was able to hold her while she passed."
"Great aunt died of cancer, great uncle (other side of family) died of cancer."
"That was the lowest I've ever been, and I haven't even recovered 20% yet."
~ Whatsa-Throwaway
Pandemic Pandemonium
"2021 was the year when my mental health was worse than ever."
"Looking back I'm proud of myself that I just survived."
~ Master-Mood1816
"Well done on that and also, same."
"2021 can go straight in the bin."
~ sicklything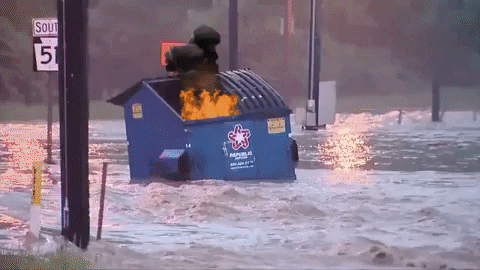 Giphy
Aftermath
"On the flip side 2021 was probably one of the best years of mine as an adult."
"My girlfriend and I were able to spend so much time together because she was only working maybe 1 day a week and I worked at an empty warehouse from 7 to 3 Monday to Friday."
"When everything went back to normal we both were working so much we ended up splitting up, so I guess 2022 sucked pretty bad."
~ ofTHEbattle
Piling It On
For some, their worst year isn't done with them yet.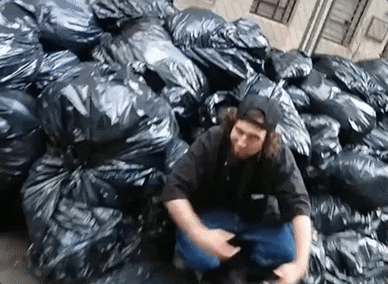 Giphy
"2023. By far the worst year of my life.
"Got laid off, took forever to find a new job, fiancée got pregnant then lost it then she got cancer, hated my new job, went heavily into debt to survive, fiancée beats cancer, she gets a life insurance payout from her father's passing, she gets pregnant again."
"Then I find out after she up and vanishes suddenly that every single thing was a lie. She faked it all from top to bottom for two years and pulled the rug out from under me, suddenly running off with our dogs."
"Since then I guess she needs some sick gratification that she's not getting from just all that and continues to stalk me on social media/Reddit as well as spoof her phone number to text me sh*t with purely the intent of trying to hurt me."
"Losing the dogs hurt and still hurts, won't lie, but being rid of her has been nothing short of a blessing."
~ Ok_Outside_4650
"This year—2023."
"My dog died in June."
"My wife died in July."
"My cat died in August."
"I have 5 kids."
~ MichaelHoncho
Dear whatever doesn't kill me, I'm strong enough now.
"Every year seems to beat the previous."
~ BenChodABQ
Oof, that's a lot to take.
While some are still going through it, many have already come out on the other side.
Here's hoping better days are ahead soon for everyone.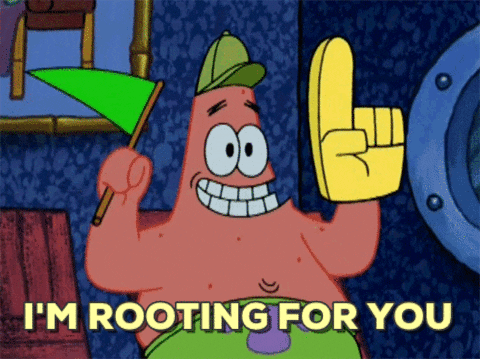 Giphy