People Divulge Why They Stopped Talking To Their Childhood Best Friend
"Friends 'til the end... Ha. Ha. Ha."
That was the evil doll Chucky's tag line in the Child's Play films.
Even a possessed doll knew the idea of friends "forever" can often just be a pipe dream.
Life happens and at warp speed. Everybody you know in the moment, can be gone in a flash.
People move on and falling outs happen.
It's just a part of life.
---
Redditor lawyeratyourservice wanted to hear all details (scandalous and sad) about about the end of a life long friendship.
They asked:
"People who no longer speak to their childhood best friends. What happened?"
Delia.
My childhood bestie was a girl named Delia.
I still see her on the socials but I have no idea about her life.
And it just happened.
I'm Sorry
"I got lost in the grips of addiction. I'm sober now going on two years, and He's at the top of my amends list." ~ Mtg_Force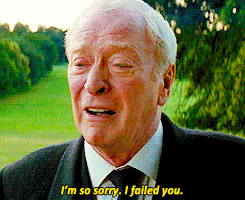 Giphy
Diverging Paths
"Like many kids of the 70s and 80s, there was no tech to stay connected like there is today once we went away to college. We'd cross paths every so often until his parents sold their home and moved away."
"We were briefly friends on Facebook until he deactivated his account. Ironically, I'm in touch with his older brother. In fairness, they don't have much contact either. I don't take it personally, I think he wanted to unplug from the past for whatever reason." ~ jphilipre
The 50/50
"I realized that every time we'd spoken in the last several months, I had been the one to start the conversation. I decided to stop and see if he would initiate a conversation and we never spoke again." ~ DoomsdaySignal
"I have friends like that and friends that make all the effort with me. I guess it's best if it's 50/50 but I've never had that happen." ~ Ann-Stuff
"50/50 isn't the goal. The goal is to NOT have it 100/0." ~ drum_playing_twig
Decades Later...
"My friends (who were brothers) moved to another state. I called them every week and we had good conversations. My dad asked why I was always the one who called, because it was in his dime, lol, and I said if I don't call them they will call me."
"Never heard from one of them again, and the other only hits me up when he wants something. I've heard from him once in 20 years." ~ No_Understanding7431
Just Life
"We finished high school. We went to different colleges and made new best friends." ~ Professor_Nick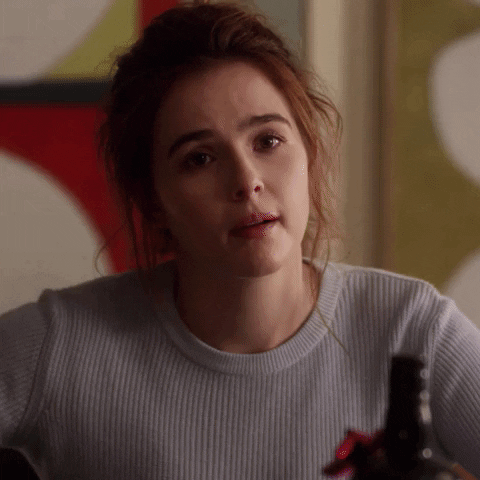 Giphy
It's ok to have goodbyes.
They are part of the natural order.
Call me Bree!!
"She moved to Alaska from Arizona. It's a long shot but if you see this, Bree, message me!" ~ GreenOnionCrusader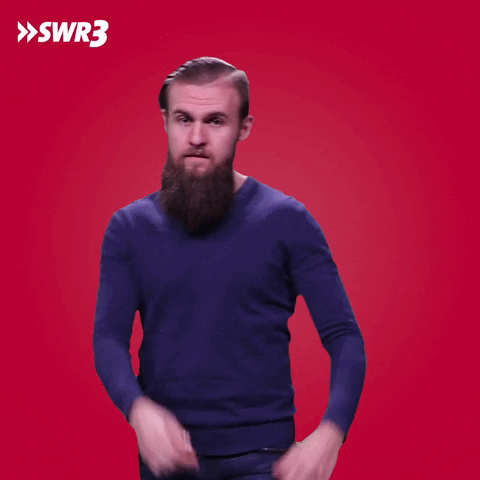 Giphy
The Drift
"We slowly drifted apart during 8-9th grade. He wanted to become one of the popular kids and I was at the bottom of the social structure."
"I have seen him from a distance several times over the years but did not want to bother him. He died at 34 from an undiagnosed medical issue earlier this year." ~ Ashtar-the-Squid
2014...
"Drifted apart because we moved away. Fast forward to 2014, met a new gym member who had the same last name as her, had a similar smile and asked if there was any way he knew of or was related to her."
"Turned out he was her brother and she passed away when she was 26! 😭" ~ rudebish
It's Too Late...
"I've got a friend that I don't see very often since he got married (we get along with his wife), and I've just been assuming it was because we all have less time."
"Nope, turns out it's because we're all white collar professionals in our late 30s, and any time we invite him out he can never be anywhere before 10pm. Dude, I get up at 6 am." ~ Alrik
Thief
"She always tried to steal everything I had (boyfriends, clothes, personal possessions, etc) so I cut her off." ~ stormyllewellynn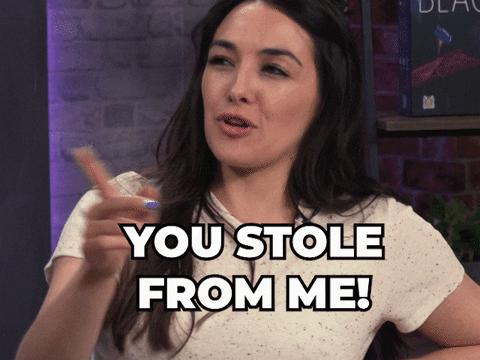 Giphy
No Comply...
"I didn't realise how controlling she was. The friendship fell apart when we went travelling together in our late teens. She hated it and went home after a few months but I stayed for two years."
"When I came back it went downhill very quickly. I'd learned to say no, have boundaries and have other friends - she hated that and stopped talking to me."
"It's been 10 years and she still occasionally messages me, saying sorry and wanting to reconcile. I did the first few times but the friendship always went back to her trying to control me and blowing up when I refused to 'comply'. I have to just ignore her messages now." ~ Hot_potatoos
be cool...
"He sold out to the 'cool kids' and betrayed my trust. I was so hurt at the time, which was expressed as anger. He and I had been through so much, and always had each other's backs. Then, one day, I seemingly did not matter. The trust was gone, and I never made any overture to him, nor he to me." ~ rodeler
All was good...
"No clue. I'd love to know the answer. We were best friends from age 5 till 21. I was at her wedding. All was good. After that I never spoke to her again. I tried but she never answered. Even her parents and brother and sister have no clue why." ~ ThatCatChick21I
"Would bet it's something to do with her spouse not liking you. Similar thing happened to me." ~ meow______meow
Groupies...
"I was in a girl group and a couple the girls were my friends since 1st grade - in JR high they thought the guy that one of the other girls liked me and they all cut me off. Even though I had a huge crush on a totally different person." ~ Readitonline12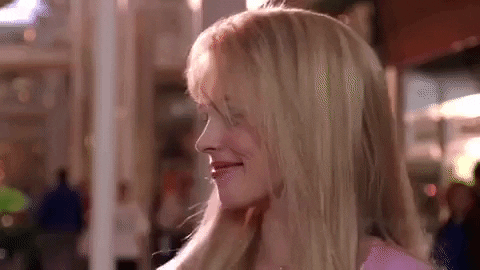 Mean Girls Reaction GIF by filmeditor
Giphy
Hi James
"I bailed on my best friend James because he was not 'cool' enough and did not smoke any weed like my new 'friends.' Today he's working for NASA and putting his success aside/I just feel bad for bailing on my childhood friend for people who today don't care about me. But that's life I guess." ~ Discombobulated_Elk7
Social Growth
"We lost touch and when we reconnected she told me that I was no longer beneficial to her social growth and I'd only be an embarrassment in her new circle. I was the only kid on the block who wanted to be her friend when she moved there from China not knowing any English. We were around 7. I helped her learn. She works as a software engineer now so I guess my admin a** isn't good enough for her. All good though." ~ claire_luna15
The Surface
"Turns out she was a gaslighting narcissist who went around talking down about me to try to make herself look better. She also followed me around and came onto every guy I dated, sometimes after we had stopped dating, sometimes before. In a few scenarios, she succeeded in sleeping with them. All while lying to me. About everything. Legit most disgusting human being I've ever known. This only scratches the surface." ~ jjjjennyandthebets
Misplaced Blame
"I told her that her fiancé was cheating on her. She got mad at me. They split, she's still mad at me." ~ ashley_spashley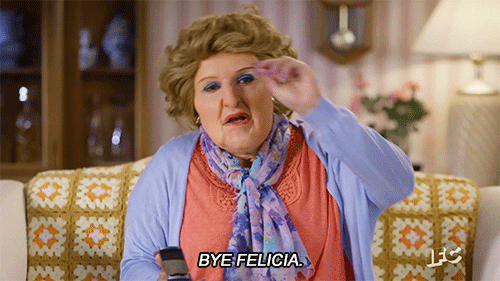 Ifc Bye Felicia GIF
Giphy
School Daze
"We were completely inseparable through middle and high school and had always planned to stay together through college. She didn't get into my choice schools, so (being an extremely dumb and anxious teenager) I foolishly agreed to attend a second-rate school with her instead... as not to be alone."
"Shortly before the start of our freshman year of college she informed me she was no longer going to school with me and was instead moving to NYC to live with a guy she met on the internet. She'd known this for months but neglected to tell me until it was too late to do anything about it." ~ GiuseppinaAng
When We Were Young
"My best friends are kind of chapters in periods of my life. Still love them all, catch up like no time has passed when we can see each other. Unfortunately it's hard to maintain a family and multiple friendships. Chosen family and I can't wait to wake them up and start playing!" ~ 123Fake_St
Well everyone here seems to be dealing well.
But... let's find Bree.
Maybe they can have a better outcome.
Want to "know" more?
Sign up for the Knowable newsletter here.
Never miss another big, odd, funny or heartbreaking moment again.

Medicine is a difficult profession. Thanks to the wonder that is human nature, healthcare workers are subjected to incredible Darwin-award-winning scenarios daily, so it's no wonder that many of them feel the need to go home and scream into their pillows at night. From self-inflicted injuries to dangerous prescription misuses, these Redditors revealed the most facepalm-worthy patients they've ever encountered.
But be warned: They'll all leave you wondering how we've survived this long as a species.
In almost every interaction with a Karen, there will come a point where she (or he) will ask to speak to the manager. They seem to think that if they over others and just act a fool, they can get what they want—but the following managers REFUSED to let these Karens get away with their inconsiderate antics.
In the United States, it's no secret that sex education for minors is inconsistent at best.
But some people learned very unexpected stories about how babies were made, and those stories had a way of making a lasting impression.
Curious about other's stories, Redditor ILoveYourCat asked:
"How did you think babies were made when you were little?"
One Time's the Charm
​"I knew babies came from sex as a fairly young child. My parents never sugar-coated that. But for some reason, as a kid, I thought you only had to have sex once to have multiple pregnancies. I seriously didn't fix that misunderstanding until early middle school."
- Crazey1988
"At some point, when I finally accepted that you had to have sex to have a baby, I thought the only time people have sex was to make a baby, and it only took one time to get the job done."
"Then when I figured out teenagers were having sex, I thought you had to be married and have sex to make a baby, but then when my unmarried cousin got pregnant, I was just confused."
"But I was sure my parents only had sex four times, and then when my mom got pregnant with number five, I thought, 'Wow, they did it again.'"
- Raw_Combination_438
Stealing Storks
"A stork delivered them, of course. What the f**k, lol (laughing out loud)."
- Dells51
"Storks... I thought people trained them to steal babies from a factory and you would leave special treats on your doorstep as payment and encouragement for the stork to steal one for you."
"I was scared to death of birds for the longest time and would have a tantrum at the zoo when I saw a flamingo."
- No_Finish_3144
Young Conspiracy Theorist
"The government. I used to think that we lived in a totalitarian society and that the government was in complete control of everything."
- bebotak**t
"I thought the President sent people their babies when asked by mail."
- GustavoAlex7789
Scheduled Baby Delivery
"The women in my family explained to me at the age of six that a doctor calls you sometime after reaching adulthood at the age of 18 to schedule a baby delivery date."
"The husband either pays to schedule the appointment or the government does after verifying that you have been married and financially stable for quite some time."
- Lokikat00
Marital Kissing
"When two people kissed."
- Short-Reality7353
"I thought the same thing, but I understood that when my mom gave me a kiss, there was no risk. Being someone raised in a very Christian background, I assumed that when you got married, God made kissing a reproductive act."
"Since I made this assumption, I remember questioning why teenage pregnancy could possibly be an issue."
- meuserj
The Ultimate Christmas Gift
​"I thought Santa was bringing them."
- NorskoTheScorpion
"He was. I mean, Christmas comes but once a year..."
- Nouveauuuu
"I MAY NEVER ENJOY CHRISTMAS AGAIN."
- NorskoTheScorpion
A New Meaning to 'Forest Friends'
"When I used to ask my dad where I came from, he'd say he found me under a rock in the forest. Of course, I would go look for babies under rocks, too, but all I ever saw was dirt and those rolly-polly pill bug thingies."
"It was so gross thinking babies were just found THERE that I was actually relieved to find out how they were actually made!"
- melodie-artist
Pregnant By Proximity
"I thought women got pregnant by just being around a man, and I was always confused about what would happen if a woman still lived with her parents or dad after she's an adult."
- ILoveYourCat
Coming of Age Story
"I thought it was a 'just happens once you reach a certain age' sorta thing. As a woman, I was terrified because pregnancy sounds like the most awful thing, lol (laughing out loud)."
"(I know the end result is worth it but even as a 31-year-old, I'm like, nope.)"
- BansheeShriek
Sounds Plant-Based
"I thought they grew like a seed inside the mother's belly."
- maclaglen
"Technically, that's true."
- ManagementFresh4960
"Watermelon seeds."
- bravovice
"Well, not like that."
- ManagementFresh4960
The Power of Marriage
"My mum told me you couldn't have a baby if you weren't married. Note that she said 'couldn't', not 'shouldn't'."
"When my unmarried cousin was sleeping a lot my mum told my aunt 'she's having a baby'. I thought 'she can't be having a baby, she isn't married.'"
"A couple of weeks later she had an engagement party, quickly followed by a registry office wedding. She had a baby a few months later."
- MolassesInevitable53
Baby Trees
"I thought they grew on trees. True story."
- 8inchsalvatorre
"Baby trees, lol (laughing out loud)."
- ILoveYourCat
"I was surprised when I learned how it really happened, lol. I was like, 'You mean there are no trees?' And Mom just shook her head."
- 8inchsalvatorre
They Were Just There
"I don't recall a time where I gave the matter any thought without knowing the reality of it."
"Like, literally, until the day I was first introduced to the concept of birth, I don't think I cared where babies came from."
- N_Who
"Right, the little guys just EXISTED."
- Mizar97
Educated Is Best
"I asked my mom and she told me the truth."
"Educate your kids, folks. They can handle it."
- Bite_Me_23
Spontaneous Babies
"I didn't... They just showed up, honestly."
- badguywindow
"That's what I thought. I was terrified as a little kid that I'd wind up being a teenage mother because I thought it just happened spontaneously."
- dinosore
"Exactly what I thought would happen. Like one day you were just, boom, six months pregnant."
- badguywindow
While these responses might be funny, it's an important reminder of an area in the educational system that's often lacking.
But in the meantime, while the system's curriculum is getting sorted out, at least we can take comfort in the fact that we weren't alone in believing these tall tales.
One of life's many challenges to being successful and happy is to work hard and stay focused on our respective goals.
There are many obstacles that can discourage us, but persistence and a drive to overcome can be rewarding.
Unfortunately, there are some things that are simply beyond our control, and it has nothing to do with fate.
It's the qualities we're either born with or without that can impede us or prevent us from ever achieving what can only be seen as a pipe dream.
Curious to hear examples of one of life's cruelties, Redditor G00dR1ddance asked:

"How did your genetics f'k you over?"
These Redditors were unhappy with appearances.
Uncooperative Vision
"Lazy eye, and a total lack of depth perception."
– Crow_of_Judgem3nt
"Same. Do you struggle with driving? I just moved to a big city and I can't drive here bc navigating all the traffic is too hard with no depth perception. It's so scary!"
– Subnautica24

The Worst Parts
"Moms Family: Perfect teeth, male baldness. Dad's family: Terrible teeth, perfect hairline."
"Me: Sh**ty teeth, bald before 25. My 2 brothers: Perfect Teeth, Perfect Hairline."
"Feels FN bad."
– Yogannath
"They should all chip in for a trip for you to Turkey for a cheap hair transplant and dental work."
– turboprop123

Made For Farming
"All 4 grandparents were farmers. I look like I was bred to farm and f**k to make more little farm workers. Broad shoulders, big boobs, no waist, no @ss worth mentioning, and thick legs. I just look like I was bred to work forever until I die. 120 years ago."
– bwvdub

Stop With The Flattery
"I too am sturdily built. I am not tall but I am muscular and broad with the big boobs and the broad hips and sturdy legs. I could carry very heavy sacks of feed from when I was very small. My family nickname was 'the forklift truck', so that's.. nice."
– LibraryOfFoxes
Room For More

"My mother's OB said she had a pelvis 'you could drive a bus through'. I was a natural breach birth and share those genetics. You could host the last supper on my a** and have room for plus ones."
– Elephant_axis

These Redditors are living on borrowed time.
Cardiovascular Health
"Bad heart. I'm the first male in at least 4 generations to make it to 40. And that's only because I was finally properly diagnosed and treated. I wouldn't have made it to 35 if I didn't find the right cardiologist."
– socteachpugdad
"Bum ticker - dad's aorta exploded when I was 11 and my brother died from the second heart at 41. Just hoping to see my 60s."
– poontong

Being Kept At Bay
"I have a blood condition where I retain iron. It's slowly killing me. Destroyed my liver, pancreas, and led to a massive heart attack."
​"Fortunately, I live in the 21st century where modern medicine can keep me going with...bleeding."​
– Objective_Stick8335
"Sad Aspect" Of A Family
"Huntington's disease"

– alc1864

"My oldest uncle married a woman who had Huntington's, but they were very young and she wasn't symptomatic yet. In the 70s so no genetic testing or much public awareness. They had 5 daughters. My aunt and their eldest have long since passed away, and the remaining 4 are in various stages of the disease. It's always been a sad aspect of our family. A truly cruel disease."
– Wasyloosker12

BRCA Genes
"I'm BRCA2 positive, giving me roughly 74% chances of developing an incurable genetic breast cancer in my life. It also gives me about 22% of having an ovarian cancer."
"On the other side, double mastectomy lowers my chances to about 3%, but it should ideally be done before I reach 30. I will also need a hysterectomy in my 40s."
"I had 50/50 chance of getting the BRCA2 gene mutation so well, genetics did f'k me over!"
– PoutineMaker
Redditors share more of their crosses to bear in life after being blessed with these traits.
"I'm more attractive to mosquitoes than most people. If I'm out when mosquitoes are around, I end up covered in bites (which I'm also allergic to, so I end up with quarter sized welts that itch for daaaays after the fact)."
– p1013

It's sobering to realize the ailments your parents struggled with are starting to become our own to bear. ​
High blood pressure, arthritis, and predisposition to atherosclerosis are some of the undesirable parts of my family's genetic makeup that I never really thought about until I noticed how fatigued and in pain I've become with age.
Although I have so much gratitude for surviving every year I get to celebrate my birthday, getting old still sucks.