Some moms like flowers and jewelry. Others, like watching the crew of Enterprise explore unknown spaces and make contact with new species. For the latter, I have the best Mother's Day gifts. After all, they deserve some gifts after all the love they've given.
---
Lwaxana Troi said it best:
"No parent should expect to be paid back for the love they have given their children." - Timicin
"Well, why the hell not?!" - Lwaxana Troi.
I know you love your mom more than anything in the galaxy, but finding a perfect gift can be hard. So, I'm making it easy for you.
These are the ultimate Mother's Day gift ideas for the best mom in the quadrant.
Happy Mother's Day!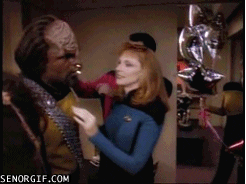 happy birthday GIF by Cheezburger Giphy