Christmas...the final frontier...these are the voyages of "Starfleet Grandma." In honor of the Holiday season, her picture, taken several years ago, is being re-shared around the internet. In the photo, the woman has inadvertently put on an outfit that matches the Starfleet uniform from Star Trek: The Next Generation.
---
Captain Picard would be proud.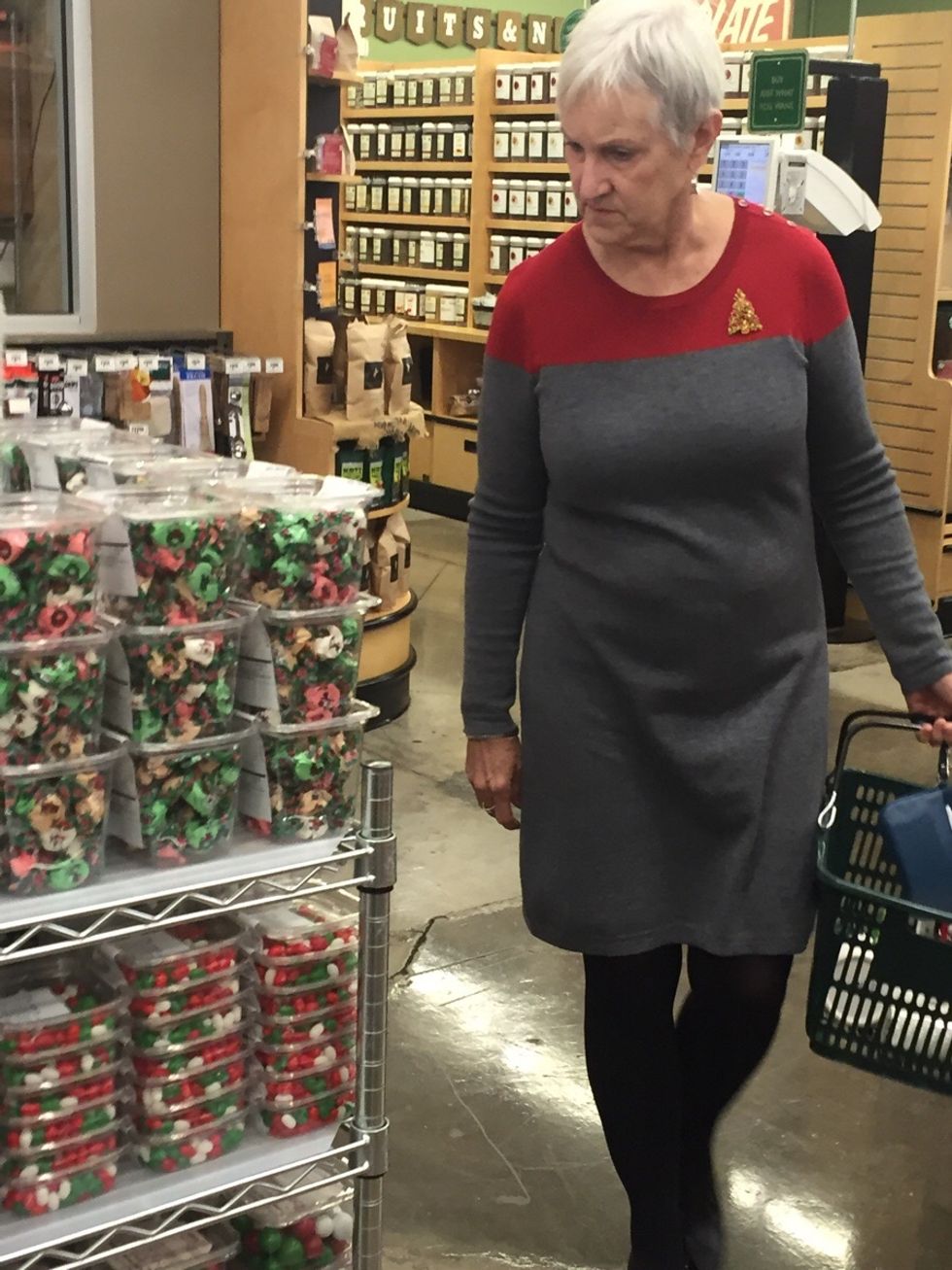 Reddit: [deleted]
While the colors are a spot-on recreation, what really takes the resemblance over the top is the Christmas tree broach that, at first glance, appears to be a Starfleet combadge.
@NerdGerhl why be a starfleet uniform OR a christmas sweater when you can be BOTH

— Greg LeClair (@Greg LeClair)1433560196.0
Reddit users like Jackin_The_Beanstalk loved the sweater and hoped it would become tradition:
"I wonder if she'll pass that dress along to The Next Generation when she doesn't want it anymore."
Of course, Mac_User_ couldn't let the sweater pass without a well-placed Star Trek pun.
"Make it sew."
Saul_Firehand joined in on the fun:
"She looks ready to engage some of that candy."
grafxguy1 made a crack about the woman's age (which is significantly older than the average Starfleet officer):
"She's fallen and she can't beam up."
torkel-flatberg played along perfectly:
"Now she's in tribble"
skinrust suspects she's buying all that candy for her children:
"Or her kids Khan just buy their own"
Hawkman1701 made note of an important Star Trek fact:
"That's just a Cadet uniform. Never too late to reach for the stars."

aheadwarp9 wondered whether the woman is a Trekkie or whether the outfit was a happy accident:
"I want to think that was on purpose... but it almost looks like it could have been an accident."
Myschly wouldn't be surprised if the woman was actually a huge fan!
"This. All these dudes just assuming that an older woman can't possibly have enjoyed sci-fi. I never watched Star Trek myself but I know that it actually went into philosophical meanderings etc, it had an intellectual appeal, so it's not that women don't watch sci-fi, they just don't watch mindless sci-fi."
sadi89 thinks it may be a little bit of both:
"I think it may have been on accident-purpose. She probably put it on realized what she did and liked it. She looks like she's around my moms age and my mom is a big Star Trek fan."
foodown knows exactly how they'd react to the woman in public:
"If I passed this lady, I'd just nod casually and greet her, 'Admiral.'"
satisfactsean points out that the Stafleet resemblance doesn't stop with her outfit:
"Shes even got the Tuvok style cut."
Happy Holidays from Starfleet and the entire Star Trek: The Next Generation crew!
Star Trek TNG christmas song Make It So youtu.be
Merry Christmas from STAR TREK https://t.co/3MolRuqGxa

— klingonroy (@klingonroy)1545367945.0
Not long till #christmas guys! Who is counting down the days? #startrek #memes https://t.co/lWbiVlWhiV

— Peak Cashflow (@Peak Cashflow)1545386458.0
Annual Star Trek #Generations picture. Love Christmas traditions! 🎄☃️❄️ https://t.co/BLNoGPAGM5

— Ben Berghaus (@Ben Berghaus)1545356209.0