Sarah Paulson is a dynamic actress known for riveting portrayals throughout all eight seasons of FX's anthology series American Horror Story.
Paulson also turned in a brilliant performance as prosecutor Marcia Clark in the 2016 miniseries The People v. O.J. Simpson, the first season of another anthology series, American Crime Story. She was recognized with a Primetime Emmy Award and a Golden Globe Award for Outstanding Lead Actress in a Limited Series or Movie.
Now, Paulson can add being an internet meme to her list of credits.
BuzzFeed pointed out a unique idiosyncrasy, courtesy of an eagle-eyed 20-year-old named Demi Ellina. According to Ellina, Paulson bobbles her head prior to photographers snapping her picture on the red carpet.
Here is proof.

"I just remember watching a video of Sarah Paulson posing in a photo shoot, and that reminded me of how she usually wobbles her head when she's at the red carpet," Ellina said.
The 44-year-old scene stealer is not only an accomplished actress, director, and charmer during interviews. Her adorable twitch has become an internet obsession, elevating her status to meme-worthy legend.
We can't shake this image and its many interpretations.

Expressing confidence.

We've all been there, right?

When you've been toking.

A suggestion for a scene in an upcoming AHS episode.
This is what a short circuit looks like.
A subtle way to signal to friends under dire circumstances.
Maybe there is a simpler explanation behind her quirky twitch.
Here is a Lady Gaga crossover reference. And it's a good one.
When she is not wobbling her noggin on the red carpet, you can find Paulson starring in Netflix's apocalyptic thriller Bird Box, co-starring Sandra Bullock as her sister.

The promising series will start streaming this Friday, and we can't contain ourselves.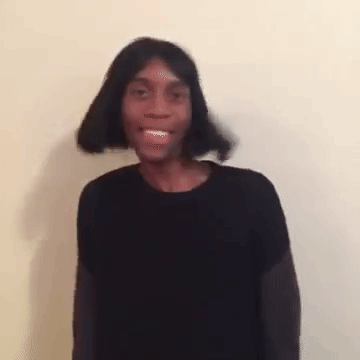 Giphy