Sarah Paulson is a dynamic actress known for riveting portrayals throughout all eight seasons of FX's anthology series American Horror Story.
Paulson also turned in a brilliant performance as prosecutor Marcia Clark in the 2016 miniseries The People v. O.J. Simpson, the first season of another anthology series, American Crime Story. She was recognized with a Primetime Emmy Award and a Golden Globe Award for Outstanding Lead Actress in a Limited Series or Movie.
Now, Paulson can add being an internet meme to her list of credits.
BuzzFeed pointed out a unique idiosyncrasy, courtesy of an eagle-eyed 20-year-old named Demi Ellina. According to Ellina, Paulson bobbles her head prior to photographers snapping her picture on the red carpet.
Here is proof.

im sorry but isnt it like the cutest thing ever when sarah lightly wobbles her head when posing🙊 #sarahpaulson https://t.co/iGXh4pBEFB

— demi (@demi) 1544562194.0
"I just remember watching a video of Sarah Paulson posing in a photo shoot, and that reminded me of how she usually wobbles her head when she's at the red carpet," Ellina said.
The 44-year-old scene stealer is not only an accomplished actress, director, and charmer during interviews. Her adorable twitch has become an internet obsession, elevating her status to meme-worthy legend.
We can't shake this image and its many interpretations.

my mom when she saw me acting feminine as a child https://t.co/oNQkNHxETL

— izzi (@izzi) 1544756589.0
Expressing confidence.

"Are you okay?" Me: https://t.co/ru1e83pZuT

— legendary del rey (@legendary del rey) 1544874806.0
We've all been there, right?

when you come home from a party and your parents ask if you're drunk https://t.co/jmrbH6TBN8

— ☘️ (@☘️) 1544839808.0
When you've been toking.

anyone: are you high right now? me: https://t.co/YAKjNmMGDV

— yee/haw (@yee/haw) 1544805083.0
A suggestion for a scene in an upcoming AHS episode.
@explicitcherry @whomstbitch @jesskaytee omg is she glitching

— casey rose (@casey rose) 1544899241.0
This is what a short circuit looks like.
robots when a tiny drop of water touches them https://t.co/BYIYsrnZno

— i put arsenic in the wine 𝒶𝓃𝒹 𝓉𝒽𝑒 𝓅𝒶𝓈𝓉𝒶 (@i put arsenic in the wine 𝒶𝓃𝒹 𝓉𝒽𝑒 𝓅𝒶𝓈𝓉𝒶) 1544574567.0
A subtle way to signal to friends under dire circumstances.
Me trying to gesture to my drunk friend not to tell a certain embarrassing story... https://t.co/AsOXOt7uG4

— david lim (@david lim) 1544994579.0
Maybe there is a simpler explanation behind her quirky twitch.
@cmtj1998 Are you adjusting your hair @MsSarahPaulson ??

— Ginger🦊 (@Ginger🦊) 1544563362.0
Here is a Lady Gaga crossover reference. And it's a good one.
Breaking: Sarah Paulson to play all 99 people in a room who didn't believe in Lady Gaga https://t.co/04esh6f57Y

— Rose Dommu (@Rose Dommu) 1544811382.0
@rosedommu @TartarSauce_ Plot twist: Gaga's the one that believed https://t.co/kC4ERElcY6

— Kyle MOUSE (@Kyle MOUSE) 1544836855.0
When she is not wobbling her noggin on the red carpet, you can find Paulson starring in Netflix's apocalyptic thriller Bird Box, co-starring Sandra Bullock as her sister.

The promising series will start streaming this Friday, and we can't contain ourselves.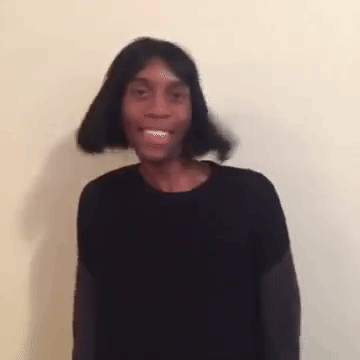 Giphy