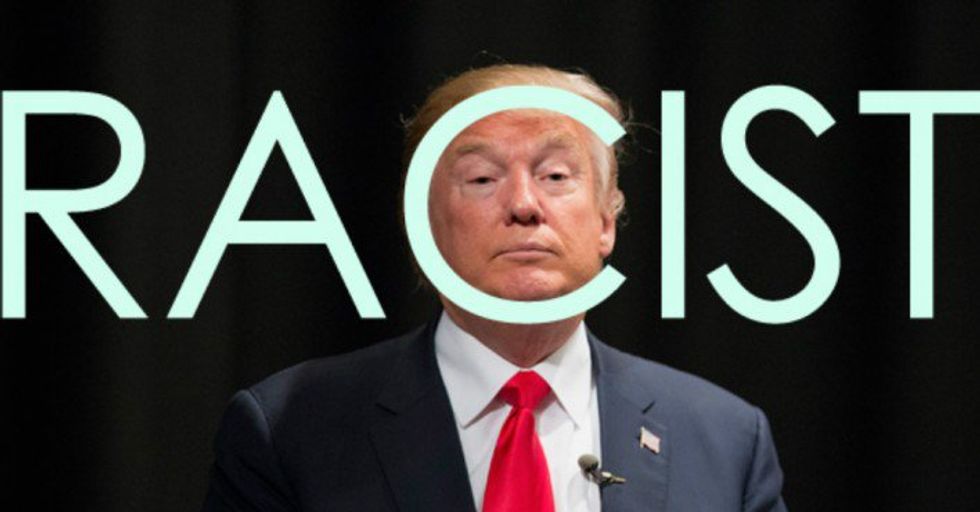 If there was ever a time to hold your Muslim, POC, LGBTQ, and female friends close, it's now. Since Trump has been elected President of the United States, some supporters have taken that as their cue to openly discriminate against fellow Americans.
WARNING: Due to the nature of these personal accounts, this article contains violence, racist/sexist/xenophobic/homophobic language and acts.
People have taken to social media to share their horrifying experiences, and below are just a handful of the many, many accounts. If you would like to read more, you can find the source at the bottom of this page. Be sure to share this important message.
---
1
This just happened. Trump supporter tossed water in her face after threatening to rape her and build the wall. Day 1 of Trump. pic.twitter.com/8JJAM2ugJf
Shaun King (@ShaunKing) November 10, 2016
2
3 of my muslims friends, whom i've never seen without a hijab before, came to school without them today, because they were afraid.
claude (@claudiafavelaa) November 9, 2016
3
White students @ Southern Illinois University (@SIUC) decided to put on blackface and pose in front of a Confederate Flag to celebrate Trump pic.twitter.com/OEP2yEW3So
Shaun King (@ShaunKing) November 10, 2016
4
My mom literally just texted me "don't wear the Hijab please" and she's the most religious person in our family....
jannatin (@harryonmen) November 9, 2016
5
6
Outside of the #NYU Muslim Student Association's prayer room. Not even 24 hours after the election. #ElectionNightpic.twitter.com/ySjvPT57cR
Sunny (@sunnysayed_) November 9, 2016
---
Continue reading on the next page
7
White dudes saw a woman alone and yelled "grab her by the pussy" then tried to do so.

Day 1 of Donald Trump. pic.twitter.com/an1XtqCIY5

— Shaun King (@ShaunKing) November 10, 2016
8
@ShaunKing@NHousteaupic.twitter.com/hXofb534SG

— veryhardworkinggirl (@dorota98765) November 10, 2016
9
@ShaunKing day one of Donald trump at wake forest university. pic.twitter.com/RlhVfGI9Wg

— madison (@maddieemz) November 10, 2016
10
@ShaunKing this was in Durham, NC pic.twitter.com/EVGTXCMEmT

— Avarice Gambino (@Pinocchio_Lies) November 10, 2016
11
I walked into my room and my heart aches with pain. pic.twitter.com/GFD5gBmPmD

— Mara Sanchez (@TRmariasanchez) November 10, 2016
12
@ShaunKing Muslim student was strong arm robbed in San Diego State University while they insulted her for being a Muslim. pic.twitter.com/LzH5jcp2sC

— need bday money (@merbae_) November 10, 2016
---
Continue reading on the next page.
13
my mom said there was an older white man on his roof today yelling racist shit. she hurried back inside. https://t.co/QJfitbYF6h

— Erika Ramirez (@3rika) November 10, 2016
14
@bettertingz this is featured on the Twitter moments btw

— emolly (@cantstanciu) November 10, 2016
15
This was in Queens, NY. She was asked to go to the back of the bus.

Day 1 of Donald Trump. pic.twitter.com/c4TBmYCoCe

— Shaun King (@ShaunKing) November 10, 2016
16
Today something unimaginable happened. I was walking on Washington ave bridge when I was stop in my tracked by a white male, who yelled at me to "Go back to Asia". I was in complete shock and disbelief. I honestly did not know what to say, but I pretended to not hear any thing and continue on walking since I didn't want to create conflict. Shortly after that moment, I was stopped by that same man who told me " Don't you know it's disrespectful to walk away from someone when they are talking to you?" I was in disbelief. I responded by saying don't you know it's disrespectful to talk to someone in that manner when they are obviously not interested in a conversation? Also for your information I am a U.S. Citizen, and if you want to play that card then you should go back to wherever you came from as well cause we are all immigrants and the only one who deserves to be here are the Native Americans. He avoided everything I had to say and called me ignorant, and told me that the only reason that I got into the University of Minnesota- Twin Cities was because of affirmative action. That struck a melting point in me, because I worked hard to get into this university, and chose to go here when I could have easily gone anywhere else of all the college that I was accepted to. I was so fed up with the conversation that I started to turn around and was about to begin walking when all of a sudden

I felt someone grab me by the wrist and pull me around. It was the same guy, and at this point I was done. I told him that he needed to let go of my wrist, and that this was not okay for him to touch me like that. He avoided my reasonable request and made fun of the fact that I couldn't get out of his grasp and laughed saying that I was " too easy". He then proceeded to tell me "I don't understand why you are walking away from me when I am trying to have a conversation with you. I told you that its rude and you should listen to me cause I know a lot more than you do." At this point I literally could not handle the amount of ignorance and white privledge that this guy had, so I told him that he literally has exactly one minute to let go of me before it gets serious and someone will get injured and it won't be me. He took my warning as a joke, and said " okay, lets fight then, you can't beat me anyways look at how small and shrimpy you are", and he actually dared to (continued)
---
Continue reading on the next page.
and he actually dared to punch me ( more than once). Things got serious really quick cause kathy doesn't mess around with that stuff. Before he could attack me again I used my self defense skills and got out of the hold he had on my wrist and punched him straight up in the throat ( Which honestly I am not apologetic for what so ever). His friends who were watching the entire situation go down saw that I was going to the win fight and came over to his rescue and accused me of assaulting him and called the police. The police who came did not listen to my side of the story what so ever because the man that assaulted me had "witnesses" ( which were his friends). I was handcuffed and was waiting for the police to check my information, which of course came out clean because I am a law abiding citizen. Then the police proceeded to un cuff me and was warning me and talking about all this police jargon. I was so flabbergasted that this is the reality that we are in. As I was walking home, after the situation having people stare at me and knowing I might be a meme or have someone take a photo of me accusing me of doing something I haven't I am in disbelief.
At first I was really upset, but now I am really grateful that he did that to me. It gave me an opportunity to speak up. Here is my final statement to you sir. I am sorry that you are threatened by me and my presence and are so afraid of me that you had to succumb to this. But thank you, because of this situation you have relit a burning passion in my soul about why I need to make my voice heard, and offer that same support to my fellow Asian Americans, LGBT community, People of Color, and the oppression you have placed upon us.
17
This just happened to a friend of a friend who is a waiter (who isn't even Chinese). pic.twitter.com/c6aRNy2rHS

— Lucia Fasano (@lucia_fasano) November 10, 2016
---
Continue reading on the next page.
18
19
It's already started. I feel more sick than I did earlier. #NotMyPresident#Election2016pic.twitter.com/URtNxQIk0e
Kelli Zoe (@KelliZoe) November 9, 2016
20
21

@ShaunKing This from my friend Nichole... pic.twitter.com/ydMKEcY60z

— Laura Keeney (@LauraKeeney) November 10, 2016
22
Trump. Day 1. pic.twitter.com/5z6qbHX9rN

— Shaun King (@ShaunKing) November 10, 2016
23
My friends know this woman. Happened in Napa Valley last night at the gas station & left them all in tears. pic.twitter.com/EZC3d7kTI4

— Shaun King (@ShaunKing) November 10, 2016
Continue reading on the next page.
24
I have a scarf on. Passed by someone on the platform today and he says, "Your time's up, girlie."

— Mehreen Kasana (@mehreenkasana) November 9, 2016
25
Not even 24 hours yet. My friend's sister, who is Muslim, had a knife pulled on her by a Trump supporter while on the bus by UIUC campus.
Sarah A. Harvard (@amyharvard_) November 9, 2016
26
Someone on the streets of LA just yelled at one of my girl's Latina coworkers to "go back where you came from." #TrumpsAmerica

— Alex Gale (@AlexGale) November 9, 2016
27
28
29
30
31