Self Lender is a real company that, according to its website, helps people "begin their financial journey with a credit builder account," while also saving them some money.
The picture that Twitter user Pitbull Updates posted on October 29 of a supposed text conversation between Self Lender and a potential client were actually photoshopped for comedic effect.
---
But that didn't stop a hoard of people from praising the company's "youth led" marketing strategy before giving Self Lender a try.
With the caption "Instagram ads are getting out of hand," Pitbull Updates posted a photo of a supposed crass conversation between Self Lender and a potential customer.
Instagram ads are getting out of hand https://t.co/c6JEVLgDyV

— Pitbull Updates (@Pitbull Updates)1540846071.0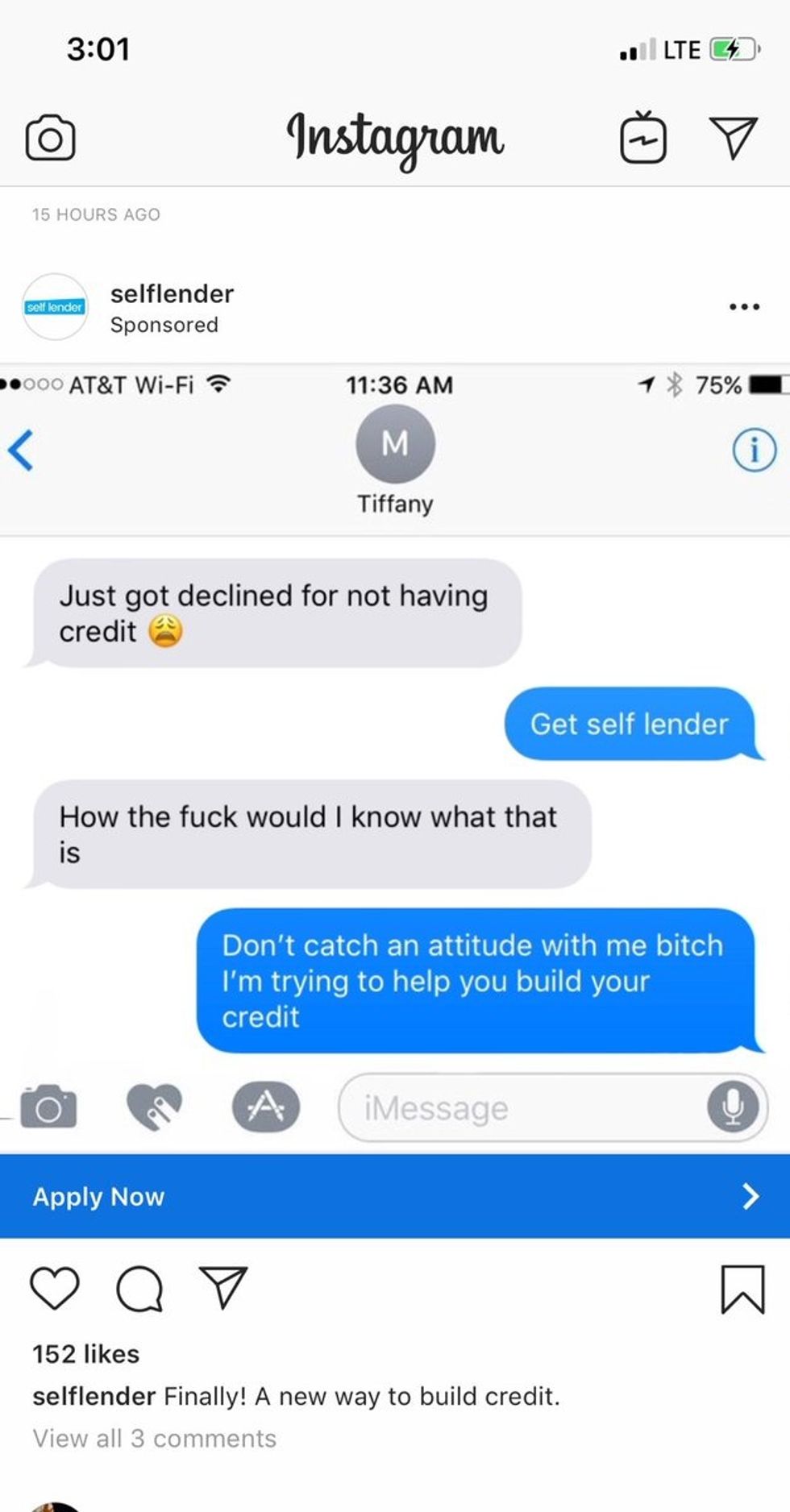 @PitbullsKing/Twitter
The photo went mega-viral, with many other accounts endlessly sharing the image!
I'm still screaming at this https://t.co/eYtu3IjFLf

— side chick (@side chick)1540878000.0
😂💀💀💀💀 i know ppl who use self lender. Wtf? 😭😭😭 https://t.co/q5jVORmlt4

— Shay (@Shay)1540928162.0
@buckypeggy *downloads self lender*

— patrick (@patrick)1540922099.0
As the photo spread across the internet, many commended the company for its relatable marketing strategy.
Real talk—it's what the kids are into these days!
You can always tell the difference between an adult led PR team trying to appeal to the youth and a PR team of actu… https://t.co/f97ixh3KeH

— Kelly (@Kelly)1540905838.0
@lustedafter @TyMangino self lender: get the attention of millennials marketing dept: say no more

— Amber Esparza (@Amber Esparza)1541002724.0
@Lando_1207 I've heard self lender is cool too

— Zakiya 🌻 (@Zakiya 🌻)1541097130.0
So relatable, I might just get self lender https://t.co/ojClSw4HQh

— Obi's Lens📸 (@Obi's Lens📸)1540926506.0
What many of these people didn't know was that the ad was a fake.
According to Self Lender, the real version of the ad looks like this: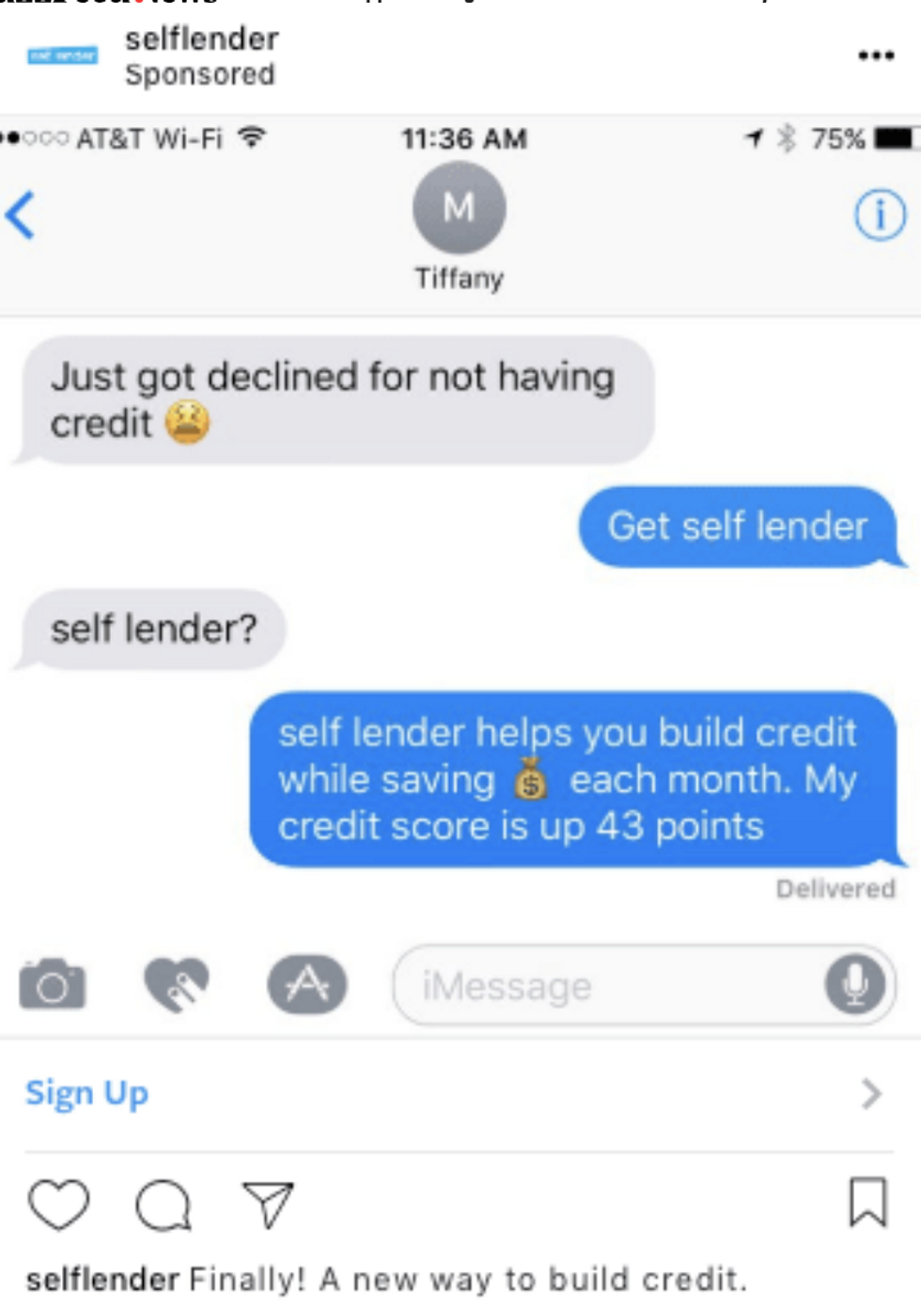 Buzzfeed News
But here's the twist: the fake ad for Self Lender that went viral has inspired real-world customers to flock to the service!
According to Brett Billick, the chief marketing officer for Self Lender:
"We have seen an increase in traffic and have had people reaching out quite a bit...We definitely think that some of the increase in traffic is from how viral it has become. There are clearly people who are now asking 'Who the bleep is Self Lender?' And there are people who are chiming in laughing but also responding who are customers."
Billick might just be onto something.
People absolutely LOVE the fake ad.
@lustedafter WHO IS ON THEIR MARKETING TEAM https://t.co/ecxlsK7Ebi

— krystal mephanie✨ (@krystal mephanie✨)1540878273.0
@lustedafter @SheaLoges can't wait to see what 2019 social media marketing looks like at this rate lol

— Em Parker (@Em Parker)1540931552.0
@lustedafter I AM FUCKING SCRREAAMMIINGG

— ✨Ricky Ticky Tan✨ (@✨Ricky Ticky Tan✨)1540922922.0
@lustedafter @spacebabe298 now this is how you get real customers

— hoestrology 🖤 (@hoestrology 🖤)1540938212.0
@lustedafter @jasonguptill13 If this is the direction that marketing is heading I might be looking into a career change

— Tyler Bainbridge (@Tyler Bainbridge)1540938949.0
Pitbull Updates said he had no idea the photoshopped picture would do so well, or that it would inspire real web traffic to Self Lender's website.
"I decided to photoshop it because the original ad was like 'eh,' and I was like, it'd be pretty funny if the ad looked like how people actually talk. I literally didn't know people would think it would be real. I thought it'd just get like a couple retweets."
@SelfLender REHIRE THEM THAT WAS GOOD MARKETING

— hazal🥀 (@hazal🥀)1541187722.0
God bless @SelfLender's marketing department https://t.co/5eBqPkSiDQ

— michael (@michael)1540936084.0
Of course, that doesn't mean he's getting any payment for his role in Self Lender's newfound success.

"I'm not even getting compensated."
H/T - Buzzfeed, The Daily Dot