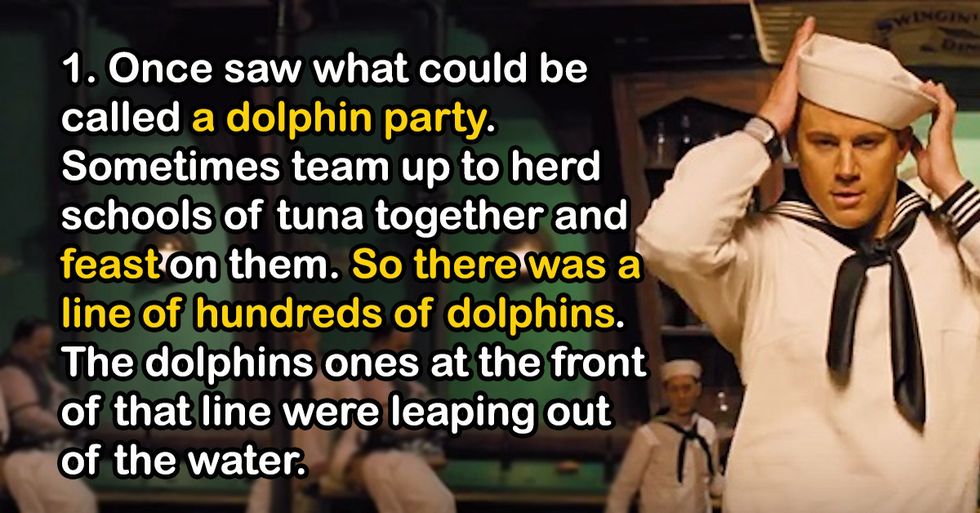 Sailors Reveal The Most Bizarre Things They've Experienced At Sea
[rebelmouse-image 18359500 is_animated_gif=
dam=1 expand=1]

Ahoy matey! The ocean is the most vast piece of Earth there is. It will never be fully explored if any lifetime. It is a glorious mystery and the men and women who sail the open waters as a job or as a regular hobby have tales to tell. The mysteries and the fantastical beauty of the sea is unparalleled and who doesn't want to know more?

Redditor _u/baesics was hoping to hear form our boys and girls at sea by asking... Sailors of Reddit, what is the most bizarre or unexplainable thing you've seen while at sea? I wish I could just look in my toilet and see some of this stuff.

KEEP ON LEAPING... KEEP ON LEAPING!!

Off the coast of Venezuela, once saw what could be called a dolphin party. Apparently they sometimes team up to herd schools of tuna together and feast on them. So there was a line together of hundreds of dolphins--and I do mean hundreds. The dolphins ones at the front of that line were leaping out of the water, spinning, doing flips--not actively feeding (they seemed to have already fed) but either taking turn displaying acrobatics to each other or showing pure joy.

They kept on going, leap after leap, until we had passed. Must have watched it for twenty or thirty minutes.
EUPHORIA!!
[rebelmouse-image 18348637 is_animated_gif=
dam=1 expand=1]

I was surfing one time and a manatee came up right under me and started spinning. It just kept spinning until I pet it then it stopped and just looked happy.
GO BENJI GO!
[rebelmouse-image 18359501 is_animated_gif=
dam=1 expand=1]

Worked with a Diving Boat for a long Time in eastern Thailand: once we met a swimming Dog in the open Sea, no Island for 5 nautical Miles.

A few days later we asked the Locals and they explained that this Dog is doing this always (swimming) when he feels it is time to meet the female Dogs of the other Islands and sometimes even swimming to Cambodia!
THAT'S TIMING!
[rebelmouse-image 18359502 is_animated_gif=
dam=1 expand=1]

Have you ever seen the movie Captain Philips. If they came out only 2 hours earlier they would have attacked my ship. We were just ahead of them. I only heard about it when the captain brought us all to the bridge and told us about the American ship that had been assaulted.
CLOSE CALL!
[rebelmouse-image 18359503 is_animated_gif=
dam=1 expand=1]

While sailing the tallship Bounty out the St. Lawrence I was on bow watch and the ship lurched to starboard by like a foot. We had like 10 miles of water on both sides so I checked on the starboard side... nothing

Went to the port side and was completely speechless for the first time in my life. A 55-65 foot Right whale was scratching it's back on the side of the ship and I was staring into a volleyball sized eye less that 10 feet from me.
I'VE SEEN IT ALL!!
[rebelmouse-image 18979873 is_animated_gif=
dam=1 expand=1]

I'm a Navy helicopter pilot and I've seen a few strange things.

Someone already mentioned the sea snakes in the Arabian gulf. But what you can't really see from the ship is the balls of snakes. I've flown over a few giant balls of snakes intertwined in the water. When I say giant, I am talking like 10 yards from side to side.

In the middle of the ocean we came across a dead cow in the water. Just bloated and floating there. My best guess is the thing fell off of a freighter. I've seen a whale poop. That was on the list of things I never thought I'd see. A mom and her calf surfaced out near San Clemente island off San Diego, and dammit that mom let out a long brown cloud behind her that had to go for 50 yards.
I SEE THE LIGHT!
[rebelmouse-image 18979874 is_animated_gif=
dam=1 expand=1]

There is a green flash of light just after the sun passes the horizon.

When I've seen it, its was more blue green but it might have been the water reflecting through the atmosphere, moon jellyfish appearing out of nowhere. so many you couldn't jump in without hitting them. And disappearing 20 min later when the wind picked up.
WHAT'S ON THE MENU?
[rebelmouse-image 18979875 is_animated_gif=
dam=1 expand=1]

I was on a submarine, so....not much. There was one guy who used to take two slices of bread, dump a bunch of sugar on it, and cover it all in milk, and would eat it for breakfast. That was pretty bizarre. But I don't think that's what you're looking for.
WILSOOOOOOOON!!!!!
[rebelmouse-image 18979876 is_animated_gif=
dam=1 expand=1]

Saw a soccer ball go floating past one time when we were several hundred miles from land.

Also sailed past the carcass of a goat in the middle of the Persian Gulf.
HERE COMES SPEED RACER...
[rebelmouse-image 18354619 is_animated_gif=
dam=1 expand=1]

Was in the Marblehead to Halifax race, off the coast of Nova Scotia, and while at the helm saw we were heading for what looked like a weird reef or shoal. We are looking at charts, everything we had, nothing. And we were approaching it too quickly, but really it was approaching us.

Dolphins chasing tuna in a huge event, like 1/2 mile wide, like a huge line of white water it really was bizarre.

Also a few time an Ocean Sunfish would follow us, drafting us - just 3-4 feet off the stern. NOTHING should be that big and that ugly...
WILL YOU BE THERE?
[rebelmouse-image 18979877 is_animated_gif=
dam=1 expand=1]

Was transiting at flank speed in a submarine at an undisclosed depth greater than 200 ft. Felt the entire ship shudder up and down and heard a loud thump and rumble. Shortly thereafter saw a sonar signature for a large group of snapping shrimp across the bow. Pretty sure we freed Willy...
JAWS IS THAT YOU?
[rebelmouse-image 18979879 is_animated_gif=
dam=1 expand=1]

Did a semester with an Outward Bound program where we sailed through the Exumas in the Bahamas for two weeks. Every night while we slept we would have anchor watch shifts so that someone was always awake if we started to drift. On my watch one night I saw a fairly large dark object (6-7 feet) pass under the boat and keep going till it was out of sight. Couldn't make out what it was since it was so dark out but wish I knew what it was. Probably a shark I guess?
THE SKY IS FALLING...
[rebelmouse-image 18979880 is_animated_gif=
dam=1 expand=1]

I am a Deck Officer, this happened twice, the last one about two weeks ago. Our vessel was sailing on the north coast of Brazil, around 0200LT, I went outside to obtain the gyro compass error by taking the bearing of the Moon. It was a beautifull sky that night so I took my time out at the bridge wing to take some air. At one moment I was looking to the horizon at portside when at a glance I spotted a dim glow in the sea, when I looked down there was like hundred of thousands of green and blue glowing dots on the water, it was like I was sailing on another planet (Avatar's Pandora, anyone?). After some research I've learned that these is caused by plankton bioluminescence. It was mesmerizing.

Other less bizarre but really cool event was a meteor passing by. We see a LOT of shooting stars and space debris falling down through the atmosphere, but this one was the size of a bus or something, the whole night became bright as day for 3 seconds.

There are some stories of UFO, and paranormal phenomena that I've heard through this years that happened with my coworkers, but as these didn't happened to me I will keep to another post, if you guys are interested!
JUMP!!
[rebelmouse-image 18979881 is_animated_gif=
dam=1 expand=1]

I went around the world with the Navy in 2015 and of all the awesome sights, nothing was as bizarre as sitting in the Persian Gulf in the heat of summer with haze so thick that the sun was obscured and you only had about a half mile of visibility in any direction, and you get told to go back inside because your boots are melting to the deck because the ambient air temperature hit 159F. Hallucinations become real and people jumped ship several times. Nothing was as crazy as that.
THE DUTCHMAN!!
[rebelmouse-image 18979882 is_animated_gif=
dam=1 expand=1]

I've seen the green flash at sunset, but no Flying Dutchman.

Didn't see any snakes in Hormuz, but we did pass through a huge fleet of smugglers sneaking western stuff into Iran. One or two at a time is normal, this was over 100 and several got close enough I'm surprised they didn't get shot.

But the craziest thing I saw was one sailor's tattoo of a severed wolf's head, duct taped to a stick, with a laser pointer on its head and a knife coming out of its mouth, all on fire.
DON'T LOSE YOUR HEAD...
[rebelmouse-image 18979883 is_animated_gif=
dam=1 expand=1]

I was sailing on one of the dirtiest rivers of America a few years back when the water became filled with headless fish. Tons of them. After a little while more of sailing I was met with an equal number of fish heads. Very weird
ILLUMINATION!!
[rebelmouse-image 18979884 is_animated_gif=
dam=1 expand=1]

The sea flashing an odd blue green in almost frozen waters, middle of the night. I know about bioluminesent plankton/algea/bacteria/ect...

This was all wrong for that and we were traveling at 23kts. Wrong shade, wrong position of light flashes, wrong time of year for this. Normally its warmer waters in the spring season down south. This was mid winter far north, around the baltic area. Now i can accept the bioluminesce as some offshoot of an algea thats started surviving up north, but for one thing. Our wake and rooster tail were pitch black like normal. If anything those should have been glowing like someone was shining a spotlight dow

Instead the water had almost randomly spaced and timed flashes off both port and starboard. About 20-50ft off the side of the ship. And the glowing bursts of light paced us all night for a couple days.

Everything about it was subtly wrong.
SMOOTH LIKE GLASS...
[rebelmouse-image 18979885 is_animated_gif=
dam=1 expand=1]

Somewhere in the mid-Mediterranean on a naval deployment in Summer 1998 I stepped outside and the water was as smooth as glass. This isn't an exaggeration, I've sailed all over the world, and never seen anything like that. The shocking thing was, far more experienced sailors hadn't either. It was surreal and almost creepy. Not a freaking ripple, not a slow-moving wave. Nothing. Too this day I still don't know how it was possible. Lasted about 5 minutes, and from the bow, where we hadn't made a wake yet, just utter stillness. Amazing.
NOT APPETIZING...
[rebelmouse-image 18979886 is_animated_gif=
dam=1 expand=1]

Sea lice they go in a fish if it has been dead awhile. Eats it from the inside out. Turns your fish into an envelope and comes the size of a leech.