People Explain Which Activities Not Everyone Realizes Actually Will Shorten Life Expectancy
Death is inevitable. It's a truth we're always trying to outrun. Yet we do so many things to speed up the process.
Everyday we are helping ourselves to an early grave. And there are so many ways to avoid that trip. People are telling us all of the time how we can be healthier and better. There are literally books and blogs about ways to keep on keeping on.
So why don't we try and follow some of these ideas. And maybe we should begin trying to pinpoint were we are off and how we could try and avoid that which is poisoning us. Like carbs, well too many carbs, at least for me.
Redditor u/Babynouilwanted everyone to listen up, to make sure we live as long as possible, by asking:
What's something a lot of people do, but don't realise it's shrinking their life expectancy ?
---
Rule number one for living a healthy and productive life... "AVOID ALL POLITICS FROM THIS MOMENT ON!!" I swear that is killing us all, swiftly! Turn off CNN, FOX, MSNBC... all of it! Stop!
MOVE!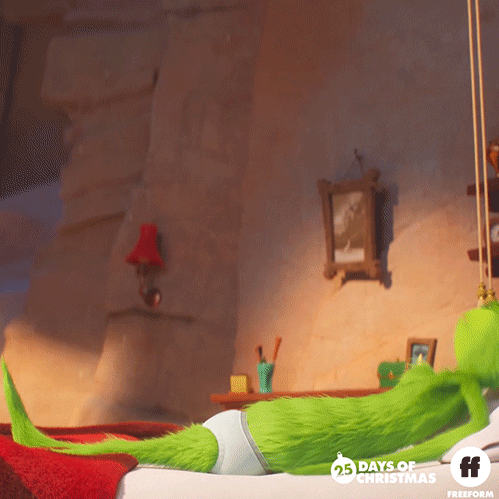 Tired Good Morning GIF by Freeform
Giphy
"Sitting too much. Our bodies are not built for the insanely sedentary lives we live. Even many of us who are relatively active spend most of the day sitting at a desk at the office and then sitting on a couch/gaming chair/whatever all night."
Good Night
"Screw up their sleep schedule."
"Some of us can't help it. I remember being as young as 10 years old and constantly waking up several times in the night, seemingly for no reason (and it still happens 5 out of 7 night these days, in my late 30s)."
"Then I read a few years back that severe PTSD can disrupt your ability to sleep through the night, sometimes for the rest of your life, and suddenly everything made sense. As such I'm lucky if I spend two straight weeks on a "normal" sleep schedule. Right now, I'm a 5AM -1:30PM sleeper."
Control
"Tension caused by worrying about things beyond our control."
"I'm stressing because my kid just started school and is having a hard time. Whenever I started a new year of school, I'd get sick with a cold. Now I'm sick with a cold because I'm worried about my kid."
"That which is beyond my control causes most of the pain in my life, so it's hard to avoid."
Down Time
"Work is killing us. We need to figure out for ourselves what we need to do to offset out jobs. I had a standing job for over a decade. It is only slightly better. Standing in one place is terrible for the circulation into your legs. It's also really hard on your feet, ankles, knees and lower back. Fatigue mats, better shoes, etc only go so far in helping. Throw in a couple repetitive motion injuries from the job itself and even after 5 years in an office job later I still have pain."
I definitely need to put my phone down. Especially when I drive. It's like an addiction. Also, my sleep is a mess. I doing my best. And someone teach me meditation.
Active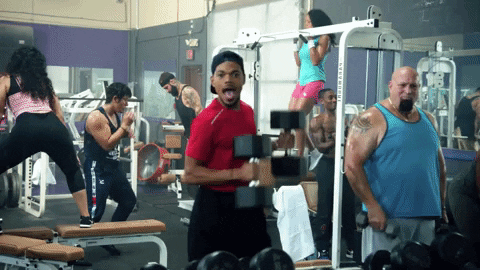 Working Out Lifting Weights GIF by Chance The Rapper
Giphy
"Being stationary too much and not enough movement and activity. So many problems slowly creep up on you."
Rays...
"Go outside without a hat or sunscreen."
"People have been using some form of sun screen for hundreds of years. Whether it be plants, mud, etc. Plus, the UV index is ridiculous in comparison to what it used to be due to the climate crisis so the risk is actually much greater."
"If you live in the UK/Northern Ireland... not a big worry. We get proper scorching days a few weeks out of the whole year. Not all at once either."
- ElishaGG
In Public
"Not building deep relationships. Doesn't matter if friendships or romantic relationships, deeply connected human beings live longer than people who isolate themselves or have rather shallow relationships. So, just so you know: THAT'S what friends are for. ;-) "
"Being severely anti-social is all I know. I am slowly developing a minor case of agoraphobia. I don't have any friends, and every time I meet someone new I freak out and don't talk to them ever again."
"I need therapy but I can't afford it. Online options aren't really options, because most of them are either extremely impersonal, expensive, or other various issues. Also I generally have a very bad history with therapists and don't like doing it because I usually come out feeling worse."
Call Erin Brokovich
"Living near steel mills. The area I live in thrives off of these and the air pollution from them has caused SCARY high cancer rates, lung problems, and thyroid issues."
"There's a city near where I live that is nicknamed Steel City because of the amount of steel mills and other metal working facilities that exist there. I started visiting friends that lived there on a regular basis when i got my license many years ago."
"Almost every young adult at the time had this random twitch that happened every few minutes. They all acted like it was completely normal. "No, that's not normal at all, wtf is in your tap water?" I said. Most of those facilities are shut down now, and I don't see the same issue anymore."
Hydrate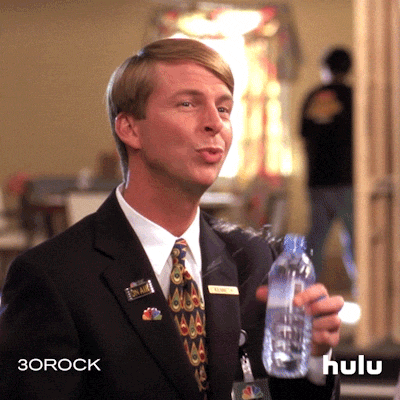 Scared 30 Rock GIF by HULU
Giphy
"Not drinking enough water."
Water. I always forget water. It's so vital. Does ice count? I put ice in everything. You gotta start somewhere. Let's get healthy people.
Reread all of this.
Want to "know" more? Never miss another big, odd, funny, or heartbreaking moment again. Sign up for the Knowable newsletter here.

Reddit user j-rock292 asked: 'What is the dumbest thing a customer has gotten mad at you about that was not your fault?'
Like many people, I spent my time in retail. Customers were by far the hardest part of the job.
In college, I worked as a "bookseller"—our official title—in a mall for a national chain of bookstores. Without fail, every shift one or more customers would ask for something like "that book, the red one, by the guy."
When we'd ask for more information—like genre or if it was new or where they saw it—they'd just repeat, "red book, guy, you know which one I mean."
We most definitely didn't know which one they meant, but customers thought if we worked in a bookstore we should know every book in print from even the vaguest of descriptions. And they'd get mad when we didn't.
Anyone who has worked with customers has war stories.
Reddit user j-rock292 asked:
"What is the dumbest thing a customer has gotten mad at you about that was not your fault?"
Were they blind?
"They asked me to cut a blind."
"When I asked for the dimension they wanted it cut to, it was larger than the original blind length."
"Said I can't make it longer, only shorter and she lost her sh*t."
~ LatishaASpray
Tag, you're it.
"Back when I worked at Target, some guy came in about 30 minutes before we closed, and wanted to buy a laptop."
"He wanted to run some obscure software on it for his laser ttagarena and got really nettled when I told him I was unfamiliar with the software and so I couldn't give a definitive answer."
"Then he started going on about how much he made in a week compared to my paycheck."
"So I told him something along the lines of, 'Well then buy this laptop and if it works, it works. If it doesn't, it won't hurt your wallet'."
"He really didn't like that and after some colorful language, was escorted out of the store."
"In an odd twist of fate a few months later the mother of one of my best friends bought his laser tag arena because he ran it into the ground."
~ gradualpotato
Credit where credit is due.
"Not me but a friend of mine worked customer service for a credit card company."
"She said a young guy called and asked why he couldn't use his card. She told him because he had exceeded his $15K limit."
"Dude was like 'yeah but that was for last month. Don't I get another $15K limit this month?'."
~ _eviehalboro
Can you hear me now?
"Customer got mad at me because I could barely hear her over a bad connection."
"I was on a landline, she was not."
"After disconnecting the call because it was going nowhere, she immediately called back and complained to me about the a**hole she'd just been talking to, saying, 'He said I was bad at making connections. Why the f**k was he talking about my love life?! You are much more helpful, though'."
~ Dapper_Interest_8914
No, I can't help you.
"I wasn't even working at this shop, I was just another customer. I didn't even wear a shirt similar to an employee's."
"A woman comes up to me and says, 'Excuse me, do you work here?' But before I can say no, she asks where something is."
"She sounded polite enough so I responded just as politely, 'Sorry, I don't work here. The people with the blue shirts do'."
"She got slightly upset and said someone else had pointed at me when she asked for a worker."
"I look to my side, and literally less than a couple feet away, there was an actual worker. I told her 'I think they meant that guy right there'."
"She then completely lost her cool, screaming various things at me and calling me all sorts of names."
"The employee tried to intervene but she just kept screaming. She eventually stops with, 'I want to see your manager!'."
I told her to f'k off. The employee laughed and she stomped off, then I just went back to shopping.
"Didn't see her again."
~ FearMeImmortals
Maybe if you hum a few bars?
"I worked at a Music Store in a mall around Christmas."
"A lady came in and wanted to get the album of whatever was playing at the store she was in earlier."
"She got mad when I didn't know what music they played in other stores."
~ MelScarn
Full service doesn't include time travel.
"In the '60s I worked at a gas station that also did repairs."
"A customer drove in with a flat right rear tire and no spare. I pulled out the nail and plugged it."
"She was good to go and left happy."
"She drove in about 2 months later with a flat left front tire."
"I pulled out a screw and plugged it while she screamed that I should have checked it last time she was there."
~ VosTutZich
"She has every right to be mad."
"You're obviously a terrible tech because you didn't make a time machine to go into the future and prevent her from getting another flat."
"You must feel terrible that she takes her car somewhere else now."
~ 1questions
The call is coming from inside the house.
"A long time ago I serviced someone's Internet connection at their house."
"When I left, my supervisor called to let me know that I had been accused of theft at this house."
"This crazy lady thought I stole a handset for her landline phone, not even the base with it, just the handset."
"She called later to report she found it in between her couch cushions."
~Reddit
I control the weather, but work here for minimum wage.
"Got yelled at for ruining his family's vacation at Disney world because the rides shut down due to the storm."
~ conker1264
"The summer right out of high school I worked at an amusement park."
"We had a massive severe thunderstorm ( heavy rain, lots of lightning, 50+mph winds, whole deal) one day, because giant metal structures and lightning dont mix we had to shut down all of our rides."
"Well this dipshit accused ME of starting this storm just to ruin his day."
~ j-rock292
Maybe she didn't want to wash it.
"I was refusing her a refund on a kids' duvet set."
"This woman threatened my colleague, so I (manager) stepped in."
"Protocol states we had to check and repack before giving a refund, so I took it to the stock room only to find that she had folded it back into the packaging, complete with the vomit chunks!"
~ Outrageous_Zombie945
Florida is hot in May
"So, I worked at a chocolate shop in Boston MA."
"Someone called to place an order, for shipment, to Florida."
"I said, 'okay, we do require next day shipping and an ice pack on shipments to Florida, so the chocolates don't melt. The shipping Will be $30 and the ice pack and insulated packaging will be an additional $8'."
"It's my standard spiel."
"The person's like 'the chocolate is only $22. No. I'll pay for the shipping but not the ice pack. It will be fine'."
"'Yadda Yadda warning. Yadda Yadda. When it shows up melted it won't be our fault I'm noting it in the system'."
"So, what phone call does my manager get 2 days later?"
"Oh? Person got melted chocolate? Oh it's our fault is it?"
"But look? There's a note in the system they refused to pay for an icepack."
"WOMP WOMP."
"Did I warn them the chocolate would melt? Yes I did."
"Do they now have nothing for mothers day? No they dooooon't."
"Poor them."
~ biddily
I also sold mattresses and appliances. Maybe because they were a major investment, I had far fewer bad experiences with those customers.
My worst experiences were working a customer service phone line for a Department of Defense agency.
People were almost always angry before they picked up the phone.
Have you had a customer go off on you? Share your experience in the comments.
Medicine is a difficult profession. Thanks to the wonder that is human nature, healthcare workers are subjected to incredible Darwin-award-winning scenarios daily, so it's no wonder that many of them feel the need to go home and scream into their pillows at night. From self-inflicted injuries to dangerous prescription misuses, these Redditors revealed the most facepalm-worthy patients they've ever encountered.
But be warned: They'll all leave you wondering how we've survived this long as a species.
In almost every interaction with a Karen, there will come a point where she (or he) will ask to speak to the manager. They seem to think that if they over others and just act a fool, they can get what they want—but the following managers REFUSED to let these Karens get away with their inconsiderate antics.