Police Officers Share Their Craziest 'We Have The Wrong Guy' Moments
Sometimes cops nab the wrong person, even when the evidence is strong. What's important is that innocent people are never punished or held accountable for the actions of the guilty. And no, Ted Cruz is not the Zodiac Killer - probably.
I_am_js asked police officers of Reddit: What is your best "I think we have the wrong person" story?
Submissions have been edited for clarity, context, and profanity.

---
Have you ever known an innocent person that was charged with a crime? What happened?
Happiness is something many people take for granted.
When things are good, they don't fight to keep it that way, because working to obtain a goal stems from an unsatisfactory status or adversity.
So it's not surprising then that many people have sabotaged their situations for something better and realized after the fact that they ruined a good thing.

Curious to hear from regretful strangers online, Redditor _lilyara asked:

"What's the best real-life example, you've witnessed, of someone destroying their own happiness?
People do crazy things for love.
End Of A Marriage
"Young guy at work; he's in his early to mid 20's, is married with two young kids and a third on the way. This new girl at work has been after him so hard. He was seriously tempted and conflicted. We all tried to talk him out of it; did he really want to throw away his family life for this? Do you really think this new girl is going to stick around once all the drama starts when you guys get caught?"
"He told us all one day that he finally told new girl to leave him alone; he was happy with his wife, and she didn't stand a chance."
"Three weeks later, he was sleeping in his car because he went for new girl after all; got caught, kicked out & served with divorce papers, and new girl ditched him once he got depressed over it."
– ZormkidFrobozz

Skewed Priorities
"A friend of mine quit a job that paid six figures a year because he didn't trust his girlfriend to not cheat on him while he was at work. The kicker here being she was a sex worker when they met."
"He's a great guy but a complete idiot when it comes to women."
– gimpisgawd

Some people go looking for love in all the wrong places.
Chasing Duds
"I have an insecure cousin who would regularly reject guys who were into her and chase guys who weren't interested."
"The more distant and emotionally unavailable the guy was the harder she'd try to win him over."
"The best real life example of 'I don't want to be a part of any club that would have me as a member' I've ever seen."
– _eviehalboro

Divorced And Lonely
"I know a guy who is now in his fifties/sixties who got bored with his wife and kids, cheated on her and divorced her. His wife, who had always supported him because he just couldn't hold a job down, started a business and became a multimillionaire. She also got remarried to this amazing guy who is a major step up from the husband in every aspect."
"The guy then married this mail-order bride from Indonesia. As soon as the three years she had to stay with him to get permanent residency were over, she left him and married his richer cousin. I sometimes get invited to family events and see him there by himself, broke and with none of his kids or family members wanting to talk to him."

– blue_tongued_skink

Impaired Judgement
"My dad threw out a 15-year marriage with a woman he adored because he got drunk and screwed a random coworker."
"He's utterly miserable now."
– illustriousocelot_

Bad vices can take over people's lives and realize until too late.
Expensive Addiction
"I know a guy who gambled away $8 million his grandfather left him. He inherited at 21. It was gone by 23."
"He's actually an incredible good guy too. That's what kills me."
– notquiteadequit
"God, what's even the point of gambling at that point? 8 million is enough to do whatever the f'k you want, assuming you don't do anything completely ridiculous."
– TruthOf42

Why You Say "No" To Drugs
"My ex friend Tom, over 10 years ago when we were teenagers he once said to me 'im going to try meth tonight' whilst we were at a bar (Australian) I literally knew nothing about drugs at the time especially meth i just knew it wasnt good, he invited me to join him but i said no because i had a gut feeling it wouldn't end well for me. Since that day he went in and out of prison, lost all of his friends including me and completely changed as a person. Whilst walking with my wife and daughter a few months back i saw him walking his dog, he had obviously cleaned himself up, but it was like 2 strangers walking past each other. I took one silver lining out of this. It made me learn a lot about drugs all together and it showed me a different life i could have lead if i said yes all those years ago."
"Always say no to meth, it will ruin your life and take everything."
"EDIT: I forgot to add, tom had it all, a living gf, a great job etc"
– novicemma2

Not everything you strive for is exactly how you think it is.

Taking The Path With The Most Resistance
"My sister was offered an incredible well paying job doing something she's great at."
"She decided it would be too easy and opted for a far more challenging job, in a far less appealing setting, with an a**hole of a boss she was hoping to impress."
"She's f'king miserable now."
"I honestly don't get why she does this sort of shite to herself."
– callmevicious

After The Mid-Life Crisis
"A good friend I worked with for years was married to a great dude, super nice and everyone loved him, just a great guy all around. They had a couple middle school aged kids too. I think she was going through a mid-life crisis type thing but anywho, she reconnected with her old high school boyfriend on fb and they started having an affair. She ended up telling her husband about it and left him for the other guy, her husband was great about it, wanted her to be happy, great at co-parenting and didn't want to make anything harder on the kids, etc."
"The old HS boyfriend was toxic as hell, I met him a few times and he was an absolute d*ck. They fought constantly, every other week they were breaking up, kicking each other out(of her condo) or he'd just go missing for days at a time and she'd be a wreck wondering where he was; which was usually a couple hours away at the beach on a drug bender with his friends(he's in his late 40s btw)."
"She said she got bored with her life with her husband and wasn't attracted to him anymore, but I think she just went off the deep end and wanted something that wasn't there anymore; that feeling and excitement of young puppy love, but that's not what she got."
"I think some people just need drama in their life, I felt like she threw away a happy life just because she missed the drama."
Complacency is seen as an undesirable state of living. Boredom can make people feel uninspired.
And while setting goals and improving situations by becoming more active is admirable, people should also take the time to examine what is exactly lacking in their lives that make them feel as if they're stuck.
The examples above are just some reminders that making hasty decisions are not necessarily the best solutions.
Basically, check yourself before you wreck yourself.

It's never beneficial to anyone to jump to judgment.
Especially if it's based on one simple action.
It's entirely likely that you might have caught that individual on a bad day, having a bad moment, or just experiencing a rare lapse of judgment.
Leading them to behave in a way that is not at all indicative of who they really are.
Even so, we still often find ourselves passing judgment on people, including total strangers.
Making assumptions, for better or worse, on the sort of person they are based on their public behavior.
Redditor FawnTi was curious to hear the things people witness which instantly results in their making judgments on total strangers, leading them to ask:
"What can a stranger do in public that will immediately make you judge them?"
If They Leave A Mess In Public, What Must Their Home Be Like?

"Throw trash on the ground."- crumpana
"A guy was walking in for an interview with my boss and just yeeted trash between the parked cars."
"We're a small company so we clean ourselves."
"After he left i let her know and that was that."
"How lazy."
"That would only translate to work."- seapancaketouchr
"Drop litter."
"Not pick up their dog's sh*t."- Kyadagum_Dulgadee
"Those people who throw bagged-up dog sh*t into shrubbery are the ultimate evolution of this."- LibertyPrimeIsRight
Sometimes We Use Our Better Judgement
"An act of kindness - especially one that doesn't benefit that person."

"OP didn't say it had to be negative."- Rettorica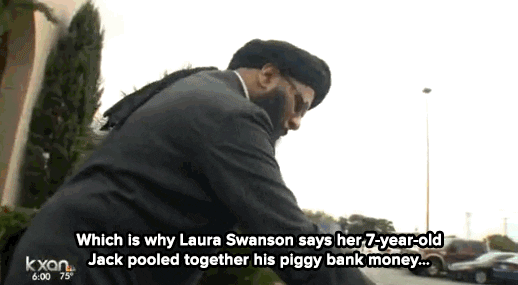 news mic GIF
Giphy
Shared Speace
"Saw a person unloading their groceries just push their cart into the next parking space and drive off."
"The next parking space was occupied by someone who was there, about to back out, who now had to deal with the cart behind them."
"All the judgment."- Arafell9162
No Reason Indoor Voices Can't Also Be Used Outdoors

"Scream at their partner."- FazeFrostbyte
"Screaming at someone whos just doing their job honestly."- notah0ee
The Epitome Of Selfless

"If they pick up litter I think they're a good person."- Quiverjones
"I pick up litter but I'm always convinced people think I'm weird for it, so thank you for this."- PootleBrain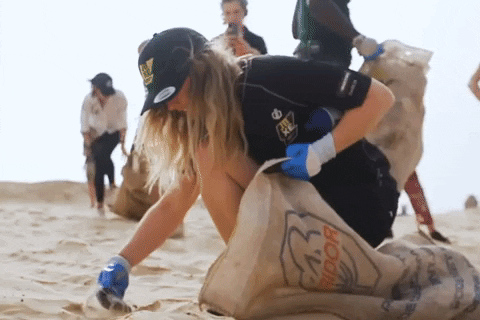 Giphy
Good Manners Need To Be Taught
"Watch a video on full blast, without headphones where it is very clearly inappropriate."
"Or scream at their kids, in front of a bunch of strangers."
"I think it's absolutely humiliating for a child and it is very telling of how they are to the child all the time."- melancholia__
Just Plain Gross.
"Not washing their hands after using the bathroom."- Nateddog21
"When I was at the dentist's office and I heard a toilet flush in a solitary bathroom, and my DENTIST walked out immediately after, I quit seeing them."- zulimi317
Especially After The Last Three Years...
"Mouth open no cover sneeze."- averagejill
"I loathe those people."- eyekunt
"During peak Covid, my coworker and I witnessed someone pull their mask down, sneeze, and then put the mask back on."
"At a pharmacy."- IDreamofLoki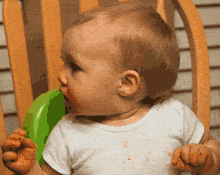 Baby Eww GIF by America's Funniest Home Videos
Giphy
We All Have Them, But Do We All Use Them Correctly?
"Their cellphone etiquette."
"Bad or good, I will watch and judge accordingly."- BulkyHurry
"For me it's being on your phone while driving.'
"Instant rage."
"Full disclosure: was t-boned by one of those a**holes."- okwellactually
Um...
"Defecate in the middle of the street."- Prussian_Empire_23
"Saw someone do that in San Francisco once."
"I was riding the bus and looked out the window and he was just dropping one on the sidewalk with his a** towards the street."
"Then on the next stop a homeless man started cussing out the bus driver because he wouldn't let him ride the bus for free."- Dry-Breakfast-2742
Who's Really The One Who Goes Viral?
"Take out their phone to film while someone is in a bad situation, instead of trying to help / call for help."- Pioumi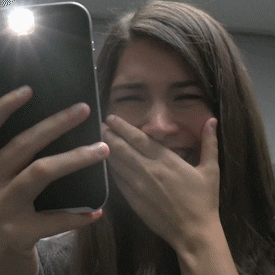 Picture Recording GIF by BLoafX
Giphy
Or In General...

"Being cruel to their pets."- OlyaBrnk
"Or wildlife."- kittytoes21
"Or saying something like 'it's just a pet'."
"B*tch this little dog is family and I would die to protect her."- Synner40
There Are Limits To "Making Yourself At Home."
"Be loud, Be rude to wait staff, let their kids run amok."- Emergency_Flounder58
"Rudeness to wait staff says a lot."-
zta1978
Not Everyone Needs To Be Included...
"Speaker phone call."- Nolan
"I've been noticing kids these days having FaceTime calls, but not looking at the screen!"
"What the f*ck is the point of that?"
"I think I'm officially old AND cranky."- Drewbox
Frustrated Customer Service GIF by Ryn Dean
Giphy
One's public behavior isn't always indicative of what they're like in private.
Even so, we've all been taught the basic dos and don'ts of how to behave in public.
Making it hard not to judge those who seem to willfully ignore them.
Nothing will get you in more hot water with your boss than coming up with a lame excuse as to why you didn't show up for work.
Especially if that excuse doesn't even turn out to be true.
Of course, life can be unpredictable, and sometimes what you're telling your boss might very well be nothing but the truth.
You just might need some evidence to back it up.
However, there are some excuses that might be one hundred percent foolproof for getting out of work without any resistance from your boss or colleagues.
No matter who you are, or who you work for.
Redditor Just-Stay-386 was eager to hear the excuses that will always successfully get you out of work, leading them to ask:
"What's an excuse to get out of work that no one can get mad at?"
Any Excuse Is Better Than None
"As a manager as long as you let me know that you aren't going to be able to work then we're good."
"If you just don't show up that's a different story."- LF_redit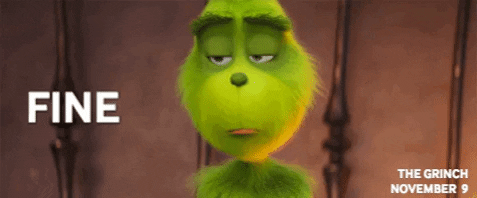 If You Say So Ok GIF by The Grinch
Giphy
Say It, Don't Spray It...
"I got sprayed by a skunk."
"I tried to go to work after showering with Dawn dish soap but my boss told me to go home."
"So I'd say getting sprayed by a skunk."- Sunshine95454
Ultimately, Not A Pleasant Experience For Anyone...
"I worked construction, and two separate instances on two different crews, someone said they sh*t their pants."
"Nobody questioned it and they left."
"I do believe they did sh*t their pants tho so you have to commit."- allornothing26
"'I sh*t my pants'."
"Absolutely, 100%, understand."
"See you tomorrow."- Abadatha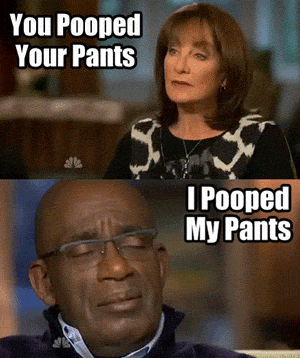 year january GIF
Giphy
Apparently Anything Regarding The Rear End...
"'Butthole is bleeding I can't make it in'."
"Not a single person will want to ask questions."
"You're welcome."- Psychologystudent28
Oddly Impressive In This Day And Age... (Assuming It's True...)
"I called in to work and said I had scurvy."
"A couple hours later an FTD florist delivered a bonzi lemon tree from my boss."- HawkMisfit
Not So Much The What, But The When...

"The excuse doesn't matter it's the frequency."
'You need to be excused a couple of times a year?"
'No big deal."
'You're out every other week?"
'That's an issue."- Im_probably_naked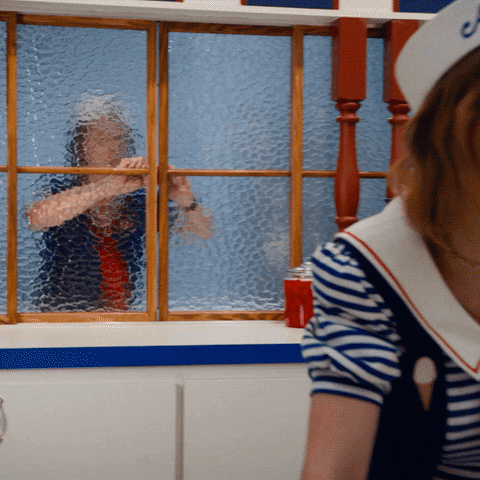 Netflix Seriously GIF by Stranger Things
Giphy
Or Better Yet, To A Hosptial!
"Me: hey I think I need to head home."
"Boss: Why's that?
"Me: I think I broke my arm."
"I'm standing in front of my bosses desk with my arm turned completely backwards from the elbow down, was in total shock."- ssandhanitizer
Good Thing They Remembered To Call...

"Last time I called into work, it was a quick call."
"'Can't make it in. Hit my head. Blood everywhere. Ambulance is on the way'."
"That one worked pretty well."- bioVOLTAGE
Speechless Isn't Always Good...
"Guy at work phoned in to tell our boss he couldn't make it in because he didn't have no clean socks."
"Boss was speechless."- Tankclark1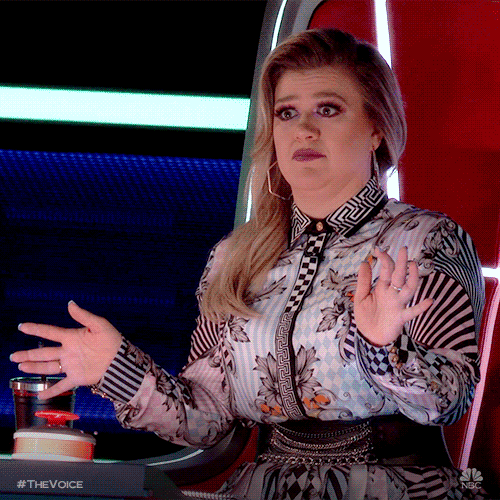 Nbc GIF by The Voice
Giphy
If Only For Plumbing Issues...
"Diarrhea?"- menki_22
"I used to have a sh*tty office job."
"I once had severe diarrhea and my boss tried to get me to work from the bathroom, at the office."- adventurousorca
In a Post Pandemic World...
"'I'm sick'."
"You don't need more detail than that."- too_sexy_for_reddit
"Where I'm at Covid is still a mandatory out until a negative test."-azorianmilk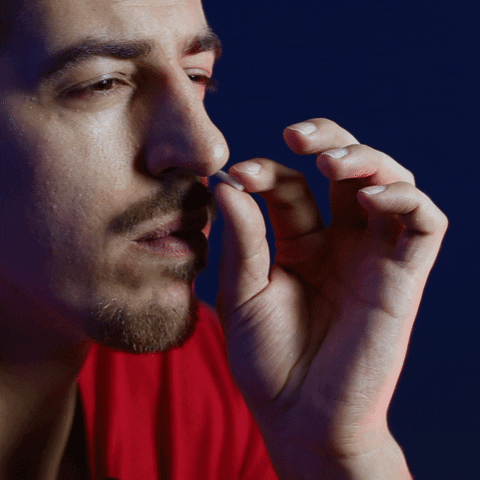 Test Virus GIF by Magician Edzus
Giphy
You Can't Make This Stuff Up...
"Worked on a construction crew at one time with this one colorful character that just couldn't get out of bed and to work on time, but could do the work of two when he was on the job."
"He always had the most entertaining excuses for missing work that no one could be mad at him."
"'Ran over a rabbit and had to return home to put it in the freezer'." "
"'Scored some weed that was so good I forgot what day it was'."
"And the coup de grace...'Woke up with my face in my girlfriend's armpit and was afraid to open my eyes'."- eron6000ad
Family First
"Something wrong with your kid."
"I've honestly thought about making up a kid just so I have an airtight excuse to cut out as often as my parent coworkers do."- Yak-F**ker-5000
In truth, pretty much any excuse could probably work
What's more important, is an air-tight alibi...