People Who've Lost A Shoe On The Side Of The Road Reveal What Went Down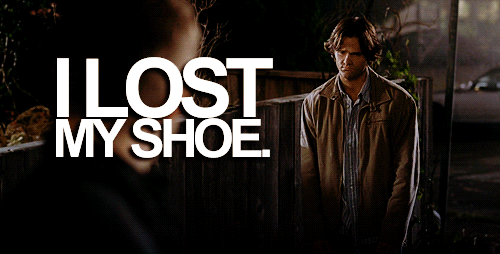 How many times have you driven past a random shoe on the side of the road and wondered what happened? Was there a fight? A crash? A moody toddler who threw a shoe out of the car window? Sometimes when it's a child's shoe it almost seems like the story just HAS to be a sad one, doesn't it? One Reddit user asked:
People who have lost a single shoe on the side of the interstate, how did that happen?
And since this the not-knowing has bugged us since we were kids, of COURSE we clicked it. Here are the 20 best lost-a-shoe stories we could find in the thread - and believe it or not there were a LOT of answers.
Went Swimming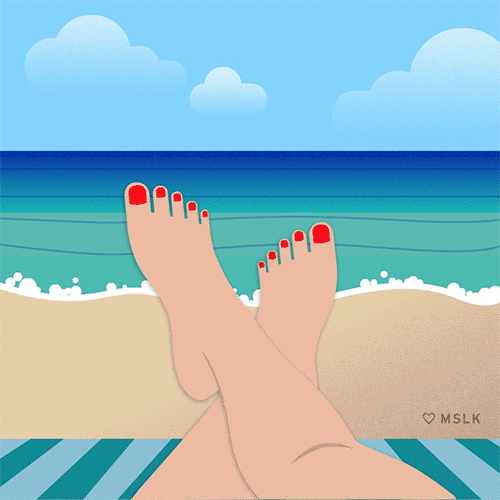 Went swimming and my feet were at first wet then covered in sand so I walked back to the car barefoot. left my shoes on the roof of the car by accident. Only one was there when I got home.
Shoes From Heaven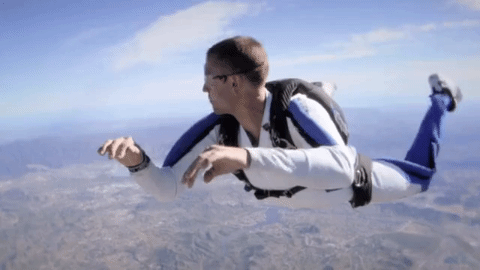 No idea if it landed on the interstate or not but I once lost a shoe while skydiving. First thought was "so that's how single shoes get on the side of the road".
Left Shoe
My brother, who has severe autism, used to throw his left shoe out the window almost every time we passed a certain sign on I-95.
It was always the same sign, and it was always his left shoe. We eventually started taking his shoes off when we were in the car.
Smiled Like A Princess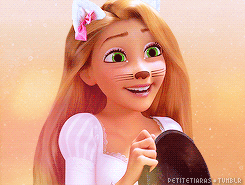 My 4 year old grabbed them out of my back pack laughed maniacally said daddy so I'd turn my head then lobbed it out the window at 80 smiled like a princess the whole time
Just To Mess With People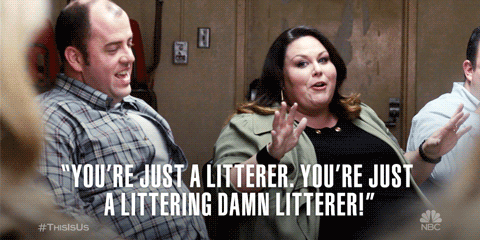 My friend would just toss old shoes out the window, one at a time, very far apart.
Not Another Word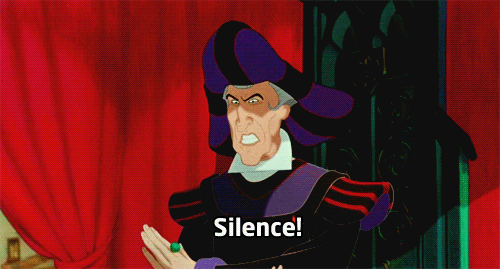 I was a pain in the butt as a little kid,(I still am as an adult but hey, at least I'm consistent) and one day my family and I were driving down to Florida for a vacation. I'm being the classic brat and messing with my little brother during the whole trip.
Eventually, my dad looks at my in the rear view and says:

"If you lay a hand on your brother one more time, I'll pull this car over and make you regret it"
So what did I do?
I looked at the mirror and stared him in the eyes as I reached out and poked my brother's face.
Sure enough, my dad pulls the car over and spanks me on the side of the interstate. As we get back in the car he tells me he doesn't want me to say another word for the rest of the trip, and he doesn't.
Eventually we get to Florida and start getting unpacked, but my parents notice I'm missing a shoe. When they ask where it went, I say it came off when we pulled over. Then of course when my dad asks why I didn't tell them it came off, I shrugged and said:

"You told me not to say another word for the rest of the trip."
Daddy Hates These Shoes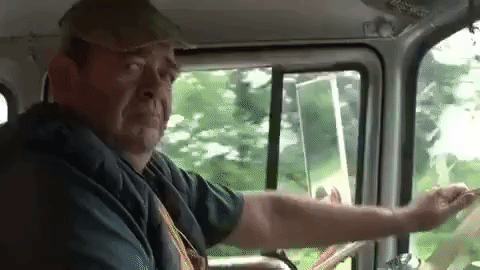 My wife bought our 2 year old a pair of Nike Air Huaraches and I hated them, she knew it I swear, we were in the car and my wife was on the phone chatting away and I noticed my kid pulling off one of his ghastly shoes in the rear view. My kid loves throwing stuff out the car given the chance so we have a strict no open windows in the back rule when he's in the car. I look over to see my wife obliviously nattering still and sneakily push the window button until it's open about 6 inches, sure enough my kid posted his shoe out the window and I promptly close it again. My wife still doesn't know where that shoe went to this day and my son got his first pair of superstars.
Drunk In Horse Poop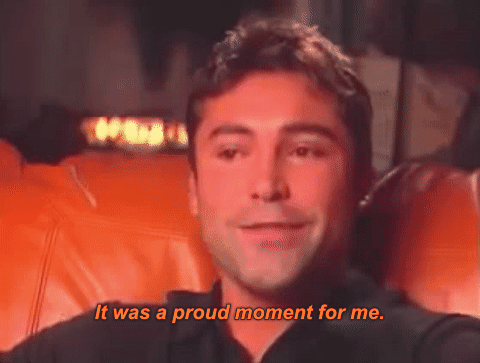 Drinking heavily for a friend's birthday. Everyone in the car had to pee so we pulled over and I stepped in horse poop and got stuck. Just left the shoes there and we wore cheap flip flops to the club. Not a proud night.
A Small Price To Pay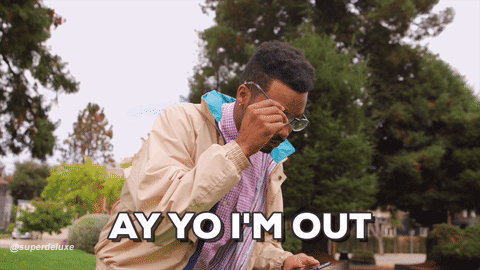 I pulled out of a gas station through four lanes of steady traffic. Saw my opportunity and punched it to wait in the middle turn lane. One driver wasn't paying attention and slammed on their brakes in a panic causing the vehicle behind to rear end them. She got out and ran to my car screaming it was my fault. The cops were called and I gave my statement while my car was parked in the middle of traffic. They determined I was not at fault and said I could leave. I had less than legal substances in my car so I scampered off. One loafer slipped off mid scamp as I wanted to get away as fast as possible without getting into trouble. A shoe was a small price to pay for freedom. It was there in the street for weeks
Gas Station Argument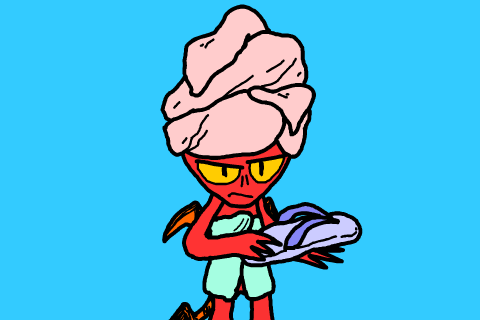 I once saw a lady arguing with someone (probably a boyfriend or something) at a gas station, she took off her shoe and threw it at the guy's head as he was walking away. Since then I've been convinced that this type of situation contributes to a large portion of single shoes found in random locations.
Croc Sweat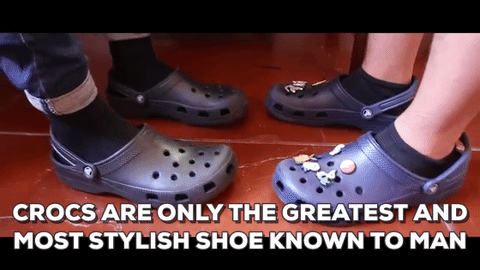 Airing out my crocs out the side window. Crocs are foam and plastic. It makes your feet sweat. A lot. Especially if you didn't wear socks. It just sort of collects in the shoe, requiring an air out
Into The Thai Night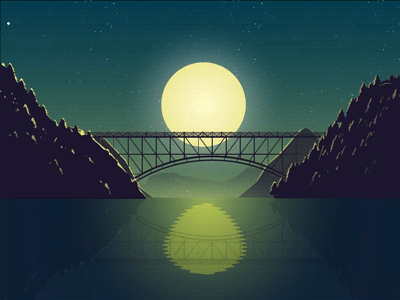 In Thailand on an overnight train to Chiang Mai a rude man and I got into an unpleasant and unsolicited "discussion" about my weight. So in the middle of the night I took his shoes, went to the bathroom car where the window was open, and jettisoned them into the Thai night. He wore his wife's pretty blue and gold slippers off the train in the morning. Nothing has ever felt so good.
"Fit The Profile"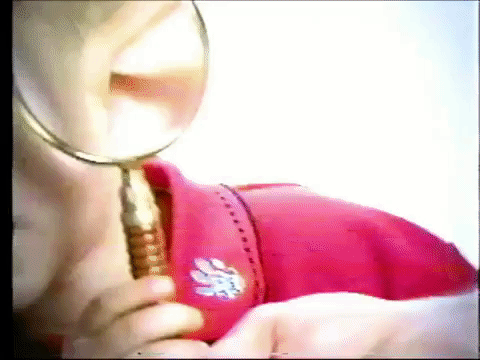 My nephew came home from an after school playdate wearing one shoe, which wasn't even his. He insisted the shoe he was wearing was, indeed, his, but that he knew that it's mate was not. He claimed to know this because he had "studied" the soles of both of his shoes during math class and only one of them "fit the profile."
There's gotta be something profoundly wrong with that kid.
Ant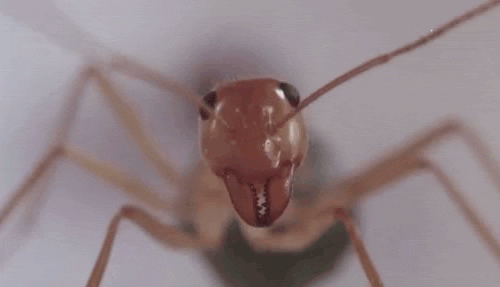 My sister threw her shoe out of the window when we were in florida. Her reason? there was an ant on it. so we had to pit stop at a shoe store to get her brand new shoes.
Black Magic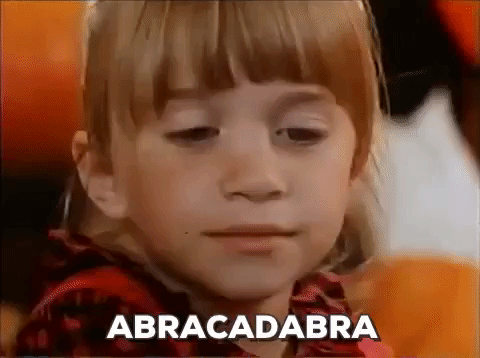 Children are basically made of black magic, in my experience. So I don't know for sure that these shoes ended up on the side of the road... but maybe?
One day, I was driving with my son (3) and daughter (infant). Son was in a car seat, all the way in the back of my van. Daughter was in the middle. I KNOW my son had boots on, because there was no snow on the ground so I tried to put his shoes on and he screamed bloody murder until he got boots. We went directly to the van.
When we got to our destination - a grocery store less than ten minutes away - he no longer had boots on. Now, keep in mind that the windows in the back of my van don't open AT ALL. Neither do the windows in the middle. Only the ones in the front, and since it was winter I definitely didn't open those.
After a quick search in the parking lot with no results, we obviously had to go back home 'cause he couldn't walk around the store in socks. When we got back home, I searched the car properly. After about twenty minutes, it wasn't even about managing to get to the grocery store. It was the principle of the thing. I was going to find those goddamn boots.
I removed car seats and entire seats from the van. I searched every possible space I could access, let alone my strapped-in 3-year-old. I even searched everywhere inbetween the spot I put his boots on and the car. I never found those goddamn boots.
So I'm not saying it's definitely children, but I'm not saying it's not, either. Because seriously. BLACK MAGIC.
The Answer Is No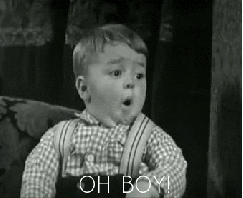 When I was four I had just come to the United States to visit and I was driving to the pool with my grandma and brothers. I was sitting in the back of the car and I had the window open and I'm pretty sure this is the first time I was ever able to have the window open in the car. So I was holding my hand out of the window and feeling the wind and that was so cool. Then I proceeded to think what would happen if I held something outside the window? So I took off my slides which were like my brothers shoes, put them outside the window, and then I thought:

**"If I let go, will the shoe stay?" **
So then I proceeded to let go of the shoe and then it flew away and I never saw it again. Then when we got to the pool my grandma was really mad at me because now I only have one shoe and it wasn't even mine.
Perfectly Worn Converse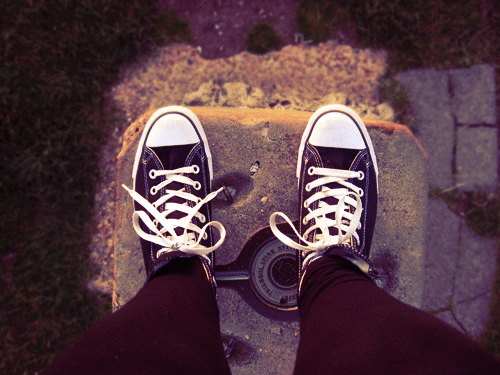 I once changed shoes before getting in the car. Left one of them on the little plastic step that's supposed to help you get into the vehicle. I was really sad because they were my perfectly worn in converse.
Truckers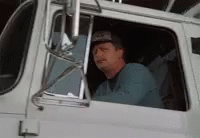 These shoes usually come from truckers that leave their shoes outside on the step to the cab during a stop and forget about them before driving again. My dads a truck driver and has lost quite a few pairs of work boots this way! He drives in slippers so he doesn't get the inside of his truck muddy and has a plastic bin for his work boots.
Interdimensional Balance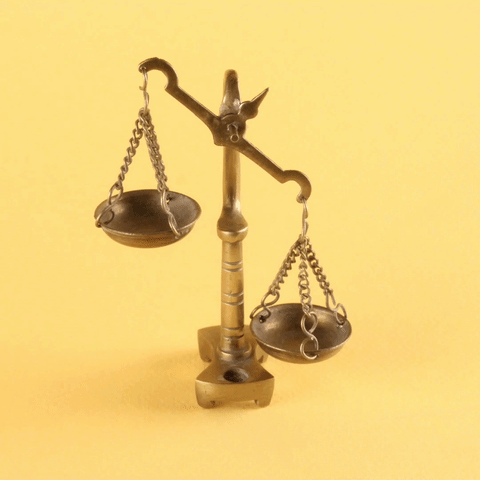 They're there to balance out the socks that disappear in dryers. Something something interdimensional vortex.
Sweet Revenge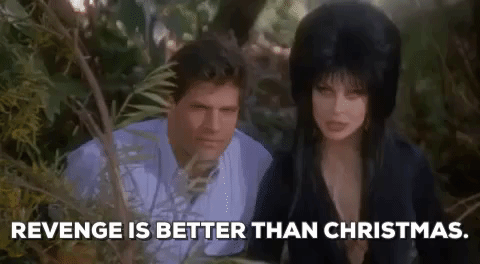 In kindergarten, there was this asshole kid who used to spit on me on the bus. I sat in a single seat on the window side and usually covered myself from his spit attack with the curtain. One day though, I was extremely pissed and the boy was running around barefoot in the bus. So I picked one of his shoes laying near me, and flung it out of the window. I got to see his walk of shame to his mom with only one shoe on, so I'm pleased.
H/T: Reddit