People Share Telltale Signs A Couple Shouldn't Stay Together
People Share Telltale Signs A Couple Shouldn't Stay Together
[rebelmouse-image 18356255 is_animated_gif=
dam=1 expand=1]

There really is no set definition but one can usually tell if their relationship is poisoning their system. And if they pretend not to....others can usually tell too.

u/Visible_variety wanted to identify how to spot toxic relationships:

What are the telltale signs a couple shouldn't be together?

Here were some of the answers.
Nothing Nice
[rebelmouse-image 18349291 is_animated_gif=
dam=1 expand=1]

When Everytime you meet him or her, he/she's complaining about their SO.


Seriously, I've seen people have kids together but never have anything good to say about each other when the other person is not around.
Convenience
[rebelmouse-image 18346755 is_animated_gif=
dam=1 expand=1]

They only stick together out of fear of being alone.

Sooner be alone and happy than with someone and miserable
The Apocalypse
[rebelmouse-image 18356256 is_animated_gif=
dam=1 expand=1]

There is actually research by John Gottman in this area. He calls them the four horseman.

The traits are contempt, criticism, stonewalling and defensiveness. His research has shown that within just a few minutes of watching a couple, he can determine if their relationship is likely to end in divorce based on if any of these are present.

https://www.gottman.com/blog/the-four-horsemen-recognizing-criticism-contempt-defensiveness-and-stonewalling/

The good news is, they all have antidotes!
The Constants
[rebelmouse-image 18356257 is_animated_gif=
dam=1 expand=1]

CONSTANT fighting. A little arguing back and forth is normal, but when you can hear these idiots screaming their heads off at each other every single goddamn day of their lives, they need to just quit it.
Like-de-like
[rebelmouse-image 18356258 is_animated_gif=
dam=1 expand=1]

The only one for me is: when they don't like each other.

Literally everything else I've seen couples successfully bypass - extreme differences in personalities, in interests, in politics, in sex drives, in religions, all fine - as long as they like each other and want to be around each other.

If you're dreading going home at the end of the day because your spouse is there, that's the only time I think "Why are you even together, then?"
Two Priorities
[rebelmouse-image 18356260 is_animated_gif=
dam=1 expand=1]

The only two things they do together is fight and f-ck
One Sided
[rebelmouse-image 18346812 is_animated_gif=
dam=1 expand=1]

I saw one just the other day at a restaurant. He would be talking, and she would be listening and responding. When she was talking, he would pick up his phone and stare at it the whole time.

That relationship isn't going to last.
Anxiety Loves Company
[rebelmouse-image 18356261 is_animated_gif=
dam=1 expand=1]

If you're not comfortable with your SO. I think being comfortable around them is very important. This comes from someone with a lot of anxiety.
Communication Pls?
[rebelmouse-image 18348547 is_animated_gif=
dam=1 expand=1]

Vague, passive aggressive posts on social media that can only be directed at each other.

Venting without using their names.

It's fine to be frustrated with each other but if yall cant be direct with each other it's time to re-evaluate your relationship.
What?!
[rebelmouse-image 18350578 is_animated_gif=
dam=1 expand=1]

When their relationship doesn't seem as fulfilling without drug use.
No Smiles
[rebelmouse-image 18345572 is_animated_gif=
dam=1 expand=1]

When they can't make each other laugh
A Measured Human
[rebelmouse-image 18348545 is_animated_gif=
dam=1 expand=1]

When their whole personality and behavior changes when their SO is around.

It means that they can't be themselves while being together and results in an unbalanced couple where one (or both) end up unhappy in the long run. It gets tiresome to act like someone you're not.
Lowest Common Denominator
[rebelmouse-image 18348562 is_animated_gif=
dam=1 expand=1]

When every last one of their friends and family thinks so

My best friend married a horrible person. His brother agrees. All his mutual friends agree. My biggest regret is saying nothing at his wedding. But I know him and he'd have just disregarded it and thrown me out
Meta
[rebelmouse-image 18348548 is_animated_gif=
dam=1 expand=1]

When you ask Reddit for the telltale signs if you should be together.
Well Duh
[rebelmouse-image 18356263 is_animated_gif=
dam=1 expand=1]

Marks of violence for starters.
What's On The Inside
[rebelmouse-image 18356264 is_animated_gif=
dam=1 expand=1]

When they don't share core values. It's fine to like different food, entertainment and activities, but if you don't share the big stuff like beliefs, morals, life/family goals, those are big things that can turn into points of contention.

An argument or discussion doesn't always change those things either.
This Seems Specific...
[rebelmouse-image 18356265 is_animated_gif=
dam=1 expand=1]

When they host a dinner party with two, and then later on three, couples just to passive aggressively humiliate each other the whole time. And then later on when they've both reached their limit she throws his favorite trophy at the plasma tv, which he bought, and subsequently breaking it.

It doesn't help that prior to this she puts on the music of her young, hot ex-employee that she clearly got ravaged by multiple times.
Me And My Baby
[rebelmouse-image 18356267 is_animated_gif=
dam=1 expand=1]

Pretty much anytime I see a couple have a shared FB account. Usually it seems like either someone cheated, and so they don't fully have the trust of their partner, or someone absolutely wears the pants and the other is a pushover. Not saying that couples can't make those sort of situations work, but...
This Is A Cheerocracy
[rebelmouse-image 18356268 is_animated_gif=
dam=1 expand=1]

When one partner sets out huge expectations and outlandish terms expecting the other to change and defer to them. The relationship would be a dictatorship.
Hobbies
[rebelmouse-image 18356269 is_animated_gif=
dam=1 expand=1]

I was talking with a new couple, and the girl was telling me how they like none of the same things. Every date they go on, one was sacrificing for the other to do something they liked. At some point in the conversation, I made a joke about sex, and she said, "Oh yeah, there is one thing we both enjoy!"

Sex is nice, but don't let it be your only hobby in common.
Reddit user Prestigious-Humor872 asked: 'Food Trends People Can't Wait To Die Out'
Food trends are not so very different from fashion trends, constantly evolving and quickly becoming outdated or passé.
Can you think of the last time you were served ambrosia at a dinner party?
Or have you noticed how anything featuring kale is now met with an eye roll rather than excitement?
Of course, some food trends tend to last longer than others.
Even if many people wish that they would also become extinct... the sooner the better!
Redditor Prestigious-Humor872 was eager to hear all the food trends people wished would die out, and fast, leading them to ask:

"What modern food trend can you not wait to die?"
Less Isn't Always More...

"2 ingredient desserts (with 7 'optional' ingredients that appear once you read the actual recipe)."- strawberry-emma
You Pay For The Experience
"Food trucks that charge the same price as a premium restaurant but serve half the size on a floppy plate that I have to stand up to eat."- thorn_10
"Food trucks."
"Weren't they supposed to serve cheaper food because of lower overhead?"
"No brick and mortar?"
"We have a lobster roll truck-pulled by a Range Rover- that shows up for lunch and charges $22 for one entree."
"Ridiculous."- tizzymyers·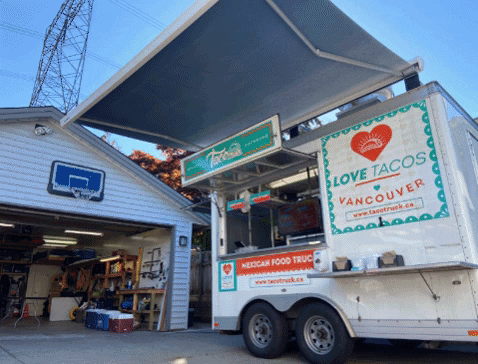 Giphy
Choice Of Words...
"Calling a slight alteration to a recipe a 'hack'."
"Adding parmesan cheese to your grilled cheese sandwich is not a 'hack'."
"It's a minor recipe change."- No_Pear_2326
Jumping The Gun A Bit...

"If I'm on a website I'm only there to look at your menu."
"I'm not interested in starting an order before I've looked at the menu."
"No, I don't want to give you my zip code."
"Just give me your menu and some food pictures."- DueRest
Staying Humble?
"Fancy restaurants that say they serve 'street tacos' and proceed to charge $18 for three."- Chipwich75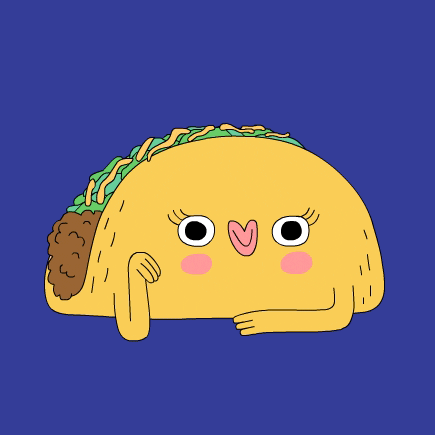 T-Bell Yes GIF by Taco Bell
Giphy
There's A Reason We're Told Not To Play With Our Food...

"The stupid food wasting trends on YouTube and TikTok etc."- fluffernuttersndwch
Presentation Is Key...
"For some reason putting food in wine glasses."- Ralphroberts603
"Restaurants serving food on cutting boards, shovels, paper, shells, or anything that is not an actual plate."- Funny_Disaster1002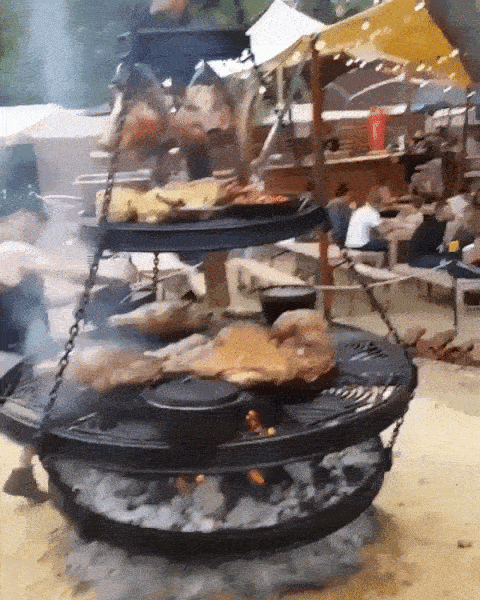 meat grill GIF by Gifs Lab
Giphy
Remember The Golden Arches And The Red Roofs?

"Making all fast food buildings look like cookie-cutter beige/grey boxes."
"They all used to have their own distinct personalities."- mattnotis
There's Economizing, And Then There's Jusy Poor Hygeine...
"The videos of people making food in sinks."
"Gross."- h20rabbit
Is It Even Still A Secret After 100 Thousand Views?
"Any TikTok/IG trend that makes life more difficult for fast-food workers with overly complex orders or ordering stuff not on the menu or trying to 'one up' each others orders etc."- HiThisIsMichael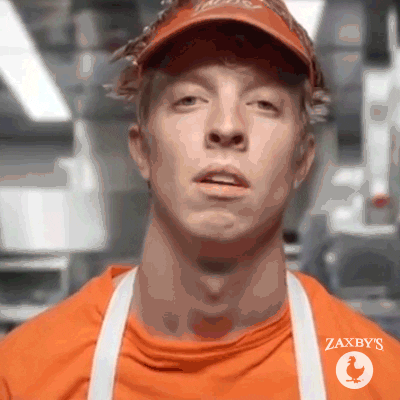 bored fast food GIF by Zaxby's
Giphy
Maybe It Gives Them Incentive?
"Tipping as an option BEFORE receiving good service."- mytimeis2044
Sweet Tooth? Or Cavity Express?

"Sweets on top of sweets."
"A milkshake with a donut, lollipop, and cupcake attached."- Marleygem
Technology Slowly Taking Our Jobs...
"I just went to a restaurant, not a fast food place, a sit-down restaurant where you have to scan the QR code for the menu, then a screen pops up where you have to place your own order."
"No one comes to the table to answer questions, nothing."
"You place your order, a person comes by and throws your drinks at you. "
"Then they swing by a while later and throw your food at you."
"That's all you see of them."

"You pay your bill on your phone, and are still expected to tip."- Megmuffin102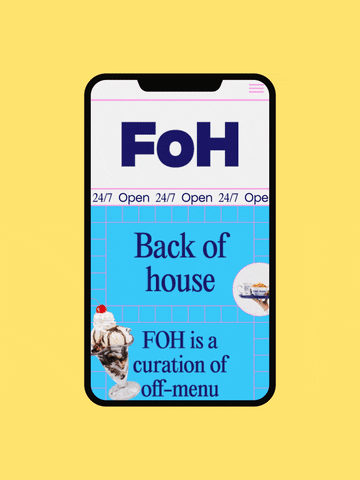 Saint Urbain Website GIF by Front of House
Giphy
Be it in presentation, cooking style, or flavor profile, people will likely always try to make food "cool" in truly bizarre ways.
Sometimes ignoring that the only thing that should truly matter is whether or not it tastes good.
At least people have finally realized that kale doesn't need to be added to everything!
For now, at least...
When discussing love and relationships, the motto is usually less is more.
But what if there is more of one partner?
Being involved with identical twins can be quite the experience.

Can you really tell them apart?
Is everything identical?
If you're attracted to one, aren't you automatically attracted to the other?
So many questions.
Now we need some answers.
Redditor nicknamesofdaveryder wanted to hear about love and the twin experience, so they asked:
"Redditors who married someone with an identical twin sibling, why are you glad you're not with the other twin instead?"
I've never met a lot of twins, let alone gotten involved with a pair.
I have questions.
Hopefully I get some answers.
Saved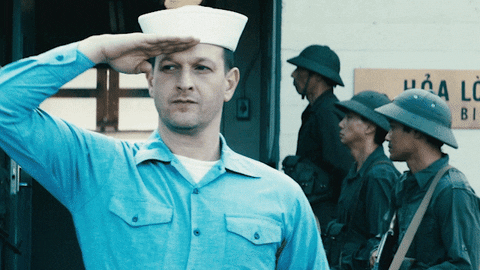 Comedy Central Wink GIF by Drunk History
Giphy
"My late husband's twin was a non-functioning alcoholic and my husband wasn't. My husband says joining the navy was what saved him from going down that road."
iteachag5
Falling Asleep
"Story time! I am an identical twin (we still look so much alike!) and one night I spent the night at her house. She and I fell asleep in the same bed because we were up late talking, etc. Her husband slept on the couch. The next morning my twin went to take a shower and her husband laid down on the bed with me (thinking it was her of course). I jokingly said 'Hey sailor, looking for a little variety?' He shot off the bed and said 'If I was looking for variety, do you think I'd choose you??'"
tanyagal2
The Good Guy And The Other One
"I didn't marry him but I dated an identical twin. His twin's girlfriend and I used to joke around that she got the evil twin. He was just a selfish, messed-up person. One of the benefits of breaking up with my boyfriend was no longer having his twin in my life. Plus, his ex gf and I are still great friends! The good guy was just the lesser evil. She wanted to get as far away from that family as I did. The best thing to come out of those relationships was our friendship."
super-ro
Love Wins
"My dad's an identical twin. People have a hard time distinguishing them, but to my mom and me, they look like two completely different people because of the way they walk/talk/etc. Obviously, my mom only fell in love with this one person. When you love someone it's actually pretty easy to tell identical twins apart."
michaelsgavin
Issues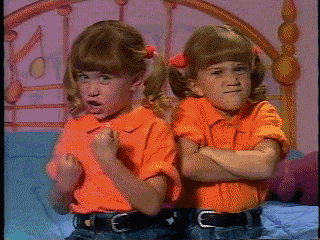 Threaten Ashley Olsen GIF
Giphy
"The other twin has the same personality as I do. We argue readily and are super competitive with each other. We butt heads on a lot of issues."
why_not_send_a_nude
Personality clashes aren't just a twin thing.
It's a human thing.
We can't help ourselves.
Different People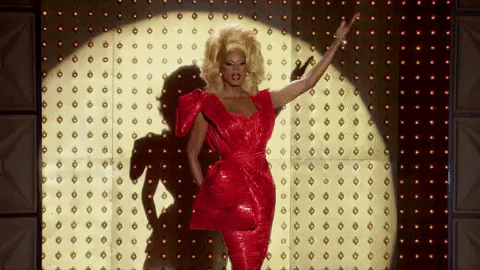 Triplets GIF by RuPaul's Drag Race
Giphy
"I work with a guy who married an identical triplet, one of the triplets also works with us. I asked him one day if it was weird working with someone who looked just like his wife. He got a little pissed and basically said they are all very different people and he doesn't see much of his wife in her."
LeafMeAlone_99
He's Evil
"We're not married but known each other since we were 12 and have been together 3 and a half years. His twin is a massive di**head who tried to break us up multiple times, was madly in love with me in his own words, and after 2 years of pursuing me declared I was a terrible person and put him through hell. Because I didn't break up with his TWIN BROTHER to date him."
xMollyP
Life Choices
"My husband and his twin brother look very different to me, although they are identical and get mistaken for one another all the time. They couldn't be more different in terms of personality. They have different values and life goals, hobbies, one is introverted and the other is extroverted. If they were two people who didn't look alike, I would automatically not be attracted to my brother-in-law simply because we are not remotely compatible personality-wise."
"Also they have very different styles. I do not find the way my husband's twin dresses/grooms his hair attractive. It's so wild to me when people can't tell them apart because they couldn't be more different in my eyes."
lanieeeeeeee
Opposites
"Well, my wife and I have been together for 30 years. She has a 'mirror' twin. Even now, if you don't know them well or interact frequently you will not be able to tell them apart. They are complete opposites. I married the extrovert, she has never met a stranger, will try anything at least once, and can find a positive aspect in almost everything she encounters, they are also best friends, my wife drags her sister along all the time."
"Once she's out she enjoys our activities. I love my SIL, all three of them, but so glad I married the one like me. The mirror part even goes for looks, when I see my wife's reflection I see my SIL, it's weird sometimes. Also, attitude and personality are everything, I have never been 'attracted' to her twin."
redbonecouchhound
The Look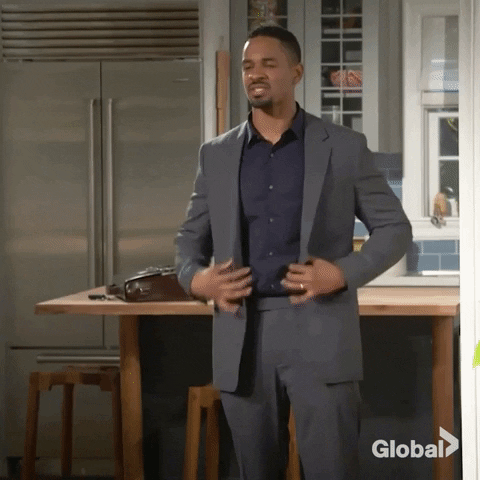 Sexy Damon Wayans Jr GIF by Global TV
Giphy
"I used to date an identical twin. Although I found his brother objectively handsome, I wasn't attracted to him at all. It was cool to directly experience how attraction goes far beyond just the looks."
Liatessa
I've never been intrigued by twins, and now I never will be.
My Father was considered a genius.
At 16 he graduated high school as Valedictorian, joined the United States Navy as soon as he turned 17 then was promptly recruited by Admiral Hyman Rickover's team converting the Navy from diesel to nuclear power.
He served as a nuclear and electrical engineer on naval vessels after the conversion project ended, then as a reactor inspector for the Nuclear Regulatory Commission after retiring from the Navy.
He also needed a full time babysitter in order to survive. Things like paying bills, buying groceries, feeding himself all escaped him. He lacked any semblance of common sense.
Really smart people doing very unsmart things isn't uncommon.
And sometimes a person is labeled a genius who's really an idiot with good brand marketing.
Reddit user saigalaxy asked:
"What's the biggest example of from 'genius' to 'idiot' there has ever been?"
Gerald Ratner
"Gerald Ratner—made two ill-thought statements during a speech in 1991 in which he called his own products crap and lost half a billion GBP (1991 GBP at that!) off the value of his company overnight!"
"'Costs less than a prawn sandwich from marks and spencer, and probably lasts just as long'."
"'People say, how can you sell it for such a low price, I say, because it's total crap!'."
"He said this to a room with a high number of journalists which took the story and ran with it. After this, anyone buying anything for a gift for a loved one from one of Ratner's stores branded themselves as cheap, so sales plummeted.
"He was ousted as chairman within a year and they had to change their name!"
"Shooting your own company in the foot like this has since became known as 'the Ratner effect' or 'doing a Ratner'."
~ Taran345
Kary Mullis
"The guy that invented polymerase chain reaction (PCR)—which was ground breaking in early DNA research, got a Nobel Prize, though most probably remember it from the Covid days—went off the rails, denied that HIV caused AIDS even after it was scientific consensus and spent his time talking to a glowing racoon in the forest at night."
~ Lawsoffire
"The whole story behind him coming up with PCR was about him driving around San Diego while on an acid trip and while going through traffic he pictured DNA unwinding."
"Dude definitely took way too many drugs."
~ ChesterComics
"I've heard from people who worked with him that he was always pretty out there, did a lot of work drunk or high in lab even when a graduate student and post doctoral."
~ erehin
Linus Pauling
"Linus Pauling. He went from being a preeminent chemist and biochemist to a quack who wrote books claiming that megadoses of vitamin C cured all disease and was the key to an insanely long life."
~ battleofflowers
"He went on to promote crazy Vitamin C supplements that you just peed out."
"If you're taking Vitamin C for a cold, it's probably because of him and peer-reviewed research shows as long as you're not Vitamin C deficient, it's useless."
~ adenovir
John McAfee
"John McAfee. Not sure of the genuis part, but the downfall was legendary."
"He wrote and marketed the first commercial antivirus software after cutting teeth at NASA, Univac, and Xerox as a coder. Might have peaked around 100 million dollars."
"Then he sold his stake, told everyone to uninstall his company's product, retired, got into recreational drugs, lost tens of millions, possibly murdered a man in Belize...ran for President of the US, and then was arrested in Spain for US tax evasion."
~ Worried_Place_917
Elizabeth Holmes
"Elizabeth Holmes, founder of Theranos."
~ Random-Username7272
"She went all in on 'fake it til you make it' until enough people asked tough questions and it became obvious she was just faking it."
~ MossyHarmless
"Simple, it was pure hubris. Elizabeth Holmes, who didn't have a degree in any sciences, let alone a PhD didn't believe the experts when they told her what she wanted was physically impossible to achieve."
"She thought that she was gonna prove all of them wrong by duping lots of people out of their money and throwing it into her company. Then throwing money at lawyers to intimidate whistleblowers into fearing for their lives."
~ sharraleigh
"This is one of the situations where anyone with a science background looked at what that company promised and realised it was all a mirage."
"'We can fit the operation of a whole lab, and tests that take atleast a day into a little box, and it can do it all in minutes!! Please invest'."
"Riiiiiiight."
~ Konnichiwagwann
Elon Musk
"Even now that it's become more accepted to say Musk is an idiot, people still get incredibly offended when I compare him to Elizabeth Holmes even though 'autopilot' is clearly the same sh*t as Holmes' Edison."
"His other promises are also bullshit, but FSD is very much so Edison where the realistic timescale is anywhere from a decade away to literally never, but that hasn't stopped him from saying it's coming this year every year for the past 6."
~ Mezmorizor
"This is pretty much how a lot of people look at Musk's claims but thousands of people will get offended when you say it."
~ dbag_darrell
"Elon Musk comes to mind immediately. Well, he was probably an idiot the whole time but he had the veneer of a genius for a while."
~ crispier_creme
"I'll give him credit for his personal branding when he first became a household name. He had most of us fooled. I remember telling my wife, 'This dude is a genius! He's going to get us to Mars!'."
"Then he started posting on Twitter."
"And then I found out who he really was."
~ keep_it_kayfabe
"I was fooled as well. I can remember the exact time the veil started to lift too."
"It was when he called that cave diver a pedo just because they didn't use Elon's dumb idea for rescuing those kids in Thailand. It was all downhill after that."
~ Sabatorius
More on Musk
"Musk should be an example to never trust a hype man. Regardless of how sucessful they are, they are at the end of the day just a face to the actual work being done by hard working and intelligent people."
"People like Musk don't really do anything."
~ TacticalSanta
"He's only smart enough to hype someone else's vision and have other people complete it but then he takes all the credit, making it seem like he does all the work."
"For example, he keeps saying he founded Tesla when he didn't join until a year after it was up and running. And even then he joined as an investor not as an engineer or anything like that."
"He's constantly spouting his political opinions on Twitter as though they were facts and he's even getting involved in geopolitics by cutting crucial internet access to Ukraine when they need it the most."
"And speaking of Twitter, he had to eat his words when the SEC forced him to buy the platform after he kept trying to get out of it."
"Now 'the genius' is stuck with a 40 billion dollar company that's losing value because of his mismanagement and can't turn a profit, no matter what idiotic policy change he implements."
~ WHALE_BOY_777
"Why on earth would you remove the brand name off a brand you paid 40b for? The name Twitter, and Tweet, has value so you discard it for a name that will only ever have the suffix 'formerly Twitter'."
"It's like buying Coca Cola and changing it's name to X—it devalues the brand."
~ Monday0987
"Nah, he doesn't even have the vision. He just had money and says, 'let me get in on this'."
"Legit all his own ideas have been terrible. Hyperloop? A tunnel in which you can ride in your Tesla."
"Cybertruck? Looks terrible and he wants the metal panels to be at a smoothness that's physically impossible to achieve."
"Twitter? Well, just look at how big the dumpster fire became after he threw gasoline on it."
~ panatale1
William Shockley
"William Shockley led the team at Bell Labs that invented the transistor. That breakthrough yielded portable radios and hearing aids, and made computer microchips possible in the decades that followed."
"He essentially allowed computers to go from filling a room in a building to eventually fitting in a desktop and then in your pocket."
"He received a Nobel prize along with his team, and then spent the rest of his life spewing racism and eugenics garbage."
~ DoctorGarfanzo
"Oh, the BEST part is he wanted to set up sperm banks where people like him (the 'smart' ones) could donate and then women from the 'lesser' classes would be able to get some good smart boy juice."
"He was so full of himself he was overflowing."
~ The_Bred_Loaf
Rudy Giuliani
"Rudy Giuliani went from 'the man who saved NYC' to 9/11 'America's Mayor' to henchman sidekick—a la Renfield or Igor—overnight."
~ Yagsirevahs
"He was the media darling to win the 2008 Republican nomination. Turns out, people just didn't like him and he had to drop out of the race."
~ kevkos
Lech Walesa
"Lech Walesa—he posts the stupidest sh*t you could imagine on social media, always speaks about himself as a sole savior of the entire human race, everything, EVERYTHING is happening thanks to him."
"He is posting this on a Polish equivalent of Reddit, so people are just teasing him there to post even more of such stupidities and he always falls for that."
"On top of that he posts there his naked photos in a bathtub full of beer, posts poorly photoshopped posters of himself with other historical figures… basically the guy made a walking meme out of himself."
"And he is still giving lectures on European Universities as a special guest somehow."
"He is a Nobel Peace Prize winner, the face and one of the leaders of the Polish solidarity movement and a former president of Poland."
~ JustYeeHaa
Alexander Hamilton
"Alexander Hamilton"
"Genius by playing a deep role in developing robust mechanisms for the US government to operate from the ground up."
"Idiot by tarnishing his political career with openly admitting to cheating on his wife with a prostitute for months."
"Also stupid by agreeing to duel with someone who wanted to kill him, putting on glasses to show intent in winning, then pointing his gun away mid-duel and getting himself shot and killed."
~ RamblinGamblinWillie
Steve Jobs
"I think Steve Jobs was a marketing and sales genius."
"Then when it came to his treatable cancer ... well I wouldn't call him an idiot, but he placed his faith in the wrong person and his 'I always win' attitude cost him his life."
"He was unlucky to get cancer, but lucky that it was treatable at the stage it was discovered ... but he ignored his doctors and thought that changing his diet would heal him."
~ ClownfishSoup
Ben Carson
"In a previous job, some of our dumbest and most frustrating clients were doctors."
"I'm sure most of them were great at being doctors, but they couldn't seem to read or understand the fairly basic info we sent them and often asked the most stupid questions."
~ MildlyUnusualMax
"Ben Carson is the perfect example of the idiot doctor."
"He is legit one of the world's best brain surgeons. If you need brain surgery you'd be very lucky to have him as your surgeon. He's probably top 25 surgeons on the planet."
"However, the man put every skill point he has into brain surgery, and into no other skills of any kind. He's a moron in every other field aside from brain surgery."
~ Hyndis
"I'm still pretty convinced Trump thought 'urban development' meant 'secretary in charge of Black people', and that's why he picked Carson for HUD."
~ suitcasedreaming
Sam Bankman-Fried
"Don't understand how Sam Bankman-Fried isn't on this list yet."
"Dude was in magazines being called a prophet and genius, turns out he was just a f**king idiot the whole time."
~ strapped_for_cash
"The entire Forbes Thirty Under Thirty list is pretty much a bunch of smooth-talking scamming idiots."
"Sam Bankman-Fraud was also on there in 2021."
~ bart416
"It pisses me off that media still refer to him as a former billionaire. In what way was he a billionaire? The money he spent was all other people's; FTX and Alameda Research didn't even keep financial records, even Bankman-Fried had no idea how much money he had access to."
"Like if I take a piece of paper and I write on it that it represents one billion fudge tokens, then I take another piece of paper and write on it that it represents one fudge token and I convince my friend to buy the second piece of paper for a dollar, does that mean I'm a billionaire?"
"That's the only sense in which Bankman-Fried was ever a billionaire."
~ superfudge
"To me that is such an Emperor's new clothes scenario. It seems like he was never really that bright, but a roomful of investors thought he was a genius for no apparent reason and pumped him up."
"The story of how he took a call with investors while he was playing video games and half paying attention comes to mind. Apparently they took it as a sign that he was a real silicone valley whiz kid and invested heavily."
~ Anonbrowser22
Thomas Midgley Jr.
"Thomas Midgley Jr.—All his inventions—leaded gasoline and CFCs—were thought to be great contributions to mankind until we found out they were dumping crazy amounts of toxins into the atmosphere and burning a hole in the ozone layer."
~ creepysink77
"He f*cked up so much sh*t. All that lead screwed up several generations to brain damage."
"And its STILL effecting people. Lead gets trapped in your bones and as you age and your bone density decreases that lead is re-released back into their system."
~ Grogosh
"This is probably the best answer there is. They guy really, really was considered a genius, and now he's probably on the top five list of people without military or political power who has done the most harm to the world."
~ Imsdal2
These are pretty well supported examples.
Who would you add to the list?
Corporations don't get big overnight.
A lot of tough decisions, big wins, and sometimes even bigger losses, go into their growth.
But sometimes companies make mistakes that the public simply cannot let slide, and it can be hard to imagine how the company could stay afloat after the backlash.
Redditor Astro_Shogun asked:
"What decision by a company received the most amount of backlash from the public?"
Dang It, Photobucket
"When Photobucket decided to take the whole internet hostage by asking for 400 dollars a year for what was previously a free image storage solution. The move broke years of forum posting and erased a significant portion of the web collective knowledge."
- denpo
"Yup. And now they're holding almost all of my son's childhood photos (some of which I managed to save in other places) hostage."
- KnockMeYourLobes
"Browse any forum thread from the early 2000s and practically all the images are gone because everyone used Photobucket back then. It will be the same way with Reddit whenever Imgur goes under."
- NothingOld7527
So Salesy
"JCPenny doing away with sales and trying to present itself as a more upscale store. Sales immediately plummeted, and they reversed course quickly."
- flyingcircusdog
Cheap Jewelry
"Gerald Ratner said the reason his jewelry company could sell stuff so cheap was because the products were crap. It destroyed the company overnight."
- simplemtbman
Front Wheel Drive
"Ford, in the '80s, tried to replace the aging Fox body Mustang with a front-wheel drive, Mazda-based car. This was pre-internet, but car people got UPSET and deluged Ford with a letter expressing their anger."
"Ford backtracked, kept the Fox body around, and released the vehicle that was going to be the new Mustang as the Probe. It lasted two generations, but the Mustang soldiers on."
- StillN0tATony
Online Only
"Microsoft got roasted when they announced Kinect and always-online were required for the Xbox One. Took all the momentum they had from the 360 era and put them miles behind Sony."
- Jerry_Williams89
Childhood: Destroyed
"Sonic having human teeth."
- LightDash
"I just immediately pictured teeth in a Sonic milkshake and had a horrified reaction before my brain caught up to you meaning the character."
- Rolizas
Questionable Upgrades
"Very recently, T-Mobile. A company that 10 years ago called itself the Uncarrier by making a series of pro-consumer changes to its plans and the previous CEO built almost a sort of cult of fans of the company. Then T-Mobile acquired Sprint and got a new CEO."
"A couple of weeks ago, T-Mobile internal documentation revealed it was going to automatically upgrade customers on old grandfathered plans up to new plans, which were more expensive. Customers would have to call in to opt out of the change. 'They weren't raising customers' rates, they were moving them to better plans.'"
"Well, major tech news got ahold of that, and then even some local news stations, and T-Mobile quietly 'clarified' a week later via internal communications that only one percent of their customers would be affected."
- artimaticus8
Coming Together in Hate
"Anyone remember the Kendall Jenner Pepsi ad when she solved police brutality?"
- vernon3
"Those moments are precious. There are a few things these days that bring everyone on the Internet together. That was one of those things. We all hated the Pepsi ad that solved police brutality."
"That ad had it all. Pandering, ignorance, arrogance, and talking down to their audience."
- notwoutmyprob
"And a Kardashian."
- Kitchen_action
With Every Purchase
"I couple of years back a local Detroit area car dealership decided the best way to celebrate MLK day was to give away free car alarms with every purchase."
"Nobody liked that."
- graveybrains
A Sale Gone Too Well
"Hoover UK offering two free flights to America if you spend £100 on their products. They anticipated that people would spend a lot more than the minimum required which would cover the approximately £600 value of the tickets."
"When the company was deluged with purchases around the £100 mark, they reneged on the offer, which prompted a very expensive lawsuit. The fallout was so bad that the UK division of the firm was sold to a rival company."
- Live-Dance-2641
New Drink, Who Dis?
"New Coke."
- PeggyWithPhatA**
"After the relations disaster, the public clamored for the decision to be reversed, and Coca-Cola released 'Coke Classic.'"
"Coke Classic soon had an even higher market share than Coke did before the public relations fiasco, and a new theory made the rounds: that Coca-Cola deliberately made these decisions, simply to gain publicity, and increase market share."
"The reaction from Coca-Cola's executives was, 'We aren't that smart, and we aren't that stupid.'"
- Malthus1
A Tweet Turned Sexist
"Burger King stating that 'Women Belong in the Kitchen.' What they were TRYING to say was that they wanted more diversity. People didn't see it that way, and in the end, they had to issue an apology."
- zerbey
The Downfall of an Incredible Publication
"Here's one there should be a public outcry about."
"Disney bought National Geographic and controls everything it does. This is the last year the iconic magazine will be available. I'm incensed."
- redheadMInerd2
(The writer of this article is equally incensed.)
Predicting the Future
"I feel like whatever YouTube is cooking up lately will be the next one."
- Just_Aioli_1233
"Tech companies sure know how to kill off highly popular and profitable apps, super quick. It's interesting to watch it happen in real-time. Facebook, Instagram, Twitter, YouTube, all losing tons of followers and destroying their own stock."
- Eleanor_of_Accutane
It's easy to see how all of these mistakes resulted in huge backlash, sometimes at the total expense and downfall of the business.
But some of these mistakes were made by companies that are still huge today, and to a certain extent, that's kind of surprising.