People Share The Catchphrases Their Parents Always Used To Say When They Were Kids
You hear your parents say things growing up. You don't devote any brainspace to decipher what they might actually mean, it sort of just flows into your ears. Everyday. Then it dawns on you, when you're older, maybe with kids of your own, and you say the very thing they used to always say to you and you think, "Wait...what did I just say?" A parent catchphrase can stick with you forever, as evidenced by these entries below.

---
Reddit user, u/Popples86, wanted to know what your parents said that confuses you to this day when they asked:
*confused dog head turn
My dad would say, "Don't look at me in that tone of voice"
You shut your mouth when you're talking to me!
I Call Dibs On Being Leonardo
Giphy
I am the youngest of five kids, so going Anywhere was slow and tedious.
My dad used to say, "and away we go, like a herd of turtles. "
Never Let A Stupid Thing Just Be
When someone was about to say something stupid, Dad would say:
"Pass the bread, here comes the baloney."
"Ready the plunger, we got some bullsh-t"
This Is Why You Make A Secret Stash
"Godd-mnit, Mom just bought these 20 minutes ago! How are they all gone?"
I grew up in a large family and my mom would shop at those bulk food stores. She'd always buy one of those big plastic containers of bakery cookies and my little brothers would eat ALL of them as they unloaded her car. My dad used to get so pissed. He loved those cookies.
Quite A Mouth On Her
My mum would often dismiss irritable or grumpy family members by telling them to "Have a sh-t and lighten your load"
It Never Was...
Me: How far until we're there?
Dad: it's just around the corner.
It was never just around the corner.
But It's TASTY Poison
Me: What's for dinner?
Father: Poison
Another was when he found something that was missed previously: "What's this/that? A ham sandwich?"
When It's A Little Too Confusing
My mom always used "plenty" in a sarcastic way, so for quite some time (like until turning 7 or something) I thought "plenty" meant very little of anything. Like when I only left one spoonful of ice cream inside the container, she'd say, "Wow, plenty left!"
This really confused me when my teacher told the class before a school trip "Don't worry, there will be plenty of things to do" - like b*tch why you smiling about that?!
Did You Check Your Boot?
Giphy
"If it was a snake, it would have bit ya"
My mom's favorite (and very Texan) phrase for when my dad and I couldn't find something, but it was where we were looking or in plain sight the whole time.
As Long As You Smile Now, That's All That's Needed
My dad used to drive me to school every day in high school and when I got out of the car he would say "Have a good day, learn something new, and don't waste the [Insert County] tax payers money!!"
I rolled my eyes every time he said it for a few years but looking back it makes me smile.
Reddit user Soy_nanami asked: 'What's the ugliest name you've ever come across?'
Naming a child with a unique name can be quite a challenge, but it is one that many people are willing to take on.
However, there are risks involved.
You don't want to come across as unoriginal, but you also don't want to burden the child with a lifetime of mockery and ridicule for a moniker that didn't seem silly at the time of the naming.
While some people succeed at this, others fail miserably and...well, poor child.

Curious to hear of epic name fail, Redditor Soy_nanami asked:

"What's the ugliest name you've ever come across?"
There's a theme going on here.
"My sister has classmates named Pigeon and Beans."
– Abug_sa_Yawa
"Wait, one was Pigeon and another was Beans, or one poor unfortunate soul was Pigeon And Beans?"
– rancidtuna

If The Names Fit
"my sister had classmates in the 5th grade that were Levi, Jean, Denim, and Blu. not so much ugly I guess. but their names together make a sentence. Blu Denim Levi Jeans."
– puppycatisselfish
"The twins. Fly and button."
– 111110001011

These don't roll off the tongue so easily.
Name Fit For A Villain
"My Great, Great Aunt DARTHULA. She hated the name so much she signed her marriage certificate as 'Thuley'. I had a helluva time tracking her down because of this 🤣"
– StevenGaryStout
"Darth ula was the dark Lord of the family, so powerful and so wise, she could even keep the ones she cared about, from Karens."
– ResistRacism

See Ya Later
"Adeusmano."
"I live in south America. This would be something like "Goodbyebro.'"
– Raigheb
Unfortunate Correlation
"Candida (as in Candida Doyle of Pulp). I'm sorry. What a name. Like the genital fungus?"
– samit2heck
"It's rather sad that these Latin-influenced names have these collocations now. It's a pretty cool name, and means 'white' or 'bright.'"
– curmudgeonpl

Getting into NSFW territory.
Oh Myyy
"A guy I know is called Nuttaporn. Nutty for short."
– pantheonofpolyphony
"Porn is very common in Thai names."
– grosselisse

"I've seen quite a few over years in a call centre but Kok Hung Lo was my all time favourite name."
– bigredmidget

Bordering On A Slur
"I served with a guy in the military whose surname is Fagg, you refer to everyone in the military by their surname. You can imagine how that went down."
– Weak-Tap-5831
"Oooh, the military. Last names were sometimes unfortunately hilarious. The two that come to mind immediately are Browneye ('Browneye aye!') and a girl whose last name was Guzzler or Guzzlar (in the Navy, the third enlisted rank's title was "Seaman", which everyone in my rate started out as)"
– Game_Changing_Pawn

They Got Around
"Slutt. Prounced slooth."
– Huge-Advantage7838
"How to make sure your kid gets bullied."
– heisl_
"You can't fix stupid."
– hyperion420
"People will pronounce that however they please."
– SappySoulTaker

Her Dad Was The Worst

"Went to school back in the 90s and 2000s with a girl named Ashely Head. It came to light one day back in jr. High that her dad's name was Richard 'Dick' Head and their number was listed in the phone book. The prank calls came so fast."
– gil_beard

A Little Jarring
"A friend's mum was called Kunti. Maybe it's not ugly but you definitely get a shock when you hear it the first few times."
– Teefdreams
"Kunti is a common name in India. It's not pronounced Cuhnty. The u is pronounced like the u in Uber."
– Ill-Inspector7980
It wasn't the ugliest name but a friend told me about a guy he knew whose name was Otis.
His surname was Payne.
While I personally think it's a cool name when read together, I'm sure he was subjected to lots of mockery.

So, if you read this Otis Payne, I feel for you for all the ribbing, or "Payne" you must've suffered through.
"Ohhh-dis Payne!"

Ever had a secret that was so crazy it could ruin lives if the truth came out? From second families to confidential cover-ups, these people have anonymously shared their earth-shattering secrets on Reddit. Reading these stories will make you believe that sometimes it's better to let sleeping dogs lie.
No two couples have the same feelings towards sex.
For some, it's just a nice possibility, something they know they can always enjoy, but never feel particularly eager to do.
For other couples, saying their sex life is "active" would be the understatement of the century.
Then there are those who like to be a little more adventurous, exploring things to either spice things up, or possibly broaden their horizons.
This might include asking a third to join them.
Sometimes however, while one member of the couple is eager to give this a try, the other might not feel as inclined, and might even find themselves appalled at the very idea.
Redditor F*ckaught was curious to hear how people's partners might react at the suggestion of inviting a third member to join them in the bedroom, leading them to ask:
Asked And Answered
"She said no."- AtrumAequitas
Nice Try
"I asked."
"She said 'alright, go find someone'."
"She called my bluff."
"She knows I won't go out and socialize, let alone as for a threesome."- LuluTheNightshade
A Rock And A Hard Place... (Head Out Of Gutters People!)
"We already had that conversation."
"It got shelved because I wouldn't feel comfortable doing it with a stranger, and she didn't feel comfortable doing it with someone we knew."
"Without any possible middle ground, there was just no way it was going to happen."- Qyro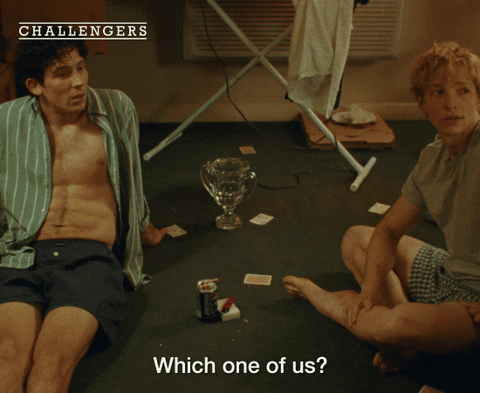 Decide One Of Us GIF by Challengers Movie
Giphy
Just Not Worth The Risk
"I'd find myself in a 1some real fast."- Apprehensive-Care20z
The Bed's Already Too Crowded...
"She dislikes 2 somes so not well."- AccomplishedBat8731
Depends On The Third...
"She would say, 'with another guy?' and that would end the conversation pretty fast."- AC_Lerock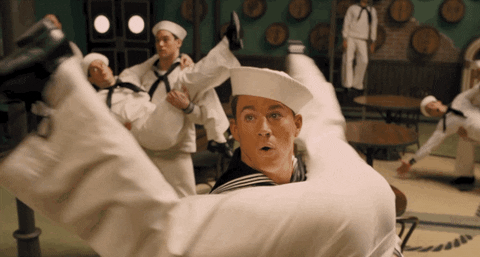 gay GIF
Giphy
Eerily Specific...
"She would ask me if my best friend Thomas can join us."- petitbatte
Ouch!
"'Oh, you wanna disappoint two women at once?'"- driago
When There's A Partner To Ask...
"My right hand would be very offended if I tried to bring my left hand into this."- Tropical_Penis123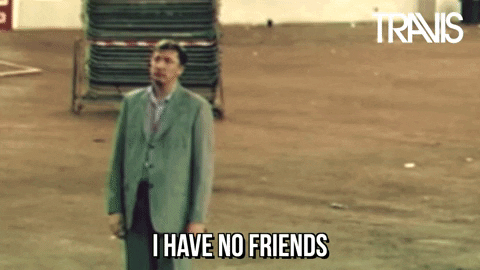 Lonely Loser GIF by Travis
Giphy
A Little Too Excited?
"She'd probably open the door and let her 'just-a-friend' in seconds after I proposed the 3some."- ToastMaster_404
One And Only
"She'd cry at the fact that I'd want to touch another woman."
"Things definitely wouldn't be the same and honestly I'm happy just banging her."- Vivid_Ad1127
"Same thing I would say if she asked me, 'I love you and I can share most things, but not you'."- mmastrocinque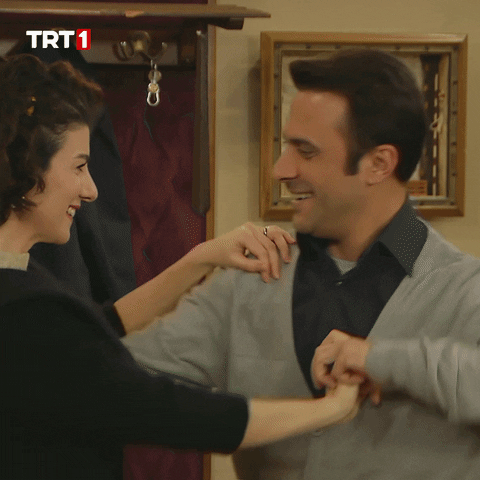 Dance Love GIF by TRT
Giphy
Only Three?

"'We have foursomes at home'."- chubberbrother
Absolutely Not
"I am sure she would be heartbroken and cry nonstop."- Reddit
FOMO?
"She'd tell me she'd ask the fellas if I could be in the next one."- Listening_Heads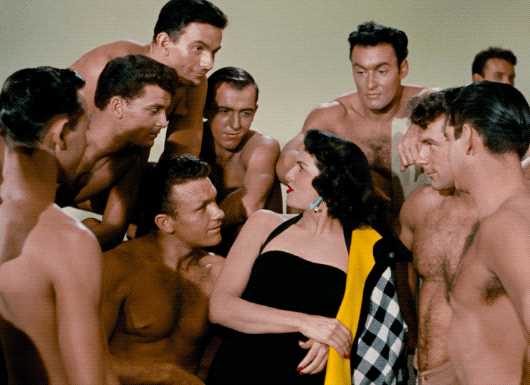 marilyn monroe hollywood GIF by Coolidge Corner Theatre
Giphy
Some might say everything's worth a try, at least once.
Others know not to mess with something that is perfectly fine as it is.