How much in love with Toblerone chocolates are you?
Probably enough to tear right into the packaging to get at the Swiss milk chocolaty goodness without inspecting the triangular box, right?
---
Consumers who are all too familiar with indulging in the imported candy are maybe a little too occupied with gorging over the contents to notice much about the packaging. And who could blame them?
The honey and almond nougat nestled inside the delicious chocolate covering is too scrumptious to delay devouring.
But they are also missing a surprise in the Matterhorn logo. If you have not noticed already, there is more to the Swiss mountain graphic than you realize.
According to Indy100, one kid made a discovery that is blowing Toblerone lovers' minds.
My son had his first Toblerone today. "What's the bear for?" Me: "what bear?" . I was today years old when I foun… https://t.co/7EgJfZB5cr

— Stephanie ✨✨ (@Stephanie ✨✨)1545879279.0
Do you see it?
Once you spot it, you can't really unsee it. There, on the face of the mountain, is a profile of a bear's body.

Here is a better look.
@ozilicious49 @gunnerpunner @AsadCFC https://t.co/QAxAmae5D0

— Stephanie ✨✨ (@Stephanie ✨✨)1546023956.0
Those oblivious to the covert bear expressed their disbelief.

@upstephanie @harrislarryd My god. I've been familiar w Toblerone for forty years and I'd never seen the bear (full… https://t.co/DhAyPD7WCA

— Paula D. (@Paula D.)1546048010.0
And they noted the keen observation powers of a younger generation.

@upstephanie Well, I suppose if it's a *secret* child society, how will we ever know? But thank you from all the ad… https://t.co/QqQUel9SCy

— Julie M-D (@Julie M-D)1546021645.0
@upstephanie I just blurted out, 'Did anyone know about the Toblerone bear?' And my son replied without raising hi… https://t.co/PsGAZJNFnp

— Julie M-D (@Julie M-D)1546018237.0
People also recognized the child's artistic potential.

@upstephanie Oh wow, get him drawing, he sees negative space first. I shall think of this for days. Mainly because… https://t.co/unhju4xTyj

— Gina Ware (@Gina Ware)1546016090.0
@Luigina369 He's wanted to be an artist since he was small. He's on a good path!

— Stephanie ✨✨ (@Stephanie ✨✨)1546017311.0
Those with a sweet tooth were less concerned about what is on the outside though.
And can you blame them?
Perhaps the most important question is did you know you can get Toblerone in four varieties: milk chocolate, white chocolate, dark chocolate and salted almond?
Here... take our money!
So what is the significance of featuring a bear on the logo of Switzerland's famous chocolate bar?
Turns out that the capital city of Bern—where Toblerone is produced—is synonymous with the Black Bear.
Toblerone comes from Bern, Switzerland. Also known as the city of bears. 🐻 🇨🇭

— Stephanie ✨✨ (@Stephanie ✨✨)1545880669.0
One legend as to how the city became associated with the bear dates back to the 12th century when the city's founder—Berchtold V, the Duke of Zähringen—captured his first bear during an aristocratic hunting expedition. Legend states the Duke vowed to name the city for the first animal he captured, thus Bern got its name and heraldic symbol.
But the story is merely legend and many other versions of how Bern came to be named exist.
Regardless, the Bern flag and coat of arms sport a bear to this day.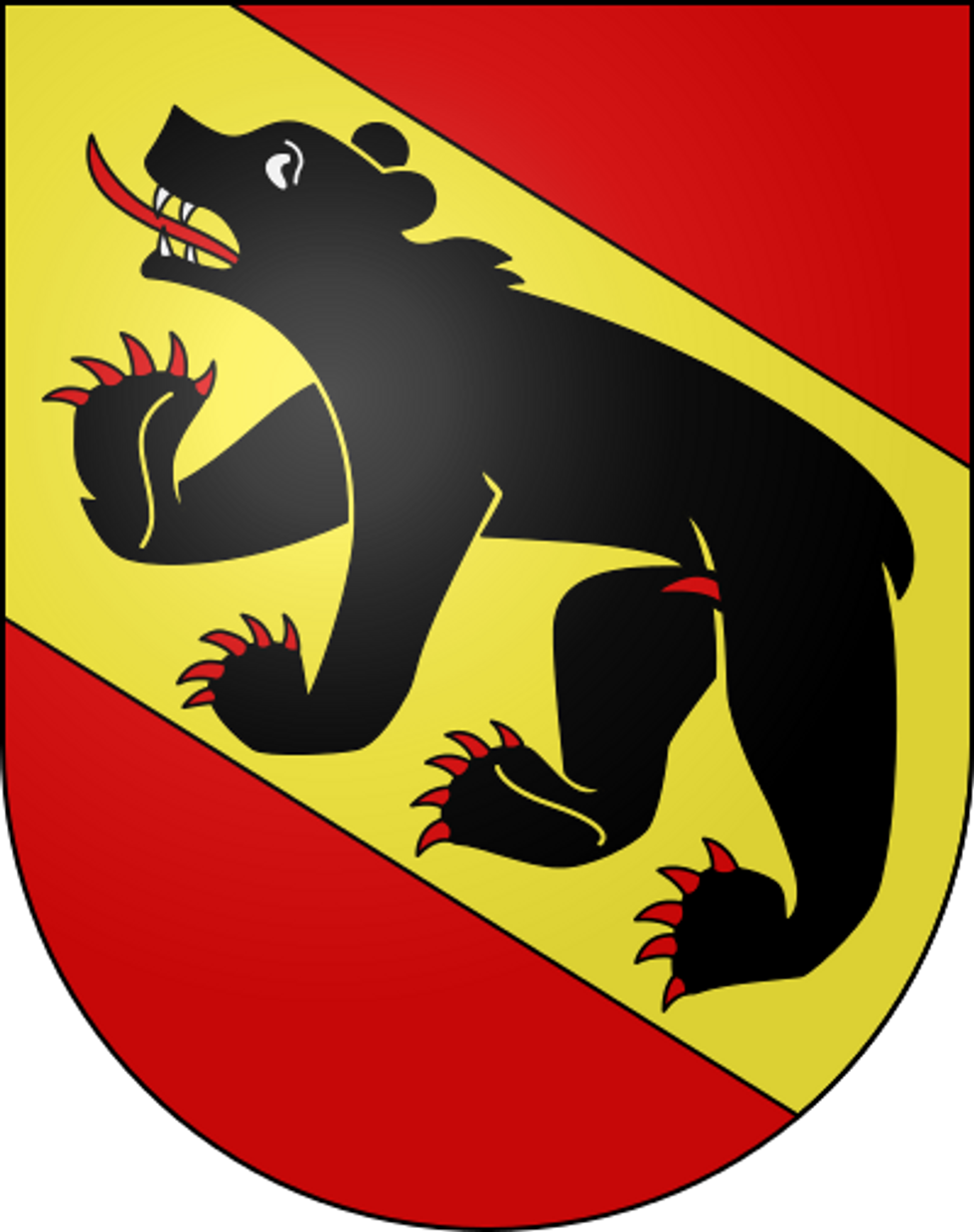 Modern Bern Coat of ArmsWikiwand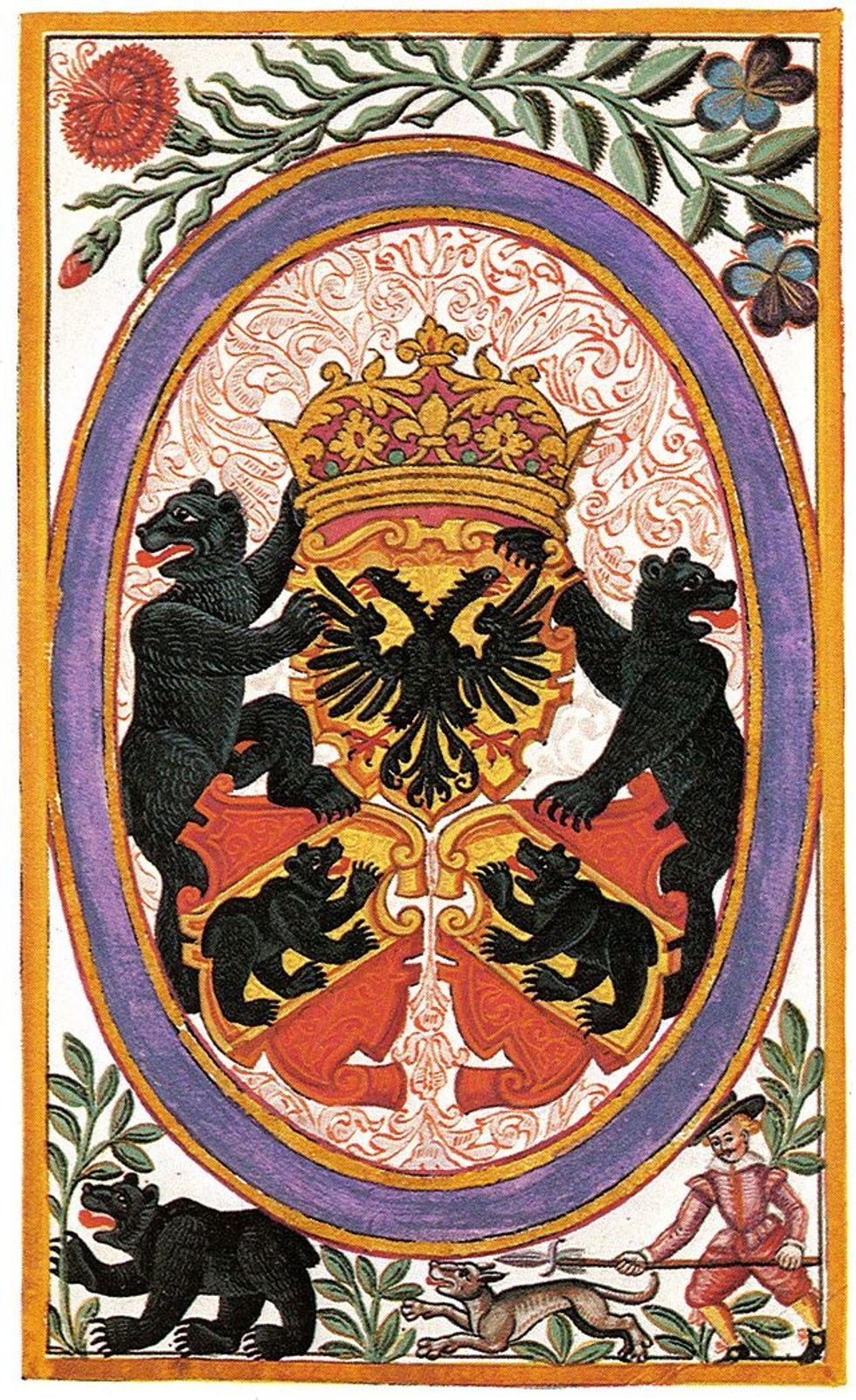 Bern Coat of Arms from 1620Wikiwand
Although bears are not as abundant in the Swiss wild nowadays, visitors to Bern will see flags prominently displaying the animal on the buildings of local businesses.

Did you notice the hidden logo right away?
We bearly did.
But we had no problem finding where we could buy a variety box full of full size Toblerone in those four flavors.
Because... priorities.