People Explain How They Really Feel About Death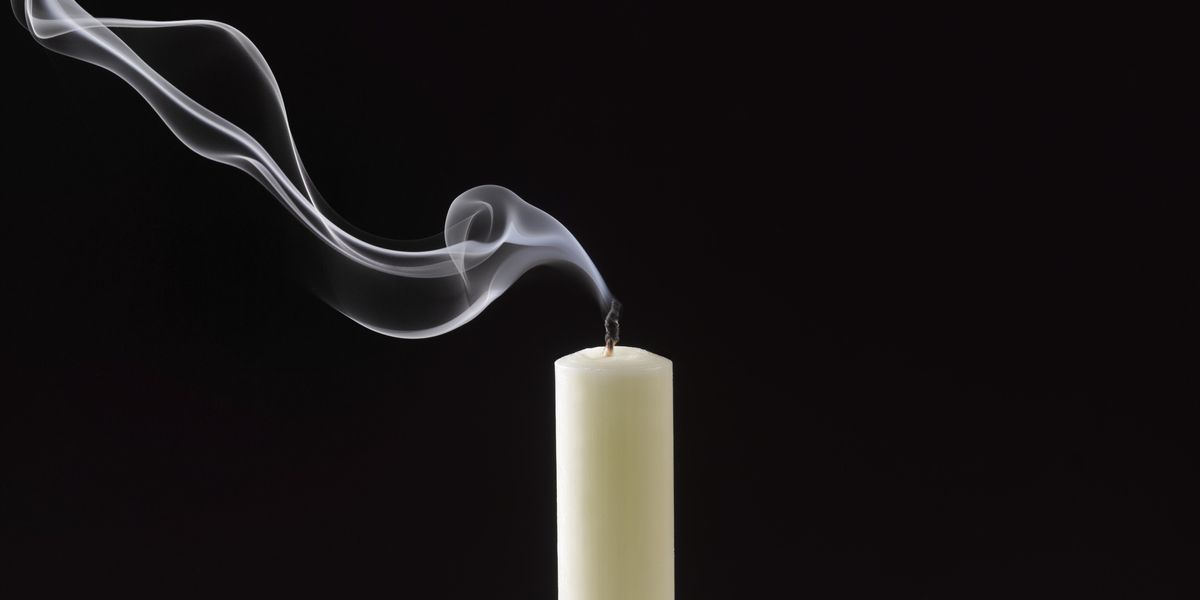 Death is a subject many people shy away from because what they don't know beyond our realm of existence can be intimidating.

---
Hollywood hasn't helped, as movies and TV have typically portrayed death as something sinister and violent.
How could anyone be convinced death is a peaceful transition, and that what awaits on the other side is actually an unimaginable utopia?

Curious to hear strangers' thoughts about death, Redditor GoodNess2020 invoked a quote by an iconic literary figure and asked:

"Mark Twain once said, 'I do not fear death. I had been dead for billions and billions of years before I was born, and had not suffered the slightest inconvenience from it.' Why do you agree/disagree with his statement?"
People clarified what actually terrified them most about death
The Process
"I don't fear being dead. I fear dying."
– magicbluemonkeydog

"Yeah, that's usually the issue. It's why that quote doesn't mean much, to a lot of people."
"It's not a fear of eventually dying and not existing anymore. It's the act of dying itself. He didn't constantly die for all of time. He just wasn't alive."
– appleparkfive

Concept Of Loss
"To have not existed for billions of years is to have spent billions of years never knowing loss. To die is to know loss."
"If you look into a new bank account and see zero dollars, it's nothing. If you look into a bank account that once had a million dollars and see there's nothing in there, you'll know it's absence."
– -CrestiaBell
People provided an analogy to articulate what ceasing to exist must feel like.
It's About Time
"Time is only relevant to you when you are alive. He is right. Have you ever been sedated for surgery? You go under, and then instantly wake up and procedure is done.... or you died so no worries."
– 20190419

Consciousness Is Life
"You won't be feeling anything in death though is the thing. That infinite/instant sensation was a living feeling, you just weren't conscious for it - your body experienced it anyways. No body, no experience."
– Parradog1

Like Being Under
"That is very true, but for me, that's the closest amalgamation of what it probably feels like."
"No one can tell you what actual death will be like. It's impossible for you to experience nothingness."
"Thinking about death can be paralysing sometimes, and when I remember that the closest thing i can link as an experience I had, being put under, was actually sort of pleasant. I then think maybe death will be like that, and honestly it doesn't seem that bad."
– IamEclipse

When In Deep Sleep
"Yeah in contrast to sleep where you can actually feel like time has passed when you wake up."
– GreyFoxMe
Think Line Between Death And Slumber
"As CGPGrey puts it, your bed might very well be a suicide machine."
"Given our lack of understanding for the fundamental processes of our sentience, it's entirely possible that when you fall asleep, your mind is functionally killed, disassembled, analyzed, sorted, tweaked, and adjusted by your biology, before being reassembled when you wake. Every night."
– Mazon_Del

People opened up about their insecurities around the concept of death.
Fear Of What Comes Next
"I'm just paranoid that something does happen after death and it's just based on one thing that you didn't know about."
– PsychoDog_Music
The Circle Of Death
"There's nothing to fear in oblivion. Unless, of course, your consciousness survives death. If so, it would be reasonable to fear the sensation of consciousness without senses, suspended alone in the cosmos, with no one to hear you, and no way to make yourself known. No reference point for counting time – a count that does not matter anyway in a literal eternity."
"You might wish that you still had a corporeal form, only so that you could make your mouth move to express your terror, to make the universal form of a terrified scream – the form of a letter O."
"But you won't be able to. You just won't!"
"This has been the Children's Fun Fact Science Corner. Brought to you by shame, loneliness, and the letter..."
"O....."

– CecilSpeaksInItalics
When Faith Fails You
"what do you mean I'm going to hell?! I was a good person and attended church regularly!"
"Ah yes, but you failed to put a blue feather in your hat and then turn in circles the times praising God Almighty on the fifth Sunday after your twelfth birthday. To the pit with you!!!"
– phormix

There is an poignant episode from the Twilight Zone that brought me a sense of peace surrounding the concept of death.
Death was embodied by a handsome police officer who had been shot–played by a young Robert Redford–and begs to be let into the home of an elderly woman who had been living in perpetual fear of meeting "Mr. Death."
As the episode continues, she discovers much to her dismay that she welcomed Death into her home, but he warmly reassures her there is nothing to fear.
The episode ends with her finally offering her hand to Death after much protest, and they peacefully walk out together, arm in arm, into the light.

It was sweet and beautifully done. The 1962 episode was titled, "Nothing in the Dark."
That's how I imagine it to be.
A dashing Prince of Darkness telling me it's time to join him in guiding me to the other side.

Twilight Zone - "Nothing in the Dark" ending (SPOILER ALERT)
SPOILER ALERTFrom S3E16, "Nothing in the Dark". An old woman confronts her worst fear - the fear of death."Am I really so bad? Am I really so frightening? Yo...
Reddit user DetectiveBennett asked: 'If you had to marry the first person you slept with, how different would your life be?'
As the honeymoon phase dwindles for married couples, the real work kicks in.
With any relationship, the significant others involved need to maintain the love that brought them together in the first place.
Although it's never easy, actively communicating and listening to one another to ensure the longevity of a romantic partnership is well worth the effort.
That doesn't mean people don't consider coulda shoulda woulda alternatives when the going gets tough.

Strangers contemplated about different scenarios when Redditor DetectiveBennett asked:

"If you had to marry the first person you slept with, how different would your life be?"
For some, the outcome worked in their favor.
Happily Ever After
"I did. We just celebrated our 50th wedding anniversary."
– Silly-Resist8306
Outlook Is Good
"I'll tell you in a few years time."
– WarmTransportation35
"An optimist!"
– Dvorak_Smells

Hitting The Jackpot
"I actually did marry the first person I slept with. She just turned out to be really cool 🤷🏻♂️"
– reptard77
"Same here! Together 14 years today actually and he's my best friend."
– spoopyelf
For others, however, it would've been a huge mistake.
Dodging A Bullet
"Given that the first woman I slept with is now a lesbian, I'd either be someone's beard or, more likely, still trying to recover from a divorce."
– monkeymanlover

Mr. Wrong For Her
"The first man I slept with turned out to be gay. So that'd be a weird marriage. I ran into him recently, and he invited me over. His house is so filthy for an almost 40-year-old that it made me gag. So I guess I dodged two bullets with this one."
– Ok_Anywhere_2216

True Colors
"Terrible. She recently reached out to me after 25 years because she wants to cheat on her husband."
– drallafi
"How did that message even go lol"
"Hey I'ts been a while damn 25 years, how has life been treating you? Me I'm married and honestly looking to cheat, you down?"
– JagmeetSingh2
"Nah I don't have any social media so she got my number through a mutual friend from high school. She lives in a different state and she was in town to bring her daughter to check out Universities in my city. She framed it as, 'Hey, wanna catch up?' I thought sure, why not? Well... I found out why not."
– drallafi

There's no way to predict what the future holds.
Gone Too Soon
"I would be a widower. She was hit by a truck when she was 18."
– Thsaxd

There would've been a unsatisfying ripple effect.
Incompatible Family Members

"I'd be in prison for murdering my mother in law."
– MaxCWebster
"Q: What's the definition of mixed feelings?"
"A: Watching your MIL drive off a cliff in your brand new car."
– Nachtjaeger68

Different Paths
"She is a librarian in Norway. I am a lawyer in America."
"One of our lives would be drastically different."
– Nebraskabychoice
"He stayed at home. She went away. What more can I say?"
– ksmrgl

Epiphany
"Wait, you mean you don't have to marry the first person you sleep with? oh man."
– hunnyjo
I know for a fact my life would not be as fulfilling and full of the amount of laughter I have now with my husband.
If I ended up tying the knot with the first person I ever slept with, I know for a fact I'd be miserable.
It's amazing how having lust for someone can blind you, preventing you from having a discerning view of the quality of a person who is servicing a need in a consensual, spontaneous moment.

Ending a relationship is never easy.
True, some people who have an unfortunate amount of experience doing so have developed tactics and methods to ensure a lack of anger and/or tears.
This might include breaking up in a specific restaurant, having certain music playing while doing so, or timing things out just perfectly.
Of course, those with experience might also tell you certain breakup methods that are guaranteed to end in acrimony and vitriol.
Redditor StarGazingMouse was eager to learn the worst possible ways to end a relationship, leading them to ask:
"What is the Worst way to break up with someone?"
Seeing Other People...
"He started making out with another girl while we were at a party, all sitting on the same couch."
"That deflates the romance pretty quickly."- Extension-Gap69
"Start an open relationship without telling the other party."- Kenton2k·
Running To Mom

"I once had a guy's mom break up with me for him."
"We were both in our mid 20s."
"For the smart alecks, myself and ex-bf were both in our twenties and dating."
"His mom was the one who told me he was breaking up with me."
"I wasn't dating the mom."- AutumnFalls89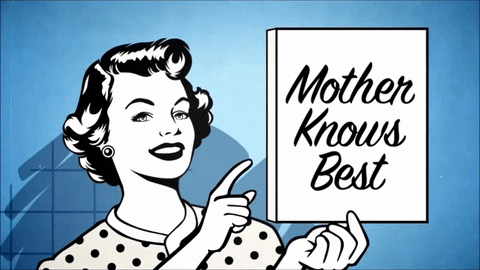 Mothers Day Mom GIF by 505 Games
Giphy
Always In Person...
"Text them and ask, 'can we talk?'"
"Type for twenty minutes."
"Finally send the message, 'I'm breaking up with you'."
''Sorry'."
"True story, found out later he probably cheated on me."- lamemayhem
"She texted me breaking up with me after going on a family trip."- Kangaroo_Exact
"Calling the day after my birthday (long distance)."
"Said she didn't love me anymore, she was sleeping with someone else, and I should get tested (last visit to her was months before)."
"I tested positive for Chlamydia."
"She said she waited to tell me because she didn't want to ruin my birthday"
". How generous of her."
'Also I didn't have any noticeable symptoms from the Chlamydia - I went about 4-ish months before I found out."- renegadepony·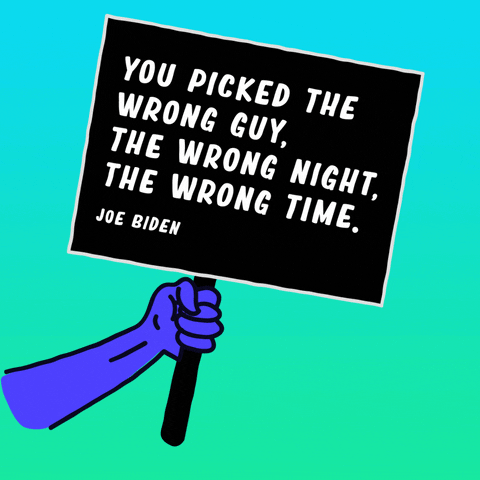 Donald Trump Vote GIF by Creative Courage
Giphy
Don't Bury The Lead

"Make them think the relationship is strong and then say some of their bad qualities and leave them."
"Then what you do is get with their ex or parent."- PhantomNuke12
If You're Going To Do It, DO IT!

"Ghost them."- Psychic_Wars_Warrior

"My ex-fiance was supposed to escort me to my friend's wedding for which I was the MOH."
"We had a wedding date set, I had a 1/2 ct round diamond and a dress chosen."
"We rented a house off-campus at college and were seniors."
"That Friday before the wedding, he suddenly came down with the flu."
"He couldn't travel."
"I believed him and he acted loving and apologetic, etc."
"I went ahead and took the 3 hour trip."
'When I got back Sunday and walked in the house, everything, including furniture, was gone."
"My clothes and books were still there but everything else was GONE."
'I guess that meant he broke the engagement!"- WeatherKat3262I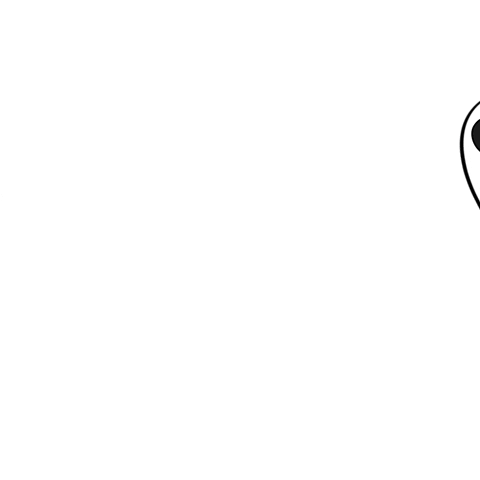 The Goose Bird GIF by Bare Tree Media
Giphy
Don't Try To Be Cute...
"'We're donion rings'."- Reddit
Now That's Cold...

"Show up to their family dinner as their relative's date."- PyukumukuGuts
Who Will You Be Trying To Impress
"I had a dream my partner broke up with me by making a PowerPoint presentation."- mcashleigh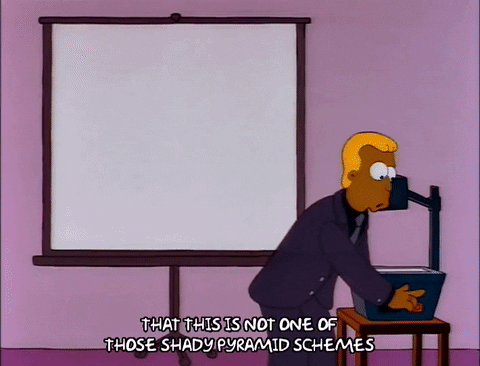 Talking Season 3 GIF by The Simpsons
Giphy
Don't Make Public What Isn't Common Knowledge

'A woman broke up with me by changing her Facebook status to single.'
"In her defense, we had a fight over the phone that morning, but I didn't think it was quite such a big deal."
'The nice thing about finding out that way was at least I didn't have to deal with the sort of person who breaks up with by changing their Facebook status anymore."- Funky-Spunkmeyer
While plenty of people are able to break up amicably, all breakups come with enough hurt, pain, and sadness as it is.
So there's no need to try and make it worse.
...A little surprising no one mentioned a Post-It.
Do you have any bad break up methods? Let us know in the comments below.
So many people try to do away with scars and blemishes.

They can be seen as ugly.
But they tell the stories of our lives.
Maybe it's not the best memory.
But you're still alive to tell the tale.
However, not all scars are from some epic story.
A deleted Redditor wanted to hear the best stories behind everyone's body blemishes, so they asked:
"What is the dumbest way you've gotten a scar?"
I have a scar on my upper lip from when I was 5.
I learned fast... don't dance to Madonna on your mother's bed, in her high heels, on a dark and rainy Saturday afternoon.
Save it for the light.
Killer Kitty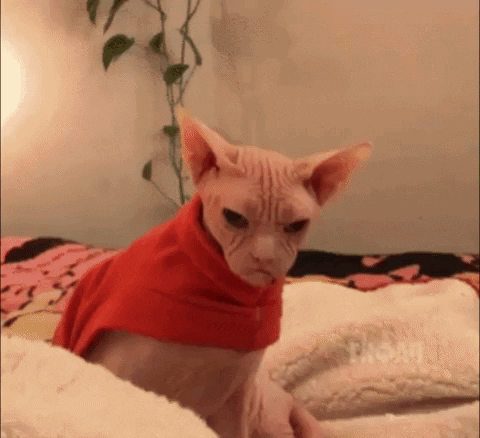 Mad Grumpy Cat GIF by MOODMAN
Giphy
"Tripped over my kitten and busted my head open on my sofa."
Fragrant-Prompt1826
"This is definitely believable, I swear my cat tries to off me everyday"
ShadAppNKissMe
Damn tart
"Pop tart. Wild berry flavor. Permanent burn scars on my leg. I was young and dumb. Toasting my pop tart. When I pulled it out the frosting was so hot it was literally bubbling. I dropped it because it was burning my fingertips. Dropped it right onto my leg frosting side down. I went to wipe it away. Gave me almost third-degree burns. Had to go straight to the hospital. Still have the scars 20 years later."
Travelerofuranus
Tough
"I have one on the back of my hand from rubbing the skin off with a pencil eraser longer than the other kid did when I was 13 just to prove I was 'tough.'"
REDDIT
"The real tough kids did three on each hand. So it looks like that's where your Wolverine claws came out."
KielReid
"I did that stupid crap in school, thank f**k it didn't leave any scars. But yeah I was that troubled youth who had no outlet. I hated myself for it until both hands healed up."
faultydatadisc
Bottles Flying
"An old roommate and I had a snowball fight but with beer bottles. We were the only ones home, one wall of the living room was like natural rock. And it started with throwing bottles across the living room into the wall and devolved into throwing them at each other. I caught a bit in the arm when one smashed near me across the counter, haha."
Reddit
Revenge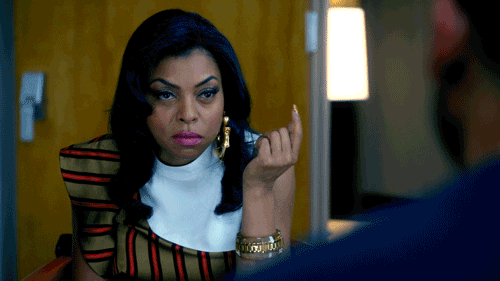 Cookie Lyon Love GIF by Empire FOX
Giphy
"I twisted the head off of my little sister's baby doll."
"She hit me in the head with a garden hoe. 11 stitches."
TrailerParkPrepper
Revenge is real when it comes to the dolls.
Don't lose your head... or the heads of your siblings' favorite doll.
Stumbled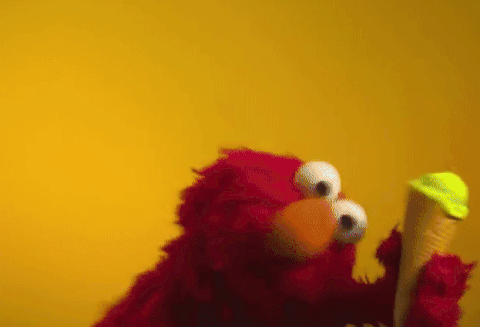 Ice Cream Elmo GIF by Sésamo
Giphy
"I got a glass bowl full of ice cream, stumbled, and didn't let go of the bowl, so it cut open my hand. It's a common reflex of small children because ice cream 'is precious,' but still stupid because I had to wear a bandage for 2 weeks."
cantSleepalready
Cracked Brows
"My brother, sister, and I all have the same kind of scar on our left eyebrow and got them at the same age. My brother opened an empty dresser drawer and smacked himself in the face, my sister ran into a brick wall and I fell off the couch onto a coffee table."
Alternative-Volume82
"My dad and brother have a similar saga. My dad climbed out of his crib when he was little and split his left eyebrow open, my brother got out of the bathtub and cracked his head on the toilet and they have matching eyebrow scars."
TallOne101213
Stalagmite
"For my 8th birthday, a classmate got me something like a 'grow your own stalagmite' kit you could buy at educational stores. Apparently, the purpose was to add water to some powder material and use a funnel in the kit to drip it down to make your own cave features. Exciting, I know. Anyway, I kept it and the other birthday presents I got in a cardboard box in my room. Evidently, at some point, moisture got into the box and the plastic the powder was in, and it began expanding."
"Having nowhere else to go, the 'stalagmite' material oozed its way out through the narrow slits in its box and hardened into razor-sharp edges. I found this out quite bloodily when I put my hand into my birthday box to grab another toy, and pulled it out with permanently altered fingerprints on my thumb, index, and middle fingers."
Real-Extent5559
Make the Cookies
"When I was 4 I got too excited to go outside and ran through a storm door. Ripped my arm up well and required a bunch of stitches. Due to the position, there was no way for them to numb it, so they stitched it without anything. Two days later, I was helping my mom make cookies, and I tripped and ripped them all over again."
"30+ years later and I now have a scar on my left arm that looks like a bite mark."
"I have another on my wrist because I once stuck my hand up a gumball machine, trying to steal a gumball, and it got stuck. When I finally got it out, it ripped the skin off a chunk of my wrist."
2PhatCC
The Fall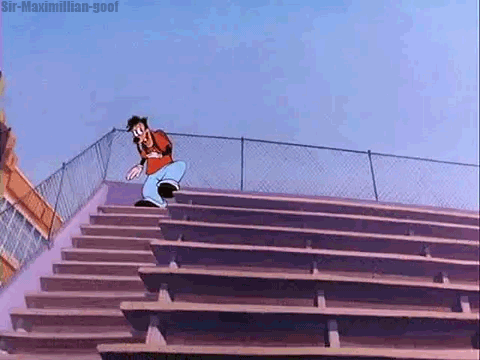 Falling Down Fall GIF
Giphy
"In fifth grade, I asked a girl to be my girlfriend. She said no. I turned around and fell down a hill and slashed my ankle open on a rock. I have a lifelong scar to remind me of the rejection."
drmanhattannfriends
We really have to be more careful.
Our bodies are way too fragile.
Do you have an scar stories to share? Let us know in the comments below.