People Describe The Creepiest Thing That's Ever Happened To Them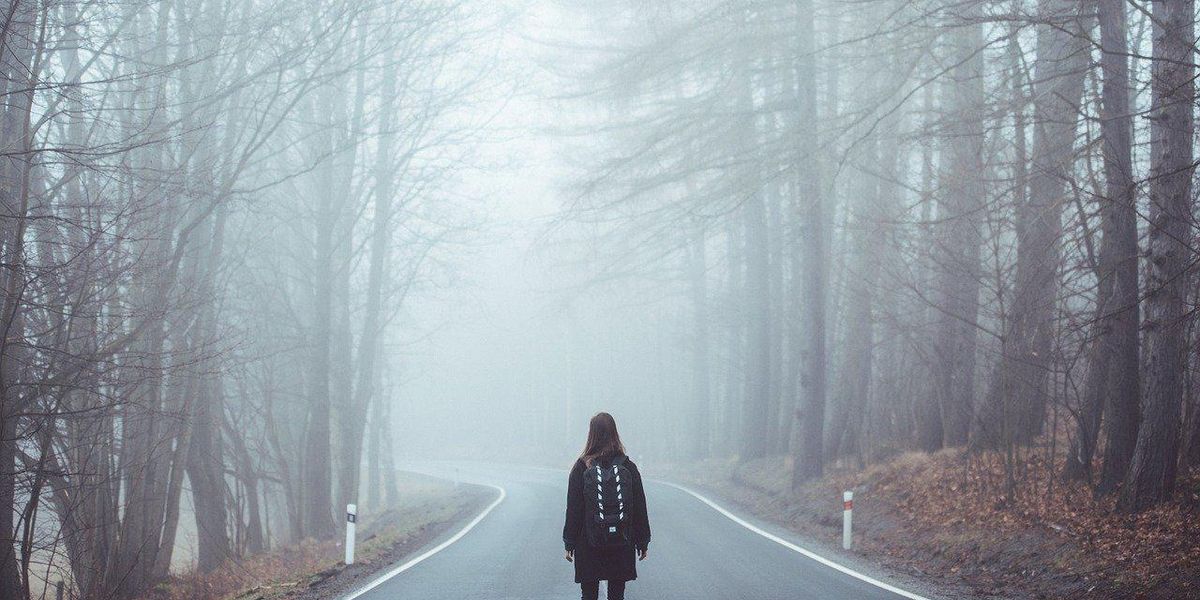 Have you ever heard something go "bump" in the night unexpectedly? How did you react? Did you say something about it?
How about something that was amazing but completely unexplainable? Many people experience moments like this. And they are endlessly fascinating to hear about.
---
We, as humans, are always looking for something greater than ourselves.
So when Redditor Teapunk00 asked:
"What's the creepiest, most unexplainable thing that happened to you?"

Here were the answers.
Australian Sidepiece
"I was 12~ and had just gotten my first mobile phone. One weekend, I get a call from an older sounding man with an Australian accent (not that weird, I live in Australia, but kinda relevant)."
"He asks 'Is this [my first and last name]?' I go 'Yes...?' He takes a deep breath, sounds really emotional and says 'I'm your grandpa.'"
"All I could say was 'No you're not?' Both my grandfathers had been dead for years by that point. Plus, they were both European, I'm first generation Australian."
"There's no way that even if one of my grandmas had been getting side action that this guy was my grandpa. He sounded disappointed and hung up. Haunts me to this day."-Living_Employee_7735
Nine Lives
"Our family cat passed away when I was 14 and it really sucked, he was a great cat."
"Fast forward to 16 years old and I'm sitting by my mom on the couch and she's showing me something on Facebook on her IPad when I swear I saw a cat out of the corner of my eye so I look up.
"It's our old cat walking into the kitchen rubbing his tail against the wall as he made the corner as he always did, my mom also looked up just after me and stared and looked back at me and I was like 'Did you just see our old cat?'"
"She replied 'yeah he just went around the corner there.' I got up and went and looked in the kitchen and he's nowhere to be found. 10 years later my mom and I still talk about how creepy that was that we both saw it."-Coach_Flaps
O Brother, Where Art Thou?
"My brother passed away in 2008. Fast forward to 2016. I was asleep and I had a dream about him as I often did since he passed away. This dream was different. It was like he was talking directly to me, looking straight in my eyes."
"In the dream I asked him: 'Is it really you?' He said: 'yes.' I said, 'Prove it.' He then reached out and touched me on the arm, and when he did I jolted up in bed wide awake covered in sweat."
"I thought all this was really strange and I went to the bathroom to put some water on my face. As I was looking in the mirror, I saw that there was a backwards 'R' written on my arm in pen exactly where he touched me in the dream."
"The letter 'R' was the first letter of his name. There were no pens in my bedroom, and I have never sleepwalked before. You can call me crazy, or lying or whatever, but that was the single most unexplainable thing that has ever happened to me."-Sardonnicus
These are the things that can really keep us up at night.
Sexy Sx
"Once when I was 8 or 9 me and my cousins went down to play on this gated community I lived."
"We were on the inside of this fence when this taxi driver pulled up, asked if we wanted to go to the magic Kingdom or something cheesy like that, pulled a saxophone from his trunk and started playing while inviting us inside his car."
"I still remember my mom's face when I told her later that day."-matalleone
Tectonic Dessert
"Every time my mother cooks a specific dessert, an earthquake happens in Chile, that only happened twice between 2015 and 2016, strangely the two earthquakes had almost the same magnitude."-AbelrgAb25
Dreams Of Lost Loved Ones
"I had a dream a few weeks ago. Bad times in my life, right on the cusp of things getting much better (they are now) and I was sleeping badly and just not mentally well."
"My favorite uncle, closest thing I had to a dad growing up (actual dad was not good at dadding), died suddenly of a heart attack a few years ago."
"It was abrupt and shocked everyone. I was across the country and distraught by the news. He was by far the closest of any of my family members."
"I was dreaming about something irrelevant to him or anything, and suddenly I turned around and there he was, just standing there holding his arms out and grinning like, 'heeeey!!'"
"I just lost sense of the dream immediately, I was so thrilled to see him. Like the dream was a work assignment and he was just showing up to break the monotony."
"I jumped into his arms and hugged him and kept telling him how happy I was to see him. The rest of that dream, he just hung out with me. I was just so happy."
"I've never had an experience like that because honestly I've always been the aloof black sheep of my family and I never imagined anyone would care to visit me after they died of all people, if such a thing is possible."
"But there he was, and it will stick with me always that maybe he just came to say what's up and give me a little slap on the shoulder and make sure I kept on trucking because better stuff was coming. I miss him."-OctopusPudding
Teachers Describe The One Student That They'll Never Forget | George Takei's Oh Myyy
Deja Vu
"I often have meaningless dreams about certain situations which I tend to forget about quite quickly."
"But fast forward a few weeks in real life, I'll be in that same situation, will repeat the same dialogue(s), will be wearing the same clothes, will be talking to the same people and I'll only realize the deja-vu until after the moment has passed."
"It happens so often, I've come to expect it now."-slightlyboredforever
People experience the unexplained all the time, but how it impacts them is the more important part of the story.
Haha...I'm Not Stalking You...
"After moving to LA, I ran into my ex-girlfriend 5 times over the course of two months."
"For context, I had moved from South Orange County to LA for a nice office job. My ex-girlfriend had moved to San Diego after the breakup, then moved to LA after breaking up with her last boyfriend."
"I would have chalked it up to random chance that we now lived a few miles from one another, except when we first noticed one another, she immediately said, 'I'm not stalking you.'"
"(Suspicion Intensifying)"
"Thankfully, after a fifth time we 'ran into each other' I didn't see her again for almost five years when I was getting ready to move back to Hawaii."
"I had the foresight to lie about which island I was moving to, just in case she decided to follow me at some point."-WatchingInSilence
Pay Attention To Your Friend's Feelings
"Friend of mine was in a hot tub with me. We were having fun and nothing was out of the ordinary."
"She looks at a plane in the sky and her whole demeanor changed before she said, 'Something bad is going to happen. No like serious. Something awful, I don't know.'"
"She isn't a person to do this. Seriously, she had never said anything like that before. Turns out, that night, a guy at our school and his whole family got in a terrible plane accident that killed his mother, brother, and sister."
"He survived but was in a coma for weeks. Have no clue how she knew but I always listen to her when she says something is off…"-Whywhywhywhy69
The Void Stares Back
"I was on a walk through my (safe) neighborhood when I went past this house where these notably odd people live. I moved to the other side of the road as I was coming around a curve."
"All of a sudden this older guy started following me. I didn't think much of it as a lot of people were out that evening. A few blocks later he caught up to me, and started walking next to me."
"I walked a bit faster, hoping with the age of this guy, he would slow down a bit. I eventually lost him, and I disappeared behind a tree."
"He was there, as if he knew where I was going to go. He started reaching out for my shorts, but I ran as fast as I could. Luckily, I made it to my house and locked all the doors."
"A few days later, I went on a walk, and I didn't see him again. Nor did I see him ever again. The look in his eyes, it was just...dead. It was like two black holes were staring back at me. I will never be able to forget him, just for that."-Kneeling_Fish
Did any of these stories scare you? Do you have any scary stories to share?
Life has so many dimensions, that the scary is inevitable. Keep your caution about yourself at all times.
Reddit user j-rock292 asked: 'What is the dumbest thing a customer has gotten mad at you about that was not your fault?'
Like many people, I spent my time in retail. Customers were by far the hardest part of the job.
In college, I worked as a "bookseller"—our official title—in a mall for a national chain of bookstores. Without fail, every shift one or more customers would ask for something like "that book, the red one, by the guy."
When we'd ask for more information—like genre or if it was new or where they saw it—they'd just repeat, "red book, guy, you know which one I mean."
We most definitely didn't know which one they meant, but customers thought if we worked in a bookstore we should know every book in print from even the vaguest of descriptions. And they'd get mad when we didn't.
Anyone who has worked with customers has war stories.
Reddit user j-rock292 asked:
"What is the dumbest thing a customer has gotten mad at you about that was not your fault?"
Were they blind?
"They asked me to cut a blind."
"When I asked for the dimension they wanted it cut to, it was larger than the original blind length."
"Said I can't make it longer, only shorter and she lost her sh*t."
~ LatishaASpray
Tag, you're it.
"Back when I worked at Target, some guy came in about 30 minutes before we closed, and wanted to buy a laptop."
"He wanted to run some obscure software on it for his laser ttagarena and got really nettled when I told him I was unfamiliar with the software and so I couldn't give a definitive answer."
"Then he started going on about how much he made in a week compared to my paycheck."
"So I told him something along the lines of, 'Well then buy this laptop and if it works, it works. If it doesn't, it won't hurt your wallet'."
"He really didn't like that and after some colorful language, was escorted out of the store."
"In an odd twist of fate a few months later the mother of one of my best friends bought his laser tag arena because he ran it into the ground."
~ gradualpotato
Credit where credit is due.
"Not me but a friend of mine worked customer service for a credit card company."
"She said a young guy called and asked why he couldn't use his card. She told him because he had exceeded his $15K limit."
"Dude was like 'yeah but that was for last month. Don't I get another $15K limit this month?'."
~ _eviehalboro
Can you hear me now?
"Customer got mad at me because I could barely hear her over a bad connection."
"I was on a landline, she was not."
"After disconnecting the call because it was going nowhere, she immediately called back and complained to me about the a**hole she'd just been talking to, saying, 'He said I was bad at making connections. Why the f**k was he talking about my love life?! You are much more helpful, though'."
~ Dapper_Interest_8914
No, I can't help you.
"I wasn't even working at this shop, I was just another customer. I didn't even wear a shirt similar to an employee's."
"A woman comes up to me and says, 'Excuse me, do you work here?' But before I can say no, she asks where something is."
"She sounded polite enough so I responded just as politely, 'Sorry, I don't work here. The people with the blue shirts do'."
"She got slightly upset and said someone else had pointed at me when she asked for a worker."
"I look to my side, and literally less than a couple feet away, there was an actual worker. I told her 'I think they meant that guy right there'."
"She then completely lost her cool, screaming various things at me and calling me all sorts of names."
"The employee tried to intervene but she just kept screaming. She eventually stops with, 'I want to see your manager!'."
I told her to f'k off. The employee laughed and she stomped off, then I just went back to shopping.
"Didn't see her again."
~ FearMeImmortals
Maybe if you hum a few bars?
"I worked at a Music Store in a mall around Christmas."
"A lady came in and wanted to get the album of whatever was playing at the store she was in earlier."
"She got mad when I didn't know what music they played in other stores."
~ MelScarn
Full service doesn't include time travel.
"In the '60s I worked at a gas station that also did repairs."
"A customer drove in with a flat right rear tire and no spare. I pulled out the nail and plugged it."
"She was good to go and left happy."
"She drove in about 2 months later with a flat left front tire."
"I pulled out a screw and plugged it while she screamed that I should have checked it last time she was there."
~ VosTutZich
"She has every right to be mad."
"You're obviously a terrible tech because you didn't make a time machine to go into the future and prevent her from getting another flat."
"You must feel terrible that she takes her car somewhere else now."
~ 1questions
The call is coming from inside the house.
"A long time ago I serviced someone's Internet connection at their house."
"When I left, my supervisor called to let me know that I had been accused of theft at this house."
"This crazy lady thought I stole a handset for her landline phone, not even the base with it, just the handset."
"She called later to report she found it in between her couch cushions."
~Reddit
I control the weather, but work here for minimum wage.
"Got yelled at for ruining his family's vacation at Disney world because the rides shut down due to the storm."
~ conker1264
"The summer right out of high school I worked at an amusement park."
"We had a massive severe thunderstorm ( heavy rain, lots of lightning, 50+mph winds, whole deal) one day, because giant metal structures and lightning dont mix we had to shut down all of our rides."
"Well this dipshit accused ME of starting this storm just to ruin his day."
~ j-rock292
Maybe she didn't want to wash it.
"I was refusing her a refund on a kids' duvet set."
"This woman threatened my colleague, so I (manager) stepped in."
"Protocol states we had to check and repack before giving a refund, so I took it to the stock room only to find that she had folded it back into the packaging, complete with the vomit chunks!"
~ Outrageous_Zombie945
Florida is hot in May
"So, I worked at a chocolate shop in Boston MA."
"Someone called to place an order, for shipment, to Florida."
"I said, 'okay, we do require next day shipping and an ice pack on shipments to Florida, so the chocolates don't melt. The shipping Will be $30 and the ice pack and insulated packaging will be an additional $8'."
"It's my standard spiel."
"The person's like 'the chocolate is only $22. No. I'll pay for the shipping but not the ice pack. It will be fine'."
"'Yadda Yadda warning. Yadda Yadda. When it shows up melted it won't be our fault I'm noting it in the system'."
"So, what phone call does my manager get 2 days later?"
"Oh? Person got melted chocolate? Oh it's our fault is it?"
"But look? There's a note in the system they refused to pay for an icepack."
"WOMP WOMP."
"Did I warn them the chocolate would melt? Yes I did."
"Do they now have nothing for mothers day? No they dooooon't."
"Poor them."
~ biddily
I also sold mattresses and appliances. Maybe because they were a major investment, I had far fewer bad experiences with those customers.
My worst experiences were working a customer service phone line for a Department of Defense agency.
People were almost always angry before they picked up the phone.
Have you had a customer go off on you? Share your experience in the comments.
Medicine is a difficult profession. Thanks to the wonder that is human nature, healthcare workers are subjected to incredible Darwin-award-winning scenarios daily, so it's no wonder that many of them feel the need to go home and scream into their pillows at night. From self-inflicted injuries to dangerous prescription misuses, these Redditors revealed the most facepalm-worthy patients they've ever encountered.
But be warned: They'll all leave you wondering how we've survived this long as a species.
In almost every interaction with a Karen, there will come a point where she (or he) will ask to speak to the manager. They seem to think that if they over others and just act a fool, they can get what they want—but the following managers REFUSED to let these Karens get away with their inconsiderate antics.