People Share Their Craziest 'That Was Fun, But Let's Never Do That Again' Experiences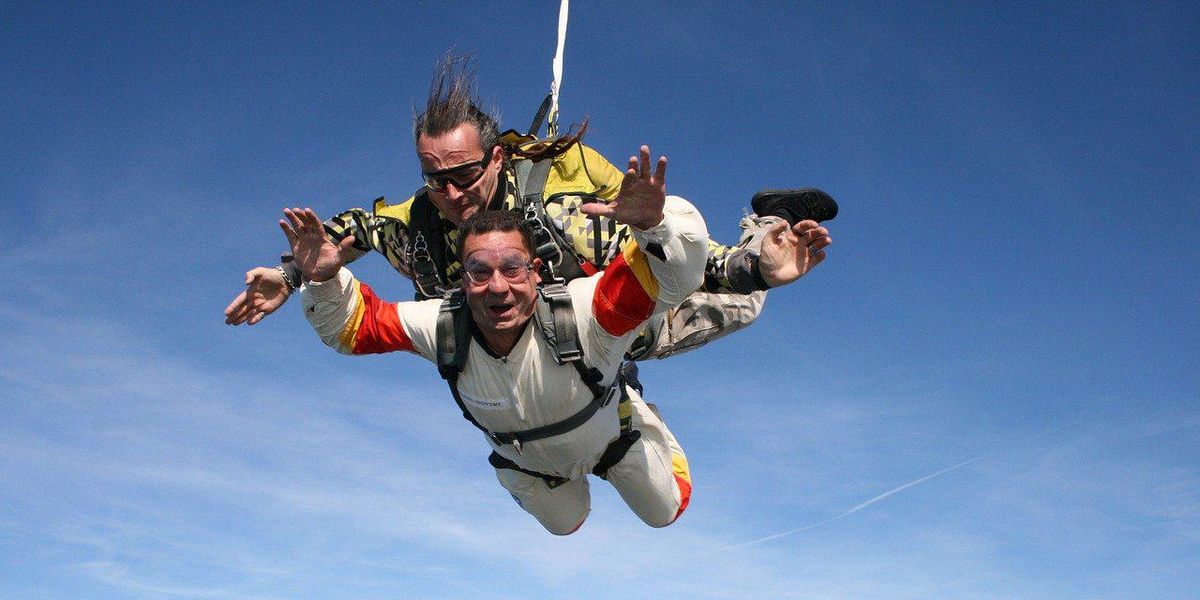 Image by antoine carrion from Pixabay
I was not aware of the risks involved with hang-gliding. It was something I have always wanted to try despite having doubts about my safety.

---
So when I was in Rio de Janeiro, I took the leap and soared over Copacabana Beach and felt all my petty troubles disappear as I became part of the atmosphere.
The next day, I heard the risk of falling to your death is higher than skydiving.
A month later I jumped out of a plane in St. Petersburg, Florida. The adrenaline rush was extraordinary, but I will never do it again. I felt like I cheated death when I landed safely back on terra firma.

Curious about the crazy things strangers on the internet have done, Redditor GiiTheMetalhead asked:

"What was your 'That was fun, let's never do that again' moment?"
What Jim Morrison Did
"One of my best friends jumped out of a moving car going about 30 mph. When we went back for him and asked WTH, he said he read that Jim Morrison used to do that and he wanted to see what it was like. We asked him what it was like and he said 'well, I'm not going to do it again.'"
Wanderlust
"Being lost at night in a new city. Honestly surprised why I wasn't mugged."
Too Much Drinking
"Getting wasted. Everytime I wake up hungover I tell myself I'll never do it again, it rarely lasts more than a few months..."
"one Halloween weekend, six bars, four house parties, three liquor runs, walked everywhere because we were responsible, in no condition to drive, and this was long before Uber."
Cigarettes
"I tried cigarettes for the first time after my mom admitted to trying cigarettes in her youth once despite hating that my dad smoked for a while (stopped when I became a possibility) and hating that my grandpa smoked."
"I was that kind of sh*t mood where if it was going to hook me, it woulda hooked me I think, but I took a breath, thought it was absolutely disgusting, and handed it back to my friend and cried instead lmao."
Bye, Truck
"Rolling my truck! It was surreal. I'm glad I got to experience that and come out unharmed."
"I'd started spinning on an icy road and couldn't correct it. There were no other cars around and I wasn't going very fast so I hoped I would come to a stop eventually. It turned sideways towards a field, okay, not a big deal, I'll end up in a field. It turned the other way and all I could see was a telephone pole. Before I could even think, 'I'm hitting this pole' my airbag hit me and everything went dark.
I felt the truck turn over and junk from my cab start rattling around. 'I'm rolling, I didn't hit that tree..' It seemed like I was rolling forever. it came to a stop, I pushed the airbag off of me and checked my face for pain. I unbuckled and stood up, and crawled out the smashed passenger window and crouched there until the smoke cleared. I climbed back in to get my phone and to turn off the radio, it was blaring CCR still. The pole I was supposed to hit had paint and grass on it, I came that close. nosing into the ditch overturned me. My tires grazed the pole. This happened 100m from my house. So frustrating, so close! I miss my truck but holy sh*t that was cool."
Red Light District
"When I was young growing up in South East Asia, my parents would take me everywhere with them while travelling overseas. On most of these trips I would get some independent exploring time in relatively safe zones close to the hotels we were staying at."
"One time we were in Pattaya, Thailand (think Red Light district/Vegas of Thailand) and while they were at an adult show (because it's what you do when in Pattaya), they gave me permission to go exploring again.
I bought myself some street snacks and started walking down some random fun looking partying street. The further I went, the more 'adult' the entertainment got until I reached a bar where the girls were dancing on poles and stripping at the front entrance of the bars, essentially out on the street. I turned around, spending the rest of the night locked in the hotel room."
One Flashlight In The Desert
"Got lost in the desert with a buddy, and one flashlight between the both of us. We realized we were going around in circles when we noticed the same tree branch, but couldn't figure out where we parked the truck. Moon didn't give off much light, pitch black aside from our wimpy flashlight. Miraculously found the truck really late in the middle of the night."
Trying To Fit In
"Trying to fit my entire body through the columns of the stair rail. I got stuck around the waist while home alone and ended up being like that for a couple hours like an idiot."
"Another good one was when someone bet me that I couldn't fit into a locker. I did and they proceeded to slam it shut and I was stuck for 30 minutes before someone let me out."
"Moral of the stories, don't try to fit into small spaces."
Trampoline Mattress
"I like jumping into my bed. One day i jumped feet first causing my big toe to dislocate i spent a panicked minute snapping it back into place. The adrenaline was already pumping so i didn't feel anything. After that day i walked into bed like a normal human."
Round And Round We Go
"I was put in a zorb ball with a friend on mine in the army, it was partly filled with water, then we were rolled down a gradual hill. You start off standing up and sort of hamster balling it, but inevitably, you lose your footing and then for the next 3 minutes you're stuck inside a human washing machine."
"I didn't stop laughing the whole way down, but I probably wouldn't do it again."
Shadowed

I was a UK student who moved to America for a year to work/study and who couldn't afford a car so got a bicycle. I thought I'd explore the town where I lived so I got on my trusty bike and off I went. Having no idea where I was I thought I would keep cycling until I'd done a biggish circle and end up where I started. It started to go wrong when, I as a 20-year-old white English man, crossed over into the poorer Mexican neighbourhood. I noticed quite a few people on their porches just staring at me in disbelief and I started to feel a bit uncomfortable.

As I was still slightly naive at this age I thought I'd just ask someone for directions and eventually saw an older guy who gave me some simple directions and advised that I cycle pretty damn quickly out of there as I was being shadowed. I don't know if he had any influence in the neighbourhood but he walked over a spoke to my 'shadow' and then they both left.
It was a bit squeaky bum time at this point so I cycled the hell out of there, never to return.
The fall

Walked across the top of a waterfall as it approached the edge where it got "shallow" enough. I could have gotten washed off and died in a split second, and it's probably the stupidest thing I've ever done but made for fantastic pictures.
Follow a stranger
A few years ago, was traveling alone in England (20F) and wandering a small village, hungry as all get out, searching for a pub still open. Met a sweet older lady who told me everything was closed, walked me back to her place, cooked food, fed me, chatted with me, and gave me a light sightseeing drive through the countryside back to my hotel. I've never been so grateful, so charmed, nor so certain I never ever want to risk following a complete stranger back to their place again.
Knockoffs

One time I was in a shopping district in Shanghai with a tour group for a student exchange thing in my early 20s, we had some free time to go shopping, when suddenly, me and a friend are approached by this woman who asked us if we were interested in buying "luxury goods", my friend then replied with "no, but we are looking for some are very convincing knockoffs, do you know we can get any?" the woman then smiled and said "oh, but of course, could you follow me too my store?" we had about 3 hours free for shopping, so we said, why not "sure". We then start following her to her shop, 5 minutes go by and we still aren't there, another 5 minutes go by and we still aren't there, she then says something like "we have to turn down this quiet alleyway, is that's fine with you?", at this point we are already 10 minutes into walking away from the group, and we were just like "yes it is fine."

After walking another 10 minutes down this fairly quiet side street we get to these stairs that lead underground, at the bottom of the stairs is a big metal door, again, she is casually just like "this way please". She knocks three times on the door and it opens, before we walk in we decide (hey maybe we should first look inside), and it is indeed a store full of knockoff goods with a few other people inside, so we decide, well we have already made it this far, so we decided to go in. Once we enter the shop, we hear the door closed behind us, and there are these two fairly muscly guys who are standing against the wall, but we don't really think anything of this, because the woman is telling us to look around and see if we find anything we like. After about 20 minutes of look, me and my friend do not really see anything we like, so we go up to the women (who at this point is behind the counter) and my friend just asks "Excuse me, so, what happens if we don't find anything we like?" she just replied with "oh, don't worry, my shop is full of all sorts of goods, I am sure you can find something you like here, especially if you want to make it back to your group on time."

We, (reasonably I might add) finally realize, hey, maybe we have really gotten ourselves into a pickle. It is at this point that we now notice that all the other 'customers' are watching us while we're talking to her, so me and my friend go back to looking around. Eventually, we both find something we like that is not insanely expensive, (however, each item was still close to a thousand won) so we go up to her again, this time with the items, we pay for them in cash, and just like that the two guys who were standing in front of the door before, open the door and she gives us directions for how to get back to our group. And that is how I almost got kidnapped in China during a student abroad program, moral of the story, you really shouldn't follow random strangers down back alleyways.
To be clear, in the end, I loved that trip to China, and I have gone a few more times after that trip, but just like any big city, there are dangerous parts that you really should stay away from.
Medicine is a difficult profession. Thanks to the wonder that is human nature, healthcare workers are subjected to incredible Darwin-award-winning scenarios daily, so it's no wonder that many of them feel the need to go home and scream into their pillows at night. From self-inflicted injuries to dangerous prescription misuses, these Redditors revealed the most facepalm-worthy patients they've ever encountered.
But be warned: They'll all leave you wondering how we've survived this long as a species.
In almost every interaction with a Karen, there will come a point where she (or he) will ask to speak to the manager. They seem to think that if they over others and just act a fool, they can get what they want—but the following managers REFUSED to let these Karens get away with their inconsiderate antics.
In the United States, it's no secret that sex education for minors is inconsistent at best.
But some people learned very unexpected stories about how babies were made, and those stories had a way of making a lasting impression.
Curious about other's stories, Redditor ILoveYourCat asked:
"How did you think babies were made when you were little?"
One Time's the Charm
​"I knew babies came from sex as a fairly young child. My parents never sugar-coated that. But for some reason, as a kid, I thought you only had to have sex once to have multiple pregnancies. I seriously didn't fix that misunderstanding until early middle school."
- Crazey1988
"At some point, when I finally accepted that you had to have sex to have a baby, I thought the only time people have sex was to make a baby, and it only took one time to get the job done."
"Then when I figured out teenagers were having sex, I thought you had to be married and have sex to make a baby, but then when my unmarried cousin got pregnant, I was just confused."
"But I was sure my parents only had sex four times, and then when my mom got pregnant with number five, I thought, 'Wow, they did it again.'"
- Raw_Combination_438
Stealing Storks
"A stork delivered them, of course. What the f**k, lol (laughing out loud)."
- Dells51
"Storks... I thought people trained them to steal babies from a factory and you would leave special treats on your doorstep as payment and encouragement for the stork to steal one for you."
"I was scared to death of birds for the longest time and would have a tantrum at the zoo when I saw a flamingo."
- No_Finish_3144
Young Conspiracy Theorist
"The government. I used to think that we lived in a totalitarian society and that the government was in complete control of everything."
- bebotak**t
"I thought the President sent people their babies when asked by mail."
- GustavoAlex7789
Scheduled Baby Delivery
"The women in my family explained to me at the age of six that a doctor calls you sometime after reaching adulthood at the age of 18 to schedule a baby delivery date."
"The husband either pays to schedule the appointment or the government does after verifying that you have been married and financially stable for quite some time."
- Lokikat00
Marital Kissing
"When two people kissed."
- Short-Reality7353
"I thought the same thing, but I understood that when my mom gave me a kiss, there was no risk. Being someone raised in a very Christian background, I assumed that when you got married, God made kissing a reproductive act."
"Since I made this assumption, I remember questioning why teenage pregnancy could possibly be an issue."
- meuserj
The Ultimate Christmas Gift
​"I thought Santa was bringing them."
- NorskoTheScorpion
"He was. I mean, Christmas comes but once a year..."
- Nouveauuuu
"I MAY NEVER ENJOY CHRISTMAS AGAIN."
- NorskoTheScorpion
A New Meaning to 'Forest Friends'
"When I used to ask my dad where I came from, he'd say he found me under a rock in the forest. Of course, I would go look for babies under rocks, too, but all I ever saw was dirt and those rolly-polly pill bug thingies."
"It was so gross thinking babies were just found THERE that I was actually relieved to find out how they were actually made!"
- melodie-artist
Pregnant By Proximity
"I thought women got pregnant by just being around a man, and I was always confused about what would happen if a woman still lived with her parents or dad after she's an adult."
- ILoveYourCat
Coming of Age Story
"I thought it was a 'just happens once you reach a certain age' sorta thing. As a woman, I was terrified because pregnancy sounds like the most awful thing, lol (laughing out loud)."
"(I know the end result is worth it but even as a 31-year-old, I'm like, nope.)"
- BansheeShriek
Sounds Plant-Based
"I thought they grew like a seed inside the mother's belly."
- maclaglen
"Technically, that's true."
- ManagementFresh4960
"Watermelon seeds."
- bravovice
"Well, not like that."
- ManagementFresh4960
The Power of Marriage
"My mum told me you couldn't have a baby if you weren't married. Note that she said 'couldn't', not 'shouldn't'."
"When my unmarried cousin was sleeping a lot my mum told my aunt 'she's having a baby'. I thought 'she can't be having a baby, she isn't married.'"
"A couple of weeks later she had an engagement party, quickly followed by a registry office wedding. She had a baby a few months later."
- MolassesInevitable53
Baby Trees
"I thought they grew on trees. True story."
- 8inchsalvatorre
"Baby trees, lol (laughing out loud)."
- ILoveYourCat
"I was surprised when I learned how it really happened, lol. I was like, 'You mean there are no trees?' And Mom just shook her head."
- 8inchsalvatorre
They Were Just There
"I don't recall a time where I gave the matter any thought without knowing the reality of it."
"Like, literally, until the day I was first introduced to the concept of birth, I don't think I cared where babies came from."
- N_Who
"Right, the little guys just EXISTED."
- Mizar97
Educated Is Best
"I asked my mom and she told me the truth."
"Educate your kids, folks. They can handle it."
- Bite_Me_23
Spontaneous Babies
"I didn't... They just showed up, honestly."
- badguywindow
"That's what I thought. I was terrified as a little kid that I'd wind up being a teenage mother because I thought it just happened spontaneously."
- dinosore
"Exactly what I thought would happen. Like one day you were just, boom, six months pregnant."
- badguywindow
While these responses might be funny, it's an important reminder of an area in the educational system that's often lacking.
But in the meantime, while the system's curriculum is getting sorted out, at least we can take comfort in the fact that we weren't alone in believing these tall tales.
One of life's many challenges to being successful and happy is to work hard and stay focused on our respective goals.
There are many obstacles that can discourage us, but persistence and a drive to overcome can be rewarding.
Unfortunately, there are some things that are simply beyond our control, and it has nothing to do with fate.
It's the qualities we're either born with or without that can impede us or prevent us from ever achieving what can only be seen as a pipe dream.
Curious to hear examples of one of life's cruelties, Redditor G00dR1ddance asked:

"How did your genetics f'k you over?"
These Redditors were unhappy with appearances.
Uncooperative Vision
"Lazy eye, and a total lack of depth perception."
– Crow_of_Judgem3nt
"Same. Do you struggle with driving? I just moved to a big city and I can't drive here bc navigating all the traffic is too hard with no depth perception. It's so scary!"
– Subnautica24

The Worst Parts
"Moms Family: Perfect teeth, male baldness. Dad's family: Terrible teeth, perfect hairline."
"Me: Sh**ty teeth, bald before 25. My 2 brothers: Perfect Teeth, Perfect Hairline."
"Feels FN bad."
– Yogannath
"They should all chip in for a trip for you to Turkey for a cheap hair transplant and dental work."
– turboprop123

Made For Farming
"All 4 grandparents were farmers. I look like I was bred to farm and f**k to make more little farm workers. Broad shoulders, big boobs, no waist, no @ss worth mentioning, and thick legs. I just look like I was bred to work forever until I die. 120 years ago."
– bwvdub

Stop With The Flattery
"I too am sturdily built. I am not tall but I am muscular and broad with the big boobs and the broad hips and sturdy legs. I could carry very heavy sacks of feed from when I was very small. My family nickname was 'the forklift truck', so that's.. nice."
– LibraryOfFoxes
Room For More

"My mother's OB said she had a pelvis 'you could drive a bus through'. I was a natural breach birth and share those genetics. You could host the last supper on my a** and have room for plus ones."
– Elephant_axis

These Redditors are living on borrowed time.
Cardiovascular Health
"Bad heart. I'm the first male in at least 4 generations to make it to 40. And that's only because I was finally properly diagnosed and treated. I wouldn't have made it to 35 if I didn't find the right cardiologist."
– socteachpugdad
"Bum ticker - dad's aorta exploded when I was 11 and my brother died from the second heart at 41. Just hoping to see my 60s."
– poontong

Being Kept At Bay
"I have a blood condition where I retain iron. It's slowly killing me. Destroyed my liver, pancreas, and led to a massive heart attack."
​"Fortunately, I live in the 21st century where modern medicine can keep me going with...bleeding."​
– Objective_Stick8335
"Sad Aspect" Of A Family
"Huntington's disease"

– alc1864

"My oldest uncle married a woman who had Huntington's, but they were very young and she wasn't symptomatic yet. In the 70s so no genetic testing or much public awareness. They had 5 daughters. My aunt and their eldest have long since passed away, and the remaining 4 are in various stages of the disease. It's always been a sad aspect of our family. A truly cruel disease."
– Wasyloosker12

BRCA Genes
"I'm BRCA2 positive, giving me roughly 74% chances of developing an incurable genetic breast cancer in my life. It also gives me about 22% of having an ovarian cancer."
"On the other side, double mastectomy lowers my chances to about 3%, but it should ideally be done before I reach 30. I will also need a hysterectomy in my 40s."
"I had 50/50 chance of getting the BRCA2 gene mutation so well, genetics did f'k me over!"
– PoutineMaker
Redditors share more of their crosses to bear in life after being blessed with these traits.
"I'm more attractive to mosquitoes than most people. If I'm out when mosquitoes are around, I end up covered in bites (which I'm also allergic to, so I end up with quarter sized welts that itch for daaaays after the fact)."
– p1013

It's sobering to realize the ailments your parents struggled with are starting to become our own to bear. ​
High blood pressure, arthritis, and predisposition to atherosclerosis are some of the undesirable parts of my family's genetic makeup that I never really thought about until I noticed how fatigued and in pain I've become with age.
Although I have so much gratitude for surviving every year I get to celebrate my birthday, getting old still sucks.