People Break Down The Worst Potato Chip Flavor They've Ever Tasted
You never forget the worst things you've tasted.
---
Potato chips are a universally loved snack, and everyone has a favorite brand or flavor. Sometimes, potato chip companies think up a new flavor for the masses to enjoy. New things can be exciting, and customers flock to anything "limited edition" or brand new on the shelves. But with newness comes risk, and that new flavor can end up being the worst you've ever had.
Redditor u/eloncrustpizza asked people "What's the worst potato chip flavor you've ever tasted?" and many were able to recount times that their favorite snack disappointed them.
10. Leave it as a pastry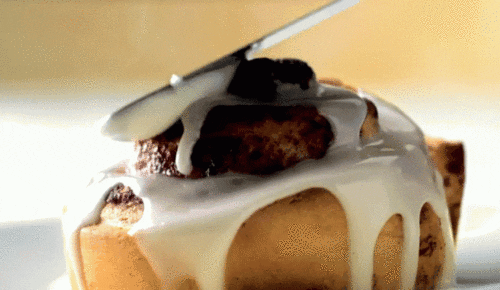 Giphy
"Lays Cinnamon Roll. WHY!?
It tasted nothing like a cinnamon roll and was just a confusing experience all around."
9. Pure hatred
"Lays had a Mango Salsa one that tasted like salt, sugar and hatred."
8. Almost tartar sauce flavor
"In Finland there is a brand called Taffel and one of their chips has this flavor of pickles and mayonnaise. Needless to say It was the worst flavor I had ever tasted."
7. Off brands have no business doing this
"An off brand attempt at 'ketchup'. It took me a while to figure it out - it tasted like gasoline smells."
6. Doesn't sound so bad...
"bread flavour, a local producer thought it would go down well. it didnt"
5. Some would say brussels sprouts are the worst vegetable
"Brussels sprout flavour. I really like sprouts when they are cooked well, but I tried the crisps at Christmas and couldn't even finish one of them."
4. Does Lays still have the "Do Us a Flavor" contest?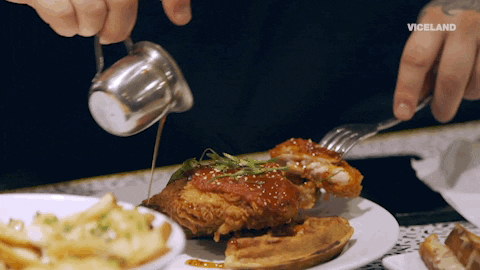 Giphy
"Lays Chicken and Waffle. The 'maple' smell is overwhelming and they taste vile."
3. Totally missed the nuance of wasabi
"Wasabi dorritos, made my eyes water and my nose burn, no true flavour just spice and pain."
2. They can't compare to a real cappuccino
"Does anyone else remember the Lays cappuccino chips? that gets my vote"
1. They just tasted like vomit
"The Lays Limon. It tastes like someone drank Limeade then threw it up in your mouth."
Do you have something to confess to George? Text "Secrets" or "
" to +1 (310) 299-9390 to talk him about it.
Reddit user Zealousideal-Ad3609 asked: 'Divorcees of Reddit, when did you know your marriage was over?'
In 2022, a reported 2,132,853 couples in the United States vowed to remain together until death.
But as of that same year, 41% of first marriages were ending in divorce.
And if a person walked down the aisle again?
Well, 60% of second marriages ended in divorce and a whopping 73% of third marriages didn't last.
The five leading factors cited in divorces in 2022 were:
lack of commitment - 75%
infidelity - 59.6%
too much conflict - 57.5%
married too young - 45.1%
money problems - 36.1%
So how do couples get from "happily ever after" to "get thee from my sight"? And when did they know it was time to call it quits?
Reddit user Zealousideal-Ad3609 asked:
"Divorcees of Reddit, when did you know your marriage was over?"
Like a True Crime Plot
"When I found the text messages of him telling her he loved her and joking about my life insurance money."
~ girlinthewhirled
"I've watched too many true crime shows."
"I told my husband that I'm not getting a life insurance policy on my a** for a long time cause I don't want to have to side eye him every day."
~ The_Artsy_Peach
Winners Never Cheat And...
"He told me he'd had an affair."
"Initially he begged me to stay together, to work things out, but within two weeks he had cold feet again and had even met up with his affair partner so... Yeah."
"At one point, my ex-husband had told me he wanted a divorce. I didn't see him for like 2 weeks but then met up with him to sign unrelated paperwork."
"I noticed he had a tan and asked him if he'd been having a fun time, but he said no that he'd been miserable and that he must've gotten too much sun hanging out with some friends in their garden. Later that morning he told me he wanted to work things out and not get divorced etc..."
"I found out much later the reason he was tanned was because after he told me he wanted a divorce, he'd chased his affair partner to Crete and been on holidays with her, going snorkeling etc... and sending photos of his holiday back to his parents."
"Meanwhile I'd asked my mum to visit me because I was mourning my relationship and thinking I was getting divorced. We did eventually, but months later after he finally told me about his affair."
"Cheaters gonna lie and manipulate."
~ Kowai03
...Cheaters Never Win
"My ex was having an affair and I didn't know it yet. One night we got into a big argument and raised the issue of divorce for the first time. We talked for hours before going to bed."
"The next day he and the kids went out of town for the weekend (the fight was over the fact that he had scheduled a weekend vacation without consulting me and I couldn't go because of work). Three days later he was home and we sat down and he cried begged me to stay, saying he didn't want to raise our kids without me and he loved me."
"I found out later that he had met with his affair partner and her kids at the beach and they all had a nice little weekend vacation together. He swore our kids (5 and 9 years old at the time) to secrecy."
"Of everything he did, that's what made me the most angry."
"We're now divorced and co-parenting, he's in a toxic on-again off-again relationship with his affair partner, and he's told me multiple times that he regrets everything."
"Meanwhile I'm enjoying living on my own and hanging with my friends, my kids, and my dog."
~ ApparitionofAmbition
"When I learned my wife was sleeping with my brother."
"Took him in so he wouldn't be homeless (booze) and when he got a job as a systems administrator at 125K she suddenly decided she wanted to be with him rather than lowly me."
"It's okay."
"I ended up meeting the love of my life and we've been together for 18 years now."
"She ended up dumping my brother after she finished her Masters degree."
"They are both alone and (I hope) unhappy."
~ AugieGreenfield
Unrequited Commitment
"I gave up and faced reality when we had our one couple's counseling appointment."
"Therapist asked on a scale of 1 to 10 how much we wanted to save the marriage. I said 10 and he said 0."
"But it turns out I didn't want to save it either because I realized he didn't like me all that much, and that's not a healthy life."
~ MrsUnrulyFarms
"This sounds oddly similar to our marriage therapy session where she asked that same question and he looked bored and then halfway through got up and left."
"She told me, 'I can certainly help you try to save your marriage here, but I can't do much when he clearly already has one foot out the door'."
"I started seeing her on my own to help process what was likely the end and it was."
"But it has been over eight years and it was for the best."
~ boygirlmama
Fight, Fight, Fight
"Most conversations turned into an argument."
"Then they became more distant."
"Resentment had well and truly set in."
~ DavosLostFingers
Say One Thing, Then...
"When we sat down as a couple and agreed we could not afford a new car then two days later he bought the new car he agreed we couldn't afford."
"I came home from work that night ready to argue with him and suddenly realized he knew I would get angry and that was the price he was willing to pay to have the car."
"It took a few months to get the money to move out but my marriage was over that night."
~ LifeHappenzEvryMomnt
"I was engaged to a man like that. We had decided one thing for our future, so I had gotten a job in the area we were going to move to so I would graduate and go right there, with a job."
"Then he did something completely different and when I asked what I was supposed to do, he told me I'd figure it out."
"I waited for him to get to where he was going, which was thousands of miles away, then sent the ring to his mother, certified and insured, and never talked to him again."
"I figured it out all right. Grateful to have been given clear warning and the space to wash that man right out of my hair."
~ sukiskis
Loneliness
"One time I was driving in my car and talking to myself (which I did all the time because I had no one else to talk to). I glanced to my right and my (ex) husband was sitting in the passenger seat."
"He left me alone so much (busy gambling and when he was home, he was glued to his phone/computer) that I was so used to being by myself and ignored so completely that I forgot he was in the car."
"Anyways, I was sort of embarrassed he heard me talking to myself so I said 'oh sorry, I forgot you were here'."
"He didn't even reply… so I said his name and he eventually looked up from his phone and said 'did you say something?'."
"I realized how much of my life I was going through completely alone (except for my dog). More things led to the divorce but I realized how being lonely was different than being alone and how much better life got."
~ river_of_coffee
"Mine was along these lines too. There was actually much more, but this one conversation was really the final nail in the coffin/veil finally dropped completely, so to speak."
"I had gone back to school and wasn't doing well in a STEM class, and it was really making me reconsider my path. I wasn't sure what to do."
"We were in bed for the evening and I tried to talk to him about it and my plans to speak with my advisor to potentially switch majors. He was just glued to his phone and I barely got a grunt in response."
"I just couldn't help but think how much it sucked—this was my partner for life? That was the level of support I could expect, especially when I was considering something that would ultimately change the entire course of my life/career?"
"It was awful."
"He also barely said more than 'good job' when I got accepted into a great school. He tried to convince me to go to a much smaller, unknown school instead even though it had literally no impact on him either way."
"Later told me he was jealous and couldn't handle the progress I was making."
~ LoveisaNewfie
In Sickness and—Well...
"After suffering from serious bouts with Crohn's disease for a couple years, in the worst part an episode that lasted 3 months where I dropped from 190 lbs down to 137lbs (I am 6 feet 4 inches tall, and normal weight is about 220lbs)."
"I overheard my (now ex) wife in another room telling her friend that 'she didn't sign up for this' and had no intent of helping me any longer. If I didn't die soon, she'd have to divorce me."
"She'd yell at me for being too loud in the bathroom and waking her up during the night, and repeatedly for being 'lazy' even though I was able to keep my job (she didn't work) through it all and support her and our children."
"Since the divorce, I've had 0 Crohn's flare ups, got back to my normal weight plus a little extra, eat and drink anything I choose, and take 0 medication. It's been over 13 years now, and no relapse."
~ JeegReddit44
"I was suffering these recurring bouts of abdominal pain and in and out of the hospital for about two years, including having an appendectomy."
"I was finally diagnosed with Crohn's and started testing for the meds they wanted to put me on and found out I had latent TB, which required it's own lengthy treatment."
"I was weak and miserable and lost my job."
"One evening some friends from out of town wanted to get together but just as we arrived at the meeting place, the pain started and I could feel myself struggling to focus, ears ringing, I felt faint."
"I told my then husband what was happening and I asked him to help me find a place to sit down and he just stared at me oddly. I reached for him saying something like 'please hold me I think I'm going to faint' and he stepped back to let me collapse on the sidewalk."
"I was so embarrassed, and so devastated. I wouldn't do that to a stranger, let alone my partner."
"That was it for me."
~ scrapsoup
When Someone Shows You Who They Are...
"We had problems before this night, but I kept trying counseling and other things hoping it would work out."
"But our youngest was little, maybe not even 2 yet? She had a history of seizures, so we were 'used' to them, but it was still scary."
"It's the middle of the night and I'm walking back and forth in the living room with her because she had a really high temp, it was 104-something. I was trying to figure out if I wanted to take her to the ER or not as I remember her being really lethargic as well."
"My ex (her dad) stood their screaming at me about what a wh*re I was, what a piece of sh*t I was, how I ruined his life, etc..."
"I remember asking him something like 'what if your daughter came to you and said her partner was talking to her like this, what would you do?'."
"He looked at me and said something like 'well if she deserves it' and shrugged his shoulders."
"I don't even remember what set him off that night, what I 'did' to upset him. I just remember holding our youngest and over his shoulder I saw my daughter (the oldest and from a previous relationship) sitting at the top of the stairs watching this."
"She was probably around 11….and I just decided I was done. I told myself I was going to make it through the holidays and her birthday."
"We had a good holiday and her birthday was the same sh*t, different day. The attention wasn't focused on him, so he was a jerk."
"I KNEW I was making the right decision. I waited until the clock hit midnight and I said, 'I want a divorce' and never looked back."
~ JustCallInSick
Divorce rates in the United States have dropped every year since 1980.
The rate had spiked with the rise in feminism and LGBTQ+ equality in the 1970s.
Women were no longer forced to stay in toxic marriages. LGBTQ+ people were able to live more openly instead of conforming to a heterosexual marriage.
A contributing factor to the drop since is fewer people are getting married before they're ready. Gen X and Millennials are waiting longer before taking that step. Gen Z is on track to have one of the lowest marriage rates.
Gray divorces—those of people over 60—are the only divorce rates still on the rise. The cost of healthcare, longterm care and longer lifespans are all factors in gray divorces.
Parents play an important and unparalleled role in the lives of their kids. But even this special relationship has its limits. There are certain parts of many kids' lives that, for one reason or another, they choose to keep completely separate from their relationships with their parents. These secrets can be anything from harmless little guilty pleasures to absolutely scandalous and horrifying behaviors. Don't believe me? Here are 50 stories of secrets that will make any parent stop and wonder what their kids are really up to when they're not around.

Romance isn't easy and, sometimes, leads to regret.
A lot of times, those regrets are about something you said to or told your ex.
Sometimes, it's regret about the relationship altogether. Other times, it's regretting saying something that led to a breakup. And others it's regretting saying something when you should've just said nothing and left.
Whatever the case, we all have those regrets. Redditors certainly do, and they are ready to share what they regret saying to their ex.
It all started when Redditor Quintowne asked:
"What do you regret telling your ex?"
Cheater, Cheater
"Saying anything after finding out he cheated. Shoulda just left silently tbh"
– tornteddie
"I wish I had done this, too. Looking back, it would have been not only more satisfying but also reduced the trauma in general."
"Well over it now, but man, I wish I had just disappeared."
– eeEmmerich
"I found out my ex was cheating 4 hours into a 5 hour drive to a theme park when she gave me her phone to text her mum back."
She threatened to leave me there unless I got back with her so I wish I just hadn't said anything until we got home."
She still denied it despite overwhelming evidence and blamed me for all of it."
I literally showed her a text of her say to him that "thanks for letting me take you to the Xmas party as my boyfriend..." Her response to me was basically "lalalalalalala" every time I tried to talk or that I was taking it out of context."
This was a party she had said a ton of times that you weren't allowed to take a partner with you."
It was the most awkward day of my life, and once she had gotten over the part where she wanted to leave me there, she kept me there until 10pm until I said I would take her back after falsely "accusing her.""
"We only left because security in the car park said they would tow her car if she didn't leave. Then we drove 5 hours back with work the next day so I only had an hour or two sleep."
"I dumped her a** once I got it in a text that she admitted it and somehow her friends and family still took her side saying she wouldn't ever do that."
"She then stalked me for 2 years."
"Yeah my first relationship was a wild ride for years."
"I really wish I had just ghosted her and left without explanation."
– Interesting_Tone6532
Money For Nothing
"The combination to my wall safe. She took about $40,000 in gold and silver."
"Then I had to take her back and get her to trust me before she gave it back (which was a little over 3 more months). Then I had to dump her again. And then she broke all the windows in my house. But she got arrested since it was on camera. She spent 12 days in jail and had to do 100 hours of community service. As soon as it was done, she tried to set me house on fire. She ended up in jail for 3 years for attempted arson. And last I heard, she met a guy, got dumped, and tried to burn down the bar he owned. She's in prison now. Not sure how long. Don't care. I moved out of state. Hope she doesn't find me."
– Myzyri
Did You Know...?
"Opening up about anything. Turns out whenever I said anything to her, she would spread it to her friends and other lover."
– Goose_Gamer_26
"Mine as well, terrible people."
– AcanthocephalaAny78
Oof!
""Sure we can get a joint bank account.""
– Reddit
"Man I don't even have a joint bank account with my wife :-D haha. That's levels of crazy trust."
– Paratwa
Speak Now
""I do.""
– Hemenucha
"I regret asking "will you marry me?" more."
– MohawkElGato
""We both made mistakes", she said when she left me."
""We did. You, lied and cheated on me. I, married you.""
– daniu
Dumb Love
""I forgive you" (after the first time she cheated). - It was dumb, dumb, dumb - just f**king stupid - as in I should not be allowed out of the house without adult supervision stupid. Did I mention it was dumb? And that I was a f**king idiot?"
– Deleted User
"Lmao it's okay. Love makes us dumb, blind and basically incapable of functioning. We learn tho :)"
– the_ocean_in_a_drop
What's In A Name?
"My name."
"I wish I'd never met him."
– stardust591
Ouch!
"She told me that I was angry."
"I told her that I stopped being angry months before."
"She asked if I wasn't angry, what was I?"
"I told her that I was bored."
"We'd been separated for 6 months at that point and I was waiting for her to deal with some of her issues so we could actually move towards divorce. A year later nothing has changed and I'm still bored, but recognise that it wasn't a helpful thing to say."
– inactiveuser247
"The opposite of love isnt hate, its apathy."
– Trapped_Mechanic
A Heavy Loss
""I'll store my sh*t here for now and will pick it up later.""
"...crazy ex sells my pristine childhood collection of consoles/videogames and a bunch of sh*t after we breakup."
– loztriforce
"Old games and consoles!? And they were pristine!? Dude, you gotta sell her organs at that point."
– Goose_Gamer_26
Went On For Too Long
"I have a pretty weird one."
"I dated someone from out of country until COVID. But the thing is - we didn't really break up. She just tried to lure me to move to where she was.. during a pandemic... when I was newly unemployed.. and without health insurance in the US. Even with that, I said I would - and then I just didn't hear from her for months."
"I finally get an email response in mid summer indicating that she loved me and misses me, and her life is miserable and that she left Colorado for NC. I respond back. Crickets afterwards."
"We were "reddit friends", meaning we followed one another back then. A post comes up that November 2020 asking a mail related question, because her and her SO moved in together and were not getting mail for several weeks."
"My mistake was that I reached out to her and I told her exactly what I thought about what she did. That it wasn't wrong to break up with me, but it was wrong to not break up with me, keep me hanging, and then not tell me that she really just met someone else."
"What followed after that was several months of shoddy communication. She completely tried to gaslight me. But in actuality - she was creating a fake life story to cover up the fact that she basically just left me for someone else. In the end, she said some pretty nasty things to me, I said some pretty nasty things to her, and we haven't spoken since. But I could've avoided several months of emotional discomfort if I just let it be."
"She's now married to the guy she swore was just a figment of my imagination."
"If someone is going to lie to you like that, gaslight you, throw your feelings in the trash so callously - they don't deserve your time in any capacity."
– Fausto_Alarcon
I Can Hear You!
"That I am hard of hearing. The AH would use it to gaslight me by claiming I didn't hear him or his tone of voice accurately. His speaking voice was loud and he yelled a lot - I WISH I couldn't hear him."
– lawgirlamy
Talk about gaslighting!
Do you have any regrets to share? Let us know in the comments below.
🎵 Money makes the world go around...🎶
Ah, money.
For most of the world it's a necessity, but how we acquire it can lead to some interesting situations.
Sure, we can go to work for 40+ hours a week, but that's not the only way to increase our cash flow. We can contract out our services, work a gig job or just stumble upon an earning opportunity.
Reddit user Tier1CSGO asked:
"What is the dumbest way you've ever made money?"
Clean Living
"Sold my urine on job site to guys who knew they were going to be tested."
~ blackp3dro
Polly Want a Story?
"Reading books to my neighbour's parrot."
"He was depressed and needed company, apparently."
"I was 10, I enjoyed that work very much."
"I read a lot on my own, but I was terrible at reading out loud, and I had a stutter."
"The parrot was lonely and plucking his feathers and I was told that the only way I could save him was to read to him every day."
"I suspect anything to keep him company would have worked, but I took my reading job very seriously. It helped us both."
~ alentukh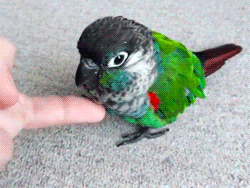 Giphy
Ten Pence
"Forgot to submit my self-assessment tax return for a year I owed £0 tax."
"Got fined £100."
"Appealed it, was successful, got paid £100.10 back."
~ sammy_zammy
Fantasy Fabio
"I got a job as a 'fantasy model with long flowing hair' where I modelled for covers of B grade American fantasy novels. Paid OKish, not well."
"I also signed away my rights like an idiot so I occasionally turn up riding a horse, or casting a spell. Also once turned up on a book cover with 'a lady' and my girlfriend went 'Who the f'k is that‽‽'."
"Photoshop my dear. Photoshop."
"I tried to read one of the books and it started 'He was not traditionally handsome'. Ouch."
~ HerrFerret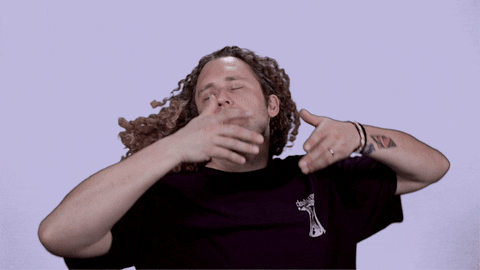 Giphy
Free Profit
"About 10 years ago I downloaded one of those Clash of Clans style app games. This was before the 'pay to win' model had arisen so I played the game for about a year and was actually pretty good at it and managed to get into one of the top clans."
"After a year or so though the pay to win model began to rear its ugly head and ruin the game. I saw the writing on the wall and decided it was time to hang it up."
"Now I had never spent a dime on this game but I knew that a lot of the big spenders would sell their accounts when they quit in an attempt to recoup some of their losses. I knew my account wasn't at that level but I figured it was worth a try."
"I figured if I could get even $10 I would be happy. I was in no rush to sell it though so I figured I would start very unrealistically high and then slowly go down on my list price."
"I ended up listing it on a third party site starting at $500. Within 12 hours I had a guy 'counter offer' at $350."
"I was blown away. I wasn't about to negotiate with that and jumped all over it."
"To this day I still can't believe that I had fun playing a free game for a year and then sold my account for $350."
~ SCHokie2011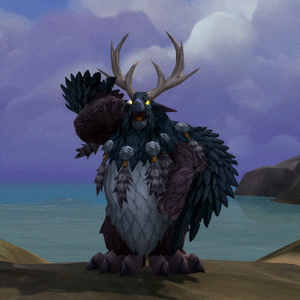 Giphy
Doesn't Add Up
"Tutoring a kid in math who was far smarter in math than his mother thought. He didn't do the homework because he wanted to play video games."
"He aced all the test and quizzes but homework was 50% of the grade so he was getting a C in math. Mother basically paid me $20 an hour to make sure he did his homework, which he finished in about 5 min."
"We then played video games for the next 55 minutes and whenever the mother would check on us I would say something 'mathematical' then he would say something 'mathematical' and I would say 'exactly, now you've got it'."
"I felt bad taking the money from the mom, but as a poor college kid, $20 is $20."
~ RTAW0lf3
Ah, Craigslist...
"Answered an ad on Craigslist. A dude shaved my head, and filmed it. Paid me $600."
~ Shaladox
"Craigslist had some bizarre ads back in the day. I answered an ad to do some weird stuff too."
"A guy wanted me to pee in a diaper and give it to him."
"So we'd meet up. I'd get in his car. Put on a diaper, pee in it, take it off, give it to him, and he'd pay me $100."
~ princesspeepe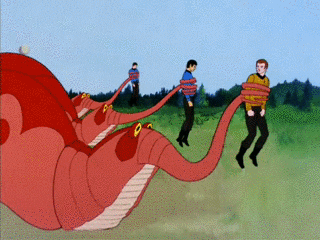 Giphy
Pound for Pound
"In the 90's I had some money spare and the British Government was attempting to stop the £ falling below a certain level against the US$."
"On the radio in the mornings, day after day, serious expert were saying it couldn't hold out against the markets."
"I converted all my cash into US$. Two weeks later I converted it all back into £'s and made £10,000. I literally did nothing except change some currency."
~ the_real_grinningdog
Miscommunication = $$$
"I was a contractor for a while doing IT. I think I was making around $50k at the time. Hourly pay, but worked out to about $50k annually."
"They wanted to renew my contract and I told my contract company I should get 10 more. I thought I was worth another $10k annually."
"They went and talked to the company and came back and said they got me 9. As in $9 more an hour and if that was OK."
"Yep, that's about $19k more annually. It was also around Y2K time so overtime was always there too."
~ ShamusNC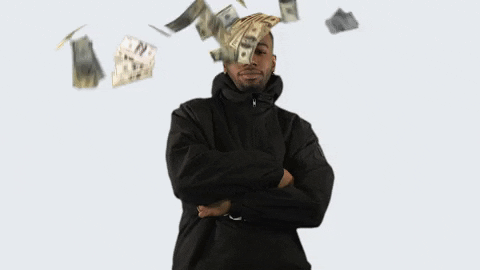 Giphy
Silver Lining
"I once crashed my truck on the freeway (due to a faulty road, I got a big payout, don't worry guys) and when I was all shaken and like holy crap and pulling over into the grass on the side of the road, I stepped out of the truck on shaky legs, and there was just... a 20 dollar bill."
"Crisp and new. Just sitting there."
"I thought I must have imagined it, but I took it as a good sign, and then insurance inexcusably overpaid what my truck was worth and I got a much better truck for free and 20 bucks."
"Dumb. Effective, but dumb."
~ aaronjer
Whistle While You Work
"I worked at a recording studio and one of the engineers was working on a radio commercial. The spot called for a bit of dialogue between a voiceover talent and a bird whistling."
"The client figured we could just use sfx for the bird responses, but nothing was working. The engineer left the session for a bit to get some air and he told me what was going on."
"Not to brag, but I'm a pretty good whistler. I started mimicking what the bird 'should' sound like, and his eyes went wide. He dragged me into the session to present what I did."
"I ended up being hired on the spot. I whistled for one commercial, which happened to be a union gig. So, I signed a contract that basically let me join for the day."
"I got about 800 bucks for the day, but also received residual checks for a couple more years after that. Whistling earned me about $3k in the end."
~ GtrSolo2TheFace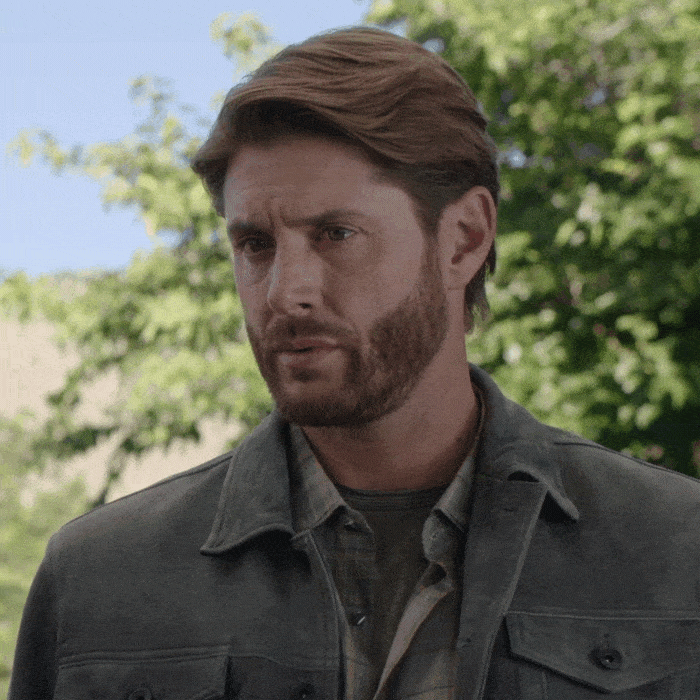 Giphy
HR Oops!
"My offer letter was wrong. I asked for a one time sign on bonus since I was leaving my match at my previous job. HR agreed but then instead of doing it as a bonus they added it to my salary."
"I didn't say anything."
"2 years later during an audit they caught it. The ceo finds out and says 'well even with his raise last year he still is worth it'."
"Never had to pay it back since it was an hr screw up and I'm good at my job."
~ diatho
Cleaning Up
"Shoveling snow. Yeah, I know how it sounds, but I was at my grandma's house and she had this shovel that was curved so if you held it right, the snow would curl up and move just like a snowplow."
"I was like 6 or 7 years old. I thought was so cool so I just went around her block clearing the sidewalks having a blast cause it's just like the big snowplows."
"Before I know it, people are coming out of the houses and giving me money."
~ steppedinhairball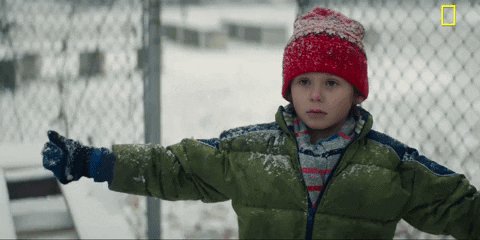 Giphy
Candy!
"Some dude hit my friend with his car while we were crossing the sidewalk in front of a 7-11."
"We were 12ish at the time and my friend wasn't hurt except for a bruise that came later."
"He gave us each $20 to not say anything about it."
"We bought SO much candy."
~ hotaffiliatequeen
The United States is described as being in a gig economy.
People are temps, contractors or subcontractors instead of employees.
Some efforts to make a living wage are better ideas than others.
But "dumb" might be a bit harsh if it pays the bills.
What's the most unusual way you've made money?