People Break Down Which City Doesn't Live Up To The Hype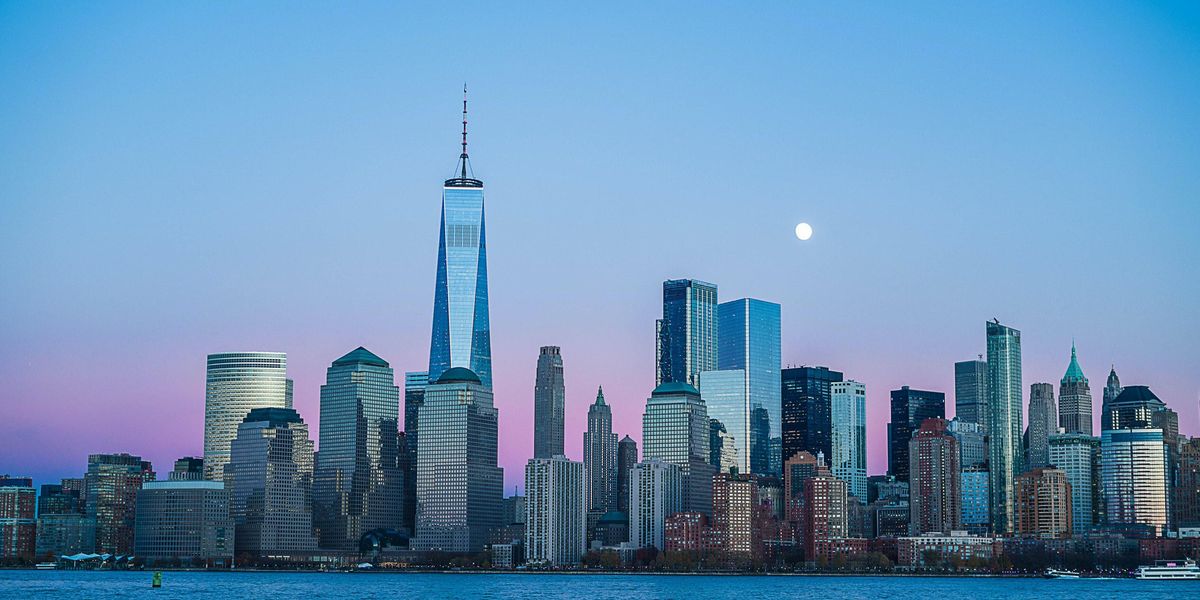 Photo by Jonathan Roger on Unsplash
Dream of the sea of lights, of the opportunities, the nightlife, and all of the things you've been dreaming of living in your adult life since you were a kid. Being in a city as an adult can afford you those opportunities.
But oftentimes the city will just afford you more expensive housing with no real way to keep up your standard and quality of life. Unless you make major budget cuts, you might often find yourself at odds with your own city, and growing to dislike it.
Sound familiar to anyone?
---
It certainly did to Redditor lookinsidemybrain1, who wanted to know:
"What city is overrated?"
Here were some of those answers.
Brotherly--Not Municipal--Love
"My best friend is from Philly, I'm from outside of Boston. We both met in Florida when we were teens and bonded over being the only two people who were hockey fans in the mid 80s."
"In 2010 we had a bet for the Flyers/Bruins series. Loser would have to pay for a trip to the winner's city to watch a game in their barn."
"Obviously the Bruins choked away that 3-0 lead and lost the series. So I had to pony up for the trip. My boy tells me he'd rather go to Boston and catch a game there and see the city."
"I said ok but the bet was going to the winner's city and I've never been to Philly. He says 'You don't want to go to Philly, it sucks...even I don't want to go there.' So we went to Boston and had a great time."-sebrebc
The Capital In A Few Ways
"I used to work an ambulance in Jackson, Mississippi. That city is not circling the drain. The water has drained and Jackson is stuck to the tub."
"It is a never ending cycle of poverty, corrupt city officials, fleeing businesses, and crime. Every city administration does nothing but pass blame."
"Some of the most atrocious things I have seen happened in Jackson MS, not 20 miles from my home, and I was in Afghanistan. Every shift was a shooting, an assault, an overdose, a fire standby, homeless and mental health calls."
"Many of the citizens live in absolute squalor. No businesses near them, no grocery stores, no opportunity. They can't afford cars and the public transit it is practically non-existent. You truly do not understand what poverty is until you see it."-[username deleted]
Rio De Goodbye
"Even us Brazilians don't consider going to Rio de Janeiro a good idea, unless you're sure that you know what you're doing (like going to the beaches outside of town)."
"In Brazil, the best places to visit are small towns. Big cities have crime and violence, and it's not safe to just hang around with expensive electronics."
"Brazil has thousands of small paradise places, either beaches, mountains, jungles or whatever. See, for example, Maragogi. Small towns are mostly safe, and 80% of Brazil's cities have less than 20,000 people."
"Hope you have a better experience in the next time."-rubenssm
See any place on this list you're now making a mental note to avoid?
Because Of The Car Industry, Margot
"San Jose. People come here thinking it's the silicon valley expecting to see all kinds of cool advanced stuff but it's just an urban sprawl."
"I know someone who came here from Shanghai and wanted to travel to San Francisco. She asked me why we don't have high speed bullet trains that will take us to the city in like 15 mins. I didn't know what to say."-Live_Mathematician99
Hollywood
"I live in L.A., and every time someone comes out to visit, they want to go to Hollywood to see the touristy stuff. I don't mind indulging them, but a a huge fan of movies and old Hollywood, etc., the real thing is insanely disappointing."
"It's filthy, crowded, smelly, and chock full of shysters and violent homeless people. I totally get going for the sake of going if you're visiting the area, but there are two things you should never do: wander off the main streets or hang around late at night."
"There are a lot of crazies down there who get stabby when the sun goes down."-WickedHello
Emirati Problems
"Dubai. What most people don't see is the fact that the majority of the city are slums where people don't even have running water."
"I remember visiting my cousin who lived there and while we were at the beach, whole families would use the showers there because they didn't have their own."-Flaky_Sandwich9353
"A photo that is still vividly in my mind is of Dubai. It shows the city boarder and how there are shacks literally on the other side."
"It's insane that UAE is one of the richest counties in the world but a large chunk of their people live in poverty to the extent that their homes do not have walls and ceilings."-CaptainF*ckAll
These Actors Were Perfectly Cast In Their Roles | George Takei's Oh Myyy
Sometimes an actor comes along that is able to reach the audience on a deeper level. The actor that immediately comes to mind is Robin Williams. Although it ...
Let's Run Away....
"Atlantic City: A poor city with a poor population and all of its wealth coming from casinos, and casinos are depressing."-Topazz410
"I had to scroll way too far to see this. I don't gamble so the casinos weren't very exciting for me. The beach was pay to play and just a strip of sand with cold brown water."
"The boardwalk was good except it was the same exact merchandise in every 5th shop. We found one good restaurant and ate there daily. Left 2 days before our booking ended."-If_you_ban_me_I_win
And do you see any plans that you had on the back burner now fully making their way up?
The City Of Blues
"I've got such a great Memphis story. I've literally only been there once in my life and only for a couple of hours (aside from driving through it)."
"Over Christmas break 2004, I drove from east Tennessee to Abilene, TX to visit my sister. I drove back on New Year's Eve and at about 2:00am I got to Memphis."
"I decided I wanted to see the Mississippi River as I'd never been there before, so I pulled off the interstate and went to this very closed visitor's center on the river downtown. It's Tennessee, but it's still December, and it's cold. Maybe 40 outside."
"After using the bathroom, I walked down this path outside the visitors center that led along the river. I get maybe 100 yards down this not-illuminated path (again at 2:00am in downtown Memphis) and I notice there are these stairs that lead down toward the river. Awesome, I can see it up close! The stairs end at a tiny bank of dirt and then boom, there's the river."
"I start down these stairs and immediately realize, these are not like 'visitors, give these stairs a try' stairs. They are like 'these have been here for eight years and haven't been maintained in that time' stairs. I get about four stairs down and one of them gives way."
"In a split second, I am now sliding rapidly toward the Mississippi River in 40 degree weather with my flip phone in my pocket and absolutely no person who knows I am here and doing this. I make a mad scramble for anything I can reach for and by whatever providence, I grab a tree limb and stop the slide."
"I was able to get to my feet and realize that my shoes are wet. I was that close to ending up floating away down the Mississippi, probably drowning or freezing to death in the process. I can swim but come on."
"I regained my composure, crawled my way very, very slowly back up the bank, and got back in my car. That was arguably one of the dumbest things I've ever done in my life."-baltinerdist
A Piece Of Da Pisa
"I'm italian. I was planning a trip from the south to the north of Italy to take my car from my hometown to the city where I work, I was asking for advice about the cities to stop in for example Naples, Rome, Bologna, beautiful cities with many things to do and see."
"What about Pisa? Every single person I asked about told me to forget it. It is literally a hole with a crooked tower."
"'You look at it, take your picture and go away, but it's not worth the extra kilometers you would take for that detour.'"-FunnyPromise
No Infrastructure...Yeah, Im Good
"I think of all major American cities Los Angeles is the most overrated. It's a cool place if you know someone who can show you around all the unique off the beaten path spots."
"But as a wandering, casual tourist who doesn't have anyone in town you will spend a lot of time in traffic going to OK attractions."
"You're better off going to other California cities or visiting the beautiful nature the state has to offer then go to LA."-Amockdfw89
When looking for a place to live in this next stage of your life...buyer, beware. A city is only as good as it wants to be--so heed the warnings of others who have come before you.
Want to "know" more?
Sign up for the Knowable newsletter here.
Never miss another big, odd, funny, or heartbreaking moment again.
Medicine is a difficult profession. Thanks to the wonder that is human nature, healthcare workers are subjected to incredible Darwin-award-winning scenarios daily, so it's no wonder that many of them feel the need to go home and scream into their pillows at night. From self-inflicted injuries to dangerous prescription misuses, these Redditors revealed the most facepalm-worthy patients they've ever encountered.
But be warned: They'll all leave you wondering how we've survived this long as a species.
In almost every interaction with a Karen, there will come a point where she (or he) will ask to speak to the manager. They seem to think that if they over others and just act a fool, they can get what they want—but the following managers REFUSED to let these Karens get away with their inconsiderate antics.
In the United States, it's no secret that sex education for minors is inconsistent at best.
But some people learned very unexpected stories about how babies were made, and those stories had a way of making a lasting impression.
Curious about other's stories, Redditor ILoveYourCat asked:
"How did you think babies were made when you were little?"
One Time's the Charm
​"I knew babies came from sex as a fairly young child. My parents never sugar-coated that. But for some reason, as a kid, I thought you only had to have sex once to have multiple pregnancies. I seriously didn't fix that misunderstanding until early middle school."
- Crazey1988
"At some point, when I finally accepted that you had to have sex to have a baby, I thought the only time people have sex was to make a baby, and it only took one time to get the job done."
"Then when I figured out teenagers were having sex, I thought you had to be married and have sex to make a baby, but then when my unmarried cousin got pregnant, I was just confused."
"But I was sure my parents only had sex four times, and then when my mom got pregnant with number five, I thought, 'Wow, they did it again.'"
- Raw_Combination_438
Stealing Storks
"A stork delivered them, of course. What the f**k, lol (laughing out loud)."
- Dells51
"Storks... I thought people trained them to steal babies from a factory and you would leave special treats on your doorstep as payment and encouragement for the stork to steal one for you."
"I was scared to death of birds for the longest time and would have a tantrum at the zoo when I saw a flamingo."
- No_Finish_3144
Young Conspiracy Theorist
"The government. I used to think that we lived in a totalitarian society and that the government was in complete control of everything."
- bebotak**t
"I thought the President sent people their babies when asked by mail."
- GustavoAlex7789
Scheduled Baby Delivery
"The women in my family explained to me at the age of six that a doctor calls you sometime after reaching adulthood at the age of 18 to schedule a baby delivery date."
"The husband either pays to schedule the appointment or the government does after verifying that you have been married and financially stable for quite some time."
- Lokikat00
Marital Kissing
"When two people kissed."
- Short-Reality7353
"I thought the same thing, but I understood that when my mom gave me a kiss, there was no risk. Being someone raised in a very Christian background, I assumed that when you got married, God made kissing a reproductive act."
"Since I made this assumption, I remember questioning why teenage pregnancy could possibly be an issue."
- meuserj
The Ultimate Christmas Gift
​"I thought Santa was bringing them."
- NorskoTheScorpion
"He was. I mean, Christmas comes but once a year..."
- Nouveauuuu
"I MAY NEVER ENJOY CHRISTMAS AGAIN."
- NorskoTheScorpion
A New Meaning to 'Forest Friends'
"When I used to ask my dad where I came from, he'd say he found me under a rock in the forest. Of course, I would go look for babies under rocks, too, but all I ever saw was dirt and those rolly-polly pill bug thingies."
"It was so gross thinking babies were just found THERE that I was actually relieved to find out how they were actually made!"
- melodie-artist
Pregnant By Proximity
"I thought women got pregnant by just being around a man, and I was always confused about what would happen if a woman still lived with her parents or dad after she's an adult."
- ILoveYourCat
Coming of Age Story
"I thought it was a 'just happens once you reach a certain age' sorta thing. As a woman, I was terrified because pregnancy sounds like the most awful thing, lol (laughing out loud)."
"(I know the end result is worth it but even as a 31-year-old, I'm like, nope.)"
- BansheeShriek
Sounds Plant-Based
"I thought they grew like a seed inside the mother's belly."
- maclaglen
"Technically, that's true."
- ManagementFresh4960
"Watermelon seeds."
- bravovice
"Well, not like that."
- ManagementFresh4960
The Power of Marriage
"My mum told me you couldn't have a baby if you weren't married. Note that she said 'couldn't', not 'shouldn't'."
"When my unmarried cousin was sleeping a lot my mum told my aunt 'she's having a baby'. I thought 'she can't be having a baby, she isn't married.'"
"A couple of weeks later she had an engagement party, quickly followed by a registry office wedding. She had a baby a few months later."
- MolassesInevitable53
Baby Trees
"I thought they grew on trees. True story."
- 8inchsalvatorre
"Baby trees, lol (laughing out loud)."
- ILoveYourCat
"I was surprised when I learned how it really happened, lol. I was like, 'You mean there are no trees?' And Mom just shook her head."
- 8inchsalvatorre
They Were Just There
"I don't recall a time where I gave the matter any thought without knowing the reality of it."
"Like, literally, until the day I was first introduced to the concept of birth, I don't think I cared where babies came from."
- N_Who
"Right, the little guys just EXISTED."
- Mizar97
Educated Is Best
"I asked my mom and she told me the truth."
"Educate your kids, folks. They can handle it."
- Bite_Me_23
Spontaneous Babies
"I didn't... They just showed up, honestly."
- badguywindow
"That's what I thought. I was terrified as a little kid that I'd wind up being a teenage mother because I thought it just happened spontaneously."
- dinosore
"Exactly what I thought would happen. Like one day you were just, boom, six months pregnant."
- badguywindow
While these responses might be funny, it's an important reminder of an area in the educational system that's often lacking.
But in the meantime, while the system's curriculum is getting sorted out, at least we can take comfort in the fact that we weren't alone in believing these tall tales.
What is it that makes people confess their deepest, darkest sins to millions of strangers on Reddit? While we may not know the answer, we do know that the following confessions run the gamut from funny to salacious to nasty nightmare fuel. In fact, you might want an Ouija board to send some of these skeletons back to the closets from whence they came.