Daters Reactions To A Partner Who Wants To Wait Until Marriage
There are several prerequisites people might look for in a partner before agreeing to marry them.
Stable profession, where they see their future going, how well they get along with friends and family.
Then, of course, there's the matter of how they are in bed.
Something which might pose a problem should they find themselves dating someone who wants to hold off until after marriage.
Antiquated as the policy sounds, more people choose to abstain till marriage than one might imagine.
A policy which might not only prove problematic in finding a prospective fiancé, but could also be a potential deal breaker at the very start of the relationship.
---
One Redditor was curious to hear how people would react, or how they actually reacted, if their new romantic partner told them they wanted to abstain till after they got married, leading them to ask:
"If you were dating someone and if they said they don't want to have sex with you until they are married to you, how would you react?"
Depends On The Person

"My current boyfriend was like this."
"He wanted to wait until marriage."
"If it were anyone else, I would've dipped tf out."
"But for some reason, with him, I told him I'm willing to wait."
"Then a month passed into our relationship and he asked if we could have sex because he kept getting too turned on when we would do other stuff."
"Now 2years later, we have a healthy sex life and overall relationship lol."- acidic_crocodile
Will Only Wait So Long...

"I wouldn't mind waiting as long as they needed but I probably wouldn't get married to someone unless I knew we were also sexually compatible."- polywha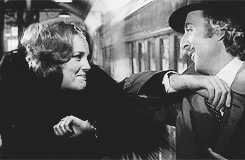 young frankenstein madeline kahn my hero GIF
Giphy
Love Is What Matters Most
"That was what my wife said to me."
"We would kiss and pet but not much more."
"I love her and what is important to her is important to me."
"She decided she wanted to after she figured out that I was serious about her and our relationship."
"We had sex about a year into the relationship, and we got married 4 years into the relationship."
"Someone saying that they want to wait till marriage might simply mean that they want to be with the person they are going to be with for the long term."
"You should always respect a person's boundaries and if their boundaries are not something you can respect, don't be with that person."
"It really is worth it, no matter who it is."
"And btw, we have been together since the late 80s and have both had boundaries that we respected, but it has always been worth it and i and glad to be her husband."
"This is my experience with the woman that I love and adore, I don't advocate thinking someone saying they want to wait is anything but straight up facts.
"If my wife wanted to wait the 4 years til marriage, i would have gladly."
"But since she did change her mind after figuring out i wasn't leaving, my statement of some might is accurate, but not all or probably most will change their minds."
"It is up to each person to decide if that is the situation they want to be in, but regardless, I think you should always respect the choices a person makes for themselves."
"Love and respect should always go together."- Equivalent_Ad8133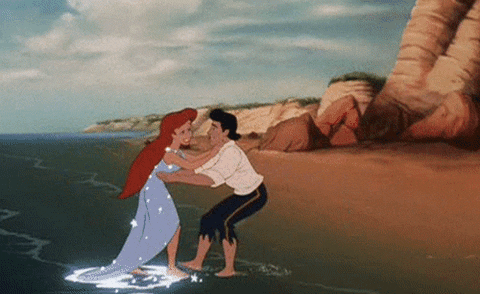 the little mermaid love GIF
Giphy
Details Needed...

"I would inquire about the reasoning, then act from there."
"I respect the choice, but I need to know the logic behind it if I'm going to commit to someone."- Blundell1992
That's A Dealbreaker...
"I would tell her that I am the wrong man for her and wish her all the best for her future."- Dense-Palpitation-55
Don't Knock It Till You've Tried It...
"This was my now wife."
"I'd been around the block a few times and had been with many partners."
"She was up front about it a few dates in."
"She came from a religious background and I definitely did not."
"At first I wasn't so sure."
"I agree with all the other comments here about sexual chemistry."
"However I found there was more open discussions around what each other liked and didn't like compared to previous relationships I've been in."
"Interestingly I felt a stronger connection with now wife then I did with previous gf's."
"Relationship is built around love and knowing each other and not just sex."
"We've been together for 8 years, married for 6."
"Have 2 kids and never had an argument."
"We made up for lost time after marriage.... Haha."
"If I had my time over, I'd do it exactly the same."- tuc_47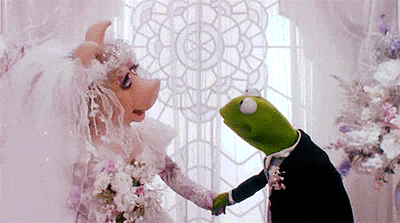 just married love GIF
Giphy
Be it for religious, personal, or no reason at all, a person's decision to wait till after marriage should always be respected.
If that's a dating deal-breaker, that's your decision, as much as theirs to abstain.
Though, you might want to delay your decision till after at least a date or two.
As you might find yourselves connecting in a way you've never connected with others.
And what good is sex without a connection?
Medicine is a difficult profession. Thanks to the wonder that is human nature, healthcare workers are subjected to incredible Darwin-award-winning scenarios daily, so it's no wonder that many of them feel the need to go home and scream into their pillows at night. From self-inflicted injuries to dangerous prescription misuses, these Redditors revealed the most facepalm-worthy patients they've ever encountered.
But be warned: They'll all leave you wondering how we've survived this long as a species.
In almost every interaction with a Karen, there will come a point where she (or he) will ask to speak to the manager. They seem to think that if they over others and just act a fool, they can get what they want—but the following managers REFUSED to let these Karens get away with their inconsiderate antics.
In the United States, it's no secret that sex education for minors is inconsistent at best.
But some people learned very unexpected stories about how babies were made, and those stories had a way of making a lasting impression.
Curious about other's stories, Redditor ILoveYourCat asked:
"How did you think babies were made when you were little?"
One Time's the Charm
​"I knew babies came from sex as a fairly young child. My parents never sugar-coated that. But for some reason, as a kid, I thought you only had to have sex once to have multiple pregnancies. I seriously didn't fix that misunderstanding until early middle school."
- Crazey1988
"At some point, when I finally accepted that you had to have sex to have a baby, I thought the only time people have sex was to make a baby, and it only took one time to get the job done."
"Then when I figured out teenagers were having sex, I thought you had to be married and have sex to make a baby, but then when my unmarried cousin got pregnant, I was just confused."
"But I was sure my parents only had sex four times, and then when my mom got pregnant with number five, I thought, 'Wow, they did it again.'"
- Raw_Combination_438
Stealing Storks
"A stork delivered them, of course. What the f**k, lol (laughing out loud)."
- Dells51
"Storks... I thought people trained them to steal babies from a factory and you would leave special treats on your doorstep as payment and encouragement for the stork to steal one for you."
"I was scared to death of birds for the longest time and would have a tantrum at the zoo when I saw a flamingo."
- No_Finish_3144
Young Conspiracy Theorist
"The government. I used to think that we lived in a totalitarian society and that the government was in complete control of everything."
- bebotak**t
"I thought the President sent people their babies when asked by mail."
- GustavoAlex7789
Scheduled Baby Delivery
"The women in my family explained to me at the age of six that a doctor calls you sometime after reaching adulthood at the age of 18 to schedule a baby delivery date."
"The husband either pays to schedule the appointment or the government does after verifying that you have been married and financially stable for quite some time."
- Lokikat00
Marital Kissing
"When two people kissed."
- Short-Reality7353
"I thought the same thing, but I understood that when my mom gave me a kiss, there was no risk. Being someone raised in a very Christian background, I assumed that when you got married, God made kissing a reproductive act."
"Since I made this assumption, I remember questioning why teenage pregnancy could possibly be an issue."
- meuserj
The Ultimate Christmas Gift
​"I thought Santa was bringing them."
- NorskoTheScorpion
"He was. I mean, Christmas comes but once a year..."
- Nouveauuuu
"I MAY NEVER ENJOY CHRISTMAS AGAIN."
- NorskoTheScorpion
A New Meaning to 'Forest Friends'
"When I used to ask my dad where I came from, he'd say he found me under a rock in the forest. Of course, I would go look for babies under rocks, too, but all I ever saw was dirt and those rolly-polly pill bug thingies."
"It was so gross thinking babies were just found THERE that I was actually relieved to find out how they were actually made!"
- melodie-artist
Pregnant By Proximity
"I thought women got pregnant by just being around a man, and I was always confused about what would happen if a woman still lived with her parents or dad after she's an adult."
- ILoveYourCat
Coming of Age Story
"I thought it was a 'just happens once you reach a certain age' sorta thing. As a woman, I was terrified because pregnancy sounds like the most awful thing, lol (laughing out loud)."
"(I know the end result is worth it but even as a 31-year-old, I'm like, nope.)"
- BansheeShriek
Sounds Plant-Based
"I thought they grew like a seed inside the mother's belly."
- maclaglen
"Technically, that's true."
- ManagementFresh4960
"Watermelon seeds."
- bravovice
"Well, not like that."
- ManagementFresh4960
The Power of Marriage
"My mum told me you couldn't have a baby if you weren't married. Note that she said 'couldn't', not 'shouldn't'."
"When my unmarried cousin was sleeping a lot my mum told my aunt 'she's having a baby'. I thought 'she can't be having a baby, she isn't married.'"
"A couple of weeks later she had an engagement party, quickly followed by a registry office wedding. She had a baby a few months later."
- MolassesInevitable53
Baby Trees
"I thought they grew on trees. True story."
- 8inchsalvatorre
"Baby trees, lol (laughing out loud)."
- ILoveYourCat
"I was surprised when I learned how it really happened, lol. I was like, 'You mean there are no trees?' And Mom just shook her head."
- 8inchsalvatorre
They Were Just There
"I don't recall a time where I gave the matter any thought without knowing the reality of it."
"Like, literally, until the day I was first introduced to the concept of birth, I don't think I cared where babies came from."
- N_Who
"Right, the little guys just EXISTED."
- Mizar97
Educated Is Best
"I asked my mom and she told me the truth."
"Educate your kids, folks. They can handle it."
- Bite_Me_23
Spontaneous Babies
"I didn't... They just showed up, honestly."
- badguywindow
"That's what I thought. I was terrified as a little kid that I'd wind up being a teenage mother because I thought it just happened spontaneously."
- dinosore
"Exactly what I thought would happen. Like one day you were just, boom, six months pregnant."
- badguywindow
While these responses might be funny, it's an important reminder of an area in the educational system that's often lacking.
But in the meantime, while the system's curriculum is getting sorted out, at least we can take comfort in the fact that we weren't alone in believing these tall tales.
What is it that makes people confess their deepest, darkest sins to millions of strangers on Reddit? While we may not know the answer, we do know that the following confessions run the gamut from funny to salacious to nasty nightmare fuel. In fact, you might want an Ouija board to send some of these skeletons back to the closets from whence they came.