Reddit user suchgarbage recently came out to their vehicle to find an all-too-familiar sight on their vehicle: a parking ticket. It was accompanied by a much less common thing, though.
They also found an envelope tucked under their wiper with a kind note and a little something to brighten their day.
---
The note read:
"Hey Stranger-—
"Noticed you had a parking ticket on your truck & figured that Tuesday was a liiittle bit too soon for somebody's week to already start sucking..."
"I mean, we're only two days in & who knows what the heck your Monday held..."
"Anyway - hope your week just keeps getting better from here!"
"—Keep it real!—"
The envelope also contained $25—the amount of the parking ticket.
They shared an image of the note with the caption:
"This morning I found an envelope with this note and $25 tucked under a parking ticket on my truck."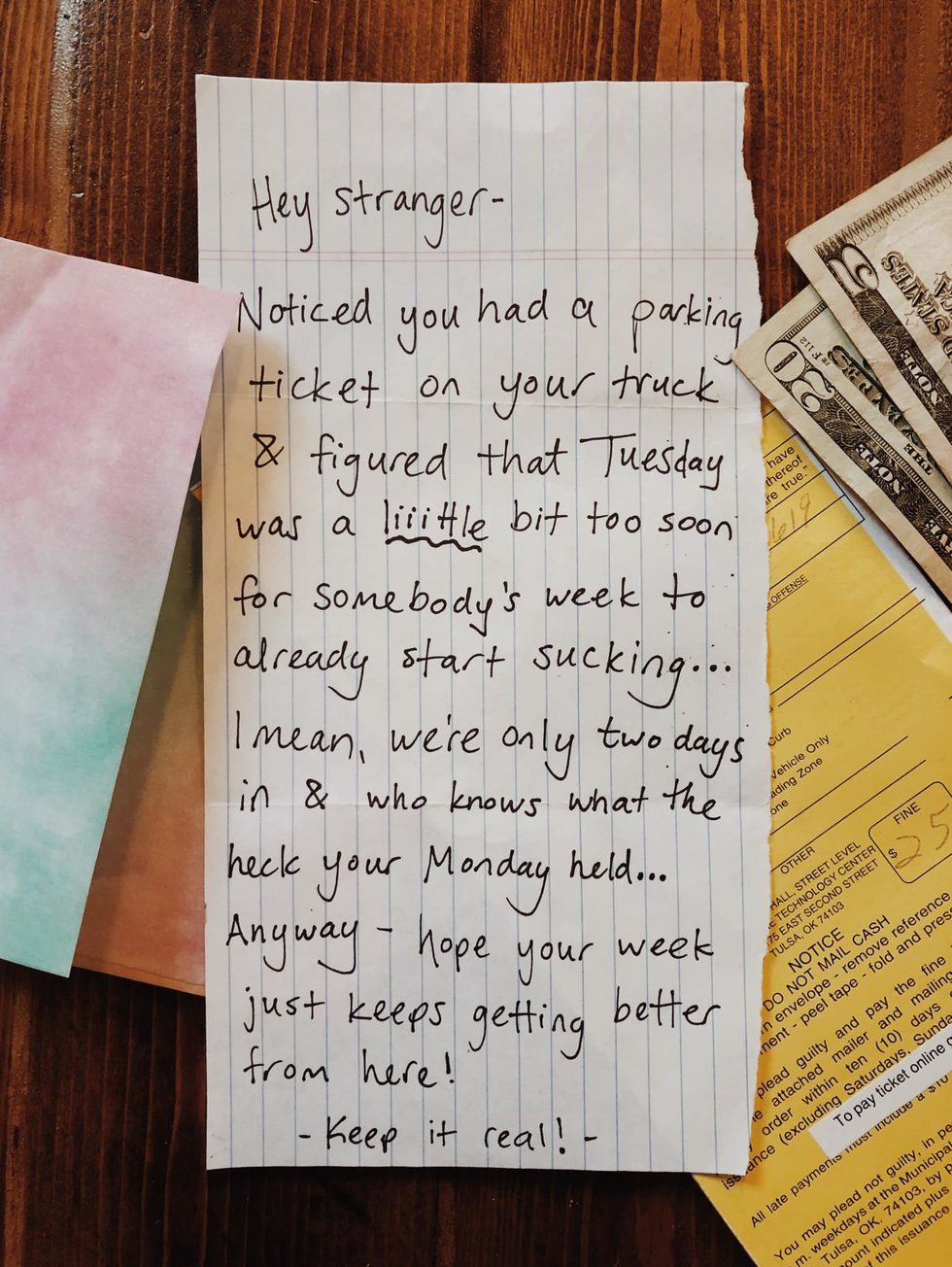 suchgarbage / Reddit
Several users were a bit skeptical of the post.
"Where I live someone will bust out your window for a quarter left in the center console."
"Can't fathom this ever happening."
-captain-planet

"I can't fathom a parking ticket that's only $25. Where I live they're at least $75."
-hillylb
Others were a sightly less cynical.
"That is awesome. Glad some one was looking out for you. Just remember to pay it forward. Also contest the ticket."
-ShaneOfan
"Definitely paying it forward! Might just toss this whole envelope on another car next Tuesday. 😄"
-suchgarbage
One person inquired about the poster's Monday which, it turns out, was less than stellar.
"How was your Monday?"
-pattern144
"Monday was actually not that great, so this definitely added some goodness to my week. :)"
-suchgarbage
A couple of users had good answers to the assertion that people never do this in real life.
"How come these posts of thoughtfully, hand-written notes with free money attached to them are so common on Reddit and I've never known anyone or even heard of anyone on the giving or receiving end of these in real life?"
-NameNowTaken
"Gee, it's almost lik being on a social media site exposes you to a lot more of the world than your circle of acquaintances."
-jacobstx

"I did it once. You can check my post history for the story. It's two in the morning and I'm tired, But I told someone else about it in this thread."
-CreatrixAnima
It's not often that we hear about the good things like this that people do for each other, but that doesn't mean they don't happen.
People have a tendency to focus on the bad things in life, unfortunately.
Maybe we should make more of an effort to share the positive things in life, it gives everyone hope.