With a little determination, anything is possible.
Case in point?
18 year old Michael Watson had struggled with his weight most of his life.
---
He was teased by other kids and overall just didn't feel like himself. At 300 pounds, he was ready to make a big change.
How?
Simply by walking.
The Canton, Ohio teen made the effort to, instead of taking the bus, walk to and from school every day, rain or shine.
Watson told ABC News:
"When I looked in the mirror I was really ready to get it done and thought, 'I can't just fail anymore on my diet.' I need to actually do this."
Now, he's down 115 pounds.
It wasn't just the walking that helped him lose so much weight. He also changed his diet, cutting down on fast food and learning to count calories.
This was no easy feat, seeing as Watson worked at the local Kentucky Fried Chicken.
"It was extremely hard, especially at first. What motivated me was stepping on the scale. I'd see that I was 290 [pounds] and say, 'Let's get to 280, come on Michael, you got this'.

Regular working out was also a big factor in Watson's weight loss. In his free time, he would lift weights in his garage, which he turned into a makeshift gym.
His alma mater, McKinley Senior High School, showed their pride for Michael in a recent Facebook post.
McKinley Family Support Specialist Terrance Jones nominated Watson for the "Senior Limelight" recognition, after being inspired by the teen's story.
Good Morning America picked it up from there and did a feature on Watson. They also shared video of the story on their YouTube channel.
High school senior loses 115 pounds by walking to school, changing diet youtu.be
"His story stuck with me," Jones said to ABC News.

"Michael is a young man who aspired to be able to be a better person for himself. We're not talking about athletic accomplishments or academic accomplishments, this is a personal development success. We need to pay more attention to personal development successes with students."
So@proud of this McKinley senior Michael Watson! Making national news for his perseverance! https://t.co/Hi8TjiFATp

— Canton City Schools (@Canton City Schools)1557876158.0
Good for him! Michael Watson committed to walking to and from school every day and made some changes in his diet.… https://t.co/VleqHMXeAo

— Katherine Marchand (@Katherine Marchand)1557919495.0
Mr. @Kimbal Musk, How about hiring this #MichaelWatson? Hard worker, motivated, interested in healthy food choices.… https://t.co/B6WOvEbWOi

— Troy Swezey (@Troy Swezey)1558039947.0
Wow, #MichaelWatson #Canton #Ohio tremendous heart to make such a profound change! https://t.co/iZFjBeAvmc

— Kirk Harris (@Kirk Harris)1557903183.0
Watson has already made plans for after graduation, and hopes to get a full-time job when he gets out of high school.
His goal? The food industry.
Taking culinary classes and making healthier food choices sparked a love of cooking. He hopes to possibly pursue it as an adult.
"I lost a lot of my insecurities when I lost all that weight."
Watson added:
"You work for it and you get it, so it feels amazing for sure."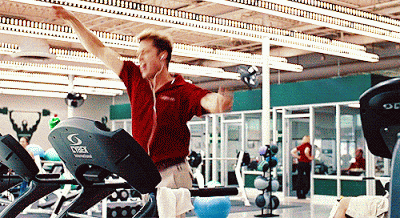 GIPHY
You go, Michael!