People Explain Which Movie Villains They Totally Side With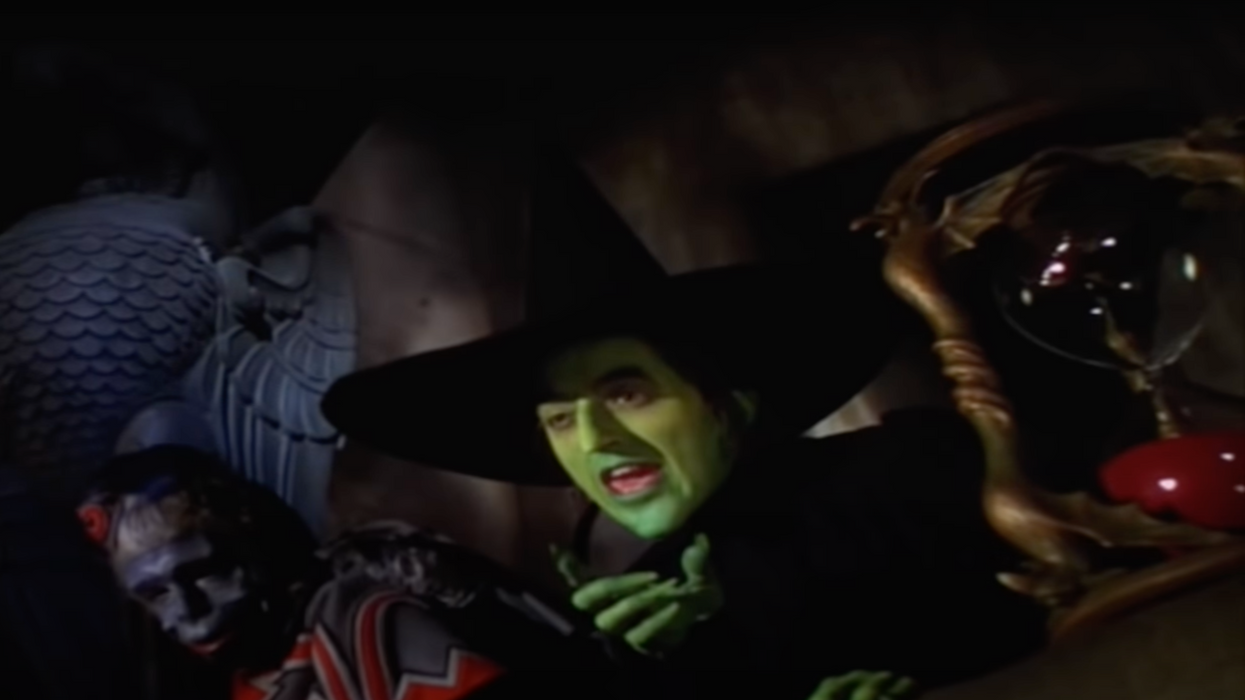 You know, the older I get, the more I understand The Wicked Witch of the West.
Wouldn't you have flipped out if some random chick had killed your sister and was being egged on to do worse by the weirdo inhabitants of Oz and the so-called "Good Witch"?
Perhaps the genius of this story is how easily we've been manipulated into accepting that Dorothy is a good person and not just a pawn in some feud between magical beings.
---
People had more to say about the Wicked West—and others—after Redditor armedshutter asked the online community:
"What movie villain do you agree with?"
"When I was little..."
"When I was little, I always sympathized with Jerry because he was a teeny mouse being chased around by this big, mean cat. Now, as an adult, I watch the show and realize Jerry's a selfish jerk who invites himself in everywhere and causes problems. Meanwhile, Tom just wants to enjoy his life and hang out with his friends. However, Jerry won't let him. Instead, Jerry takes advantage of every opportunity to torment Tom and make him miserable."
Yes, Tom just wants to be a cat and chill out! Would you want a mouse in your house? A sadistic one at that?
"If someone killed my sister..."
"The Wicked Witch of the West. If someone killed my sister, led a whole parade to celebrate, and then walked off with the fancy shoes she took off of my sister's dead body, I'd definitely go after her. And her little dog, too!"
That makes a lot of sense. Dorothy was the villain!
"If chicken strips..."
"Bruce the Shark from Jaws
If chicken strips came into my house and started swimming around me, I'd eat a few of them too. Does that make me the villain?"
Well, when you put it like that... it's pretty easy to see where we fall, isn't it?
"He knew..."
"The Night King - he knew how the series would end and was trying to stop it."
Oh snap.
The shade of it all.
Yes, The Night King thankfully didn't make it to the end. He would have been so disappointed with how that series turned out.
"As bad as it sounds..."
"Magneto. As bad as it sounds, he was right. By the time "Logan" took place, they were cloning mutants and treating them horribly and were murdering them (little children) so they wouldn't be found out and they were wiping out people with the mutant gene via corn syrup. Magneto had warned Charles they were going to do something like that eventually."
We all did Magneto dirty, didn't we?
Admit it. We suck.
"I wouldn't say that I agree..."
"Lady Eboshi from Princess Mononoke. Miyazaki really knows how to write a good villain. She's the leader of a town that is absolutely destroying the surrounding forests and she willingly has spirits of the forest killed, but she's also an advocate for women's rights and her village is a refuge for outcasts like lepers.
I wouldn't say that I agree with her entirely, but she's a very dynamic character who has some points that I agree with."
Princess Mononoke is a wonderful film and probably the most layered of all of Miyazaki's films! And yes, Lady Eboshi was done dirty.
"Imagine if he increased..."
"Thanos had a valid point, just the wrong approach.
Imagine if he increased resources by 100x, and every living being lived in a post-scarcity society."
Yeah, the "snap" would get rid of a lot of our problems, wouldn't it?
Sure, *you* might not be around, but... that is a sacrifice Thanos would be willing to make.
"He lost his dad..."
"Harry from Spider-Man. He lost his dad, the closest person in his life besides Peter, and to know that his best friend killed him really does hurt. The part that he completely misses (which is truly heartbreaking) was that his dad wasn't the same dad he grew up knowing and loving. He didn't know, and will never understand, that his dad wasn't his dad anymore when he died."
That's the tragedy of Spider-Man and honestly, largely why the human drama between these characters works so well. (And it's even better in Spider-Man 2.
"If anything..."
"Plankton from Spongebob. If anything, Mr. Krabs is more of a villain than him. Krabs almost always does things just for money, and he doesn't care about anyone if they don't have cash on them or if they can't work for him. Plankton, on the other hand, only acts the way he does due to the selfishness of Krabs."
Mr. Krabs is a greedy capitalist! Does he love anything or anyone, even his daughter? For shame.
"He was just trying..."
"Squidward. He was just trying to enjoy his day and relax after a low-paying exhausting job, but SpongeBob and Patrick kept bothering him. I felt for him when I started working as a waitress."
Now that you have all of these opinions in mind, it might be worth revisiting some of your childhood favorites to see if you've changed your mind at all. You might surprise yourself.
Have some opinions of your own? Feel free to tell us about them in the comments below!
Want to "know" more?
Sign up for the Knowable newsletter here.
Never miss another big, odd, funny, or heartbreaking moment again.

The stupidity and ignorance of some people can be flat-out flabbergasting. Do they live under a rock? Were they dropped on their head as a child? You'll be asking these same questions after you read these stories. These are more than simple "push on the pull door" moments, as Redditors in the service industry tell stories of clueless customers who left them puzzled, perplexed and perturbed.
There are some great mysteries in this world that will most likely never be solved in our lifetime.
What happens after we die? Who really built Stonehenge? Are there other lifeforms in outer space?
The fact that these not only will, but as of now, CAN never be solved is what fascinates us most.
There are other unsolved mysteries, however, which we view with far more sadness than we do fascination.
Owing to the fact that these mysteries could have, or even still can, be solved but for whatever reason, remain unsolved.
Redditor Shafiq09 was curious to hear the most disturbing and unsettling unsolved mysteries that may never be solved, leading them to ask:
"What is the most unsettling unsolved mystery that you're aware of?"
Missing Accomplice
"This guy broke into a house, killed the single mom, mom's friend, the son, the family dog, and kidnapped the teenage daughter."
"Dismembered the bodies and hid them."
"The girl didn't need to testify in his trial (he pled guilty), but read a letter during his sentencing saying that she knows he had help disposing of the bodies of her family because while she was still tied up in their house, she heard him making phone calls and heard at least one other person show up."
"She heard this person(s) talking, walking around and helping him with the bodies."

"Local pd & prosectutor just wanted a quick & easy trial and conviction, so they swept a lot of details under the rug & the girl's claim in court that this guy had help was very quickly forgotten."- ZormkidFrobozz
9 Mysterious Years...

"The disappearance (and short-lived reappearance) of Johnny Gosch."
"He disappeared one day while delivering newspapers."
"Police did very little to try to solve the crime."
"Nine years later his mother reports that Johnny showed up on her doorstep and explains that he had been held in slavery for the last 9 years."
"Authorities basically say she's making it up and have done no investigating."- in-a-microbus
Gross
"Someone keep sh*tting in the holes at the local golf course."
"Been going on for the last twenty years bastard has never been caught."- Odd_Associate8272
Never Came Home
"Old neighbours of ours had their 18-year-old daughter disappear."
"She left work one evening and never made it home."
"No body was ever found either."
"I heard the police have a suspect but not enough evidence to do anything more."- AmigaBob
Long Day At The Beach
"The Beamont children, three young siblings that disappeared in 1966 from Glenelg Beach."- homlessoverland
In The Middle Of The Night...
"Another one is of the Springfield three."
"A woman, her daughter and daughter's friend went missing from their home in the middle of the night with no signs of struggle or major evidence left behind."
"It's been so long since it happened so the chances of this case ever being solved is meager."- epilogueteen
So many Questions...
"One night my husband and I woke up hearing a woman screaming, 'Help me!' "
"He rushed to the window (we're on the second floor) and saw a car drive past with a woman in a dress hanging on the hood."
"The car sped through the intersection by our place and careened off with her screaming on it."
"We called the police and told them which way it was going and then jumped on our bicycles and rode around the neighborhood to see if she'd fallen off."
"Never found her."
"Never found any news of her."
"I've always wondered what happened to her."
"That was over a decade ago."- 2manybirds23
Mysteries of Biology...
"At what point did the brain realize its own consciousness?"
"I find it fascinating."- KinOuttaHer
Paying For Religious Freedom...

"How Scientology still has tax-free status in the USA."- sqoo-5900
And, For That Matter, What Made Them Start?
"Why did the Zodiac Killer and Jack the Ripper stop killing?"
"They were never caught. They could have kept at it."
"So what made them stop?"- AggressiveOkra
Twinkle Twinkle
"I can't remember exactly what star it was, but there was a star deep in space that astrophysicists saw as relatively unremarkable."
"Just another star they were monitoring."
"Anyway, one day, all was normal, it was in the correct position."
"The next day, they were monitoring all the stars, and this one star had just disappeared."
"Poof."
"No one could figure out why. It could have been that it went supernova, but if it had, they would have seen the residue and the massive explosion, plus all the gaseous residue."
"So it can't have gone bang."
"They also hypothesized that maybe a civilisation had constructed a Dyson sphere (a large construction made to harvest all of a stars potential energy), but if so, it would have been more than likely that we would have seen the star slowly disappear, the light fading as the civilization constructed the Dyson sphere."
"Now, of course, according to the Kardashev scale, there could well be a civilization so advanced that they could have just constructed the entire sphere in a matter of seconds, but we'll never know."
"On that subject, that same civilization could have just absorbed the star instantly to use its power."
"They thought that maybe, other extrasolar objects were just blocking its view somehow, so they continued to monitor its location."
"It never came back."
"Somewhere, out there, a star just miraculously disappeared without a trace."
"And we will never know how or why."

"That's what's so disturbing to me."
"We have such amazing technology to monitor objects millions of light years away, yet we cannot figure out why a star just disappeared without a trace."
"And we may never know."- TheoCross3
No Justice For Their Families
"I have three I'm very invested in."
"One, who murdered Joseph Zarelli (aka the Philadelphia boy formerly known as the 'Boy in the Box')."
"Two, what happened to missing Oklahoma teenagers Ashley Freeman and Lauria Bible and who murdered the rest of the Freeman family."
"And three, who murdered the Short family of Henry County, Virginia."- arcana07
The truth behind these mysteries is out there somewhere.
Whether anyone will find it, however, is also a mystery that may never be solved.
Rules are stupid. Okay, maybe not always—plenty of rules exist for a good reason. However, everybody knows that there is nothing worse than a dumb rule, especially when it's at school or work. From the cringe-worthy to the downright creepy, here are the most idiotic rules people on Reddit have experienced.
Sometimes, a person can be mature and intelligent and still have some thoughts or theories that are truly stupid. And sometimes, that person says something truly stupid out loud.
It usually makes for a funny memory.
When I was in middle school, a group of my friends were talking about a movie that had just come out and where it was filmed. One boy said it was filmed in New York. A girl's response made all of us cringe:
"That movie wasn't filmed in New York, it was filmed in Manhattan."
When someone told her Manhattan was in New York, she didn't believe it and insisted that was not true! Four years later, she graduated third in our class. Guess she eventually figured it out.
Redditors know people who have said truly dumb things out loud as well, and are eager to share.
It all started when Redditor A_Lice_in_Wonderland asked:
"What is the dumbest thing you've ever heard someone say?"
First Time For Everything
""Well she never got pregnant before," after his girlfriend got pregnant and after asking my friend why didn't he use protection."
– tuotone75
"I've never died before so I won't ever."
– Rakgul
"Should've checked to see if there was a history of pregnancy in the family."
– hogliterature
Time Difference
"I was microwaving some food, I hit the 1 so it would automatically cook it for a minute. My friend asked "Why did you put it in for a minute? I usually put mine in for 60 seconds". I had to explain to him that it's the same thing. We were in high school."
– Gambit_Finale
"I have a similar one. Had to explain to someone that 0:90 on the microwave was the same as 1:30. They kept insisting 1:30 was more, and that I was crazy."

– Atheist_Alex_C
Where Does Our Food Come From?
"That there's no difference between turkey and ham because "they both come from birds."
"I guess pigs really do fly in their world."
– JustForKicks36
"I had a friend in college who asked me very seriously, "so if beef comes from cows, and pork comes from pigs, what animal does chicken come from?""

– not_ur_avg
And When Does It Come Back?
""How long does it take the meat to grow back on a cow when you shave it off?""
– Bright_Ad_2848
"Average "Hay Day"-player."
– The-One-Winged-Angel
"Making hamburgers is not an outpatient procedure."

– tritium_awesome
This Is The Real World
"A new hire at the cotton mill that had dropped out of school to go to work:"
""How long do we get off for spring break?""
– TrailerParkPrepper
"Oh welcome to real life you poor child."
– Bucksin06
Poor Guy
"This involves a conversation with a guy I used to work with who was trying to lose weight so he was cutting down on pasta."
"Him : I've been doing pretty good, haven't had pasta in 2 weeks."
"Me : That's awesome, what's that you got in your hand there?"
"Him : Mac and Cheese."
"Me : I thought you said you haven't had pasta in 2 weeks?"

"Him : I haven't, this is Mac and cheese."
– highfivesforgod
Not How It Works
"If you drink a coke & then a diet coke, the sugar cancels out."
– ScribblingOff87
With Magic, Sure
"I was solving a Rubik's cube and a guy asked me how many sides it has and if I can make them all blue."
– MrLambNugget
Yikes!
"Friend and his girlfriend were over. Watching some TV when an ad for an Anne Frank documentary comes on."
"GF: "oh, wasn't she like Hitler's daughter or something?" The room became very quiet for awhile."
– 1WaldoJeffers1
"I guess it's "or something""
– candangoek
"A moment of silence for a dumb friend."
– sunpies33
*Cringes*
"The question right above this in my feed is: "Why's a square called a square when it has six sides and eight corners?""
"The sub was NoStupidQuestions"
– 12345_PIZZA
"The premise of the sub has been disproven. Time to shut it down."
– cbusalex
""Sir, that's called a cube.""
– ThisWasAValidName
It Never Did
""What year did this happen?""
"We were watching The Lord of the Rings."
– OverTheCandlestik
Not The Lakes
"I was in seventh grade history and the teacher asked a student which ocean Christopher Columbus crossed to get to America. She said she didn't know and the teacher replied by asking "how many oceans can you name? It's gonna be one of them.""
"The girl thinks for a moment and says "Lake Champlain… Lake Geo-""
"The teacher cut her off by saying "if it has the word lake in it, it's probably not an ocean.""
– thecrimsonf**kr23830
The Whole Country Does
"Was on the bus headed to class in Honolulu, a Southerner got on and asked the driver"
""Do y'all take American Dollars?""
"The driver pointed at the American flag sticker on the window and with extreme exasperation said"
""You're in America.""
– revjor
​Coffee Conundrums 
"When I worked at Starbucks it was frequent question from customers to explain the difference between a hot and an iced drink…"
– Real_Pea5921
"I work at Starbucks, holy sh*t our customers are a different breed."

"I had one lady ask why her drink had so many small bits of ice in it when she wanted it blended."
"I have had more than one person ask for hot coffees but iced and vise versa."
"I've had people ask if cold brew was/could be made hot."
"The list with Starbucks customers goes on and on..."
– PanPenguinGirl
"Can I get hot coffee cold? No I don't want cold coffee! I want hot coffee but cold!"
– Surviving2
...Well, Yeah
"I heard a similar story about someone who had driven across border from the U.S. to Canada."
"To paraphrase: "They checked my ID and inspected my entire car! It was like I was entering a foreign country!""
– anfrind
Oh My Lord...
Enough said.
Do you have any similar experiences? Let us know in the comment below.