People Share The Most Disturbing Facts They Know
There are just some things in life that are not necessary knowledge.
Maybe we always hold out that tiny bit of hope we will one day be on Jeopardy... because you never know.

It's the creepy facts about life that leave me wondering and reeling.
RedditorsPanzer_ace_8wanted to compare notes on the things we're aware of that maybe we wish we could forget. They asked:
"What's a disturbing fact you know?"
---
I mostly know disturbing facts about serial killers. As if that isn't enough. This should be fun.
Rest Well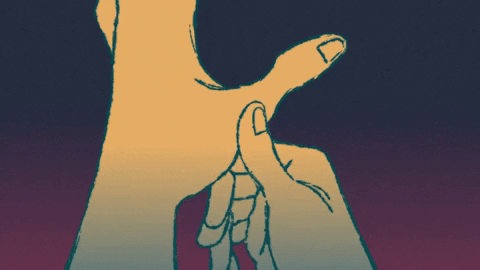 Hand Pain GIF by Petelski
Giphy
"The skin mites that live on your cheeks come to the surface at night to find mates and do the deed. Sleep well."
Hullaba-Loo
Cannibals
"If you were to eat another adult human being, it would be approximately 125,822 calories. I went down a rabbit hole on Google and yeah."
ItsmeTrev
"How come it's almost 126K?"
Blablabblue
"Math. Average human is say 70 kg, has 20% bodyfat, so 14kg of fat. Fat has 9kcal per gram, which makes it. 126,000kcal. Math never lies! But I do make plenty of mistakes. Probably it's more complicated - but directionally seems legit."
NekkidApe
Decay
"Within three days of death, the enzymes from your digestive system begin to digest your body."
floopowdertravels
"I guess it's reassuring to know your body decays before bugs can even get a shot to help your body decay, sort of like a medical death except your body willingly does it for you instead of doctors."
Standard_Zero_3152
People on Earth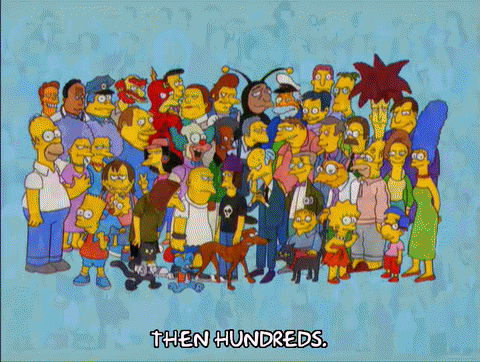 season 11 people GIF
Giphy
"If you are 25 years old, approximately 1/3 of the entire world's population that existed at your birth, have since died."
ColSurge
How do people just stumble upon this sort of info? Y'all must read.
Gotcha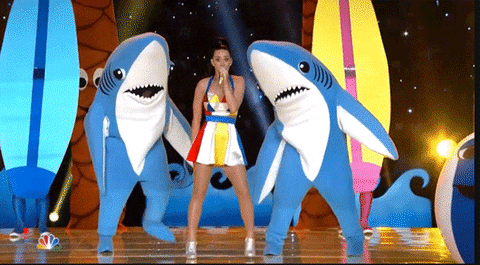 Katy Perry Sharks GIF by Vevo
Giphy
"Some species of shark will 'waddle' onto land in order to catch more prey."
CARMBLOVER
War
"During World War 2, Japan bombed China with fleas infected with the bubonic plague."
XoGossipgoat94
"Man they were just straight attempting to kill as many civilians of possible with that one."
JesseAster
"This is why a large portion of Chinese loathe the Japanese."
dicker_machs
Crush
"It's believed the USS Thresher or USS Scorpion (don't remember which one) took around 20 minutes to go to crush depth in it's free fall."
Jigsaw_isnt_a_puppet
"My Uni mate is a navy submariner and he said that if a problem isn't your department you just ignore it, because ultimately it either gets fixed or you die, neither of which are scenarios you can do anything about. Him and a friend were playing Fifa in their bunk when the whole sub tipped to 45 degrees. They just kept playing at 45 degrees… it got fixed eventually but they're reactor crew so nothing they could do to help either way."
FreegardeAndHisSwans
"body farms"
"There are places called 'body farms' were scientists and researchers look at the decomposition process of human remains in different circumstances. Basically a big area somewhere outside were human, sometimes pig corpses are laid out to be exposed to the natural elements or they're even enclosed somewhere (like the trunk of a car). They're actually important e.g. for forensic anthropology to help solve crimes. And you can donate your body for research after you die!"
ThisMessOfMe
Miles Long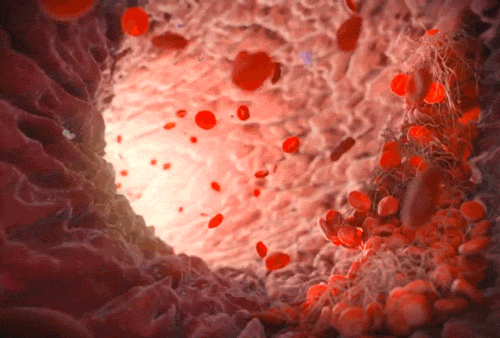 art GIF
Giphy
"Your body makes blood vessels of about 7 miles in length for every pound of fat you gain. This in turn strains your heart as it has to work harder to pump blood through the new network of blood vessels."
macaronsforeveryone
Well there are things I never needed to know. But now we do.

Want to "know" more?
Sign up for the Knowable newsletter here.
Never miss another big, odd, funny or heartbreaking moment again.
Reddit user Ivl231889 asked: 'How did that person in your class become rich?'
By the time we are in high school, we tend to try and keep track of our classmates and see what they are up to as we progress in our own lives.
Some of our classmates end up extremely successful, and sometimes, wealthy. Redditors know this all too well. They know how their old classmates became rich and are eager to share.
It all started when Redditor Ivl231889 asked:
"How did that person in your class become rich?"
He Was A Skater Boy
"He dropped out of high school at 15 to be a pro skateboarder. People laughed, he's now worth 50 mil."
"Rick Howard"
"Yeah it's pretty cool, went to school together and a bunch of us started skating around the same time, he just took it to the next level. Thankfully I wasn't of those laughing as I knew he'd make it but damn, numerous businesses and 50 mil later, well done my man."
– tekhed303
A Hell Of A Life
"Started online gambling sites back in the 90s, dropped out of high-school, millionaire by 20 Overdosed by 25."
– waltwalt
"What a life. That 5 year run would have been wild"
– superfresh23
Coders
"Sim for me- my friend wrote code for the online sites that was really good in some way (beats me how I'm no programmer) and they paid him through the nose for it. Next step he modified the code to work for stock market prediction and he runs a hedge fund. Owns like 8 houses in 6 diff countries and his own jet. I'm smart but not in that specific kind of way - I'd be jealous except he was a good nice dude before and remains. Couldn't have happened to a nicer guy and it was all through work and smarts"
– Remarkable_Green_566
Bitcoin
"I went to school with a kid that was all in on bitcoin from the get go. He was a hustler out of the womb, and held two jobs along with a couple different side hustles. He didn't have much in the way of a social life, so he invested probably 75% of his income. He was buying bitcoin when it was like $1. He went on to buy a number of gas stations/ convenience stores and apartment buildings. He went from a McDonald's fry cook to buying and selling classic cars as a hobby."
– Waffle_Maestro
"One of my former co-workers did something fairly similar. When he upgraded to new servers (we were self-hosting), he asked our owner if he could use the old ones to mine BTC. The owner said it was fine as long as he took them home to do it. Similarly to the kid in your story, he also spent some of his income buying up BTC (between the years it moved from ~$10 to $200 per coin), and then also was part of some BTC trading thing online."
"Fast forward to 2019, he sells off most of it at $16k per coin. He wouldn't tell our friend group (mostly old colleagues) how much exactly, except to confirm it was more than 1,000 coins. He did pay taxes on all of it... still bought a giant house outside of Boulder and now travels all over and is getting a Ph.D. for fun."
"Obviously he could've held longer, but I think he was just tired of obsessing over its value bouncing all over the place when he already had more than enough to retire comfortably in his mid-thirties."
– asmodeanreborn
"Not my close friend but a kid in my English class, really f**king smart kid. He entered a coding/robotics competition and got third place. He was pretty bummed out for a while. First prize was a scholarship for a pretty big university. And third place got a lousy 500 bitcoin. He kept the 500 bitcoin despite people telling him to cash it and get the $100 or whatever it was worth. Anyway he cashed it at the peak of bitcoin and is now living pretty f**king well with his $30mil."
– Sploshta
He Was The One
"A guy skipped class to MUD enough times that the best high school in the Midwest kicked him out. He rarely showered and smelled like death."
"He went to college at 25 and sold Volcano vaporizers from his dorm room. Over the next decade or so, he built that business into a large head-shop wholesaler. He cashed out eight figures liquid just before the pandemic."
"20% of our class are engineers today; 10% are doctors and 10% are lawyers. Ol' stinky is more successful than any of us."
– mzanon100
The Tech Field
"She started working for a little company called Microsoft in the mid-1980s. She retired at 40."
– dma1965
"My classmate worked at LinkedIn before it got big. Retired at ~30 by pouring everything into buying a house. Helps that he likes eating plain foods (bread, rice, porridge, potatoes, broccoli, carrots) and doesn't really spend that much money."

"He's basically been traveling 10/12 months a year since retirement."

– WeeBabySeamus
Stock Guru
"Smart guy. A little socially awkward but was a swimmer and in top classes."
"Went to UCLA, became a doctor (maybe a surgeon). Started to play the stock market for fun. Ran a bulletin board to talk stocks."

"Turns out he had Asperger and was able to read the stock market signs really well."
"Made $300M when the market crashed as he bet against it. Christian Bale played him in the movie about him, the Big Short."
"Mike Burry. Class of 1989. We knew each other. Not friends but acquainted. Couldn't be happier for the guy. Truly, happy he's done well. Not seen him since we graduated. If I did I'd totally (and jokingly) ask him for some cash. I'd try to make him laugh. He'd probably still be awkward."
– MW240z
Rich By Accident
"There's a lot of them that became rich. For most of them they graduated as engineers or medical doctors and simply did their jobs and were reward handsomely."
"But that friend became rich through trades. He took his student loan and bought a piece of very inexpensive land just outside of his city limits. Just by an absolute fluke the city announced shortly after that it planned to expand city limits to include his vacant land.... and suddenly it skyrocketed in value. This was at a time before any real internet and before everyone had a cell phone. And there's all these property developers trying to figure out who owns this land so they can buy it."
"Eventually his mom opens his mail and finds a past due property tax notice and an offer for about 20x what he paid for it."
"He took the first offer he got (and regretted it) and went to a bank and directed them to invest entirely in dividend stocks and for the dividends to be deposited directly into his bank account."
"He used that money to stay a student for life and basically never worked a day in his life. There was one point where it got close to him needing to get a job... but then one of the companies announced increasing their dividend."
"I have rich friends, and then there's him... just living off of his wealth. He doesn't have a great life, but he also doesn't work."
– garlicroastedpotato
I Knew Him Before
"I went to school and was friends with the guy who founded Uber. He offered to take my SATs for me for $500 as we looked alike and he is very smart. He was always "that guy.""
– ReflectionsGo2Ways
Don't Judge A Book...
"Big-time stoner who I always thought was a lazy scumbag who would never amount to anything.
He went on to start one of America's most successful marijuana edible companies. Classy billboard ads in multiple cities. My mom bought their CBD gummies for awhile. Every year he donates millions of dollars of his company's profits to bail funds for people of color who've been arrested for marijuana possession.
He is more successful and has done more objective good for the world than I ever have or will. Turns out I was a bitter judgmental loser in high school!"
– UOLATSC
Do With It What You Will
"Guy's parents told him in middle school, we're giving you $20k right now and that's all you'll get from us. He was told he can use it for college if he pleased or a car when he was old enough to drive. He started studying stocks like a madman, invested most of that money, and now he's a millionaire."
– maru_badaque
I need to start studying stocks...
Do you have any similar experiences? Let us know in the comments below.
Everyone hates hospitals, and rightfully so. They can be downright scary places with a lot going on. Sometimes, a hospital stay goes smoothly, but other times, it can turn out to be a complete nightmare that leaves you scarred for life. Here are some of the most unnerving encounters people have had while at the hospital.
Are we alone as a species in this vast universe?
Could there be life on other planets?
These are questions we've all wondered about.
And truth be told, we probably always will.
Some say they know aliens exist because they've been with them.
They've been taken and interviewed.
Redditor Churbuddahbread wanted to hear from the people who believe they have lived through meeting other life forms, so they asked:
"People of Reddit who have been abducted by aliens. What's your story?"
I have no alien stories.
Apparently, they don't want me.
I don't want them either.
NO!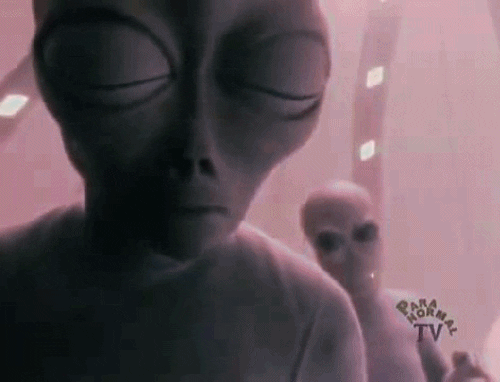 alien GIF
Giphy
"Not sure if this was a dream or not but I remember being in some kind of craft facing towards one of the walls. I felt a presence behind me and was so scared I couldn't move at all. Then out of nowhere I suddenly felt completely at ease. To my left out of the corner of my eye, I could see a big being that almost looked like a large tardigrade behind some kind of control panel."
"I turned to see another being. (Can't really remember what this one looked like) but I remember asking if I could ask some questions. I then received a reply which came from within my own head. 'No' And that's all I remember."
Churbuddahbread
It wasn't there before
"My brother-in-law says he was abducted. Don't know too much except he was out in the woods walking around. He was gone overnight. He never does that without letting somebody know that at least, he's leaving. He was found the next morning completely stunned. On shock. He could barely talk."
"He never really said what happened. He won't talk about it. He said only, that they performed examinations on him. His right foot now has what I can only describe as a birthmark on his right foot. It wasn't there before. That I know!! It wasn't there!! Now he's got a deep purple mark that covers most of his foot.? Wtf??"
Lazy-Lawfulness3472
In the middle of the night...
"They took me in the middle of the night. I was out feeding the cattle under the moonlight and then a big light came over me. The next thing I knew, I was driving down the road talking to what I later realized was my father. Or... the person whose body I am now in's father. He made a joke about the time being slow and he had seen an episode of XFiles that mentioned that time reverses when aliens abduct so they can drop you off at the same time as they picked you up."
"Except I think they mixed something up because I am not in the same body I left in. I still remember my whole life before but I am 18 years younger in this body so I don't really mind... But a few years after the incident, I went to see if the farm I once lived on was still there, but it took me a while to get there without suspicion. It's gone. Like it never stood. Maybe it was all just a dream."
Biggmamaaa
The sun is up
"One of my old high school friends believes she was abducted when we were in our teens. She said that one evening she was hanging out in bed, drawing in her sketchbook. A pair of lights like headlights on a car caught her eye out the window, but when she looked properly she could see that the lights were higher up above the road than they should have been, and there was no noise."
"The lights continued getting closer to her apartment building and eventually shone right into her window. She blinked, and the next thing she knew, she was lying down in bed under the covers and the sun was coming up."
CosmicJellyroll
Hybrids
"I was genuinely abducted by aliens. I was driving at night on my own down the M62 motorway in the UK around 3 am for a job I was working. The next thing I know, it's 5 am. 2 hours had gone nowhere. I thought I was going or mad at something and when I got home I went to bed."
"Anyways, when in bed I dreamed about what happened and it came back to me. On the alien craft, they put me in a room and I was lying on the floor... Then they put an injection into my arm which was this red, rusty-like liquid. I think this was to monitor me."
"Every few weeks or so I'll wake up in the morning at 5 am and I know I've been back there, but can never remember it. Sometimes I get a feeling that I've been visited or am about to be visited. It's not fun and nobody believes me, but what they're doing is using our genetic makeup to populate other planets with hybrid beings."
iLikeGingerGirlslol
It's always a joke until someone gets abducted by aliens.
Quick as That...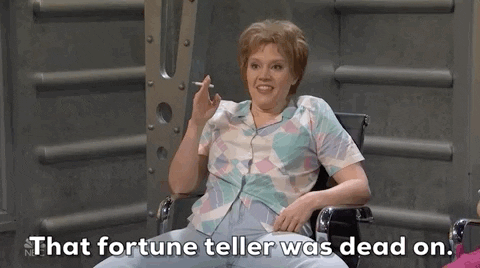 Kate Mckinnon Snl GIF by Saturday Night Live
Giphy
"It went from daylight to dark in a blink, my mom walked by where I should have been if I was asleep, but I wasn't there apparently, and I'll never forget that. Maybe it was aliens, never figured it out. When I was 7 or 8, during the summer, mid-day around noon. I'm home sitting by the door, looking into the lagoon waiting for my mom to come home. I blink and it's now nighttime. Quick as that."
"No fatigue, no sleep, just a blink. Hours have gone by and I'm sitting in the same spot, wide awake, except it's dark out. Just a blink. My mom is in the kitchen making food and playing music. When I go in, she asks where I was. I told her, sitting in front of the door waiting for her to come home."
"She didn't believe me and chalked it up to being a kid's joke, she's been home for hours now and assumed I was at my friend's house a couple of houses over. After that, I had a tiny lump on my right shin under my skin. I could roll it around a little with my fingers. It dissolved after about 2 months. If a BB pellet is 4.6 mm, it was probably like 1.3mm."
BYNCody
Therapy
"I actually had a therapist who treated people for their trauma from alien abductions. I'm not kidding and I'm not suggesting I really believed they were abducted. I'm not sure she even did but she seemed to suggest to me that if they felt traumatized by something that happened to them, she would help them."
Turbulent_End_2211
4
"You know I have been saying this since I was about 4. Somebody took me. I've always pointed to a spot on my calf that I've always thought it was a scar from a foreign insertion. But I have zero recollection of anything. And at 4 I was too young to make it up or even know the word alien. But my mom would always say the same thing no matter what, it's a growing pain. We could have been dying and that was her come back."
AssumptionAdvanced58
A Light Sleeper
"Not my story, but my Father in law swears he was abducted on a camping trip in the Northern Appalachians with about 4 other people. They hiked up near a lake and set up a campsite, and set up camp. He says they all remember swimming, then eating dinner but no one remembers cleaning up camp or going into their tents."
"They woke up about 10 yards away from their original site, in the exact formation that they had set up the camp, but all of the little stuff was in the same spot and there was no fire in the middle of the original area but not in the new one. They pulled out a measuring tape my FIL had in his backpack from work and measured the distance between the stakes of the tent poles and it was the EXACT distance between all of the tent poles from where they originally were and the new area."
"And before anyone says anything, my FIL is a super light sleeper( according to my MIL) and doesn't drink or do drugs, has no history or symptoms of mental illness, and was the first one awake. He still refuses to go hiking on that trail to this day, it's an easy hike so he isn't trying to be lazy and get out of it."
preggomuhegggggo
Fascinations
"I believe I have been abducted multiple times. Probably about once every two or three years since I was eight. I have been examined, but nothing invasive was ever done and the extraterrestrials seemed genuinely curious about humans. More often it is just an interview via telepathy about how I am feeling and how things are going."
"The last abduction was about six months ago. I remember waking up, seeing figures through my bedroom window make their way into my home, never waking my girlfriend or dogs, and leading me out to their craft. One even seemed fascinated with one of my dogs, but I sort of thought how angry and hurt I would be if anything happened to that dog and he backed away."
Termi89
Still Shaken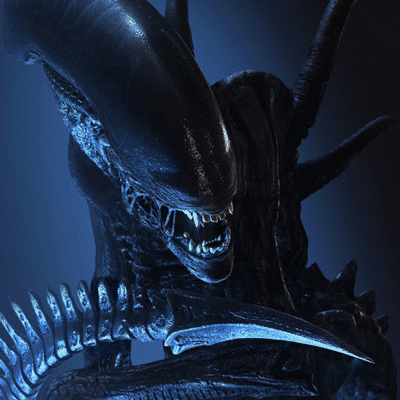 James Cameron Aliens GIF by 20th Century Fox Home Entertainment
Giphy
"Not my story, it's my dad's, he gets a little shaky and doesn't like talking about it when it's brought up. When he was about 15 he and his friend did the childhood tradition of camping in the backyard. Everything seemed pretty much normal and they went to bed at around midnight. Shortly after falling asleep, they both woke up in a state of extreme disorientation and mental fog 2.5 miles away from his house in a empty grass field."
"When he checked his watch it was 4 AM with no recollection of what happened those 4 hours. There was no alcohol or drugs involved. He never let me camp in our backyard growing up so I have a slight distaste for our extraterrestrial neighbors."
UrbanDowntown​
This is why alien movies still freak me out.
I can't do them, just in case.
Do you have any stories? Let us know in the comments below.
Though we may not like to think about it too much, we can all agree that living is getting more expensive by the week, and it's more important than ever to have a good, stable job.
But there are some jobs out there that have a questionable salary, though not in a bad way.
Redditor FlintTheDad asked:
"What's a job that pays extremely well for no reason?"
Slot Machine Repair
"Repairing slot machines. I'm currently at $32 per hour and the benefits package and vacation time are incredible. Some days are busy, but last year I managed to read a few books on shift."
- Ok-Sign5282
Support for Tech Support
"My job doesn't make six figures, but I'm overly compensated for making sure Tech Support doesn't cuss the customer out and pointing out what they could have done better."
"I'm not even the supervisor, I'm just the judgy f**k sitting in the corner office."
- judasmachine
Questionable Talent
"I worked as a recruiter for Microsoft during the pandemic. There was such a fever pitch for tech talent that we were basically throwing $175,000 checks per year at anyone with a pulse and a GitHub."
"We have a lot of amazing tech talent, but some of the people we hired had no business being there. Like, literally just twiddling their thumbs and handling one or two small kanban-type projects each week while reaping almost $200k a year. All of the big tech firms did."
"If you're wondering why they all laid so many people off, that's a big part of it. New hires now are being offered much smaller paychecks."
- Agatha_Penderghast
Management Consultant
"My job as a 'Management Consultant.'"
"I earn six figures and my only real task is to listen to my boss whine. That's it."
- BadAlphas
The Football Game
"Chase Daniel has been in the NFL for 14 seasons, has thrown 273 passes, started five games, and made 41 million dollars."
"Your answer is third-string quarterback."
- bargman
Mail Delivery
"Mail carrier for Canada Post. I make $230 a day (wages are based on route value) and I was home before 9 AM on Friday. I started at 7 AM."
"Mondays are longer, and Christmas can suck, but for 10 months of the year, I work a max of four hours a day. Unionized. Benefits that are better than Blue Cross and I pay $15 per month for PTO, personal days, etc. It's the best job I've ever had."
- skylla05
Genius Translation
"I once learned of a guy making 300k translating genius talk to others."
"He would talk to the genius engineers. They would tell him their ideas, since they are too socially awkward to do it themselves, and he would explain their idea to the rest of the team."
"That sounded like a great gig."
- SquirrelYogurt
Night Shifts at the Gym
"I get paid just under $80k working nights at a gym. Get all my work done in less than two hours and can basically do whatever for the other six. Watch football. Scroll Reddit. Whatever."
"Not awesome money but excellent for what I do."
- Human_Alternative_
Microphone Performances
"The 'let's get ready to rumble' guy and his brother, the 'it's time' guy, both make millions for holding a mike and saying a few lines."
- YouPeopleMakeNoSense
Birthday Party Clowns
"The average clown salary in the United States is $63,000 per year."
- mimzaroo
Lawn Mowing
"Honestly? Lawn mowing. I make ridiculous money running a landscaping and lawn care business (5%/95%). It's hard to overestimate how much people will pay to avoid physical labor."
- SlothfulWhiteMag
9-1-1 Operator
"I'm a 911 operator and make $36 an hour with no degree needed."
"I mean, I do have to listen to some pretty f**ked up s**t, but luckily I've been emotionally dead for over a decade now so it works out well for me."
- Razvee
Medical Administration
"Medical administrator. I know a married couple with the same med admin bachelor's degree, and a one a year online master's in medical admin. They walked out of college into six-figure jobs over ten years ago and now make ~$500k each."
"I can't tell if they actually do anything for the hospital. During the pandemic, they took advantage of healthcare loans they didn't have to pay back. They also would post all sorts of (hashtag) front-line healthcare workers' s**t during the pandemic... from their second vacation home because they worked remotely the whole time. Scabs."
- secderpsi
Event Technology
"Event technology. 75,000 dollars per year to set up projectors and microphones. Most of the day consists of waiting to break everything down after the event. Lots of downtime, like a lot. I was able to finish my Associate's degree with all the downtime."
- Rock33A
Optics Retailer
"Optics."
"You can be a normal retail sales associate and sell eyeglasses at LensCrafters and make up to $29.00 plus commission plus paid time off, sick leave, retirement, health and dental insurance, and free annual eyewear with a high school diploma."
- JustSomeApparition
While some of these jobs are likely more work than these Redditors suggested, it's cool to see that there are jobs out there that pay more than the work required, which is a refreshing opposite to the many jobs in the world where people work way too much for far too little money.