People Reveal Which Moment In Their Life Would Have Gone Viral If Someone Had Recorded It
Reddit user BlondCurvyDiva asked: 'What's the worst thing that's ever been said to you?'
When parents see their children grow aggressive and resort to hitting and throwing things, they often tell their children to "use their words".
While violence is never the answer, this advice might not always be the best advice, as sometimes words can hurt much harder than a punch or being hit in the head by a flying object.
Indeed, some people are still finding ways to recover from things people have said to them in the past.
Be it a demeaning insult or learning news they hoped they would never hear in their lives.
Redditor BlondCurvyDiva was curious to hear the most awful things people were ever told by another person, leading them to ask:
"What's the worst thing that's ever been said to you?"
Also, None Of Your Business!
"'Why did you stay with him?'"
"'Weren't you guys only dating for what, like a year and a half?'"
"Two years you mother f*cker and it was because I refused to leave the love of my life as he was dying rapidly of brain cancer."- Squeakymeeper13
Ugliness Comes From Within...
"I was at a bar to see a friend's band."
"Random woman walks over and tells me, 'People who look like you should stay home so the rest of us can have a nice time not having to look at you'."- ChrisNEPhilly
So Much For Love...
"The reason I want a divorce is because I don't want to spend the rest of my life taking care of someone who's handicapped"- Kervon37
The Truth Can Hurt So, So Much...
"'I'm sorry - there was nothing more we could do'."
"I was 27, the love of my life had died in my arms."- billdogg7246
Part Of Being A Parent Is Just Showing Up

"My dad left my family when I was a little girl."
"One day after years of unresolved feelings I talked to him on the phone as a teenager."
"'I just don't feel like you're my dad'."
"'We'll I don't feel like you're my daughter'."- callathanmodd
The Only Dreams That Matter Are Your Own

"When I was like 8 I was a huge dinosaur nerd."
"I remember saying I wanted to be a paleontologist, my mother promptly says 'honey I'm pretty sure all the dinosaurs will be discovered by then...' I was devastated."
"I think she thought she was looking out for me."
"Anyway now if a new dinosaur gets uncovered I send her a clipping in the mail (I make sure it's physical piece of paper so she knows I put work into it)."- twlvfngrs
"I'd say "forget about learning to draw, you will never be an artist anyway" said by both my mother and my younger bro, who are both pro artists who went to art school."
"Still gonna draw though. I'd do it even if it kills me."- RandomDude1801
You Only Stop Living When No One Remembers Your Name
"'You don't have a dad anymore'."
"Said by my mom when I asked how long he's going to spend in a hospital."
"I was 7."
"He died from a heart attack right before my eyes, and mom tried to resuscitate him for forty minutes while waiting for an ambulance to arrive."- NTaya
Not Everyone Is Meant To Be A Parent
"'If you get a girl pregnant, run'."
"Thanks for letting me know exactly how you felt about me 'dad'."
"I hope you've enjoyed the decades of no contact."- CleverName9999999999
News No One Wants To Hear
"'I'm sorry, she's gone'."
"Wife went to the hospital because she hadn't felt our daughter moving in her tummy for a couple hours."
"She calls and asks me to come to the birthing center immediately and I ask if I need to bring the overnight bag."
"She said 'no, just bring our son'."
"I knew then but couldn't believe it."
"Our daughter died from a true umbilical knot at 36.5 weeks and was delivered 2 days later stillborn."
"She was a perfectly healthy baby but was suffocated slowly by her own lifeline."- grievingdad2022
Some People...

"Was in a bad place mentally."
"Decided I am going to start jogging to help how I feel."
"Where I decided to go is a fairly main road."
"A car of young men decided to hang out the window and yell 'going to need to run faster fatty'."
"I have struggled with working out publicly ever since."
"Can't say my mental state is much better and that happened years ago now."- sirius917
Or, They Could Have Actually Helped Before...

"I had many 'friends' tell me I should have tried harder to get my husband into rehab after he died from alcoholism."
"Ya know yeah I just let it happen."- prpljeepgurl30
Probably Shouldn't Be Teaching Anywhere...

"In high school, one of my teachers told me 'you are the reason I hate coming to work and teaching here'."
"It was a challenge to stay focused after that."- unicycle-rider
Intimidation Is Not Encouragement
"My Gym teacher in 8th grade while I was running a relay race: 'you don't really try in anything do you'."
"I really was trying as hard as I can."
"F*ck that guy."- oboshoe
Most physical wounds or injuries can be treated and go away or diminish over time.
But when someone says something harmful to us or tells us something we never want to hear, it will linger in our memories for the rest of our life.
It's not uncommon to tell little white lies, especially to a child or sibling. After all, messing with them is half the fun. Sometimes, white lies and tall tales go beyond the standard Santa Claus or Easter Bunny. Not only that, but often, the person being told the lie goes on believing it for far too long. Here are some of the dumbest lies people believed.
"Someday we'll laugh about this."
You have to wonder if the people involved in the following historical events saw the humor at the time—or ever.
No matter.
People are laughing now.
Redditor crooked_yellow asked:
"Which event from history will always be funny?"
We All Fall Down
"Ancient Korea had special recording officials, whose job was to record everything. They were considered separate from the government, so the emperor of the time wasn't allowed to give them orders or tell them not to record something."
"Of course, some emperors would try anyway."
"On one occasion, King Taejong (15th century) fell off his horse while hunting. The recorder nearby wrote it down. The emperor insisted that it be removed from the record, and even tried to have the report destroyed."
"This lead to some nonsense as the emperor kept destroying their work, but the recorders kept copying it and hiding it in increasingly obscure places. And of course, recorded the whole thing as it happened."
"A few hundred years later, and the only thing that emperor is famous for is trying to hide the fact he fell off his horse."
- lankymjc
"I picture some dude writing something like:"
"'at 11:35am on Sunday, the 9th of September the emperor fell off his horse'."
"11:37 emperor says 'don't write that down'."
"11:39 emperor tries to take book from me'."
"11:43 emperor fell in mud chasing me yelling 'Don't write that!'"
"11:50 lunch is being set as the emperor cleans up. He is upset today'."
- Cbanchiere
Monkey See, Monkey Won't Do
"During the Napoleonic wars a French ship sank off the coast of Hartlepool England. The only survivor was the captain's pet monkey which he always dressed in a French military uniform. The locals freaked out because the law was that any French military found on British soil must be executed as a spy."
"So they ordered the standard punishment for spies—death by hanging. Except instead of dying, the monkey just kept climbing up the rope."
"Because it was a monkey."
"Hartlepool has since embraced their failure at executing a tinyprimate for military espionage."
"Their local football team mascot is H'Angus the Monkey."
- korar67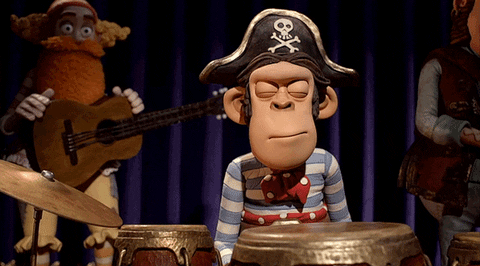 Giphy
Crying Fowl
"Spanish chicken farmer Juan Pujol Garcia tried to become a spy for the MI5, but they rejected him. He then applied to become a spy for the Nazi SS, who accepted him. The SS gave him the order to start a spy network in London, but instead he set up shop in Lisbon."
"There, he started feeding the Nazi commanders a bunch of BS intel, based on publicly available newspapers and magazines. They were believable enough for the Nazis to accept it as truth, even though they were completely made up. Every once in a while, he would be confronted about 'bad intel'."
"He'd blame it on one of his fictional subordinates, and told his commanders he had 'rectified the problem.' In one situation, he told the Nazi's that his subordinate 'had fallen ill' and later 'died'."
"A fake obituary was placed in the newspapers to back his story up. He even convinced the Nazis to pay a pension to the (again, FICTIONAL) agent's widow."
"The MI5 became aware of his existence after they saw the Kriegsmarine waste considerable effort in hunting down a non-existing convoy, based on Garcia's (again, fake) intel. They enrolled him into their ranks, and that's when his bullsh*ttery started getting serious.
"He was given the nickname 'Garbo' in reference to 'the best actor in the world' Greta Garbo."

"Because the Nazis believed he was 'one of theirs' they even sent him an Enigma, to encode the messages he was sending them. It was promptly turned over to the codebreakers at Bletchley Park."
"His most important work was on Operation Fortitude. He helped convince Nazi high command that the invasion of Normandy was a diversion—officers believed a larger army was due to land in Calais."
"For his 'efforts' he was awarded the Iron Cross, authorized by Hitler himself. Understandably, the medal was awarded via radio."
"He was then also given an MBE medal by the British king, making him one of two people known to have received such prestigious medals from both sides."
"He faked his death and fled to Venezuela after the war, where he then ran a bookshop. His secret identity was undiscovered until a journalist got interested in the story, and managed to track him down in 1984."
"He managed to finagle the real name of 'Garbo' from a former spy and then found Garcia after literally calling every 'J. Garcia' in the Barcalona phonebook until he managed to get in contact with Garcia's nephew."
"The whole story is just so incredibly goofy. It's a prime example of 'wait, that worked?'."
- Smallwater
Guess He Showed Them...
"When Persian king Xerxes punished the sea for ruining his bridge."
"He tried to build a bridge across the Dardanelles to get to Greece faster but a storm destroyed the bridge."
"'Infuriated with the sea, Xerxes ordered his soldiers to punish it by whipping it with chains 300 times and poking it with red-hot irons. Handcuffs were also tossed into the water to symbolize the sea's submission to his authority'."
- _Norman_Bates
"Literal embodiment of 'old man yells at clouds' energy."
- Excellent_Routine589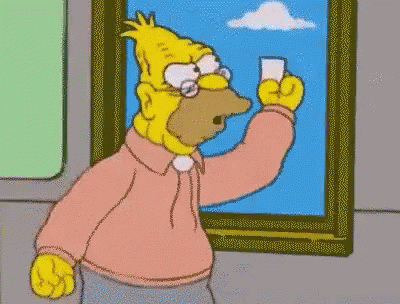 Giphy
Oops!
"In 1945 the Americans were pushing through Germany."
"General Eisenhower sent General Patton a message, instructing him not to take the city of Trier because it would require 4 divisions to seize the city."
"Patton sent a message back saying 'Have taken Trier with two divisions… what do you want me to do, give it back?'"
- SayNoToStim
R.I.P. Thag
"In 1982 cartoonist Gary Larson drew a cartoon of a caveman giving a classroom lecture, pointing to the spikes of a stegasaurus dinosaur tail and calling that the thagomizer 'after the late Thag Simmons'."
"That particular arrangement of tail spikes had no name at the time, so scientists who were fans of Larson unofficially named it the thagomizer."
- doublestitch
He Followed Us Home, Can We Keep Him?
"In 1866 when going to war, Liechtenstein's army of 80 men came back with 81 men after making a friend from the enemy's side."
- DavosLostFingers
Not Dinner!
"The Kettle War."
"It was the 8th of october 1784."
"The Dutch kingdom and then Holy Roman Empire had a short naval battle and the only casulty was a kettle full of soup that got hit by a cannonball and that was the only shot that was fired."
- AlwaysHappy4Kitties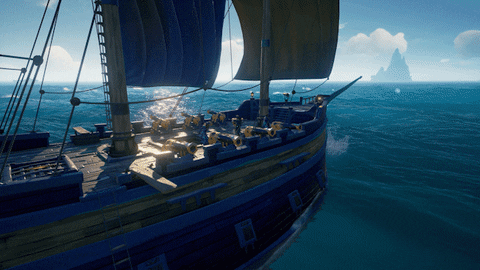 Giphy
Apparently Bugs Was a Republican
"President Jimmy Carter was attacked by a rabbit while paddling around in a rowboat."
"The President was minding his own business rowing around a small pond and fishing when a rabbit left the shore and swam deliberately towards the boat, apparently crazed."
"Carter splashed the rabbit with water, driving it away from the boat."
"According to Press Secretary Jody Powell:"
"'Upon closer inspection, the animal turned out to be a rabbit. Not one of your cutesy, Easter Bunny-type rabbits, but one of those big splay-footed things that we called swamp rabbits when I was growing up'."
"The animal was clearly in distress, or perhaps berserk."
"The President confessed to having had limited experience with enraged rabbits."
"He was unable to reach a definite conclusion about its state of mind."
"What was obvious, however, was that this large, wet animal, making strange hissing noises and gnashing its teeth, was intent upon climbing into the Presidential boat."
"Staff back on shore initially didn't believe the president's account, but a photographer managed to capture the moment."
"Carter's political enemies used the incident as fodder to show that he was weak and claimed that his response to the rabbit attack incited the Soviet Union to invade Afghanistan that same year."

- bookem_danno
While these events are funny in hindsight, one has to wonder if people saw the humor in the moment.
Hopefully we're laughing with them and not just at them.
Death is always shocking and sad, but the ways people die can give way to a whole host of other emotions.
Sometimes people die in the most pointless of ways. Other times, they die in some sort of freak accident.
And other times, they die in the strangest way... or in a very ironic way.
Redditors know all about people who died in a weird way and are ready to share.
It all started when Redditor Pitiable-Crescendo asked:
"What was the most disappointing movie you paid to see?"
Yikes!
"My mom's friend died in a plane crash. But she was on the ground. The plane fell on her."
– DessaDarling
Fast As You Can
"In 1923 Frank Hayes, a jockey from Ireland, died from a heart attack in the middle of a race. The horse, Sweet Kiss, ended up finishing in first place with the man's body still on top of it."
"The horse was a 20-1 outsider (very unlikely to win) and Hayes had never won a race prior to that event."
"Edit: He was from Ireland. The race that he died in took place in New York."
– yinzerthrowaway412
"I'd run really fast too if I had a dead animal on my back."
– boraras
Horrible Contest
"Jennifer Strange - entered a radio competition to win a nintendo wii. 20 contestants had to keep drinking water and the last to wee wins the Wii. I can't remember if she won but she died of water intoxication a few hours later"
– RGH81
"I believe that a nurse heard about the contest and even called to warn them about the dangerous, yet she was ignored and they still continued the contest."
"Pour soul... wasn't she trying to win it for her son or something?"
– PumpkinPatch404
Careful What You Dip
"2009: Vladimir Likhonos, 25, a student of Kyiv Polytechnic Institute from Konotop, was killed when his chewing gum exploded."
"Likhonos had a habit of dipping his chewing gum in citric acid to increase the gum's sour taste. On his work table police found about 100 grams (3.5 oz) of unidentified explosive powder which he used for chemistry studies. It resembled citric acid, and it is thought that he confused the two."
"The explosive was found to be four times stronger than TNT, and the explosion was possibly triggered either by reacting with Likhonos' saliva, or the pressure exerted by him chewing on the gum and explosive powder."
– Mwuuh
Proved His Case
"The lawyer who, while trying to prove that his client did not shoot the victim but the victim had accidentally shot themselves, managed to shoot himself with the gun and died later. His client was acquitted."
– Extension-Magician44
"Well, he's an effective lawyer that's for sure."
– addykitty
"Effective, but single use."
– batmassagetotheface
Just Acting?
"Tommy Cooper, a brilliant British standup/prop comedian had a heart attack on stage and the crowd thought it was part of the act. You can watch it on youtube, crowd is laughing the whole way through."
– Wendingo7
Guard Goat
"Not necessarily the weirdest, but I remember hearing about a guy who wanted to train a goat to be aggressive (I think he wanted a guard goat or something?). He did this by chaining it on a balcony and going out to beat it daily. One day the goat headbutts him, knocks him off the balcony, and kills goner."
– Willowed-Wisp
Novelty Of Molasses
"In 1919, a large tank of molasses broke open in Boston, Massachusetts. The tank was 50 feet tall and 27 feet in diameter. When it burst, 21 people died from the flood. Some were crushed by the wave of molasses and debris. Others suffocated under the dense fluid. One name for the event is The Boston Molassacre."
– SmartAlec105
Inside The Dinosaur
"The guy in Spain who died inside of a papier-mâché Stegosaurus statue. He'd dropped his cellphone and was looking for it inside the statue (I guess?) and he got trapped and died."
– gingermonkey1
"If it's papier-mâché can't he just break it and get out?

– TheSamethingAllOver
"I guess not."
"Edit: looking at this further, he was stuck head first down one of the legs. Not much you can do when stuck like that."
– Lamp0319
No Point In Growing It Out
"Heard about a man with a very, very long beard. During a fire, he accidentally stumbled on his beard while running for his life and snapped his neck."
– LadyDarcy24
"Not how I expected that to go after reading about the beard and the fire."

– helpfulUp123
So Very Strange
"Back in Victorian times, a man startled a mouse. The mouse panicked and ran up the man's pant legs, and continued up until it passed his shirt collar. Desperate for a place to hide, it darted into the man's mouth when he let out a cry of surprise and got lodged in his throat. Suffocation."
– CSPlushies
As if mice didn't scare me enough before I heard this story!