Molly Ringwald Weighs In On The Prospect Of A 'Breakfast Club' Reboot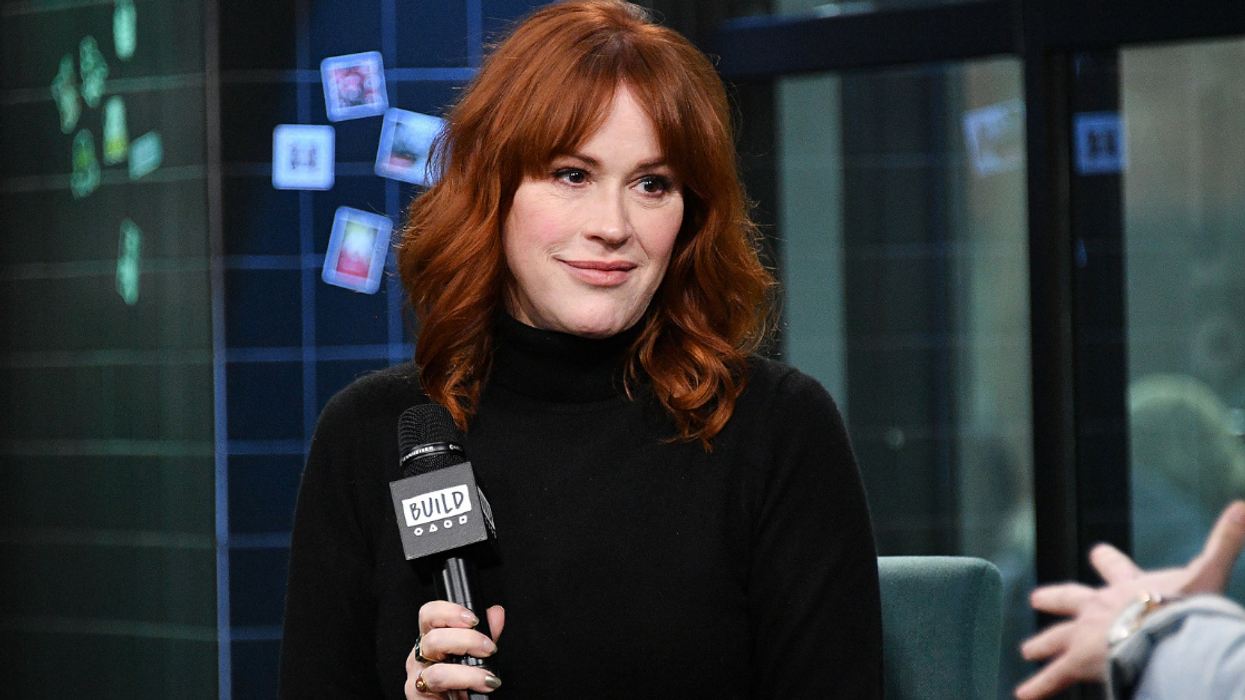 Photo by Dia Dipasupil/Getty Images
We live in an age of reboots and an unparalleled re-fascination with the 1980s.
2016-2018 saw a reboot of Stephen King's It, which invoked a John Hughes film gone wrong vibe as it followed the gang called "The Losers" battle the evil Pennywise the Dancing Clown; as well as the inception of Stranger Things, a Netflix series that takes place in Indiana, also in the 1980s. And now that we've had our fill of 80s horror...where is our John Hughes?
---
Well, it may not be such a good idea after all.
Molly Ringwald, the star of most of the John Hughes canon, has spoken out against rebooting any of the films in the franchise-specifically The Breakfast Club.
"You can't reboot the John Hughes movies," Ringwald said. "He doesn't want it to be done and I don't think it should be done."
Ringwald was deeply unsettled when rewatching the film with her daughter.
During a scene in which Judd Nelson's character John Bender joins Claire under the table, "he takes the opportunity to peek under Claire's skirt and, though the audience doesn't see, it is implied that he touches her inappropriately."
Ringwald found herself unable to shake an icky feeling from that moment:
"I kept thinking about that scene. I thought about it again this past fall, after a number of women came forward with sexual-assault accusations against the producer Harvey Weinstein, and the #MeToo movement gathered steam. If attitudes toward female subjugation are systemic, and I believe that they are, it stands to reason that the art we consume and sanction plays some part in reinforcing those same attitudes. I made three movies with John Hughes; when they were released, they made enough of a cultural impact to land me on the cover of Time magazine and to get Hughes hailed as a genius. His critical reputation has only grown since he died, in 2009, at the age of fifty-nine."
"Hughes's films play constantly on television and are even taught in schools. There is still so much that I love in them, but lately I have felt the need to examine the role that these movies have played in our cultural life: where they came from, and what they might mean now," Ringwald continued.

"When my daughter proposed watching "The Breakfast Club" together, I had hesitated, not knowing how she would react: if she would understand the film or if she would even like it. I worried that she would find aspects of it troubling, but I hadn't anticipated that it would ultimately be most troubling to me."
But Ringwald doesn't hate The Breakfast Club.
"I really loved those movies and by no means do I want to turn my back on them, but I would like it for people to take the good from that and are inspired by that to make something that is relevant to what's going on today because the world is a different place."
If you were hopeful that a potential The Breakfast Club reboot might have a ripple effect and bring the rest of the John Hughes canon back to life, sorry!
It looks like you'll just have to dig out those old 80s chestnuts and enjoy them the way they're meant to be enjoyed.
Reddit user Dizzy-Effort-1375 asked: 'What was the worst first impression you ever had with someone?'
We can all agree that first impressions are important. No matter what may happen after that first encounter, the first impression has a way of lingering.
But some bad first impressions are absolute deal-breakers. No matter how kind or awesome a person might seem, there's really no coming back from that...
Redditor Dizzy-Effort-1375 asked:
"What was the worst first impression you ever had with someone?"
Know Your Place
"When I went before the Judge, I was drunk and argued with him."
"That earned me 10 extra days for contempt of court."
"Fortunately, I'm now six years sober."
- TrailerParkPrepper
Cruelty Is Unattractive
"I met a girl at work. I thought she was cute until she bragged about purposefully hitting a bird with her truck because 'birds are stupid.'"
"There's nothing quite like some animal cruelty to kill your attraction level."
- Numerous_Share7920
Know-It-Alls Not Welcome
"A family friend wanted to introduce her new boyfriend to her friend group."
"The dude was a know-it-all. He talked over everybody, was very condescending, and was just a rude jerk."
"We gave him a do-over and he was even worse the second time."
"That was over 15 years ago and they're still together. I don't see my friend much anymore."
- dadobuns
How Rude, Indeed
"I went into a dealership to support my wife as she shopped for her car. A skeezy salesman came up, introduced himself to me, and immediately acted all buddy-buddy with me, and started calling me by my first name. He never acknowledged my wife."
"I told him she was actually the one car shopping, and he barely batted an eye and kept trying to sell to me."
"I politely reminded him, and he still refused to deal with her."
"We walked right out without a word. F**k that guy. And f**k Bob HowardToyota in North Oklahoma City."
- Misdirected_Colors
"More like 'Bob Howrude Toyota in North Oklahoma City'!"
- fueelin
Stop Micro-Managing Me
"I was 19 years old and just starting my first real full-time job. I was taken around by the foreman and introduced to my new co-workers."
"All was well until I was introduced to Walter, the resident old pr*ck, who was to be my supervisor. He took one look at me and said, 'When are you quitting?'"
"I never even got a chance. He rode my a** every day. He repeatedly told the boss I was no good and I should find another job."
"He got fired two months later for being a d**k to everyone. I lasted 36 years."
- Crazy-Rip-6496
He Probably Thinks The Moon Landing Was a Hoax, Too.
"I had to pick up a new coworker to drive to the location we'd be working for the week. After talking about the job for about 25 minutes, he asked, 'So what do you think about 9/11?'"
"I knew it was going to be a long week."
"I said the most non-committal thing I could imagine because we still had hours in the car. 'It was a thing that happened.'"
"He rolled his eyes and said, 'Oh, so you think it happened.'"
- YetAnotherZombie
The Impression That Sticks
"I was dating this girl in another town and I was there visiting her. We were walking around downtown and these six or seven guys cornered me in a dark parking lot."
"This one guy started shoving me, going on about how I was 'in his town' and he should kick my face in for being where I shouldn't."
"I was so p**sed. If he didn't have six other guys with him, it would've gone down very differently. He really embarrassed me in front of my girl. Thankfully, the cops showed up before it escalated though, with those 6 other guys there... I might be dead."
"20 years later, he married my sister. He's actually a really great guy, a great husband, and a great father to my nieces and nephew... but I still have a hard time getting past that first encounter. I HATE the fact that I have to think of him as a decent person."
- KingGuy420
The Worst Priorities
"I'm a nurse and when I worked on a ward for the elderly, I had to call and ask the family of a very lovely lady who was dying to come and see her."
"They only lived a few miles away from the hospital but took seven hours to arrive. By that time, the lady had passed away."
"I had to tell the family as soon as they arrived. I expected tears and sadness, but the daughter only said, 'It's okay. Mum had a great life insurance policy.'"
"No tears. No upset. They were all smiling and trying to hide it. I hated them."
- curiousopenmind22
That Hidden Sense of Humor
"My best friend. We met in middle school and she's blonde, gorgeous, and seemed super stuck up when I first met her. Obviously, I made assumptions about her."
"As it turns out, she's super socially awkward, and once I got to know her, I found out that she has a super bizarre sense of humor (which I love), but she doesn't show it to strangers."
"20 years later and we're still best friends."
- littlepinch7
The Entitled Parker
"I came to work one day when I knew a new person was starting. In the employee parking area was a car I'd never seen before using up two spaces."
"My first thought was, 'She's one of THOSE people.'"
"And she was."
- ctruemane
Troubling At Best
"I met a woman who went on to defend torture at length. Even when her arguments were debunked, she was still in favor of it."
- TheMoniker
Just So Humble
"A new hire I was supposed to train, let's call him Chad, because that's his name, came in on day one and said during introductions, 'Some people say they're a jack-of-all-trades, but a master of none; not me, I'm a master at everything I touch.'"
"And that was that, instant dislike. He was gone the next day, lol (laughing out loud)."
- cdaisycrochet
The Teen Cringe Is Real
"For me? I was 13, my brother brought home some college roommates with no warning, and I was (apparently) having a bad enough hair day to literally dive behind our couch to hide from them."
"My mom called me to come introduce myself, and I continued to hide, but when my mom sent my little sisters to find me, I was worried I'd get found, so I popped up out of nowhere and said hi, still standing behind the couch."
"To this day, my brother's roommates said that was one of the funniest things they'd ever experienced, lol (laughing out loud), and one of my cringiest memories. Haha!"
- ChewsOnRocks
No Point of Reference
"I guess it wasn't really bad, but it was weird."
"I was getting ready for work, went outside for a smoke, and my upstairs neighbor said 'Hey,' from her balcony."
"She wanted to introduce me to her visiting sister, so I said 'Hey there, how's it going,' and pointed at my name tag while saying, 'I'm Bob, of course.'"
"The sister looked at me a bit weird, but I didn't think much of it."
"Then I went back in to finish getting ready and realized I did not in fact have my work shirt on yet, so there was no name tag. So... as far as that lady knew, I just said my name and randomly pointed at my manboob. Like, 'Hey, I'm Bob... check THIS out.'"
"I mean, you can't go back and explain at that point. I have no idea what she thought of me but I am guessing it was somewhere between moron and weirdo, and I never tried to find out."
- Divayth--Fyr
The Lie of First Impressions
"It was an old school friend's partner I'd never met before. My friend's parents emigrated in the late 1960s and we were penpals after she went to New Zealand."
"Her partner was coming over alone for three weeks for some research to do with his MA at Otago University in Dunedin, and I said he could stay with us. This was back in the 90s."
"When he turned up at our door, he was in shorts and a vest and waving a bottle of spirits in one hand and a skateboard under the other arm. He was heavily tattooed (including his face) and dreadlocked."
"I maintained a friendly smile, but my heart did sink, I can't lie."
"I was so very, very wrong. He's a brilliant bloke. I didn't know he was half Maori and had never encountered Maori tattoos before. The spirits were for us (he's teetotal) and he was a great house guest."
"He always cleaned the bath after he used it, bought food and cooked really brilliant meals, very funny, the cats loved him, he took the dog for walks (who spent about three weeks gazing adoringly at him and slept at his feet) the kids and my husband loved him."
"He taught my kids the Haka. My kids got major kudos because the cool Maori skateboarder was staying at their house."
"When he left, he gave us a beautiful framed drawing he'd done of a native NZ bird on a Manuka shrub as a thank-you present."
"It taught me an important lesson. First impressions can be very misleading. I wish he'd been here for more than three weeks (although he's visited since)."
- PeggyNoNotThatOne
For the first impressions that were genuinely terrible, it's clear why these Redditors would not want to continue interacting with the people involved, or how they would not be surprised by people not wanting to interact with them.
But there are also reminders here of how first impressions, however lasting, can be wrong, and the relationship beyond the first impression can be wonderful if we manage to look past it.
The human race is supposedly touted as a superior species compared to other lifeforms on Earth.
Sadly, the generalization does not apply to everyone.
And while the notion that "nobody is perfect" is perpetually expressed to console those who've made regretful mistakes, that is not entirely true.
We see them in the news all the time.
Dimwits–which may include those with no social graces or lack of basic life skills in order to survive adulting through life–are among us.

Curious to those who've face-palmed in response to an individual's intelligence level, Redditor Joker101001 asked:

"Albert Einstein once said 'The difference between genius and stupidity is that genius has its limits.' What are some examples of this that you have experienced?"
People shared their observations about our intellect..or lack thereof.
Touché
"You shouldn't believe every quote you read on the internet. — Abraham Lincoln."
– _PM_ME_PANGOLINS_
"I think he was re-quoting Julius Caesar who made this comment the morning he was warned not to go out that day."
– Emergency-Ad-7002

Humbling Realization
"I think the more educated we become, the more we know how little we actually know, and it's humbling, but ignorant people really have no idea what they don't know, leading them to be confident about their ignorant stances."
– PuzzleHeadedNinny
Reaching Limitations
"Physics has kind of reached a point where we realized we don't know how anything works at a fundamental level. Every theory breaks down at tiny or gigantic scales. There is a crisis in cosmology, spinning glaxies have either disproven gravity or proven undetected dark matter, and the vast majority of matter and energy is undetectably dark. We don't know why matter exists (as opposed to antimatter, given their symmetries). We don't know how time and space work inside black holes, how many dimensions there really are, or whether space and time are quantized. We've kinda figured out ordinary matter at human scales, but that's it."
– turbotong
The Thing About Doubt
"There are limitations to human knowledge and our understanding of things. Rather than acknowledging these limitations, people fill them in with supernatural explanations. When you express uncertainty or doubt, you are mocked or they ascribe to a lack of self confidence."
"Doubt is the beginning of wisdom, not the end of it."
– RecalcitrantMonk

Knowledge Vs. Intelligence
"Knowledge is knowing a tomato is a fruit."
"Intelligence is combining the tomato with other ingredients to make something better."
"Knowledge is what we learn, intelligence is what we do with what we have learned."
https://pubmed.ncbi.nlm.nih.gov/7183572/
"Charisma is the exact opposite of what I just did - citing an academic paper on reddit."
– egregori3

People shared their most dullest interactions.
Dumbfounding Stupidity
"Oh boy. I once met a guy who was so stupid that he thought the ocean was alive and waves was it breathing. I remember one time in school he was doing homework for another class and asked the teacher "Where were the Canaanites from?" She jokingly said Nova Scotia. He asked how to spell it. This guy thought Beauty and the Beast was based on a true story about a girl and a bear. He would constantly make bets that he lost and never learned his lesson. He didn't know that chicken the food came from chicken the animal. I have met a lot of stupid people in my life but I have never met anyone quite so bafflingly stupid that I had to wonder if they, in high school, could even read."
– Not-sure-wtf-I-am

"A friend of mine once met a young woman who thought that fluttering leaves caused the wind to blow."
– Ancguy
"A former classmate of mine (in college, mind you) once said the sky was blue because it reflected the ocean."
"She thought the sky was blue everywhere, even hundreds or thousands of miles inland, because of the ocean."
– CrypticBalcony
Scam Fail
"I worked at an embassy. One day a guy came to me, completely explained a scam he did. It had failed and he wanted to know how I could help him "as we are countrymen".
"Called my colleagues at home and set them on his a** too."
– Dependent-Cress-948

Expected Expectations
"As a high school math teacher, I cringe when students hand in a test and say 'I think I aced it.' It's almost always an F."
– kasgar77
"One time I left a stats exam in college and texted my friend, "if I knew a test was going to kill me and I went anyway, is that suicide?" She said "I think it's more like when you walk through a bad part of town alone at night and get shot. It's not really your fault."
– FlockofDramaLamas

Kiwi Get A Clarification?
"When I was in middle school I convinced a girl that the kiwi birds laid the kiwi fruit as food for their babies. It wasn't that hard to convince her."
– ChaoticCauldron
Conspiracy Theorists
"Flat eathers. It is difficult to find more dumb."
– DrowningInMyFandoms
"These days, there's quite a bit of overlap there. Flat earthers tend to be very anti-establishment, but because they also tend to be very religious and Trump is supported by many fundies, there's a definite connection there. Plus, his support of conspiracies makes him seem like 'one of them'; some flat earthers thought Trump would be the one to expose NASA and the fake ISS, but that never happened."
– SyntheticGod8
I think COVID pulled back the curtain on the lack of intelligence on display.
Irrational mob mentality prevented US citizens from critical thinking and drawing irrational and false conclusions from sheer panic.
Remember the toilet paper shortage and the anti-vaxxer movement?
I was more terrified of our lack of humanity and compassion than the virus that was being allowed to spread thanks to ignorance.

More often than not, when men try to do something "sexy" in an effort to impress a woman, it tends to backfire on them.
Perhaps it is the visible amount of effort behind what they're doing or the fact that they don't do it as well as the movie star they took inspiration from.
Either way, despite their best efforts, women tend to find this sort of behavior anything but sexy.
In fact, more often than not, men have a way of turning people on without them even realizing it.
As it's often the little things that can make someone blush, anything from opening a door or slicing into a ripe tomato.
Redditor finnjakefionnacake was eager to hear all the sexy things men do without their even realizing it, leading them to ask:

"What things do men do that are sexy that they don't realize are sexy?"
When They Don't Even Know Their Own Strength

"Was getting busy with a girl one time and her head was too close to the headboard, trying to save her a potential concussion, I moved backwards and grabbed her under her hips and pulled / lifted her about two feet down the bed towards me."
"The sound she made and the look she gave me is still in my head lol."
"Afterwards she brought it up and said it was incredibly sexy how I could just handle and move her around so easily with so little effort."- Mage2177

So, So, Hot...
"I once changed a radiator in my house and that, without doubt, got me more attention and flattery from the women in my life than anything else I've ever done."- Jasper-Packlemerton
It's The NOT Knowing...

"It's a trap fellas, just live in ignorant bliss."
"Once you realize something is sexy, you will become a self-conscious dork about it and it will no longer be sexy."- PMMeUrHopesNDreams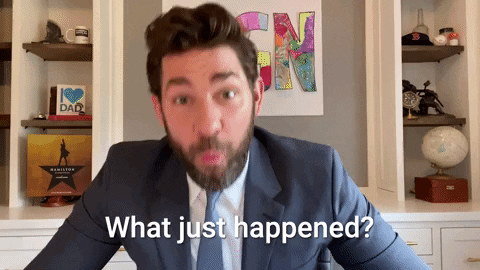 What Just Happened Wtf GIF by SomeGoodNews
Giphy
Magic Fingers

"My bf and I went to eat at this restaurant before we knew we had feelings for each other."
"While I would talk he would either laugh or smile and once while doing so he circled the rim of his glass with his finger."
"I later found out that he did it unconditionally but I short-circuited while he did it."- AsasLowkey
To Each Their Own...
"An ex of mine once got turned on when I told her I put a hand on the wall when I pee."
"I'm not sure I fully understand that one."- PaleAleDale
One Hand, One Heart...
"My wife has told me taking my shirt off with one hand is a thing."
"That kind of blew my mind."- trugrav
"One- handed steering wheel grip, reverse parking with their arm resting behind the passenger seat."- getupandstudy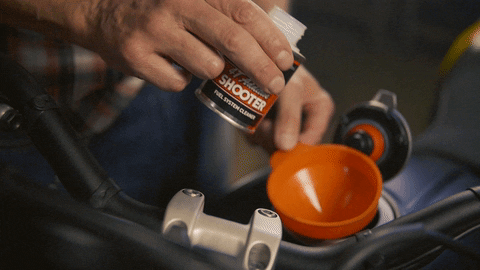 motor oil shot GIF
Giphy
Doing It For The Thrills... And Then Some...
"My girlfriend was locked out of her apartment and I picked her lock."
"I picked the hell out of that lock."- paulo39Atati
Hits The Spot...
"My heart does a little flip each time my significant other, ever so slightly puts his hand on my back when we're walking (to guide me), or if he's trying to squeeze by behind me."
" I don't know why that gets me fired up lol."- princess19977
Knowledge Is Power!
"Being booksmart."
"If I ask my boyfriend a history question and he randomly knows the answer to it or if I ask about a math problem and watching him figure it out is the hottest thing, like yea you divide those numbers baby."- maneaterlex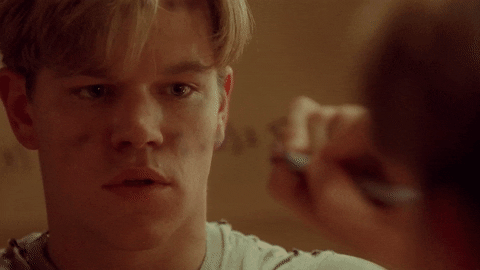 Matt Damon Math GIF by MIRAMAX
Giphy
Nice And Oily...

"An ex said it was hot watching me change her car's oil."- SafeAndSane04
Compassion Is Always The Answer
"Caring for helpless things."- Maleficent_Scale_296
Speed Can Be A Turn On...
"There was a study done in Japan to see what school-aged ladies saw as attractive in their male counterparts and 'running fast' was like number one or two for elementary and middle schoolers."- Embershot89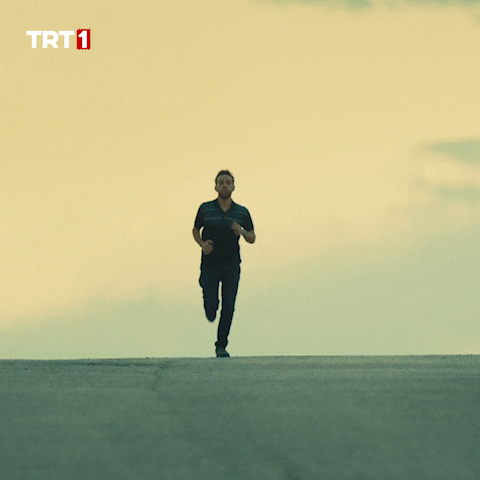 Run Fast Running Man GIF by TRT
Giphy
There's Someone Out There For Everyone
"I heard one million power in 'Rise of Kingdoms' gets you any girl you want."- Key_Vermicelli_3138
Strong And Efficient...
"Carrying as many folding chairs as you can at once."- KbossDPT2019
Most of the time, the sexiest things are also the most unexpected.
That being said, any good boyfriend knows that a wet t-shirt now and then can't hurt...