Morehouse College professor Nathan Alexander recently went above and beyond to help one of his students. Wayne Hayer was unable to find a babysitter for his baby daughter Assata, and had to bring her to class with him.
---
Instead of telling Hayer to take her home (which many professors would have done), or simply letting them sit quietly through the lecture, Dr. Alexander did one better; he offered to hold Assata for the duration of the lecture so her father could pay better attention and take good notes.
One of Dr. Alexander's other students snapped a photo of him teaching the class, wearing baby Assata in a front carrier. He then posted the photo and the story of Dr. Alexander's supportive actions.
The twitter user, @Original_Vaughn, commends Dr. Alexander's efforts to welcome and nurture his students:
"It was this encounter that truly showed me the power and impact HBCU's can have for the black community, for this professor to understand that life happens and sometimes there are just no ways around it."
You can see Vaughn's posts below:

Professor Alexander spoke to BuzzFeed News about the class, stating that he was initially a little worried about watching Assata during the lecture:
"I'm not a father, I don't have children of my own. I was worried that she would start crying. But it actually went perfectly. She was extremely well-behaved."
"When she started falling asleep, I told the class 'I guess I'm being boring right now,'"
Dr. Alexander noted that Hayer frequently had to leave his office hours to care for his daughter, so he told Hayer that he could bring her with him whenever he needed to.
"Anything I can do to support you, let me know. That's what I'm here for as an educator."
Many people congratulated Dr. Alexander on his passion for helping his students.
Some professors shared similar stories.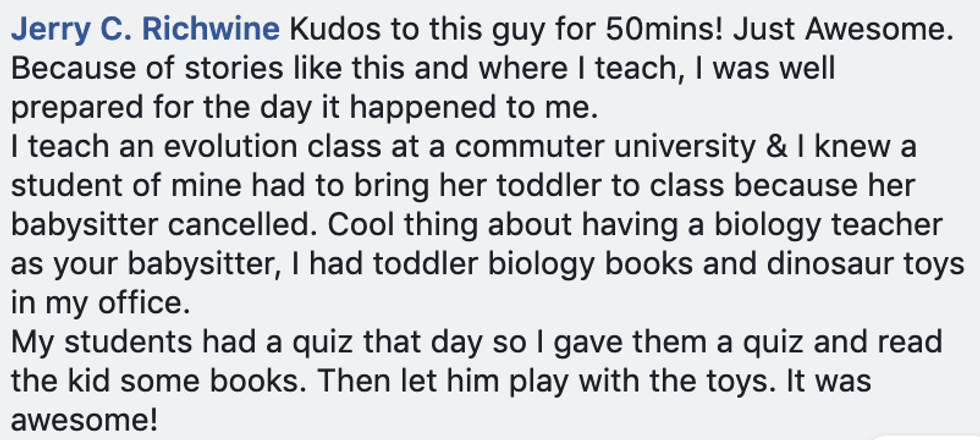 Jerry C. Richwine/Facebook

Nur Amer/Facebook
Several students talked about their professors as well.

Kaysi Watson/Facebook

Melissa Nichols Frey/Facebook

Carin Coursey/Facebook
Considering some college environments not only do not accommodate parents, but can be overtly hostile to them, it is great to see a professor who goes out of his way to help his students succeed.