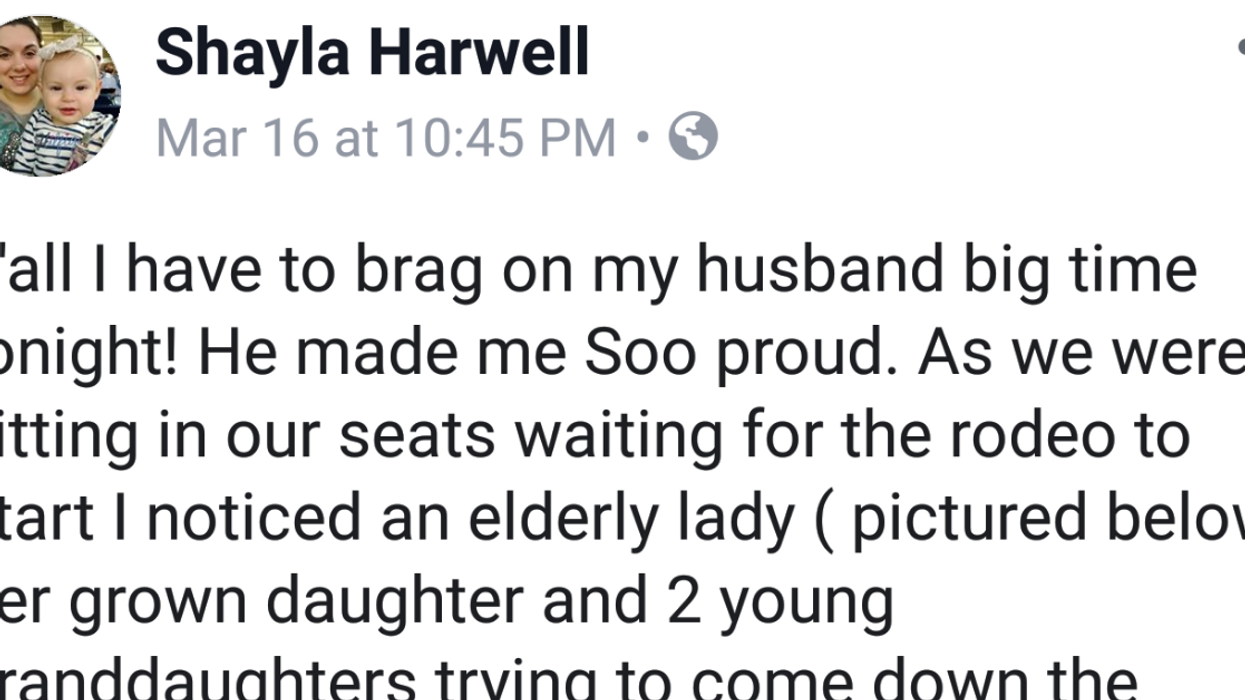 For some people, it's just instinct to want to help when they see someone struggling. It should really be more common, but it isn't.
That's why everyone loves that this was the case for Thomas Harwell at RodeoHouston last weekend.
---
Shayla and Thomas Harwell were attending RodeoHouston last weekend when they noticed an elderly woman who was struggling to get down the stairs to her seat.
Thomas immediately went over and offered to help her to her seat. After seeing her to her seat, Thomas let her know that he would be back to assist her up the stairs after country star Brad Paisley was finished performing.
When he went back after the performance, he realized that she didn't have the strength to make it back up the stairs, so he offered to carry her up.
Thomas' wife Shayla posted the story on Facebook:
"Y'all I have to brag on my husband big time tonight! He made me Soo proud."
"As we were sitting in our seats waiting for the rodeo to start I noticed an elderly lady ( pictured below) her grown daughter and 2 young granddaughters trying to come down the stairs. The elderly lady was having a rough time."
"I pointed them out to Thomas Harwell and said they may need help. Not only did he help get her to her seat, but she did not have the strength to come back up the stairs. So, he carried her!"
Harwell's story was well-received on Facebook, with many appreciating his willingness to lend a hand.

Sharon Vickery Honrysett/Facebook

Janice Poretta Moench/Facebook

James Steve Rayborn Jr. /Facebook

Michelle Nelson/Facebook

Donna Haddock/Facebook

Pauline Campbell/Facebook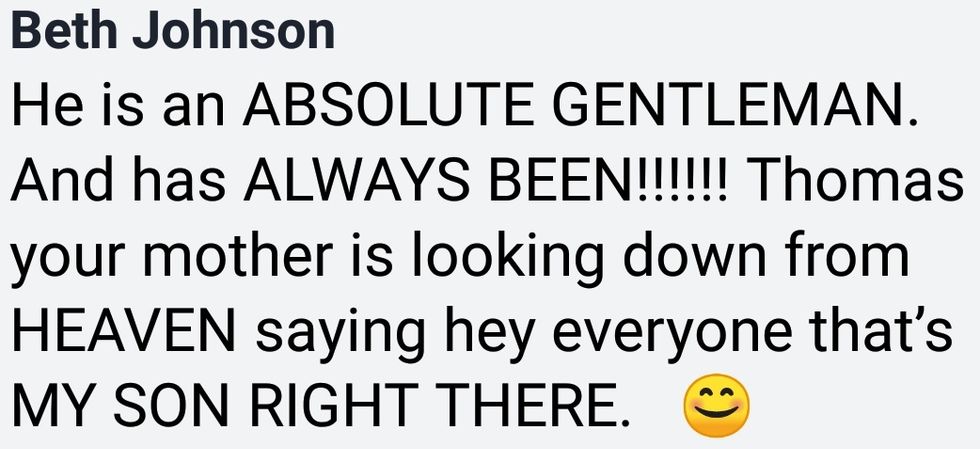 Beth Johnson/Facebook

Hope Martinez Myers/Facebook
Shayla Harwell told Fox 13 that she and her husband Thomas are both firefighters with the Hardin Volunteer Fire Department.
She spoke to the Houston Chronicle as well:
"It's in our DNA. It's in our blood to help. Kindness should be a way of life."