Kindness still exists, and community can save lives, and that is exactly what happened in a small LGBT bookstore. Sometimes knowing that you aren't really as alone as you feel can make all the difference in the world.
---
Twitter user @TweetChizone shared the story in response to a question from Nicole Cliffe:
"What is the kindest thing a stranger has done or said to you?"
@TweetChizone shared the emotional tale in a series of tweets.
"Oh God I can't even tell this story and not cry."
"I used to manage an LGBT bookstore, when bookstores were still a thing. One night, a caller says he thinks he might be gay and is considering self-harm. We were not a crisis center! But as long as we're talking, he's safe, right?"
He goes on:
"So I talk to this guy and I answer questions, and I try to be encouraging and I'm maybe sounding a little frantic and I'm definitely ignoring the 4-5 customers in the store, and this angel of a woman puts her hand on my shoulder and asks for the phone.
"'My turn,' she says."
"And SHE, this 50-something lesbian talks to this stranger on the phone. And a LINE FORMS BEHIND HER. Every customer in that store knows that call, knows that feeling, and every person takes a turn talking to that man."
"That story comforts me so much to this day."
Pardon us while we cry in the corner for a moment.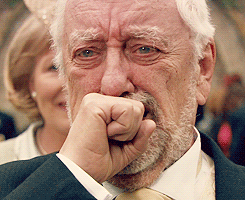 media2.giphy.com
Twitter users were similarly emotional.
Others recalled similar experiences in LGBT bookstores and libraries.
Community brings us together and saves lives. You don't have to be a trained professional to help bring someone back to a better place.
It's no secret that suicide and self-harm are major issues in the LGBT+ community; there's only so much adversity a person can face before it starts to negatively affect them. Merely knowing that they are not alone, that there really are people out there who understand them, can make a world of difference to someone who has gotten to that point.
If you are considering suicide, or just need someone to talk to, there are people out there who are happy to listen and want to help.
The Trevor Project provides help to LGBTQ youth. Their hotline can be reached by calling 1-866-488-7386 or texting START to 678678.
The Trans Lifeline is a peer-support hotline dedicated to support for trans and trans-questioning people. They can be reached at 877-565-8860.
The National Suicide Prevention Lifeline also provides support and crisis intervention. They can be reached by calling 1-800-273-8255.