All parents lie to their kids once in a while. Sometimes we do it without even thinking. It's literally built into our holiday traditions! Figures like Santa, the Easter Bunny, the Tooth Fairy, Cupid, Leprechauns... all lies. They're adorable, acceptable lies, but they're still fundamentally outright lying to your children. So some people are a bit shocked that Kristen Bell openly admitting that she sometimes lies to her young daughters has got people so angry.
---
Let's provide a little context. Kristen's daughters are three and five, not exactly ages that are notorious for being patient or understanding. During an appearance on Today, she explained that she just doesn't tell her daughters when it's their birthday if it falls on a day of the week that they can't have a party. They're impatient and kids don't have a great grasp of the calendar anyway, so:
"If it's, like, a Wednesday and we can't celebrate and we're both working late then, guess what, your birthday is on Saturday."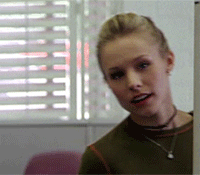 media0.giphy.com
She's not out here skipping their birthdays or lying to them and telling them they were born at a completely different time. She's just trying to keep the peace and help things run smoothly until she thinks her kids are old enough to understand that you don't always have to have a party ON your birthday.
Quite a few people on Facebook were upset about the lying.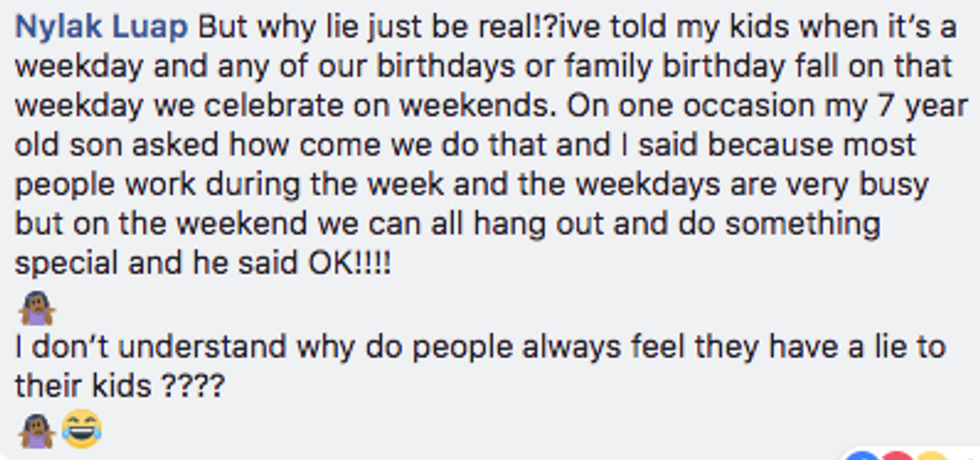 Facebook

Facebook

Facebook

Facebook

Facebook
Most people, though, totally understood.

Facebook

Facebook

Facebook

Facebook
Facebook
And some even took to Twitter to make confessions of their own.
@TheSocialCTV When they were little, the "Mommy Dot" worked great. I told them that whenever they lied, a dot that… https://t.co/Kr50XJBwCR

— Newcybersol™ (@Newcybersol™)1538495135.0
@TheSocialCTV That the playground is 'closed' for cleaning so we don't have to stop. Are we bad parents??

— Matt Stewart (@Matt Stewart)1538529657.0
@busyzenlife @TheSocialCTV I had to hide them, they never believe me! https://t.co/9efqdYnfGg

— Vanessa V. (@Vanessa V.)1538496274.0
@TheSocialCTV Not sure if this is a lie per se but my Mum told us we couldn't get out of bed Xmas morning until 7am… https://t.co/7ZpcmdJbR1

— Karen Ussher (@Karen Ussher)1538501622.0
So tell us, have you been known to lie to your kids? If so... what were your lies of choice? You can watch Kristen's full interview/confession here.