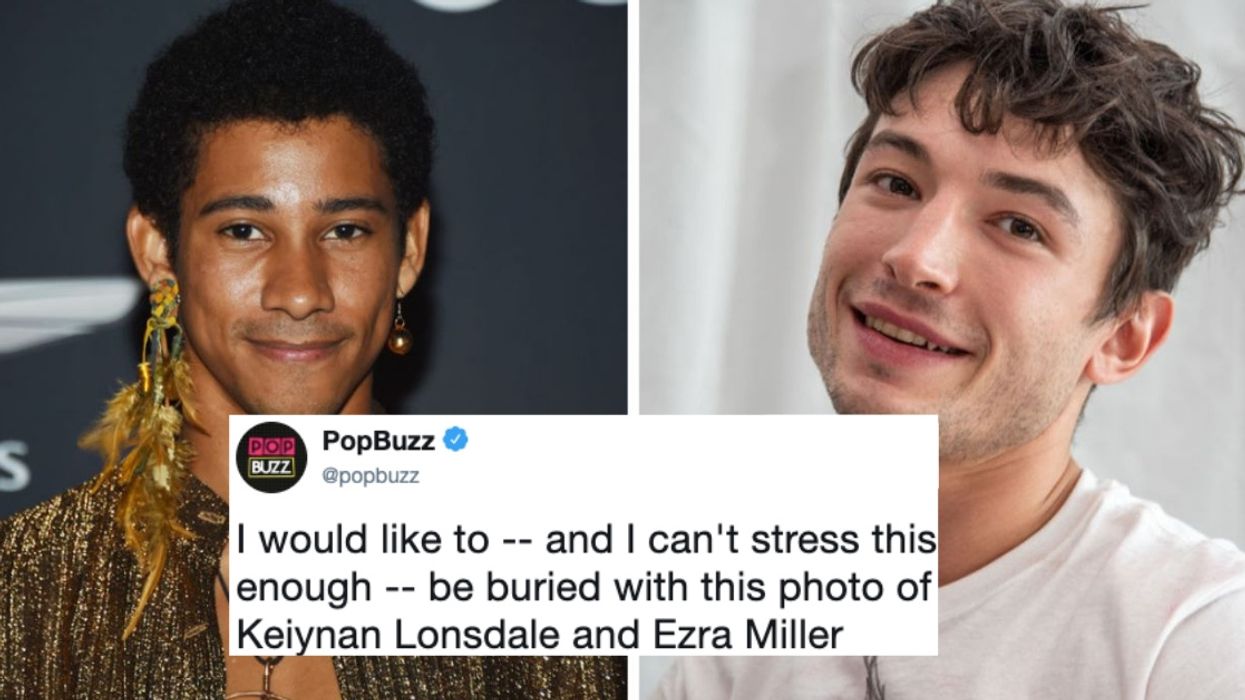 Amanda Edwards/Getty Images // Vera Anderson/WireImage/Getty Images // @popbuzz/Twitter
Actors Keiynan Lonsdale (The Flash, Love, Simon) and Ezra Miller (Justice League, Fantastic Beasts and Where To Find Them) will appear in a feature for the Met Gala's upcoming theme inspired by Susan Sontag's seminal book Notes on Camp, and they are serving lewks.
This year's exhibit "will take a look at camp fashion throughout history in the context of Sontag's definition of the style, exalting its 'love of the unnatural: of artifice and exaggeration,'" according to Billboard.
---
The two can be seen in the latest issue of Vogue, which excited the hell out of Lonsdale, who took to Twitter to express his gratitude.
Called my mum up and said "I'MA BE IN VOGUE!!!".. Life man 😭😭😭 thank you with all my heart @voguemagazine 💖 https://t.co/m8BYdIEH1f

— Keiynan Lonsdale 🌈 (@Keiynan Lonsdale 🌈) 1555429712.0
Just look at this dress!
Keiynan Lonsdale in a powder-pink dress by Vivienne Westwood, fall 1995, photographed by Ethan James Green for Vogu… https://t.co/kkvW8HUibC

— Ξvan Ross Katz (@Ξvan Ross Katz) 1555432983.0
And just look at Ezra Miller meeting Lonsdale's stride with impeccable ease.
💖⚡️ @voguemagazine https://t.co/lBLFVMD8qU https://t.co/8jXFT2qToR

— Keiynan Lonsdale 🌈 (@Keiynan Lonsdale 🌈) 1555431506.0
Fans are psyched.
good morning to whoever at Vogue put Keiynan Lonsdale and Ezra Miller in Thom Browne https://t.co/3LGDQEYZXb

— Sofa Coca-Cola (@Sofa Coca-Cola) 1555420875.0
a doll for real https://t.co/P54iikbBVv

— mia 🌻 (@mia 🌻) 1555431777.0
This 🔥🚨🔥 photo of @KeiynanLonsdale & Ezra Miller is to celebrate the Met's fashion exhibition — and Met Gala theme… https://t.co/v79k4mzY5E

— Adam B. Vary (@Adam B. Vary) 1555456798.0
I would like to -- and I can't stress this enough -- be buried with this photo of Keiynan Lonsdale and Ezra Miller https://t.co/XTh6qdZ3o5

— PopBuzz (@PopBuzz) 1555431627.0
Keiy be having his own kingdom as soon as he drop his album spreading magic and miracles with every song https://t.co/CsUX5viHh5

— 𝓗𝓮𝓪𝓽𝓱𝓮𝓻 𝓜• (@𝓗𝓮𝓪𝓽𝓱𝓮𝓻 𝓜•) 1555430089.0
Here's the inspiration for this year's Met Gala theme:
The Met Gala is always very hit and miss with who actually interprets the theme well. I am so intrigued as to who w… https://t.co/6VKSHBv43b

— Emma Fraser (@Emma Fraser) 1555348365.0
We better see some serious camp this year.
"Camp is a woman walking around in a dress made of three million feathers." Who is going to take this literally and… https://t.co/BdhXxpS1UH

— Emma Fraser (@Emma Fraser) 1555420284.0
reading a ton of essays on camp so i don't go into the met gala blind 💅🏻 https://t.co/tvtTqomwze

— 🏹 (@🏹) 1555429526.0
my motivation to get out of bed for the next few weeks is the met gala i literally say to myself each morning "we'r… https://t.co/sPumBlng27

— lauren 🍊 (@lauren 🍊) 1555431383.0
This year's Met Gala is co-chaired by Lady Gaga, Harry Styles, Serena Williams, Vogue Editor-in-Chief Anna Wintour and Gucci creative director Alessandro Michele.

Michele in particular is a big fan of this year's theme, telling Billboard:
"I'm still kind of camp. I adore putting on something strange and exaggerated and worn in the wrong way. I mean, why not? It's not forbidden."
You bet it's not, and we're looking forward to seeing who pushes the envelope the most successfully.