Bong Joon-Ho made history this weekend with his film Parasite, the first foreign-language film to take home an Oscar for Best Picture at the Academy Awards.
Parasite also won in the Best Foreign Language Film and Best Original Screenplay categories, and Bong received the award for Best Director.
---
Not everyone was happy about the South Korean director giving the majority of his acceptance speech in his native language, however.
Right-wing pundit Jon Miller decided to chime in with his two cents on Twitter. He was evidently quite unhappy with Bong's choice to speak his own language and a Korean film winning Oscars .
Miller—who works for Fox News reject Glenn Beck's The Blaze—posted:
"A man named Bong Joon Ho wins #Oscar for best original screenplay over Once Upon a Time in Hollywood and 1917."
"Acceptance speech was: 'GREAT HONOR. THANK YOU.'"



"Then he proceeds to give the rest of his speech in Korean."



"These people are the destruction of America."
Singer-songwriter John Legend wasn't having any of it, though.

Legend responded:
"Do they pay you for these dumb takes or is this something you do for fun"
Legend wasn't the only one to take umbrage at Miller's casual xenophobia, though.
Celebrities and everyday people alike joined in dunking on Miller.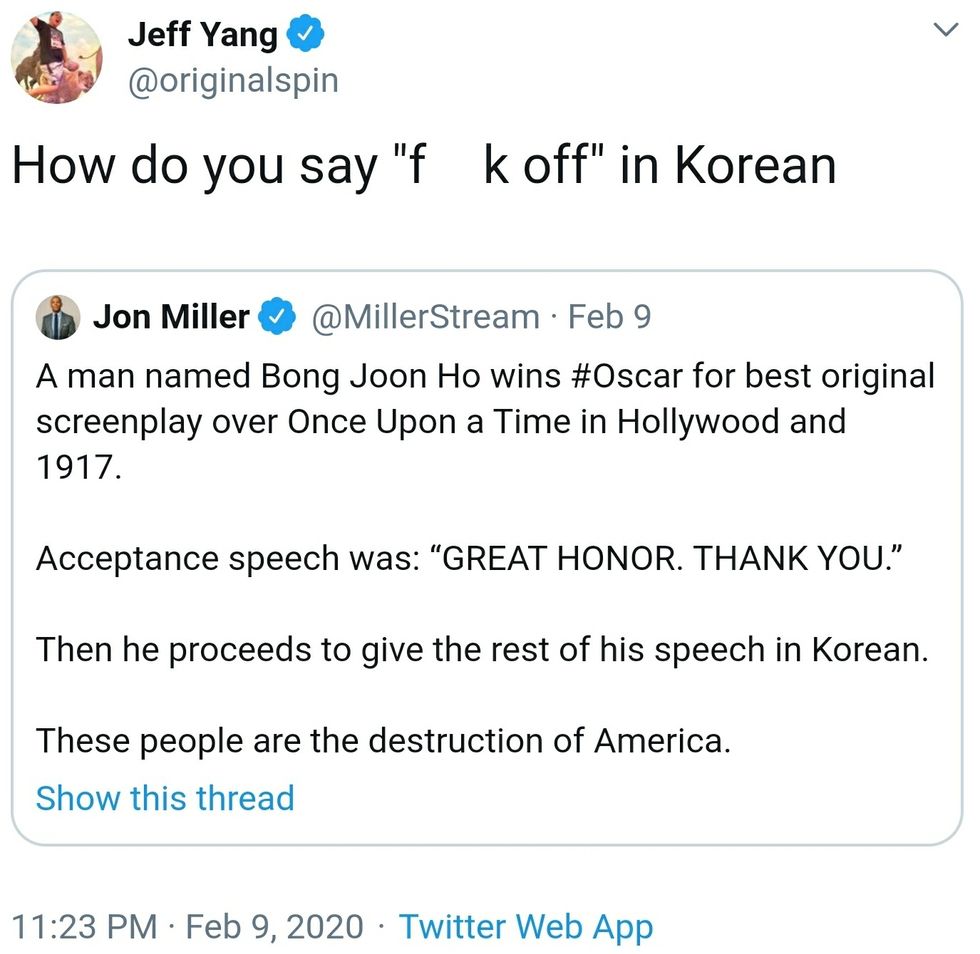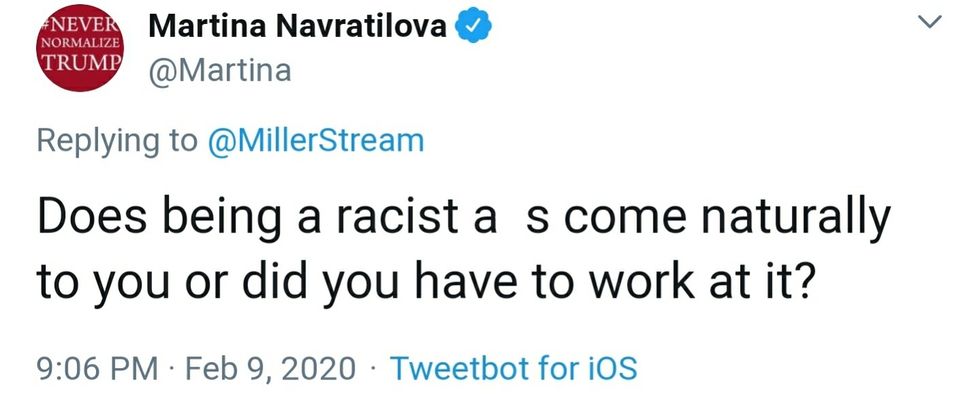 Miller quickly tried to backpedal and claim people were misinterpreting his tweet.
But his revised interpretation isn't really any better. Complaining because a Korean film and filmmaker won the awards is just as problematic when numerous British films have won with no such complaints.
1917—one of the films Miller claimed should have won—is categorized as a British film.
Miller didn't clarify if it was the Whiteness of the cast or the language they and the filmmakers spoke which made 1917 acceptable and Parasite not.
Referencing another historic Oscar moment—Māori filmmaker Taika Waititi's Indigenous land acknowledgement during his acceptance speech—writer and former child star Mara Wilson made an important point about languages.
Xenophobia and racism really aren't a good look. And backpedaling instead of just apologizing definitely didn't win the support of any of Miller's detractors.
Parasite won 4 academy awards based on its own merits and Bong giving his acceptance speech—a very emotional thing to do—in the language he's most comfortable with just makes sense.