Honest People Share Stories About Reacting Poorly To Being Rejected
Honest People Share Stories About Reacting Poorly To Being Rejected
[rebelmouse-image 18350992 is_animated_gif=
dam=1 expand=1]

Love is a mighty powerful force. Sometimes the only thing that causes the stirring of emotions more than true love in unrequited love. We've all fallen victim to it, it's a right of passage in love; to have your heart rejected by the person you're SURE is the one. "If only they's see it!" You know what won't make them see it? You on the lawn at 4AM with a tire iron and their car on fire. We're all guilty, men and women alike.

Redditor u/reliant_Kryptonite asked the gents out there Men of reddit, we hear all about horror stories about how crazy men can be when rejected, but what's been your crazy experience when you rejected a woman? Sometimes it's just not meant to be ladies.

ALWAYS BRING YOUR OWN COMPUTER...

I dated a girl for a couple weeks and on our third date, we chilled at my place and talked. She told me that she thought men who watch pornography were disgusting and if they were in a relationship, it was cheating.

Ten minutes later, she out of nowhere asked to use my computer. I knew the last thing I had open was not going to impress her, so I said maybe some other time. She got WAY too angry at this and said her intention was to write me an email about how much she liked me.

When I said I thought it would be best to call it a night and drove her home, she went quiet until about halfway there, when she says "My Dad's best friend is a cop. I can say what I want." I got the gist but figured it was an attempt to make me reconsider. I dropped her off and she started crying very loudly, fell down in her parent's driveway and crawled to the front door.
I SEE YOU...
[rebelmouse-image 18350993 is_animated_gif=
dam=1 expand=1]

I rejected a girl once, then about 2-3 months later, I was catfished by her... she was _"only proving that I'd end up going out with her anyway" _...by pretending to be somebody completely different. A police report and a restraining order later, she's out of my life.
HERE WE GO...
[rebelmouse-image 18350994 is_animated_gif=
dam=1 expand=1]

Happening as we speak. Waiting for the police, second time in two days.

She wanted to live together. I said no. Cue a mental health warrant, cuffs, pysch ward, and release, all in twelve hours.

That was yesterday. Today she's started the same cycle and I'm just hoping the paperwork from last night and the 100+ texts she's sent me are enough to avoid another spell in the nuthatch.
IS THIS MELROSE PLACE?
[rebelmouse-image 18350995 is_animated_gif=
dam=1 expand=1]

Went on one very low key date, that she asked me on, and let her know as gently as possible that I wasn't feelin' it. This chick just pulled all sorts of s*. Showing up at random places where I was, pretending it was a coincidence. Calls from different numbers. Making fake social media accounts to not only try to contact me, but also befriend my friends. Made up friends and relatives dying. Posting photos of me, unaware she was nearby. Made up boyfriends to try to elicit jealousy. Even a fake pregnancy scare from one of said fake boyfriends. Really didn't understand how she thought that one was going to sway my opinion.

This sort of stuff went on for a while until I moved away for unrelated reasons. This was many years ago now and I can't even remember her name. I hope she has forgotten mine as well.

Another woman pulled the "I'm pregnant" card on me after a breakup. Positive test in hand and everything. Drove her to a clinic for a professional test. She wasn't of course, but what a crappy tactic.
ALL'S WELL THAT ENDS WELL...
[rebelmouse-image 18350996 is_animated_gif=
dam=1 expand=1]

To be fair, I was totally in to the girl at first, so my rejection might have stung a little more. We were FWB and she was legitimately super attractive to me. Just, as time went on I learned more and more about her that made me not want to be WITH her. Sex her, sure, but not like, build a life together.

So when she made the move for more than FWB, and I said no, she told me she was going to go sleep with a dude she knew I hated, film it, and send it to me.

They're married now, with kids. So, I mean, good on them I guess.
MOMMY IS ON IT!
[rebelmouse-image 18978371 is_animated_gif=
dam=1 expand=1]

As a full grown adult, I had an ex come to my parents house, while I was there. She had found out on Facebook because I was tagged in posts, and I guess wanted to talk to me after I had told her I didn't want to be with her anymore. I had blocked her number, and her Facebook after a few attempts to reach me over like three weeks. She showed up at my folks place, as I was helping my dad take out the trash. My mom saw her from the garage and starts speed walking towards her car saying "Nuh uh! Get the f**k in reverse!" She just got to her drivers side window and started yelling that she should be ashamed to show her face here, and to have some self respect. Didn't even get towards the car before my ex started backing out. Never tried to contact me again. Thanks mom, you're the best.
HEED THE WARNINGS!
[rebelmouse-image 18978373 is_animated_gif=
dam=1 expand=1]

She slashed my tires when I was at work. My buddies tried telling me to stay away from her cause she was nuts. I decided to form my own opinion.

Fact: she was nuts
TAKE A LOOK AT THE FAMILY...
[rebelmouse-image 18360833 is_animated_gif=
dam=1 expand=1]

Freshman year in high school girl I didn't really know came up to me and said I was cute and that I should go out with her. My initial impression was that she was pretty cute, but that I wasn't really interested in dating at the time and I didn't really know her well enough to want to date her so I politely declined. She seemed to take it well enough and we both went about our day.

Next morning I walk up to my locker where her three older brothers (Sophomore, Junior, and Senior) were all standing around my locker giving me a death glare. Not knowing who these guys were I asked if I could get to my locker and they surrounded me. They proceeded to ask me things like if I thought I was too good for their baby sister and what my problem was.

I guess they were sent by her to intimidate me into dating her or something because they said I would be given a second chance to make the right decision. I politely declined again. Such a bizarre day.
FATAL ATTRACTION 2... NOW PLAYING!
[rebelmouse-image 18354723 is_animated_gif=
dam=1 expand=1]

Does after a breakup count? If so, I was graduating from my Masters, had a low self-esteem and my ex was really hinting that she wanted to get married, I didn't, was super clear on that.

She broke it off right before I went to visit my parents for about a week. I was a bit bummed out on the way home and a couple of days after, then she called and said she wanted to talk when I got back. By then, I had the feeling she would want to get back together if we got engaged or married.

...And that's exactly what happened, when I got back she acted like everything is fine and talking about us getting serious. After that we went, sat down and told her it was over; I was pissed, she was suicidal.

That's not the end of it, it had just begun. Next morning I woke up to 30 texts and 5 missed calls, I decided to ignore them. It escalated to 40 a day and 20 missed calls for about a week. Then notes in my car. Then a friend of hers started coming to my house to talk to me and say what went wrong and apologizing for her, I told her I would not get back together with her. When that didn't happen she sent 2 friends of hers to beat me up, luckily my friends were in my apartment and they backed off.

Next morning I had 2 slashed tires in my car. Almost missed a job interview. She would stalk me by staying at a cafe across the street from my place for hours, monitoring who came in and who came out and what time.

The final straw was when, after about 3 months passed, I had started dating a girl and we went to my apartment to DVD and chill. I got a call about an hour in, it was a friend of mine saying that he got a call from my ex saying that the girl with the brown hair and red blouse (exactly the description) was too ugly for me and she wanted to mess her up. I ended up making her a nice dinner and had a bottle of wine so I could make time for her to eventually leave her post at the cafe.

I ended up changing my car, apartment, cell phone, emails, and after that I haven't heard from her since.
MOM!! HELP!!
[rebelmouse-image 18978374 is_animated_gif=
dam=1 expand=1]

She tried to come over to my house and scream at me from the outside...

Little did she know that my mom don't play that mess, and went outside and yelled at her 20x worse than she ever thought lmao.
STALKING IN THE YA GENERATION....
[rebelmouse-image 18345158 is_animated_gif=
dam=1 expand=1]

A friend of mine stalked a boy in our high school class for over two years and would always tell people (faculty included) how she wanted to marry him, have his kids, keep him in her basement, etc. it was mostly joking, but her crush on him was real.

Anyway one of the teachers ratted her out and she got hit with a threat of a restraining order by the APs if he wanted to press charges. She was mortified, but luckily he didn't want to pursue anything with the law.
THERE AFRE BETTER WAYS TO WOO PEOLE...
[rebelmouse-image 18978375 is_animated_gif=
dam=1 expand=1]

So little bit of backstory. I was in highschool and found out this girl was cheating on me so I broke up with her.

She wanted to get back together, but I wasn't gonna fall into that again. She would text me like once a month trying to start conversation to get back together. I kept it to small talk for about 5 minutes each time before killing the conversation. Every time I rejected her she would get absolutely pissed. She would badmouth me around the school. She tried convincing my friends that I'm gay. The list goes on and on. Oh and she tried convincing me that she was pregnant. She made comments like "you're gonna be a Dad." So I went to her house on a Saturday and told her I will pay for a test, but she got really pissed and started making excuses. Luckily nobody ever believed her, and I graduated now so I don't have to deal with her. She still tries getting back together though.
DON'T RUN TOO FAST FOR IT!
[rebelmouse-image 18978376 is_animated_gif=
dam=1 expand=1]

There was this girl that used to hang with most of my friends, and there were a few occasions when she got drunk and came at me with aroused fury. The worst event happened when we were all at my house drinking. At first she was just being flirtatious, but the more she drank the louder and more obnoxious her advances became. My strategy was to laugh and brush it off, hoping not to agitate whatever primal instincts were fueling that flame. Eventually, she got up from the couch, gave me this sort of determined looK then started rushing over to me when she slipped and straight face-planted on the hardwood floor. The floor itself had crawlspace underneath, so that reverberated like a bag of bricks just got dropped. While everyone was pointing and laughing I went and hid in my room, and for the next hour or so could hear her wandering around looking for me yelling and weird stuff. Eventually she left, and from what I've seen on her Facebook it looks like she quit drinking and is doing better today.
WARN YOUR FRIENDS!!
[rebelmouse-image 18978377 is_animated_gif=
dam=1 expand=1]

I dated this girl in high school and she was just really clingy. So I broke up with her. I come home the next day to find out that she had been calling my house every five minutes and hanging up. She wouldn't stop calling, even after I picked up and asked her not to. We had to call the police. I ran into her dad a few days later. She apologized for her behavior. Years later she moved in with a friend of mine and screwed him out of a ton of money. Apparently he was giving her money for rent and the bills. However she didn't use it for any of that. She moved out of their apartment and when my friend got home one night found out that he was being evicted and his girlfriend was gone.
JUST SMH OVER HERE!!
[rebelmouse-image 18978378 is_animated_gif=
dam=1 expand=1]

One girl pretended to be pregnant after I broke up with her in hopes of getting me to have unprotected sex with her to actually get her pregnant.
STICK WITH THE BOOKS...
[rebelmouse-image 18978379 is_animated_gif=
dam=1 expand=1]

I was relatively good looking and popular in high school and was aware that girls liked me.

One of those girls was someone I was studying for an AP exam with. She lived a couple of blocks away and would come over when I got home from baseball practice. One night we were quizzing each other and she said something to the extent of "if you get all of them right I'll let you kiss me." I did not get them all right but she told me I could kiss her anyway. I just kind of chuckled, told her "nope, I had to get them all right," and went back to studying.

Later that night she sent me an email about how she views me as more then a friend and wants to know if I felt the same way. She was a cool girl and I liked hanging out with her but I didn't want to date her so I told her how I valued our friendship, etc. I get that it was a cliche response but, rather than accepting it gracefully, she told our AP US History teacher I was harassing her. Our AP US History teacher was also my baseball coach. Now, if you watch American teen movies but didn't play sports you probably think my teacher/coach told her he would speak to me about it then we had a good laugh in the locker room. If you played sports you're probably aware that I was benched from a game and spent the next couple of practices running laps around the perimeter of the field.

I guess that's not really a horror story, per se, but it was still a s* thing to do because a guy turned you down.
NEVER TOUCH THE FRIES!!
[rebelmouse-image 18978380 is_animated_gif=
dam=1 expand=1]

Mine is pretty tame in comparison to the others, but girl wanted me to ask her to Homecoming but I had been dating my girlfriend at the time for 2 years so I was obviously going to take her. She didn't like that because apparently I was in love with her just because I was nice to her and had conversations with her during English class.

Anyways, she asks me and I say no, that I was going to go with my girlfriend, but she was more than welcome to hang out with us and we'd even dance with her. She got pissed and stormed off. 15 minutes later I'm smacked in the side of the head with a plate of fresh French Fries covered in Ketchup.

She then proceeds to get some kid to go to the office and say that she threw them because I spit in her face. Almost got expelled because she was in tears really selling it. Thankfully the snack bar attendants saw everything and intervened before anything happened. She didn't get in trouble or anything. School just acted like it was over and done with.

She moved to Alaska or something after that.
THERE ARE OTHER FISH IN THE SEA PEOLE...
[rebelmouse-image 18978381 is_animated_gif=
dam=1 expand=1]

My sister-in-laws best friend. I couldn't stand being around her. She was obnoxious, stupid. My brother and SIL were always planning date nights for the four of us and then they would find a way to recede into the night so the two of us would be alone. I was nice at first but then her flirting went into overdrive. She was always smiling at me and caressing me and laughing at my jokes even though I wasn't trying to be funny. I had to put the brakes on everything and I became short with my answers and practically sat on my hands. I wanted to make sure I wasn't sending ANY signals out.

After several get-togethers, she finally got the hint. Unfortunately, she couldn't handle the rejection and started bad-mouthing me to anyone with a listening ear. I was confronted several times by family members and mutual friends about how mean I was to her. I was even told that she told someone I don't even know that I got drunk and started grabbing her. She couldn't handle rejection like a grown-up so she made me out to be an a**hole.
YOUR BROTHER SOUNDS CHARMING...
[rebelmouse-image 18978382 is_animated_gif=
dam=1 expand=1]

As she is boxing up some stuff she nonchalantly tells me "oh by the way, my brother says he wants to smash your head in"

There had been a lot of yelling between me and her but never any physical violence. It scared me as to what she might have told him to warrant such statement from him.
Reddit user Ok-Discipline-4312 asked: 'How did that teacher get fired at your school?'
Whether or not we liked going to school growing up, we can likely all agree that we had one of those teachers who really didn't belong in the classroom.
From terrible tempers, little patience, and other bad behaviors, there are qualities that absolutely shouldn't be exhibited by a teacher.
But at least in some cases, the teacher gets caught in the act.
Redditor Ok-Discipline-4312 asked:
"How did that teacher get fired at your school?"
Creepy Phone Calls
"In the early 90s, a female student at my high school was receiving obscene phone calls."
"When police interviewed her, she told them, 'He sounds kind of like my history teacher.'"
" The police put a tracer on her phone, and the caller did turn out to be her history teacher."
- mythrowaweighin
Passing the Torch
"My high school had a notoriously stoney gym teacher, who was also hilarious. Every year, he did a miscellaneous object raffle during a random lunch hour. He basically just gave away whatever was in the lost and found box."
"Well, my junior year, one of the objects was a large and elaborate 'vase.'"
"Basically, he handed a student a giant f**king bong. He retired a few days later."
- Forever_Man
Rolling with the Punches
"A teacher used a sick day rather than a vacation day to fly to Japan to fight in MMA. He got caught and was fired for improper use of time off."
"He lost his fight and chose a different career path afterward."
- flickmypoodle
Questionable Drinks
"They used alcohol on the job. They had a bottle in the top left drawer."
"It took years to catch them, though."
- ray458
"I had a few teachers like that. One lady had a can of Tab every day (remember Tab soda? laughing out loud)."
"Some kid made a mark on the bottom with a pen or something and found out it was the same can every day. She was refilling it from a bottle in her car."
- AdWonderful5920
One Word: Embezzlement
"Embezzling from the students. For quite a few years, she would collect money for this 'senior trip' that never seemed to materialize."
"She was arrested a few years after I graduated. I wonder if she's out of prison yet?"
- Aeolian78
"Holy s**t, I just had a repressed memory pop up in my head. We had a 'ski club' when I was in 8th grade, and the teachers constantly collected money from us for our 'ski trip' that we never took. I wonder where all that money went?"
- whimsy_xo
All for the Prom Queen
"S**t, there was a vice principal that wanted her daughter, who went to the same school, to be the homecoming queen super bad."
"So she hacked into dozens of parents' district portal accounts and stuffed the ballot for her daughter."
"Not quite 'steal the money' or 'embezzle' bad, but still 'go to prison and never work in education again' and also 'your daughter isn't going to college now' bad."
- thewrongbakedpotato
A Sweet Future
"My middle school choir teacher was a closeted gay man. He had a long-term boyfriend but none of us knew about it, until one day a parent saw them at a HOUSE PARTY making out."
"They spread rumors throughout the school and multiple parents immediately removed their children from his class. The parents complained to the school and got him fired."
"The good news is, he eventually quit teaching and opened up a bakery with his partner, which did very well and got featured on 'Cupcake Wars.'"
- xain_the_id**t
Sprinkled with Annoyance
"A teacher threw a donut at an annoying student."
- AdEffective3077
"What a waste of a perfectly good donut!"
- No-Swing-2099
Possible Repercussions
"Because of me, I think. Once in primary school, I was messing around with a classmate, and she threw a sponge at me, making me chase her around the classroom."
"The teacher tried to stop me and grabbed me by the neck, making me fall on my back. It didn't hurt, but I was surprised."
"I don't remember how, but the principal and my parents got involved, and we never saw the teacher again after that. He was sort of a substitute teacher, and from what I can remember, he was pretty well-liked even by me."
- jeremydeoderant
Incredible Road Rage
"He cut off my grandpa in an explosive road rage incident, pulled him out of his truck, and beat him to the ground so bad that my grandpa was in the hospital for weeks."
"Thankfully, my grandpa was okay, but his job (and his marriage, and social life) didn't survive."
- NykxMarie
High School Drama
"At my school, the new French teacher started screwing the old computer teacher, who was married to the geometry teacher."
"At the end of it, just the geometry teacher had her job and all the other two teachers' money because she divorced the computer teacher and managed to sue the French teacher as part of an alienation of affection suit."
"Then she hooked up with the metal shop teacher."
- mama_bear_740
Three Strikes, You're Out
"The teacher called up a female student to work a problem on the blackboard. The student didn't want to participate. After some verbal back and forth, the student went to the blackboard and muttered something under her breath."
"The teacher grabbed the student's hair with both hands and proceeded to slam her head into the blackboard. 'You (slam) will listen (slam) to me (slam)!'"
"About three seconds later, the teacher realized what she was doing and released the student's hair. The student looked at her, said, 'You are sooooo fired,' and left the room."
"We had a new math teacher the next day."
- reference999
The Dispassionate Teacher
"My memory of this is kinda hazy since this happened 10 and a half years ago."
"She was telling at us, I don't remember if anything specific triggered her episode but she said s**t like, 'I don't give a rat's a** what you think,' and 'I wish I could use the paddle.'"
"Although the one thing I'll always remember was before she sat down, she said, 'I'm going on Facebook, I don't care what the h**l you do.'"
"I guess she got fired the same day, because we had a sub after lunch, and we had a new short-term sub every few days before we got a long-term sub for the rest of the year."
- mariofan426
That Would Do It
"He taught me physics for three years and became principal for two years."
"Then they realized he didn't even have the teaching qualification."
- pol9500
It's obvious why these teachers were quickly removed from their roles as teachers and unable to ever teach again.
But the thought that these things ever happened in a classroom are deeply unsettling.
Working at a job where you get along with coworkers is ideal.
Strong teamwork can establish efficiency, and good rapport at the workplace can inspire friendships.
But not even the kindest person can vibe with everyone despite good intentions, and it could be due to toxic personalities.
Those types of coworkers can be ones who are unfriendly, manipulative, super arrogant, or completely lacking in self-awareness.
Annoying right?

Curious to hear about the latter, Redditor Woodchipper_AF asked:

"Who is the most insufferable a**hole you've ever worked with?"
These individuals did not look forward to showing up, due to individuals who've made their lives miserable.
Sweet Revenge
"At my old job, my boss would give me difficult projects from difficult clients. When I finished the project, she would go into the system and add her initials (whoever does the work has to initial after every step) and take off mine."
"Then she would go to her supervisor and be like, 'Look what I did! Hehe!' And she would get all the credit. When I finally figured out she was doing that, I wouldn't let her know when I was done, and I would personally submit my work to her supervisor."
"His mind was blown that I just 'magically picked up the work so effortlessly,' and I got promoted lol."
– i_am_dean

New VP In Town
"Matt, the new VP of operations decided that everything about our company needed to change, including undermining my role, essentially taking over my team, and started implementing these incredibly micro managing processes that nearly halved our productivity, then blamed it all on me. He then proceeded to place our junior as the team lead and left me on my own island. It really felt like he was trying to get me to leave and well, he got what he wanted. F'k you, Matt."
– Corgon
Her Way Or The Highway
"Sierra. Sierra knew the answer to every single question, had better ideas than you, had done more than you had done, tried everything that you thought of, seen more a problems than you had, and just all around was an insufferable know-it-all. Everything had to be done exactly the way she wanted it to be done even if it didn't need to be done that way, it still had to be done that way because that's the way she wanted it. She micromanaged everyone around. I was so happy when she moved to a different job."
– edgarpickle

Major Hypocrite
"Sounds like my insufferable coworker. Except mine is also a f'king hypocrite who'll rat you out for bending a rule that is flexible while constantly breaking rules she's not supposed to because she's been working this entry level job for 30 years."
"I look forward to the day she gets fired but unfortunately this is a union job."
– sketchysketchist

Sometimes, things backfire.
Called Out
"I had a coworker who would sh*t all over my ideas in meetings and then offer up the same solutions I'd just offered like 5 minutes later. Everyone watched her do it and I don't know if she thought she was getting away with something or had some kind of mental block where she didn't even realize she was doing it. After a year or so we had this guy Dave get hired and the first meeting she did that he blurted out, 'wait a minute, 5 minutes ago Joe suggested that and you sh*t all over it.' And she was kind of like, 'Oh,' and like mumbled something while everyone stifled a giggle."
– Homerpaintbucket

The Saboteur
"Lady tried to get me fired and was totally harassing me - it backfired and she was escorted out by HR. I've been with my company for almost ten years now. See you never✌️"
– natureismyhappy

Gaslighting
"Yeah I just went through 2+ years of hell because of a total abusive gaslighting coworker a-hole. She would say abusive stuff to me when no one else was around and then completely deny it with management. She would create weird situations to make me look bad or crazy and would like daily attempt to turn coworkers against me. She would straight up mock me in front of coworkers and customers. Also, many incidents of her mocking me for being a guy and being 'too sensitive.' Sh*t like 'You are too sensitive. You should be able to handle what I say.'"
"She even knew I was sober (25+ years) and on a couple of occasions managed to make me feel like sh*t as if I was some total scumbag. It was unbelievably frustrating and I had no idea how to handle all this. I managed to kick alcohol and drugs a long time ago and survive a very rough childhood but had no tools to handle something like this. It was like the twilight zone. She successfully convinced management I was the problem and that I was making the whole thing up for a long long time. I felt completely defeated and hopeless."
"Massive stress for something like 2 years. I finally broke and told management do something or I will sue. They first hired a mediator who took us through the mediation process. I was not told what the mediator thought of the situation but I definitely get a sense the mediator told management yes you have a problem here."
"Then the company called in lawyers who investigated my claims. Took about 6 months but it turns out several of her own employees (we were both foreman) backed me up and from what I know the lawyers told my company they were in serious legal jeopardy. Every one of the women I work with said I am kind and never have I ever been mean, snapped or been rude to them."
"Several of them said they love working with me and some actually witnessed some incidents. I was kept in the dark as to the whole timeline of the investigation but one recent Friday management walked in and told her to gather her things and they escorted her out of the building. I literally had to step out and weep. Not just because it was finally over but why did any of this have to happen? I still don't really know why I was her target and I don't think I ever will. My stress levels are 1000 times better but yeah I think I need therapy. Still processing it all."
– Quinnjb
These are the kind of work colleagues you don't go out for drinks with afterward.
The Thing About Dave
"Dave."
"Dave is a guy who thinks he's much smarter than he is. He's been with the same company for 20 years and has worked his way up the ladder at a small company, where he now leads Operations."
"He's a control freak and micromanager and this job is pretty much all he has in life. He will do anything and everything to block progress and innovation and will ruthlessly stab anyone in the back who gets in his way."
"Sometimes I have pity on Dave because this job is as good as it's ever gonna get for him. I'm gonna leave this job soon and move on to better things, but Dave's gonna be doing Dave things until a heart attack or kidney failure takes him out eventually."
– rockit454

Can't Be Pleased
"Guy that I worked with on a cabinet door assembly line. One night we got done about 30min early and this guy throws a fit. How is he going to pay his bills if they send us home early ect ect. Two nights later we had to work about 45min late. This guy starts throwing a even bigger fit. No one helps us, whining we have to work overtime ect ect lol."
– Munson4657

Working Quitter
"Got a dude i work with who always claims he will quit when it comes to OT. Thing is, its never mandatory unless dire. We usually always have volunteers to fill in. Its been like seven years. Quitter still works there, claiming he's gonna quit."
– hobgoblinreacharound
I've been fortunate enough to have worked with amazing groups of people throughout my performing career.
But my first job experience as a 16-year-old was not a positive one. I worked in retail selling video games at the mall where I grew up.
My trainer who worked shifts with me behind the counter was the boss's girlfriend. She was condescending and would often abandon her job duties when things at the store was slow and go shopping around the nearby shops and department stores.
Of course, whenever she was gone, I dealt with mayhem. I had to figure out how to deal with exchanges, giving refunds, which I had yet to learn.
I also had to call security on a kid who wandered in unattended and swiped an item from behind the counter, then later dealt with his irate mother who had to leave her job to pick up her kid from the mall and yelled at me for accusing him of stealing.
After two weeks, I quit.

We all have those moments when we want to have the perfect comeback, but we draw a complete blank.
Until three days later when we have an epiphany about what we should have said.
Well, maybe these bons mots can put some weapons in your arsenal.
Reddit user MirrorFunhouse asked:

"What's an insult that's been thrown at you (or you heard toward someone else) that you actually admired or just made you laugh?"
So many insults to choose from...
"You look like someone who would pre-heat the microwave."
~ triggamon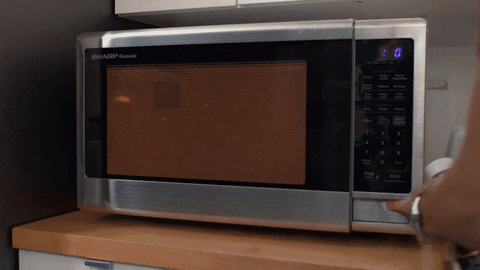 Giphy
Some are one-liners.
"It could be that the purpose of your life is to serve as a warning to others."

~ triggamon
Others require a little set up.
"My bestfriend and I were roasting each other.
"Me: 'What are you going to say to me that my parents haven't already said?'"
"Her: 'I'm proud of you'."
~ Normal-Kangaroo9209
"I would agree with you, but then we would both be wrong."
~ triggamon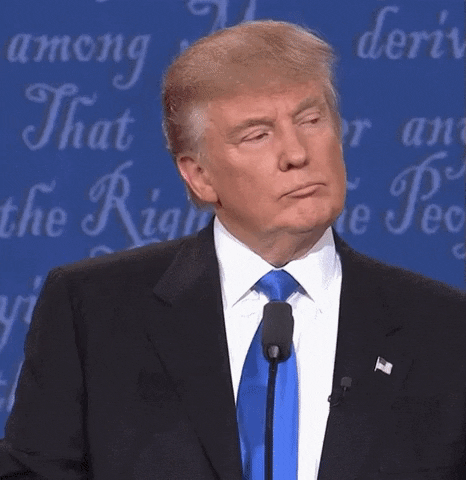 Giphy
"It's not worth insulting you as nature has already done enough damage."
~ triggamon
"Heard one of my sister's bullies call her fat and mock her weight at school."
"She just yelled back 'B*tch you're the f'king ugliest thing I've ever seen, I can lose weight, what the f'k are you going to do about that face?'"
~ ViciousFlowers
"You think in low power mode."
~ triggamon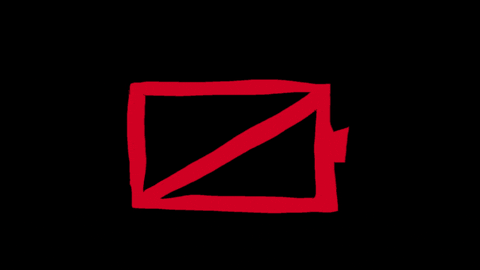 Giphy
"You've got two brain cells left and they're competing for third place"
~ kirbyourenthuasiam
"I like 'you only have two brain cells, but one of them is lost and the other went looking for it'."
~ MurderousButterfly
"Or 'you only have two brain cells left, and they're each trying to bum a smoke off the other'."
~ The_Lab_Rat_
"You are living proof that the education system needs better funding."
~ triggamon
"Wisdom has been chasing you, but you've always been faster."
~ triggamon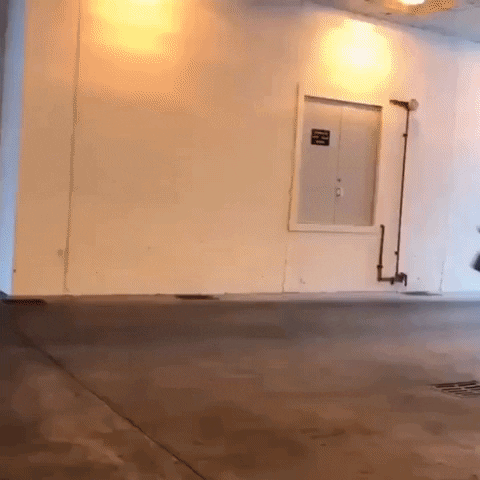 Giphy
"You're as smart as you look."
~ triggamon
"Random dude online told me to go back to Mexico when I made a joke about the US medical insurance costs."
"I corrected him saying I was Canadian, and he replied with 'stfu, you're just a snow Mexican then'."
"For some reason I just immediately imagined a dude removing snow off his car while wearing a sombrero and laughed for a good 3 minutes."
~ PleasingPotato
"Que pasa, eh?"
~ VolatileUtopian
"As a Canadian living in Texas, my stepdad would call us icebacks."
~ Dudhist
"I can only explain it to you, I can't understand it for you."
~ triggamon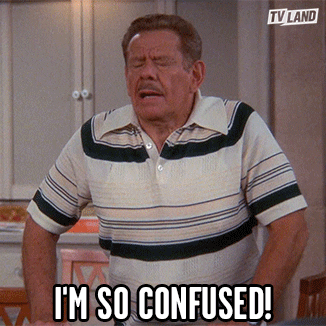 Giphy
"You're intellectually on the ground already and what do you do?"
"Begin to dig."
~ triggamon
Self owns are rife with opportunities.
"My friend got in a heated argument with her son (nothing new, they're both hot-tempered) and she called him a son-of-a-b*tch and he said 'that's right, I am!!' And they both cracked up laughing."
~ Sola_Bay
"My cousin jokingly called her teenage son a son-of-a-b*tch and I laughed and said 'You just called yourself a b*tch!' and then she told me to f'k off. It was great!"
~ Damn_Dog_Inappropes
"My friend once had the same thing happen and shouted back: 'At least we can agree on something, MOM!' His mom was pissed as soon as she figured it out a hot second later, but his dad tried his hardest to keep a straight face."
~ Lord-Redbeard
"You look like you have a favorite flavor of glue."
~ triggamon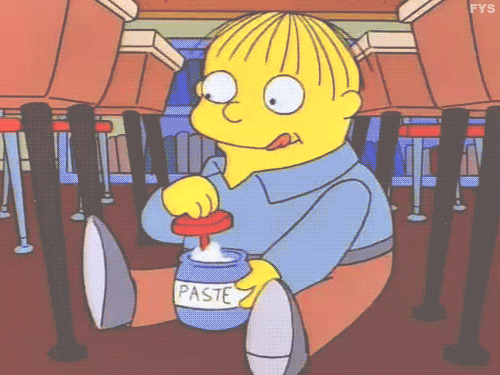 The Simpsons Eating GIF
Giphy
"I envy people that didn't get to know you."
~ triggamon
"In elementary a kid once shouted at me 'you're so weird, you probably were able to read the paper when you were THREE YEARS OLD!!'."
"Basically he called me 'smart' to my face."
~ kuunwiir
"Unintentional compliments are the best. You know they aren't lying because they tried to insult you."
"My brother said to me 'you look 16 at age 20' and I was like 'OMG THANKS'."
~ Easy_Set4108
"You behave like someone who snacked on lead paint too often as a child."
~ triggamon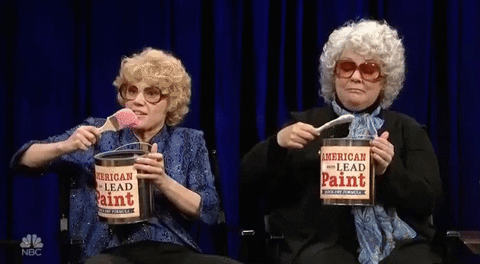 Giphy
"You're not the dumbest person on Earth, but if I were you I'd hope that person doesn't die soon."
~ triggamon
"In my early teens I told a good friend of mine (roughly translated) 'Dude, you're like the king of all dumba**es!'."
"Without missing a beat he asked 'Shouldn't you obey me, then?'."
"At that point I had to admit I had indeed gotten got. It's been over 20 years and it still burns a bit."
~ Celphii
"I'd explain it to you in a way even you'd understand, but I have neither the time nor the crayons."
~ triggamon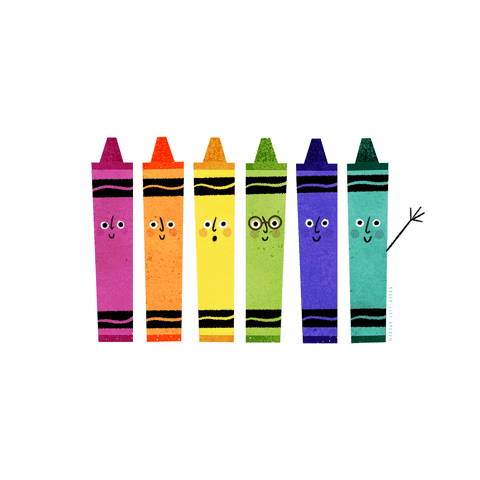 Giphy
"Your self-confidence contradicts your expertise."
~ triggamon
"My friend and I were at a place known for its clubs and drinking spots. We were waiting for our car when a man was hitting on us and inviting us to drink."
"Dude told us he's 47 and without hesitation, I asked 'Oh, so are you here with your kids?'."
"My friend was holding in a laugh while I was just clueless why, then I realized I pretty much called him an oldie."
~ kwirinkyy
"Some tree is woking its a** off to produce the oxygen you're consuming."
"You owe that tree an apology."
~ triggamon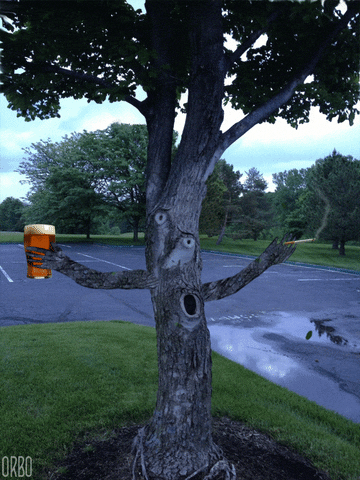 Giphy
"I had a Mexican girlfriend who was self-conscious about her bad grammar in English. She got into an argument with another girl in English."
"She suddenly turns to me and points at the other girl and says, 'she is a little b*tch', then just jumps back into the argument. I found it a bit odd, but whatever."
"Afterward I ask her were you trying to bring me into the argument by telling me she was a little b*tch? She said 'no, I just wanted to call her a little b*tch and wasn't sure if it was, you are a little b*tch or you is a little b*tch. I knew she is a little b*tch was correct so I said that, but I couldn't say that to her, so I just said it to you'."
"The delivery carried some weight, and there were many subtle elements, although unintentional. There was uninvolved 3rd party verification, and it felt like she was undermining her that she was such a little b*tch that she didn't even bother directly telling her."
"It was very effective. The other girl was visually dissed."
~ MoneyShotMalone
"My expectations towards you were low and what do you do?"
"The limbo."
~ triggamon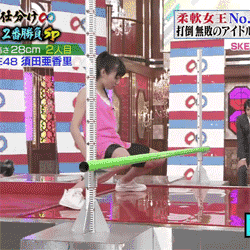 limbo belt GIF
Giphy
So do you have a favorite comeback?
If not, you have some to choose from now.
A bride has a lot to do before her big day, from planning the dinners, to getting her dress, to deciding on the decorating details. This quest for the perfect wedding can sometimes be even more stressful than finding a lifelong partner—but that doesn't mean these women had any excuse for going full Bridezilla in front of their staff.