Josh Rimer is a travel YouTuber and Mr. Gay Canada 2019.
He has traveled extensively, both for his YouTube channel and with his fiancé Heath.
Both thoroughly enjoyed the atmosphere of Puerto Vallarta, Mexico, so they decided it was the perfect place for their destination wedding.
Things started to go wrong as soon as they decided on a venue, however.
---
The couple chose the Sheraton Buganvilias Resort and Convention Center, a Marriott-owned resort, in the notably gay-friendly city. Not expecting any major issues, Josh filled out the hotel's online booking for weddings and waited to hear back.
Despite trying to book an all-inclusive wedding package with 40-45 guests attending (all also staying at the resort), Josh never heard back from the Sheraton.
When he called the hotel directly and asked to speak to someone about booking a wedding, he had a heck of a time just getting to speak to a live person. Multiple voicemails were left unanswered.
When Josh finally did get to talk to a live person, they took his email address and promised to send him information about their wedding services. That information never came.
Growing ever more frustrated after weeks of trying to get his questions answered, Josh called back once again. He eventually got the information sent to him and called back with some follow-up questions.
Over the course of that conversation, Josh mentioned that it was a same-sex wedding—intending only to point out that they would need two grooms' boutonnieres rather than the usually-included boutonniere and bouquet.
The hotel employee's response was as bizarre as it was homophobic. They told Josh that the Sheraton didn't specialize in same-sex weddings, so could not host their service and reception.
In a follow up email, that sentiment was repeated.
The hotel told Josh that their hotel staff was "not specialized to carry out" a same-ex wedding, and recommended that the couple seek a booking at another resort.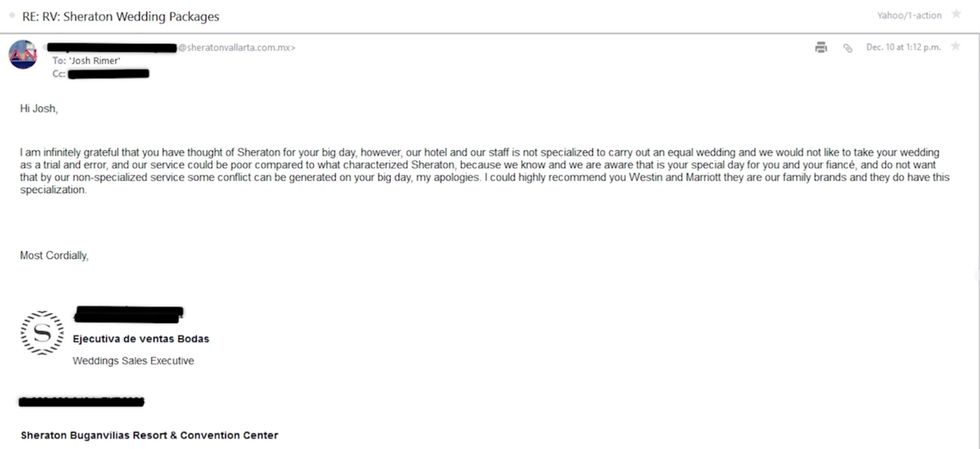 Josh Rimer, Mr. Gay Canada 2019/YouTube
Shortly after receiving the email, Josh decided to share their story on YouTube.
He shared his confusion at how a hotel could possibly need to specialize in gay weddings.
"What do you mean specialize? Why do you need to specialize in gay weddings? T

here's not much to specialize, other than it's going to be a groom and a groom instead of a bride and a groom."
"I don't know if she thinks we're going to show up in speedos with go-go dancers, and we expect the officiant to be wearing leather chaps? This is just a normal wedding, it just happens to be with two guys."
Our wedding venue canceled because we're gay youtu.be
The couple have since received an apology from the Marriott corporate office, but received no additional contact from the resort itself.

They aren't stuck trying to find another venue, however. Word of Josh and Heath's negative experience with the Sheraton reached Marriott-competitor Hilton. The hotel chain quickly offered the couple the use of their nearby Hilton property in Puerto Vallarta—free of charge.
Josh said Hilton is planning "the wedding of my dreams."
Vendors have also come forward to offer their services for free.
"When they sent us the write-up of everything that's going to be included, everything said 'groom and groom'. Hallelujah!"
Marriott has since released a statement about Josh and Heath's negative experience with their company.
"Marriott is greatly concerned about the experience reported by Mr. Rimer."
"Marriott has long been committed to providing an environment where all are welcome including our LGBTQ guests and their loved ones."



"When we learned about this matter, we immediately contacted Mr. Rimer and expressed our sincerest apologies for his experience."



Apologies are nice, but what is Marriott doing to ensure their locations stop discriminating?
Equality doesn't hurt anyone.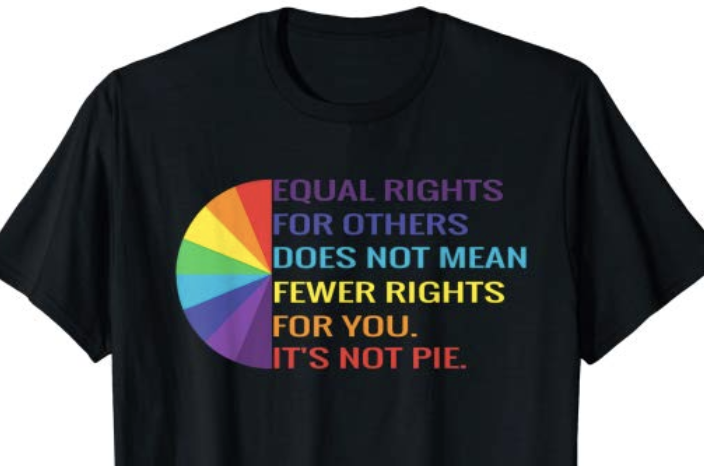 Amazon