Health Professionals Divulge The Creepiest Thing They've Ever Heard From A Dying Patient
The end is coming for all of us. If we are lucky, no matter how it ends, we'll have something to say.
So let's discuss last words.
Have you ever thought about it? If you had last words... what would they be?
Bless our healthcare workers—they have seen it all.
---
RedditorBOBO24PLAYZwanted to hear the confessions of the dying, no matter how dark, so they asked:
"Doctors and nurses of Reddit, what was the creepiest/scariest thing you heard from patients before they died?"
If I say anything in the end, I hope it's happy.
But, you never know.
So one day we'll see.
Keep HIM Away!!
"Had 3 patients all pass away within a week, they were all on different parts of the ward and all asked who the little boy in their room was and within an hour of asking passed away." ~ gingercelticfan
Tonight
"I work on a ward for elderly with dementia. We had one patient who was pretty well in the beginning stages of dementia. She had very little medication and could still do a lot by herself. One day i put her to bed like every night and she asked me when i would be back."
"I told her I had an early shift and would see her in the morning. She looked me in the eyes and told me with a smile that she wouldn't be here. I asked her why not, and she told me that she would be dead. I discussed this with a fellow nurse because it was something she had never done before and decided to check all her vitals."
"Everything was well within limits, nothing raised a red flag. But when I came to work the next morning they told me she passed away an hour before my shift started. I still find it creepy how she could have known she would die that night." ~ Pitiful-Metal754
"Who's that man?"
"I'll share a few with totally different vibes."
"Creepiest ~ Patient looking not behind me, essentially looking through me, asks 'Who's that man?' When I assured her it was just the two of us in the room and that she's safe here she responded 'Ah, so you can't see him either'."
"After I had an ughhhh okay moment I got her comfortable in bed now that she received her pain meds, she smiled and said goodbye to me, as I walked away she mumbled 'I suppose it's time,"'she died about two hours later." ~ nicolewasnthere
"It's time to die now."
"My dad had a major stroke and was in the hospital for several weeks. He wasn't in much pain, but he also wasn't aware of what had happened to him, and was conversational, but a lot didn't make sense."
"One afternoon his wife and I were sitting with him when he said, out of the blue, 'It's time to die now.' We looked at each other and she said incredulously 'Can he do that?' He hung on for a few more weeks, but not very lucidly." ~ mel_cache
These Low Effort Jobs Have Surprisingly High Salaries | George Takei's Oh Myyy
Have you ever worked one of those jobs that paid you to kinda sit there? If you have, you know the joy that comes with watching the entirety of Breaking Bad ...
Goodbye
"I'm not in the medical profession but the last thing my sister said to me was 'I've had enough now, time to go, I think' ...she died a few hours later." ~ floydie1962
So much sadness.
Let's discuss more...

Baby Boom
"When I was a student, a dying woman told me 'Congratulations on the baby, she will have beautiful blue eyes' I was confused because I was 18 and I wasn't pregnant or planning (but 3 weeks later I find out I'm pregnant, and my girl have blue eyes)." ~ __Only_me_
They always know...
"Last week I took care of an older lady in septic shock, transferred to ICU so she could get levophed. She was getting a little more disoriented as my shift progressed and kept saying 'I'm so scared, I'm so frightened'."
"When I asked her what she was afraid of, she said she didn't know. I kept reassuring her that we were taking good care of her. She ended up coding and dying that same day on night shift. They always know." ~ callmesula
She's Gone
"My great grandmother went into a shock when she came to know my father passed away (we did not tell her about it but she overheard a conversation a couple of weeks after the cremation)."
"Within a few hours she had completely forgotten our mother tongue and could converse only in English and Bengali (which she had not practised for more than 80 years)."
"The next day morning she told us that her parents, husband, daughter (my grandmother) and grandson (my dad) are waiting outside for her. She closed her eyes and was gone." ~Jolarpet
Papa Gary...
"My grandma was dying of lung cancer she would always talk about dreams of fishes when someone was pregnant, the only people who knew my girlfriend and I we expecting was us and she wasn't even showing any signs along with wearing baggy clothes to hide."
"My grandma had told me congratulations and that she and our baby are beautiful in the late stages... she ended up passing about 5 or 6 days later.. Fast forward 2 years…"
"My mom and dad have a picture of that same grandma and my grandpa hanging up my grandpa passed some time before her so my kids never got to meet them... my 2 year old pointed at that picture and Knew it was his 'Papa Gary.'" ~ Remixed_Ghost
Let's Go!!
'I didn't think this would take so long.' He was gone within 2 minutes." ~ thr0wawaydoc
This is It
"My patient just came into my ward and I went to his bedside to do the necessary admission and administrative paperwork and questions. He had end stage kidney failure and has been adamant on not continuing dialysis, but came to the hospital because his family literally begged him to come."
"The creepy part was this: When I went to insert a IV line for him, he calmly and nonchalantly told me that it's OK if I can't get it in, as he was going to die soon. When I asked him why did he say that, he told me in a matter-of-fact voice that his deceased parents and grandparents are standing around his bed just waiting to help him into the afterlife."
"It was 3pm in the afternoon and the chill that went down my spine had nothing to do with the air conditioning, and said chill intensified when his exasperated wife who was seated next to him told me that he has been saying that for the past few days. True enough, he passed on within a day." ~ jayuscommissar
Peace & Brutality
"I've held the hand of an old woman, she was little more than skin and bones. I believe she was actively trying to die while I held her hand and stroked her hair. She asked me why it was so hard to die and if it was this difficult for everyone. I will remember her for a very long time."
"I sincerely hope she found the peace that she sought. Other patient end of life events have been disturbing, but not in the way that I think this question is asking about. The fear in the eyes of someone about to be intubated. That sticks with you."
"Y'all, have some conversations with your loved ones about your end of life care. CPR is brutal. Consider what you would or wouldn't want done to or for you. Talk about it with your family. Find out what their wishes are. It will make it easier if you ever have to make decisions for them." ~ vanael7
Similar Fashion
"A lot of people die in a very similar fashion, in an untouchable discomfort and pain, every time you ask them to rate their pain on a scale of 1-10 they say 10 and they just beg and beg and beg for help, and so eventually you just start bring the morphine dose up and up, the Ativan dose up and up until that, combined with their illness brings them into a state of unconsciousness that they stay in for a few days and eventually die. It's sad, but I can't honestly say it scares me, I'm confident that in the same situation I'll probably be able to take myself out before it gets to that point." ~ BangkokMohel
Hurry!
"Pre-oping a patient for an urgent, non emergent surgery in the middle of the night four or five years ago. His IV was infiltrated so I started to put a new one in before we went back to the OR. He panted 'please… hurry… up' then coded and died." ~ usafutbol5454
"Wasn't creepy necessarily, but painful and actually caused me a lot of nightmares for years. Context- I've been a nurse for 9+ years now. I became an LPN at 18 after graduating early and became an RN at 19. This is a ton of responsibility for someone so young looking back."
"Was working on a medical floor, my first job. Had a 50 year old woman come in as a direct admit from her Dr's office (not through the ER) with chest pain and started coding within minutes of me getting her in front of her spouse. She came back a few times begging me for her life while attempting to resuscitate her, but after hours of trying to bring her back she died in front of me."
"Dreamt about her begging for her life nightly for almost a year, drank a lot of alcohol to cope. Made me very angry that her physician made the choice to not send her to the ER first because they were more equipped then the critical access medical floor I was working on without a physician. Anyways... I hope her family has found peace." ~ bsn2fnp1
Begging
"I don't wanna die, please. Sounds cliche but if someone seriously tells you that with all his fear and panic and you're the only One this person hold on to then it's fucking scary. You have that first rush of 'I have to do something' but you can't do more. It's straight up traumatic when someone dies sudden, kind of awake before in an emergency situation compared to the sleepy sedative deaths over a few days." ~ Old-Banana5410
Goodbye and thanks!
"A giant bald patient that everyone became familiar with shows up on the fifth floor asking if his family showed up yet. The nurse told him he was on the wrong floor, 'maybe they're visiting you on the third floor where your room is.' She said. His sad voice answered: They're not down there. Goodbye and thanks!'
"The nurse called the third floor desk and informed them of their wandering patient. 'It couldn't have been him. He died this morning.' She looked up and he was gone. We never heard the electronic door behind him open and never saw him again." ~ banditk77
In 20 Seconds
"I once had a patient who was super sick, close to the end, and just chilling the bed as the soon to die do. Out of nowhere they were suddenly, vehemently, terrified. Screaming, saying things like 'oh god no' and 'please no' etc. Then died. Whole thing was probably 20 seconds." ~ TheVapingPug
Restless
"I was a CNA both in hospital and long term care centers until I messed up my back. I spent many hours on light duty after I hurt myself holding the hands of people who had no family to come while they died. But my most memorable patient was when I worked in the hospital."
"We had an older gentleman who was a 1:1 and in full restraints as he died because the meds they were giving him actually made him very combative. Shortly before he died he managed to get out of all the restraints, took about 5 of us to get him in new ones, he ripped out his IV and my shirt in the process. I will never forget him because of how restless he was before he died. It broke my heart honestly." ~ SoilAffectionate492
Shattered
"Clock in the room fell down & shattered on the floor. Patient died 20 mins later." ~ Decent-Sea-7321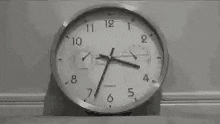 Time Clock GIF by MOODMAN
Giphy
Lesson?
Get your affairs in order.
Live the best life possible.
Be as ready as you can be.
Want to "know" more?
Sign up for the Knowable newsletter here.

Never miss another big, odd, funny or heartbreaking moment again.
Reddit user Woodchipper_AF asked: 'Who is the most insufferable a-hole you've ever worked with?'
Working at a job where you get along with coworkers is ideal.
Strong teamwork can establish efficiency, and good rapport at the workplace can inspire friendships.
But not even the kindest person can vibe with everyone despite good intentions, and it could be due to toxic personalities.
Those types of coworkers can be ones who are unfriendly, manipulative, super arrogant, or completely lacking in self-awareness.
Annoying right?

Curious to hear about the latter, Redditor Woodchipper_AF asked:

"Who is the most insufferable a**hole you've ever worked with?"
These individuals did not look forward to showing up, due to individuals who've made their lives miserable.
Sweet Revenge
"At my old job, my boss would give me difficult projects from difficult clients. When I finished the project, she would go into the system and add her initials (whoever does the work has to initial after every step) and take off mine."
"Then she would go to her supervisor and be like, 'Look what I did! Hehe!' And she would get all the credit. When I finally figured out she was doing that, I wouldn't let her know when I was done, and I would personally submit my work to her supervisor."
"His mind was blown that I just 'magically picked up the work so effortlessly,' and I got promoted lol."
– i_am_dean

New VP In Town
"Matt, the new VP of operations decided that everything about our company needed to change, including undermining my role, essentially taking over my team, and started implementing these incredibly micro managing processes that nearly halved our productivity, then blamed it all on me. He then proceeded to place our junior as the team lead and left me on my own island. It really felt like he was trying to get me to leave and well, he got what he wanted. F'k you, Matt."
– Corgon
Her Way Or The Highway
"Sierra. Sierra knew the answer to every single question, had better ideas than you, had done more than you had done, tried everything that you thought of, seen more a problems than you had, and just all around was an insufferable know-it-all. Everything had to be done exactly the way she wanted it to be done even if it didn't need to be done that way, it still had to be done that way because that's the way she wanted it. She micromanaged everyone around. I was so happy when she moved to a different job."
– edgarpickle

Major Hypocrite
"Sounds like my insufferable coworker. Except mine is also a f'king hypocrite who'll rat you out for bending a rule that is flexible while constantly breaking rules she's not supposed to because she's been working this entry level job for 30 years."
"I look forward to the day she gets fired but unfortunately this is a union job."
– sketchysketchist

Sometimes, things backfire.
Called Out
"I had a coworker who would sh*t all over my ideas in meetings and then offer up the same solutions I'd just offered like 5 minutes later. Everyone watched her do it and I don't know if she thought she was getting away with something or had some kind of mental block where she didn't even realize she was doing it. After a year or so we had this guy Dave get hired and the first meeting she did that he blurted out, 'wait a minute, 5 minutes ago Joe suggested that and you sh*t all over it.' And she was kind of like, 'Oh,' and like mumbled something while everyone stifled a giggle."
– Homerpaintbucket

The Saboteur
"Lady tried to get me fired and was totally harassing me - it backfired and she was escorted out by HR. I've been with my company for almost ten years now. See you never✌️"
– natureismyhappy

Gaslighting
"Yeah I just went through 2+ years of hell because of a total abusive gaslighting coworker a-hole. She would say abusive stuff to me when no one else was around and then completely deny it with management. She would create weird situations to make me look bad or crazy and would like daily attempt to turn coworkers against me. She would straight up mock me in front of coworkers and customers. Also, many incidents of her mocking me for being a guy and being 'too sensitive.' Sh*t like 'You are too sensitive. You should be able to handle what I say.'"
"She even knew I was sober (25+ years) and on a couple of occasions managed to make me feel like sh*t as if I was some total scumbag. It was unbelievably frustrating and I had no idea how to handle all this. I managed to kick alcohol and drugs a long time ago and survive a very rough childhood but had no tools to handle something like this. It was like the twilight zone. She successfully convinced management I was the problem and that I was making the whole thing up for a long long time. I felt completely defeated and hopeless."
"Massive stress for something like 2 years. I finally broke and told management do something or I will sue. They first hired a mediator who took us through the mediation process. I was not told what the mediator thought of the situation but I definitely get a sense the mediator told management yes you have a problem here."
"Then the company called in lawyers who investigated my claims. Took about 6 months but it turns out several of her own employees (we were both foreman) backed me up and from what I know the lawyers told my company they were in serious legal jeopardy. Every one of the women I work with said I am kind and never have I ever been mean, snapped or been rude to them."
"Several of them said they love working with me and some actually witnessed some incidents. I was kept in the dark as to the whole timeline of the investigation but one recent Friday management walked in and told her to gather her things and they escorted her out of the building. I literally had to step out and weep. Not just because it was finally over but why did any of this have to happen? I still don't really know why I was her target and I don't think I ever will. My stress levels are 1000 times better but yeah I think I need therapy. Still processing it all."
– Quinnjb
These are the kind of work colleagues you don't go out for drinks with afterward.
The Thing About Dave
"Dave."
"Dave is a guy who thinks he's much smarter than he is. He's been with the same company for 20 years and has worked his way up the ladder at a small company, where he now leads Operations."
"He's a control freak and micromanager and this job is pretty much all he has in life. He will do anything and everything to block progress and innovation and will ruthlessly stab anyone in the back who gets in his way."
"Sometimes I have pity on Dave because this job is as good as it's ever gonna get for him. I'm gonna leave this job soon and move on to better things, but Dave's gonna be doing Dave things until a heart attack or kidney failure takes him out eventually."
– rockit454

Can't Be Pleased
"Guy that I worked with on a cabinet door assembly line. One night we got done about 30min early and this guy throws a fit. How is he going to pay his bills if they send us home early ect ect. Two nights later we had to work about 45min late. This guy starts throwing a even bigger fit. No one helps us, whining we have to work overtime ect ect lol."
– Munson4657

Working Quitter
"Got a dude i work with who always claims he will quit when it comes to OT. Thing is, its never mandatory unless dire. We usually always have volunteers to fill in. Its been like seven years. Quitter still works there, claiming he's gonna quit."
– hobgoblinreacharound
I've been fortunate enough to have worked with amazing groups of people throughout my performing career.
But my first job experience as a 16-year-old was not a positive one. I worked in retail selling video games at the mall where I grew up.
My trainer who worked shifts with me behind the counter was the boss's girlfriend. She was condescending and would often abandon her job duties when things at the store was slow and go shopping around the nearby shops and department stores.
Of course, whenever she was gone, I dealt with mayhem. I had to figure out how to deal with exchanges, giving refunds, which I had yet to learn.
I also had to call security on a kid who wandered in unattended and swiped an item from behind the counter, then later dealt with his irate mother who had to leave her job to pick up her kid from the mall and yelled at me for accusing him of stealing.
After two weeks, I quit.

We all have those moments when we want to have the perfect comeback, but we draw a complete blank.
Until three days later when we have an epiphany about what we should have said.
Well, maybe these bons mots can put some weapons in your arsenal.
Reddit user MirrorFunhouse asked:

"What's an insult that's been thrown at you (or you heard toward someone else) that you actually admired or just made you laugh?"
So many insults to choose from...
"You look like someone who would pre-heat the microwave."
~ triggamon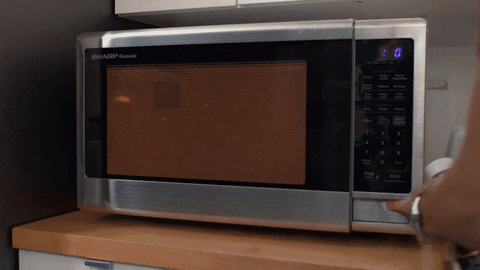 Giphy
Some are one-liners.
"It could be that the purpose of your life is to serve as a warning to others."

~ triggamon
Others require a little set up.
"My bestfriend and I were roasting each other.
"Me: 'What are you going to say to me that my parents haven't already said?'"
"Her: 'I'm proud of you'."
~ Normal-Kangaroo9209
"I would agree with you, but then we would both be wrong."
~ triggamon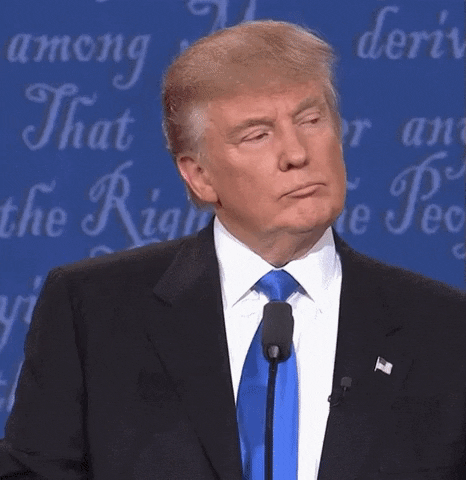 Giphy
"It's not worth insulting you as nature has already done enough damage."
~ triggamon
"Heard one of my sister's bullies call her fat and mock her weight at school."
"She just yelled back 'B*tch you're the f'king ugliest thing I've ever seen, I can lose weight, what the f'k are you going to do about that face?'"
~ ViciousFlowers
"You think in low power mode."
~ triggamon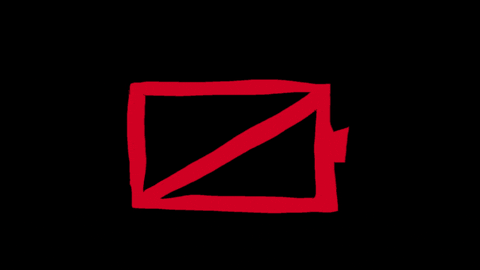 Giphy
"You've got two brain cells left and they're competing for third place"
~ kirbyourenthuasiam
"I like 'you only have two brain cells, but one of them is lost and the other went looking for it'."
~ MurderousButterfly
"Or 'you only have two brain cells left, and they're each trying to bum a smoke off the other'."
~ The_Lab_Rat_
"You are living proof that the education system needs better funding."
~ triggamon
"Wisdom has been chasing you, but you've always been faster."
~ triggamon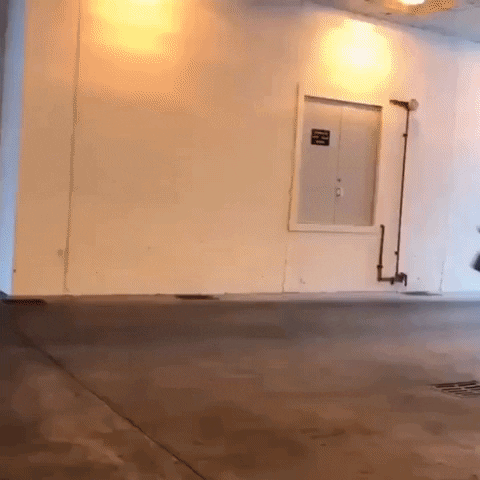 Giphy
"You're as smart as you look."
~ triggamon
"Random dude online told me to go back to Mexico when I made a joke about the US medical insurance costs."
"I corrected him saying I was Canadian, and he replied with 'stfu, you're just a snow Mexican then'."
"For some reason I just immediately imagined a dude removing snow off his car while wearing a sombrero and laughed for a good 3 minutes."
~ PleasingPotato
"Que pasa, eh?"
~ VolatileUtopian
"As a Canadian living in Texas, my stepdad would call us icebacks."
~ Dudhist
"I can only explain it to you, I can't understand it for you."
~ triggamon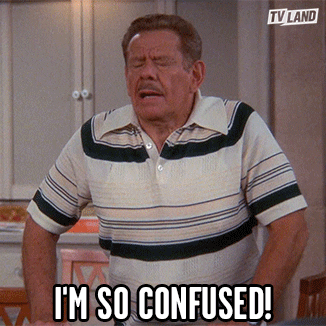 Giphy
"You're intellectually on the ground already and what do you do?"
"Begin to dig."
~ triggamon
Self owns are rife with opportunities.
"My friend got in a heated argument with her son (nothing new, they're both hot-tempered) and she called him a son-of-a-b*tch and he said 'that's right, I am!!' And they both cracked up laughing."
~ Sola_Bay
"My cousin jokingly called her teenage son a son-of-a-b*tch and I laughed and said 'You just called yourself a b*tch!' and then she told me to f'k off. It was great!"
~ Damn_Dog_Inappropes
"My friend once had the same thing happen and shouted back: 'At least we can agree on something, MOM!' His mom was pissed as soon as she figured it out a hot second later, but his dad tried his hardest to keep a straight face."
~ Lord-Redbeard
"You look like you have a favorite flavor of glue."
~ triggamon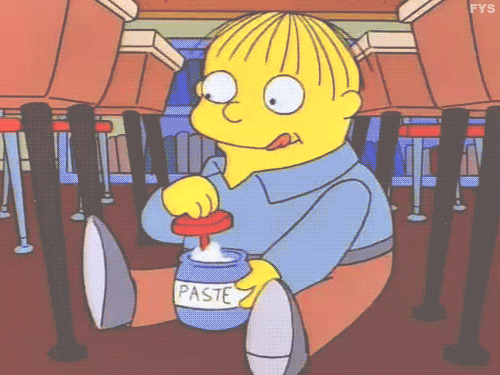 The Simpsons Eating GIF
Giphy
"I envy people that didn't get to know you."
~ triggamon
"In elementary a kid once shouted at me 'you're so weird, you probably were able to read the paper when you were THREE YEARS OLD!!'."
"Basically he called me 'smart' to my face."
~ kuunwiir
"Unintentional compliments are the best. You know they aren't lying because they tried to insult you."
"My brother said to me 'you look 16 at age 20' and I was like 'OMG THANKS'."
~ Easy_Set4108
"You behave like someone who snacked on lead paint too often as a child."
~ triggamon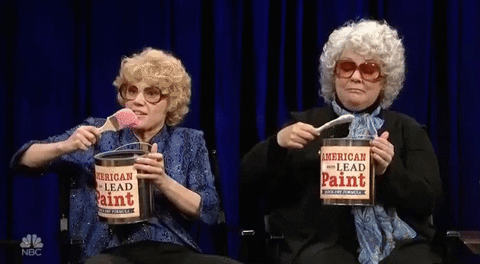 Giphy
"You're not the dumbest person on Earth, but if I were you I'd hope that person doesn't die soon."
~ triggamon
"In my early teens I told a good friend of mine (roughly translated) 'Dude, you're like the king of all dumba**es!'."
"Without missing a beat he asked 'Shouldn't you obey me, then?'."
"At that point I had to admit I had indeed gotten got. It's been over 20 years and it still burns a bit."
~ Celphii
"I'd explain it to you in a way even you'd understand, but I have neither the time nor the crayons."
~ triggamon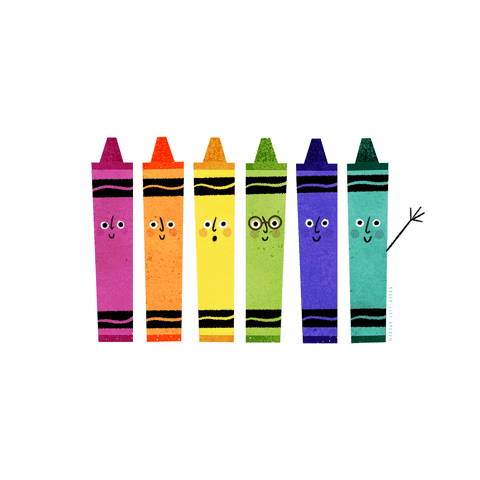 Giphy
"Your self-confidence contradicts your expertise."
~ triggamon
"My friend and I were at a place known for its clubs and drinking spots. We were waiting for our car when a man was hitting on us and inviting us to drink."
"Dude told us he's 47 and without hesitation, I asked 'Oh, so are you here with your kids?'."
"My friend was holding in a laugh while I was just clueless why, then I realized I pretty much called him an oldie."
~ kwirinkyy
"Some tree is woking its a** off to produce the oxygen you're consuming."
"You owe that tree an apology."
~ triggamon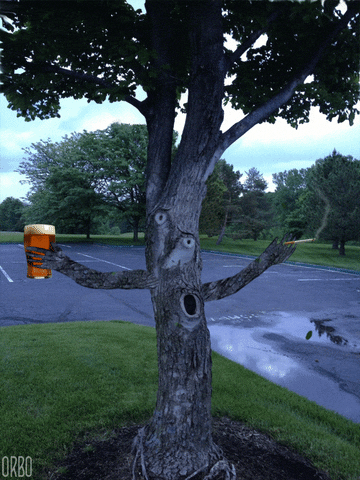 Giphy
"I had a Mexican girlfriend who was self-conscious about her bad grammar in English. She got into an argument with another girl in English."
"She suddenly turns to me and points at the other girl and says, 'she is a little b*tch', then just jumps back into the argument. I found it a bit odd, but whatever."
"Afterward I ask her were you trying to bring me into the argument by telling me she was a little b*tch? She said 'no, I just wanted to call her a little b*tch and wasn't sure if it was, you are a little b*tch or you is a little b*tch. I knew she is a little b*tch was correct so I said that, but I couldn't say that to her, so I just said it to you'."
"The delivery carried some weight, and there were many subtle elements, although unintentional. There was uninvolved 3rd party verification, and it felt like she was undermining her that she was such a little b*tch that she didn't even bother directly telling her."
"It was very effective. The other girl was visually dissed."
~ MoneyShotMalone
"My expectations towards you were low and what do you do?"
"The limbo."
~ triggamon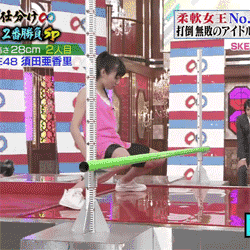 limbo belt GIF
Giphy
So do you have a favorite comeback?
If not, you have some to choose from now.
A bride has a lot to do before her big day, from planning the dinners, to getting her dress, to deciding on the decorating details. This quest for the perfect wedding can sometimes be even more stressful than finding a lifelong partner—but that doesn't mean these women had any excuse for going full Bridezilla in front of their staff.