Gullible Adults Share The Dumbest Things They Believed As Children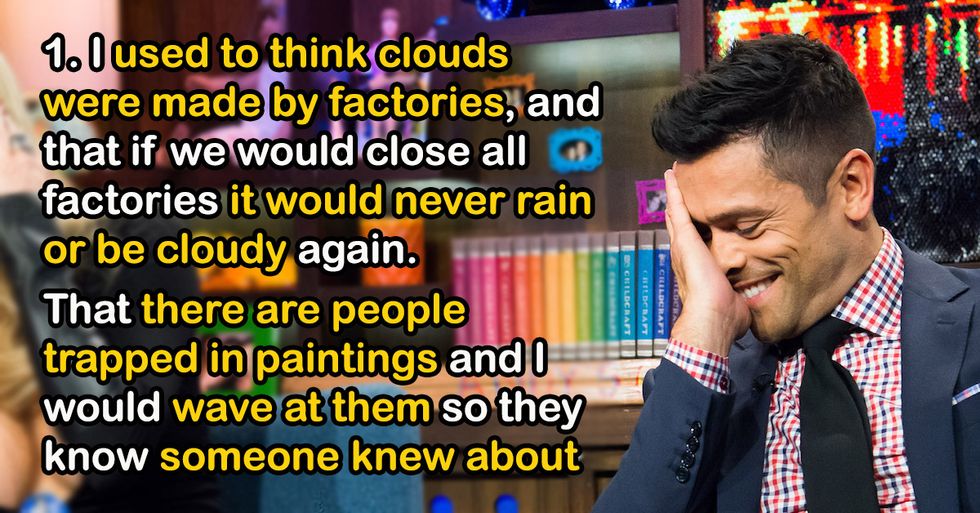 Gullible Adults Share The Dumbest Things They Believed As Children
[rebelmouse-image 18350506 is_animated_gif=
dam=1 expand=1]
As we mature and see and learn more of the world around us, we lose our childish understanding of how the universe works. When we look back on the things we used to believe, sometimes it can be a bit embarrassing.
Reddit user xXPlexalXx asked "What is the dumbest thing that you believed as a child?"
Here are people's confessions.
Owning It
[rebelmouse-image 18350508 is_animated_gif=
dam=1 expand=1]

If you farted you had to raise your hand. Damn you dad, i did that for far too long.
World Savings Day
[rebelmouse-image 18350510 is_animated_gif=
dam=1 expand=1]

We have the "Weltspartag" (World Savings Day) in Germany. As a kid you bring your collected money to the bank.

As a young kid I thought when you take your coins to the bank you are then able as an adult to freely take money from there to live. Made sense when your parents always got "free" money out of a machine there.

I realized it was not the case some years later. Thankfully I never talked to someone about it.
Climate Control
[rebelmouse-image 18350511 is_animated_gif=
dam=1 expand=1]

I used to think clouds were made by factories, and that if we would close all factories it would never rain or be cloudy again.
Professionals
[rebelmouse-image 18350512 is_animated_gif=
dam=1 expand=1]

When I was a kid, I thought a prostitute was a female robber.

I thought that was cool. My friends and I did too! We all wanted to be prostitutes when we played COPS AND PROSTITUTES.
Not From Potter?
[rebelmouse-image 18350513 is_animated_gif=
dam=1 expand=1]

That there are people trapped in paintings and I would wave at them so they know someone knew about it. Thank you Witches movie for this.
Blame Disney
[rebelmouse-image 18350514 is_animated_gif=
dam=1 expand=1]

That you grew up, got a job, got married, had kids and lived happily ever after.
Big Boom Theory
[rebelmouse-image 18350515 is_animated_gif=
dam=1 expand=1]

I believed the world wars were at the beginning of time.

We lived in the Marshall Islands when I was really young and at some point I viewed footage from a WW2 battle fought on the island and I construed that as the world being created. Don't ask me why.
Ball Control
[rebelmouse-image 18350516 is_animated_gif=
dam=1 expand=1]

I unironically thought that pee was stored in the testicles.
Jamping Jack Flash
[rebelmouse-image 18350518 is_animated_gif=
dam=1 expand=1]

I thought that past tense of "jump" was, not "jumped", but "jamp". It made sense in my little brain - ya know, run/ran, swim/swam... jump/jamp. I said it until I was 14 before somebody corrected me. Yes, English is my first language.
Pledge
[rebelmouse-image 18350519 is_animated_gif=
dam=1 expand=1]

I use to think the Pledge of Allegiance said " for witches stand""instead of for "which it stands. "

I used to think it was invisible instead of indivisible.
Peace & Quiet
[rebelmouse-image 18350520 is_animated_gif=
dam=1 expand=1]

I was never allowed to watch soap operas growing up but my parents were always a little vague on the precise reason why, beyond saying that it would rot my brain. In my childish head, I assumed they were forbidden because they must be sinister, violent or scary in some way. Even the silly, tame daytime soaps like Neighbours and stuff like that were off limits.

Years later, when I was in my late 20s, I asked my mum about it and she was like "Oh really? I can't remember that. I must have just wanted you out of the room so I could watch my soaps in peace."
Moo
[rebelmouse-image 18350521 is_animated_gif=
dam=1 expand=1]

For some reason in kindergarten we ate grass at one point. Like, pulled it out of the ground and ate it.

One day my best friend came crying and said that his dad told him we would become cows if we kept eating grass.
No Streaming Either
[rebelmouse-image 18350522 is_animated_gif=
dam=1 expand=1]

When my parents first got cable when I was a little kid in the early 80's, I was so excited. Then the day finally came and when it was installed, I triumphantly told my parents that the first film I wanted to watch was Empire Strikes Back, to which my mother told me that that film was not on HBO or any of the other movie channels that month, and that's when it dawned on me that "cable TV" didn't mean you can just watch any movie ever made that you want to see, there were only certain films that each channel showed each month. It was 1981 and little kid me thought cable was streaming on-demand, when that wasn't a thing yet.
Reality Check
[rebelmouse-image 18350523 is_animated_gif=
dam=1 expand=1]

I could be anything I wanted when I grew up.
Grayscale
[rebelmouse-image 18350524 is_animated_gif=
dam=1 expand=1]

I thought everything in the "olden days" was in monochrome because of black and white movies and photos.
Birds & Wedding Bells
[rebelmouse-image 18350526 is_animated_gif=
dam=1 expand=1]

That the act of marriage was what caused babies to be born i.e. two people marry, they get a kid in a year. After that, drop rate is random.
Berber Probably
[rebelmouse-image 18350527 is_animated_gif=
dam=1 expand=1]

I used to think a carpenter made carpets, I always thought it was a weird job for Jesus to have, considering he lived in the middle east and that it would get covered in sand.
Growth Spurt
[rebelmouse-image 18350528 is_animated_gif=
dam=1 expand=1]

I mistakenly swallowed orange seeds once. My cousins made me believe that soon a plant will start to grow in my body and the leaves will come out from nose and ears and mouth. It was damn scary . They told me it's irreversible.
Unplanned
[rebelmouse-image 18350529 is_animated_gif=
dam=1 expand=1]

That adults knew what they were doing and there was a plan of sorts in place.
Medicine is a difficult profession. Thanks to the wonder that is human nature, healthcare workers are subjected to incredible Darwin-award-winning scenarios daily, so it's no wonder that many of them feel the need to go home and scream into their pillows at night. From self-inflicted injuries to dangerous prescription misuses, these Redditors revealed the most facepalm-worthy patients they've ever encountered.
But be warned: They'll all leave you wondering how we've survived this long as a species.
In almost every interaction with a Karen, there will come a point where she (or he) will ask to speak to the manager. They seem to think that if they over others and just act a fool, they can get what they want—but the following managers REFUSED to let these Karens get away with their inconsiderate antics.
What is it that makes people confess their deepest, darkest sins to millions of strangers on Reddit? While we may not know the answer, we do know that the following confessions run the gamut from funny to salacious to nasty nightmare fuel. In fact, you might want an Ouija board to send some of these skeletons back to the closets from whence they came.
One of life's many challenges to being successful and happy is to work hard and stay focused on our respective goals.
There are many obstacles that can discourage us, but persistence and a drive to overcome can be rewarding.
Unfortunately, there are some things that are simply beyond our control, and it has nothing to do with fate.
It's the qualities we're either born with or without that can impede us or prevent us from ever achieving what can only be seen as a pipe dream.
Curious to hear examples of one of life's cruelties, Redditor G00dR1ddance asked:

"How did your genetics f'k you over?"
These Redditors were unhappy with appearances.
Uncooperative Vision
"Lazy eye, and a total lack of depth perception."
– Crow_of_Judgem3nt
"Same. Do you struggle with driving? I just moved to a big city and I can't drive here bc navigating all the traffic is too hard with no depth perception. It's so scary!"
– Subnautica24

The Worst Parts
"Moms Family: Perfect teeth, male baldness. Dad's family: Terrible teeth, perfect hairline."
"Me: Sh**ty teeth, bald before 25. My 2 brothers: Perfect Teeth, Perfect Hairline."
"Feels FN bad."
– Yogannath
"They should all chip in for a trip for you to Turkey for a cheap hair transplant and dental work."
– turboprop123

Made For Farming
"All 4 grandparents were farmers. I look like I was bred to farm and f**k to make more little farm workers. Broad shoulders, big boobs, no waist, no @ss worth mentioning, and thick legs. I just look like I was bred to work forever until I die. 120 years ago."
– bwvdub

Stop With The Flattery
"I too am sturdily built. I am not tall but I am muscular and broad with the big boobs and the broad hips and sturdy legs. I could carry very heavy sacks of feed from when I was very small. My family nickname was 'the forklift truck', so that's.. nice."
– LibraryOfFoxes
Room For More

"My mother's OB said she had a pelvis 'you could drive a bus through'. I was a natural breach birth and share those genetics. You could host the last supper on my a** and have room for plus ones."
– Elephant_axis

These Redditors are living on borrowed time.
Cardiovascular Health
"Bad heart. I'm the first male in at least 4 generations to make it to 40. And that's only because I was finally properly diagnosed and treated. I wouldn't have made it to 35 if I didn't find the right cardiologist."
– socteachpugdad
"Bum ticker - dad's aorta exploded when I was 11 and my brother died from the second heart at 41. Just hoping to see my 60s."
– poontong

Being Kept At Bay
"I have a blood condition where I retain iron. It's slowly killing me. Destroyed my liver, pancreas, and led to a massive heart attack."
​"Fortunately, I live in the 21st century where modern medicine can keep me going with...bleeding."​
– Objective_Stick8335
"Sad Aspect" Of A Family
"Huntington's disease"

– alc1864

"My oldest uncle married a woman who had Huntington's, but they were very young and she wasn't symptomatic yet. In the 70s so no genetic testing or much public awareness. They had 5 daughters. My aunt and their eldest have long since passed away, and the remaining 4 are in various stages of the disease. It's always been a sad aspect of our family. A truly cruel disease."
– Wasyloosker12

BRCA Genes
"I'm BRCA2 positive, giving me roughly 74% chances of developing an incurable genetic breast cancer in my life. It also gives me about 22% of having an ovarian cancer."
"On the other side, double mastectomy lowers my chances to about 3%, but it should ideally be done before I reach 30. I will also need a hysterectomy in my 40s."
"I had 50/50 chance of getting the BRCA2 gene mutation so well, genetics did f'k me over!"
– PoutineMaker
Redditors share more of their crosses to bear in life after being blessed with these traits.
"I'm more attractive to mosquitoes than most people. If I'm out when mosquitoes are around, I end up covered in bites (which I'm also allergic to, so I end up with quarter sized welts that itch for daaaays after the fact)."
– p1013

It's sobering to realize the ailments your parents struggled with are starting to become our own to bear. ​
High blood pressure, arthritis, and predisposition to atherosclerosis are some of the undesirable parts of my family's genetic makeup that I never really thought about until I noticed how fatigued and in pain I've become with age.
Although I have so much gratitude for surviving every year I get to celebrate my birthday, getting old still sucks.