The subject of Chick-Fil-A is a bit of an uncomfortable one for a lot of people.
Their waffle fries may taste amazing, but it turns out that their anti-LGBT tendencies aren't as much of a thing of the past as they had lead consumers to believe.
---
Back in 2012, the company's Chief Operating Officer Dan T. Cathy spoke out repeatedly in opposition to marriage equality after reports that the company's charitable organization, WinShape Foundation, had donated millions of dollars to anti-LGBT organizations.
The company quickly backtracked on this stance, and claimed an exit from political involvement:
"Going forward, our intent is to leave the policy debate over same-sex marriage to the government and political arena."
This wasn't exactly what they did, however.
ThinkProgress recently released information from the Chick-Fil-A Foundations tax filings that shows it donated 1.8 million dollars to three organizations with distinctly anti-LGBT policies in 2017.
In response to this news, The Dru Project got a little creative with their fundraising efforts.
Anyone feeling a bit guilty about their waffle fries or deluxe chicken sandwich can make reparations by donating the cost of their meal to help sponsor queer youth scholarships.
The Dru Project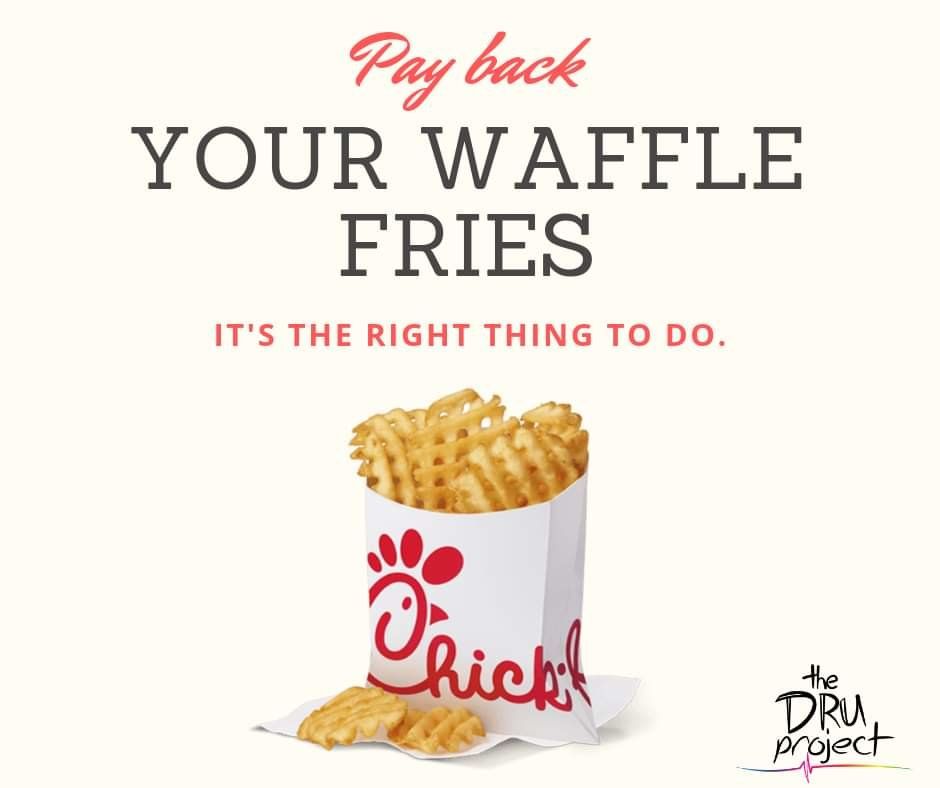 The Dru Project The Dru Project/Facebook
"Recently, we have gotten promises for donations by friends of The Dru Project who may have slipped and gotten waffle fries, lemonade, or a chicken sandwich from Chick-Fil-A."
"As you may be aware, this company has repeatedly donated to foundations working against the LGBTQ+ community."
"If you want to make reparations for this, we are happily accepting confessions & donations below. Turn that waffle fry guilt into curricula or scholarships for LGBTQ+ youth! 🏳️🌈⤵️ "
The Dru Project was created in memory of Christopher Andrew Leinonen and his partner Juan Ramon Guerrero who were killed during the Pulse nightclub shooting in 2016.
It honors Leinonen and the other victims by working to improve the lives of LGBT+ youth through scholarships.
"Naturally, we wanted to honor him and his legacy the best way we could: By empowering LGBTQ+ youth and setting them up to be the successful leaders we desperately need in this country."
There were several people feeling the waffle fry guilt.

Steven Peterson/Facebook

Terry Castillo/Facebook
One Facebook user wanted to spread the world IRL in an area where Chick-Fil-A is one of a limited number of options.

Zachary Perrault Rudick/Facebook
Donations weren't limited to people who were feeling guilty.

Mark Russell/Facebook
Anyone wanting to support The Dru Project in their mission to help queer youth be successful can donate through their website (PayPal button near the bottom of the page) or Facebook page.