Maybe people would think twice about lying on their resume if they knew it could result in jail time. In Greece, an unnamed woman who's been working as a cleaner at a school for the past 18 years has been fired and now faces jail time for that very crime.
---
According to The New York Times, the woman "doctored a certificate to show she had completed six years of primary education (roughly elementary level) instead of only five." To be totally fair, she was caught lying. However, what she forged was an elementary school certificate. It's unclear whether or not the woman actually finished elementary school but, either way, it had very little effect on her ability to work as a custodian for 18 years.
The woman's case is currently under appeal by Greece's supreme court, and her story has gained the attention of more than 47,000 people who signed an online petition to see her exonerated.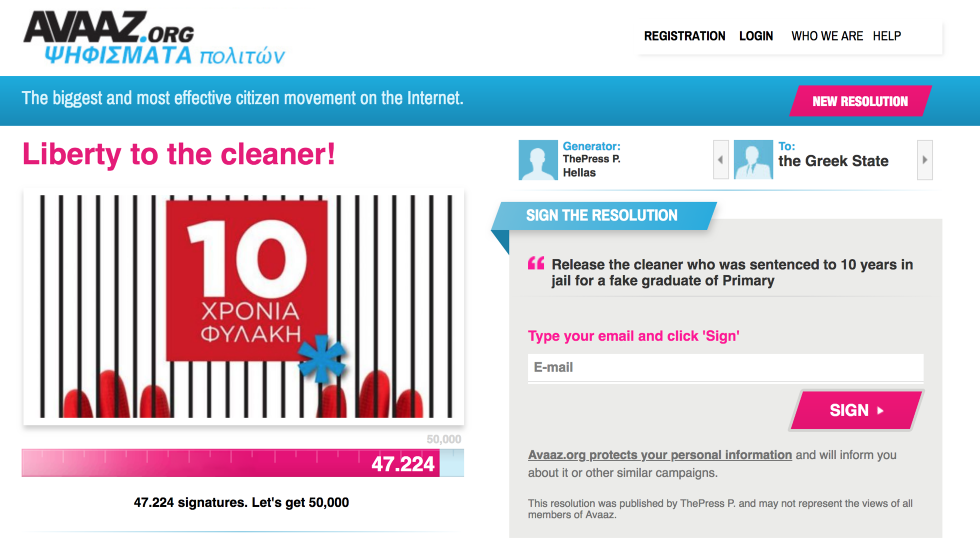 Avaaz
In Greece, lying on a resume is taken far more seriously than in the United States, where most lies go uncaught and, if noticed, usually result in nothing worse than rejection for the position.
In other countries, the same offense can result in jail time.
This particular instance may seem especially ridiculous considering the woman's clear ability to do her job, but many governments, including the United States, set licensing requirements for jobs that make little sense in practice.
According to Inc.:

"...many states require hair braiders to have cosmetology licenses, even though braiding isn't taught in the training. Interior decorators, florists, gas pumpers, and upholsterers must all obtain licenses to do their jobs in certain states."
In other cases, licensing requirements are a clear sign not of skill-level, but of prejudice. For instance, when large fires break out in the United States, local prisoners are often enlisted to help fight the blaze—hundreds are helping fight the California fires even now. They work on an incredibly small salary and for days taken off of their sentences. However, once they are released, they are considered unqualified to do the jobs they've already done because California, like many states, requires all firefighters to be licensed EMTs, "and the EMT licensing board is allowed to reject anyone with a conviction."
Twitter thought the unnamed Greek woman was getting a raw deal:
Licensing is not an inherently biased form of government regulation, and can be necessary in cases when a livelihood requires a very particular or dangerous skill set. People like this unnamed Greek woman, however, shouldn't be barred from the work, especially when it's clear to all that she's more than capable of doing it.

H/T - Inc., The New York Times