I've dreamed of being on Family Feud since I was a child, but that was back when my family could somewhat stomach to be in the same room. (It's probably not a good idea to turn the "feud" in Family Feud into a real thing, ya know?)
In all seriousness, I'd probably come up with better answers than the people who fumble only to have their braindead family members yell out "Good answer! Good answer!" as the host looks on incredulously.
But that has to be staged, right? People can't be that ridiculous, right? What actually goes on behind the scenes?
"People who have been on game shows: What are some things us viewers don't know?" –– This was today's burning question from Redditor cutchisclutch22 and it's a trip!
---
"They tape..."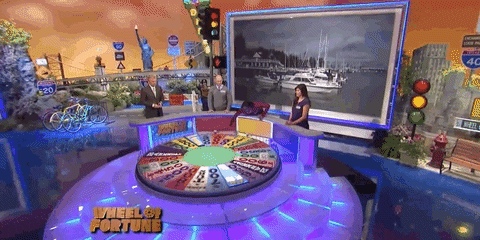 Giphy
Was on Wheel of Fortune. They tape a full week's worth of shows in one day, so as a contestant you get to watch the game being played at least four other times as an audience member.
"A hype man..."
My partner was on Who Wants to be a Millionaire, and I was in the audience. They tape about 5 shows a day. The audience in the background is made up of all the contestants and their partners. You were forced to stay for the full day to sit in the audience. A hype man would come out and spriuk the crowd, and yell at you if you weren't looking excited enough.
"They tape five shows a day..."
I was on Jeopardy! Alex Trebek was not allowed to speak to the contestants except when the cameras were running. They were afraid of claims of collusion. We dealt with the staffers. At Final Jeopardy!, the staffers will come up and help you to figure out how much you want to bet and what you're hoping for in the final result.
They tape five shows a day, and you're supposed to bring at least three changes of clothes, so if you win, you go up and change clothes so that it looks like you're on two days in a row instead of two shows on the same day.
"I had to pay CA sales tax..."
Was on Wheel of Fortune years ago. The game goes A LOT faster when you are playing it so cut people some slack when you think the answer is obvious. The "Used Letter Board" is just a white board that somebody writes letters on as they are used. Nothing fancy. They play the actual commercials during taping and contestants have to turn around with their back to the board during it so they don't study the board. Vanna is super nice and walks over and talks to contestants during commercials but Pat leaves immediately and comes back right before. You literally meet him when he reads your info card at the beginning. I am short so I had to stand on a box because they want everyone the approximate same height. I won several thousand dollars worth of merch. I had to pay CA sales tax before it was shipped to me then in my state that total was added to my taxable income.
"The backs of all the props..."
The backs of all the props on The Price is Right is all open wires and circuits. The models (1997) were rail thin. Bob Barker looks orange in person with all the make-up. The show is one hour and it was taped in one hour.
"Some of my smaller prizes..."
I was a big winner on The Price is Right. A few things that come to mind.
You don't get the car you see on the show. A local dealership called me after it aired and told me to come pick a car, think of it as a $23,000 gift card. I could have any car, but had to pay the difference if it was more expensive.
The producers make a BIG DEAL to tell you not to go over on the bid in the Showcase round. Two overbids means no winner, which is a downer. It really screws with your head, which is why you see many drastic underbids.
From arriving at the studio to the show starting was 3 or 4 hours. From the show starting to me sitting backstage having won a car was less than 5 minutes. It's pretty surreal.
Drew vamps with the audience during commercial breaks.
Some of my smaller prizes were delivered in literal Amazon boxes to my house.
Amongst other things I won a cellphone and data plan. They gave me the value in cash instead (no choice). For all other prizes I was given the prize without a choice for cash. They offered me cash instead of the car, but it was something like $12,000 for a $23,000+ car.
After the show they had to refilm somebody having their name called and running to the front, the person never got on stage so having them fake excitement was awkward.
That's all I can think of for now.
"I was an audience member..."
I was an audience member for X Factor in Australia and they filmed the "reaction" shots before we had even seen anyone perform. A guy on a loudspeaker would count us down and then we'd have to do our best grimace, or cringe, or amazed face.
I made sure to include some movement when I knew the camera was sweeping over me so I raised my hand and bit my knuckle in a fake cringe and sure enough that shot was included in the final edit of some poor bloke who never stood a chance.
I also noticed what I assumed to be the director do a thumbs up, thumbs down or half-half hand to the judges before each contestant. It's already decided who goes through to the next round.
"Because they are filming..."
Was on the Newlywed game.
Because they are filming 3 - 5 eps in a day, the bulk of the audience is a bunch of actors who get paid to come in and applaud and cheer on days they don't have rehearsals and call-ups. My (now ex) wife and I had brought friends, and it was a whole process to get them to be able to be in the audience.
"The contestants..."
I was on America's Funniest Home Videos (second place yay). Sitting in the audience smiling and laughing constantly is exhausting. Like I was so done by the time filming was over. The audience does actually vote! However, they don't show them actually voting. There is like a real one and then a fake one that is filmed. We also get to watch the videos for the episode, but they are played on an off camera screen. The electric wall behind the host doesn't actually have much of a purpose.
The contestants sit in the back until the announcements where they move them to the front. They gave each of us money for every day we were there to buy food. 75$ for the adults and 50$ for the kids. That's fine and all and definitely enough to feed a person for a day, but this is in Los Angles and the contestants come from all over the country. Of course we want to try some cool food! The hotel buffet breakfast alone cost 20$ per person. I totally get it but c'mon man.