Foods People Desperately Tried To Like But Couldn't Get Into
Reddit user cloudtdaz asked: 'What food have you tried liking but just can't?'
Coralline Clin on Unsplash
There's a misconception that some foods are so superb in flavor or quality that everyone will love them, but taste is extremely subjective. A person's sense of taste can vary greatly even within the same family.
There's also some debate about the capabilities of the human tongue.
Biology suggests human taste buds only detect four flavors:
sweet
bitter
sour
salty
But most culinary experts speak in terms of seven flavor profiles:
sweet
bitter
sour
salty
meaty/umami
cool/minty
hot/spicy
What one person tastes is likely not an exact match to what someone else does.
Some people love spicy foods while others feel physical pain when eating foods featuring chilis. Some people are sensitive to salt while others add extra salt to everything they eat.

Because our sense of taste is so individual, it's inevitable some popular foods won't be palatable to everyone. And that's not even considering texture, smell or appearance which can also turn a diner right off.
---
Curious about which foods left people disappointed, Reddit user cloudtdaz asked:
"What food have you tried liking but just can't?"
Peeps
"Peeps,the Easter sugared candy."
"I like to think I can digest anything covered in sugar BUT NOT THAT...."
~ Asapdustybraids
"They're best when they're stale. I can't eat them fresh."
~ Vicktrolia
"My grandmother would send them to my dad every single year. He would leave them in the cabinet for probably 2-3 years. When the new pack arrived on Easter he popped open the 3-year-old pack."
~ DrKennethNoisewater-
"He dry aged peeps. That's incredible and terrifying."
~ BeesNeverSting
"Peeps are some of the foulest creations that have ever hit the food realm. Whoever invented them needs to have their existence removed from history."
~ shatteredhelix42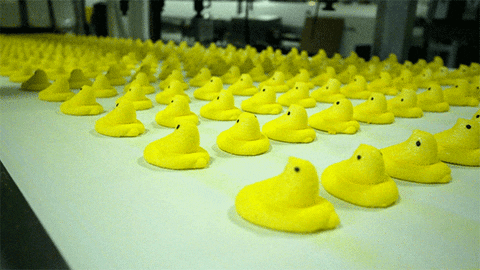 Giphy
Grape-Nuts
"Grape-Nuts."
"I hated them as a kid but as an adult I decided to try them again, thinking maybe my tastebuds had matured by then."
"Nope. They were still just as awful as I remembered."
~ kanna172014
"My grandpa used to eat them every morning with coffee instead of milk."
"I'm not sure if he was lactose intolerant or what but good grief, I can't imagine what that combination tasted like."
~ hornet_teaser
"As a kid, I never felt more lied to."
"I liked grape juice and grape flavored candy, so why wouldn't I like 'Grape-Nuts'?"
~ triton2toro
"Hate the cereal, but love the ice cream."
"Not sure if it's just regional, but here in Maine Grape-Nuts ice cream was around for decades. I think only Gifford's still makes it commercially."
~ LakotaGrl
Just Offal
"Intestines/innards of any kind and solid portions of fat on meat."
"One of my husband's favorite dishes is barbequed intestines (Japanese barbecue) and I can smell its appeal, but I physically can't deal with the texture."
"And it really saddens me because I've always wanted to eat menudo and I know the soup is bomb AF 😭."
"I think I have some sort of fat/chewy PTSD from when I was forced to eat gristle off of meat as a kid."
~ LeocadiaPualani
"Yeah I can't do innards either."
My mom loves that stuff because 'it was the cheap stuff back then" and they had a big family. I guess I'm glad I'm an only child."
~ ilovepeachpie
Black Licorice
"Black licorice."
"I've accepted my DNA just can't stand the stuff."
~ slimpawws
"My mom loves it. She makes it look so good."
"I'm 29 and I still think 'hmm maybe this time...'."
"Nah. It's like tar vomit."
~ lpcoolj1
"Same with my mom."
"Black licorice, black jellybeans. She loved 'em."
"I inherited exactly ZERO of her taste buds for that."
"It is the foulest flavor ever."
~ Retro_Dad
"Black licorice tastes like depression."
~ pr0f0undleader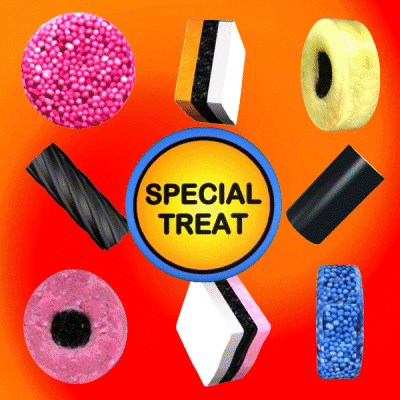 Giphy
Eggnog
"I can't drink eggnog."
"Every year I give it a shot and try to like it, but I just can't."
~ cyberzed11
"I mean , it's essentially drinking (sometimes alcoholic ) custard. So that's fair."
"I myself cannot be trusted with eggnog and should not be left unsupervised or I will put a straw in a half gallon container and slowly sip years off my life."
~ logicjab
"I've always thought it tastes like bad bubblegum so I've never really been a fan either."
~ Huntsvegas97
"Liquid snot."
~ SalesTaxBlackCat
"Yep this. I give it a shot every year to see if it's changed. It doesn't."
"I give it to someone else in my house who likes it; or pour it down the drain."
~ Electric_Leopard
"It's truly awful. Texture taste smell, all just bad."
~ ruffsnap
Liver
"Liver the smell alone makes me sick."
~ Redditor
"I just wonder how Humans get to that stage."
"They find something, it smells foul, cook it, still smells foul, AND THEN DARES TO EAT IT."
"We're glorious as a species."
~ xseodz
"I'm guessing when we first started eating liver, humans didn't smell very good either."
~ LakotaGrl
"I have tried it maybe 15 times, different preparations because people claim their recepie makes it not taste like sh*t."
"Lo and behold, it still tastes like funky iron meat."
"I don't even like foie gras for the same reason, that metallic taste comes through, ugh!"
~ doomLoord_W_redBelly
Kombucha
"Kombucha, smells like stinky feet and taste like vinegar to me."
~ -LordKromdar-
"Kombucha absolutely DOES taste like vinegar, coming from someone who loves it. Other kombucha enjoyers will try to deny the vinegar taste, I embrace it because I bloody love vinegar."
"I even have 'sipping vinegars' in my fridge in various flavors, to add to cocktails or to pour a shot glass of and sip on… just pure vinegar."
"Very strange of me, and I totally understand why other people would not like that flavor."
~ UnderwaterParadise
"Oooh people used to drink vinegary things a lot more because they were refreshing! Try raspberry shrub!"
~ lyan-cat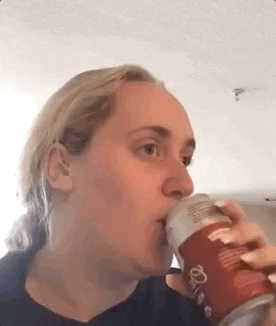 Giphy
Sparkling Water
"I know this is a drink, but sparkling water."
"I like some flavors, but I can't stand that after taste. Bleh!"
~ TruBluBritt
"The way I describe it: 'it's what tv static would taste like' or 'it's the same flavor as hitting your funny-bone'."
~ LazyLich
"We were given some flavored water at work and my employee said it tasted like 'a strawberry farted in the water'."
~ g-e-o-f-f
"My son calls LaCroix a piece of fruit waving to to a can of water."
~ pittipat
"I say with Perrier that someone yelled a flavour into the water."
~ structuredchronicles
"My favorite is 'someone placed a lime skittle next to some soda water'."
~ DosiMoe
Overnight Oats
"Overnight oats. They're basically lumpy, cold snot in my throat first thing in the morning."
"I gag just thinking about adding chia seeds."
~ DarkDesireX
"This comment has me literally confused as to if I actually like my overnight oats or just tell myself I do."
~ Lord_Knorr
"Oh man. I feel this."
"It just looks like refrigerated vomit to me. Absolutely not."
~ slmr38
"I tried to like overnight oats for a couple of weeks."
"Tried a bunch of different recipes, but they all ended up being disgustingly sweet slop."
"The only one I sort-of liked was the 'chai latte' one, which emphasized spices over sweets."
"Still not worth the effort to make them—I'd rather just make microwave oatmeal."
~ Noise_Cancellation
Wine
"Wine. Every year I'll try it around the holidays with family and it's still gross."
~ Redditor
"You can only appreciate wine after you have tasted the bitterness of life."
~ Spirited-Site-Hunter
"Once in my life I have tasted wine that I actually liked, and that was Golconda wine, which I tried in Darjeeling."
"After I got back to the USA, I decided that I would, for the first time in my life, actually spend money to acquire wine."
"Went to a wine shop. They had never heard of it."
"Turns out it's not exported, and if you want some, you have to go to India."
~ Wild-Lychee-3312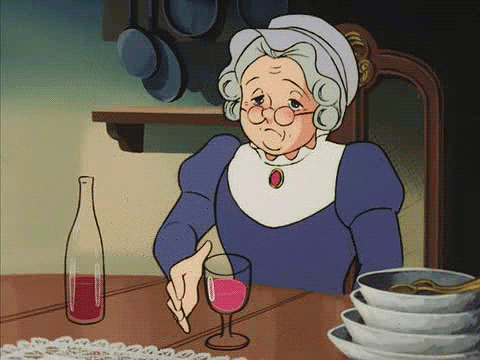 Giphy
Olives
"Olives. I've tried many varieties."
"I always try them because they look like they'd be good but they're just not."
~ TRIGMILLION
"As a bartender for over a decade, I'm constantly surrounded by olives."
"They always look good & once in a while I'm like 'do I like these yet?'."
"No. I still hate olives, & I hate myself more for trying again each time & expecting different results."
~ kandixchaotic2
Matcha
"Matcha ! Just tasteslike grass to me."
~ mulberrycedar
"I worked in a business park that had a matcha headquarters in it. They moved out and dumped big boxes full of matcha samples that they took to trade shows."
"Never tried it before but I was thinking what a treat I had found, I would be enjoying free matcha for at least a year if not longer."
"Boy was I wrong."
~ TiogaJoe
"Seriously, I do not get the hype about it at ALL."
"Like when people tell me matcha frappes at Starbucks are the best I'm just like 🥴🥴 bffr dude?"
"That sh*t tastes like creamier wheatgrass. Nasty."
~ SilverWorry8047
Mushrooms
"Any kind of mushroom."
"It's not the texture there is always a taste that i cant do for some reason."
~ Correct_Ad4937
"Taste and texture for me! It's the only food I absolutely hated since I was a child."
~ BelenadaSilva
"Same. I can eat them on a supreme pizza because they just get lost in everything else, but if I can taste them, I'm out."
~ notonrexmanningday
"Eating cooked mushrooms feels like chewing on rubber."
~ Icy_Ad_9134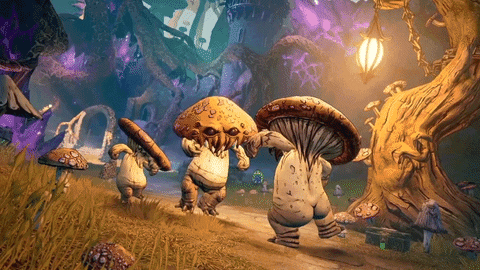 Giphy
Beets
"Beets. I just can't."
~ Many_Dirlam
"What got me to like cooked beets was a beet and goatcheese salad at an upperscale restaurant."
~ dilfybro
"Nope! Tried one of those and they still taste like dirt."
"I don't care how you prepare them, pickled, roasted, whatever the f'k, they taste like dirt."
~ vandelayATC
"Vile root.
"Wash them, peel them, boil them, add sugar, mix with sour cream, put in a salad, all you accomplish is different tastes to accompany the overwhelming flavor of DIRT."
~ logicjab
Okra
"Okra."
~ crablegsforlife
"Soggy fried okra is the dinner of my nightmares."
~ Bigsam1514
"Okra is an abomination."
"I like damn near all vegetables but that slimy bullsh*t can f'k right off back to the ectoplasmic bog it slithered out of."
~ An_Appropriate_Song
"Okra? She's not that bad."
"You have to at least admit she was generous with the audiences and she's a decent interviewer."
~ Redditor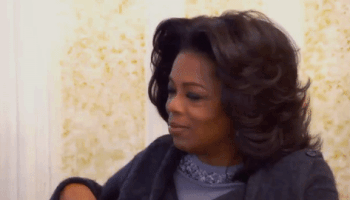 Giphy
I have two to add that weren't mentioned:
Which is embarrassing as both are culinary staples in my culture.
Lima beans are probably disliked by plenty of people, but salmon is on lots of restaurant menus. I've tried it over a dozen ways—poached, broiled, grilled, pan-seared, smoked, marinated, as sashimi, dried, loafed, baked—and I just don't like the taste of it.
Salmon is the only fish or seafood I've tried that I dislike and I've had both octopus and sea urchin. I'm sure my ancestors are mocking me.
Have you ever really wanted to like a popular food but ended up giving it a hard pass?
Share your experience in the comments!
Reddit user _Halboro_ asked: 'What was something fairly small that made you feel betrayed by your SO?'
When you're in a relationship, the things your significant other—or sig-O—does hit different.
Teasing remarks you'd laugh off from friends can feel like a knife in the heart when your romantic partner says it.
Minor slights can easily become major issues in your relationship if you feel vulnerable.
Reddit user _Halboro_ asked:
"What was something fairly small that made you feel betrayed by your [significant other]?"
Unequal Devotion
"When he was doing a work contract overseas I sent him love letters every two weeks to feel connected."
"When he got home and unpacked I found many of them unopened."
~ athenasplanet
"My high school girlfriend lent my hoodie to someone else."
~ Responsible_Roll7065
"Gah! I had a University BF lend My hoodie to a girl (who was a smoker, too. 🤮)."
"There were at least 15 other single guys there that could have stepped up and lent her their sweaters, but mine was up for grabs!"
"And when I got it back it reeked. So, annoyed with him on multiple levels."
~ Au-stellar-12
Unequal Effort
"My sister was in the hospital and he didn't do the dishes while I was gone for 3 days."
~ shirleytrix
"When he got Covid, he was quarantined downstairs. I waited on him hand and foot."
"Three days later, I got Covid but while he was feeling better and still quarantining himself, I had to be sick and care for our son."
"I was stooped over the counter trying to make him dinner and he just went back downstairs. I'll always remember that."
~ Lychanthropejumprope
"My sister, nephew, and mom went on a vacay for about 9 days including travel days."
"When she and my nephew got home, the sink was full of dirty dishes and so was the island in their kitchen. Their island is HUGE, bigger than what I would consider average for a home."
"There were also trash bags just sitting around the house and it was just absolutely disgusting."
~ Ill-Stomach1871
"It's small, but one year we were both working 15-18 hour days but had Thanksgiving off. I planned the menu, he didn't give input."
"I ordered the ingredients online during my lunch break to pick up after work because I didn't have time to shop."
"I woke up early, made everything. Cleaned the dishes and the kitchen after."
"All he did was complain."
"I made too much. I had too much wine (3 glasses over 7 hours)."
"After all that work and not even a compliment or a thank you?
"Yeah—we divorced. That was our last Thanksgiving together."
~ azorianmilk
Unequal Consideration
"After complaining for months that I never got to sleep in, despite being the only one to get up to the kids in the night, he finally let me sleep in one morning."
"I woke up hearing him quietly saying to the kids 'Mummy's had long enough; go wake her up'."
"I only had maybe an hour extra. He always had several."
~ a-nony-mouse33
"I'm almost always up first. I tend the pets, get the kids going and make coffee. 20 min routine."
"Every morning I'd bring him a cup of coffee and open the curtains to let some sunlight in and then leave and he would play on his phone and sip coffee for half hour while I tended the kids and got to work."
"Then he complained that just because I was up didn't mean he had to be up."
"Guess who doesn't get hot coffee in bed anymore."
~ MsFlippy
"My ex would skip the songs I liked that came on the radio."
~ violet_hydrangea
"Was on my way back from Turkey with a nice stash of dried fruit from Afghanistan (imported to Turkey)."
"Declared it on my customs form."
"Got detained for agricultural reasons, said they would let me go but had to take the dried fruit."
"I looked and looked but could not find it. Was detained for hours."
"Turns out my girlfriend ate it all while I was asleep on the flight."
~ neuro_exo
Unequal Humor
"We were going through airport security together."
"She went first and when she was being screened, pointed at me and said 'make sure you check my boyfriend, he always has knives' as a joke and then I got detained for a search and questioning and almost missed the flight.
"And no, I didn't have any knives other other contraband on me. Then she got mad at me for almost missing our flight."
"LIKE WHAT DID YOU THINK WOULD HAPPEN HERE EMILY‽‽"
~ ThadisJones
"When we were signing our first lease she joked with the landlord about how rowdy I am, to 0 chuckles or even a smile.
"I wanted to bang my head into a wall."
~ NCAA_D1_AssRipper
Unequal Respect
"I had a friend who dumped his girlfriend when he overheard her making fun of his (admittedly, rather nerdy) sister to her friends."
"He said it wasn't just about loyalty to his sis, it was about not wanting to be with someone who has to put others down to feel better about herself."
"Always thought it was admirable."
~ whitneywestmoreland
"The most extreme case I know of is my dad and the girlfriend he had before my mom came along."
"He and the gf were high school sweethearts and had been together for three years. They were both dying to see Back to the Future 2, a movie that had been highly anticipated for years."
"He had a family emergency the day it came out so they agreed to see it the following Monday. He found out from friends she went to see it with a douchey guy friend my dad never really liked."
"He was so hurt and she was so unapologetic—her attitude was 'I'll go see it with you too! Why did I have to wait?' even though they'd agreed to see it together. He told her they needed to take a break."
He fully meant for it to be temporary, just until he cooled off, but then he met my mom when he went to see the movie by himself…and he never looked back.
"He does feel a bit guilty though because his ex was pretty devastated when she found out he'd met someone else and wanted to end things for good."
~ levoyageursansbagage
People felt these were minor slights, but many seem pretty major from the outside looking in.
Most ended the relationship being described.
I guess it's proof positive that little things—good or bad—mean a lot.
There's this ongoing, universal joke that no one reads user's manuals for new items, so often items aren't built or used quite the way they were intended.
But some products, whether there's a user's manual involved or not, will be used for activities that they were in no way designed for.
Redditor OfficialDampSquid asked:
"What product is rarely used for its intended purpose?"
Clothespins
"Clothespins have spent years keeping bags of chips closed in my house, not a minute hanging up clothes."
- jpiro
"Great in the shop as mini clamps, specifically when gluing the linings to acoustic guitars."
- Fluffy-Anything-5528
Free Parking Corner
"The corner that says FREE PARKING on the Monopoly board."
- DanielleAntenucci
"I don't know one single person who plays that game correctly. It's insane how house rules caught on and became almost universal."
- Dr_broadnoodle
Cotton Swaps
"I'll be deep in the cold, cold ground before I use a Q-Tip correctly."
- PM_DEGRADING
"95 percent for cleaning electronics. Five percent for cleaning your ears."
- Fried-Pig-Dogs
Bubble Wrap
"Bubble wrap. It was invented as a wallpaper in the 1950s."
- fuzzysarge
"Just mist down your windows with plain water and the bubble wrap just sticks by itself."
"I didn't know this trick when I had to make a bathroom more private. As a stopgap, I just sprayed the windows with fake Christmas snow."
- RedditZamak
For Surgical Purposes
"K-Y Jelly was originally developed as a surgical lubricant."
- JiveChicken00
Fixes Everything
"Duct tape. Works on everything but ducts. (They make a special tape for that, and it's not called duct tape.)"
- ImpliedSlashS
From War to Screen Doors
"WD-40 was originally created to stop nuclear missiles from rusting."
- ShoopufJockey
Great for Kids Crafts
"I want to say pool noodles. I see a new craft for them weekly and rarely see them actually in a pool."
- gigieileen
Baking Powder Uses
"Not 'rarely used' per se, but the amount of baking powder not used for baking things is quite high."
- DayOk6350
"You can use it to instantly set super glue and create a stronger bond that is as hard as plastic and nowhere near as brittle as a regular superglue bonding."
- Happy-Personality-23
The Question Is In the Name
"Glove compartment in a car. Who actually has gloves in them? I think they are a throwback to when people had driving gloves."
- Urbanredneck2
Yardstick Purpose
"Yardsticks."
- procrastinatorsuprem
"When I was in school, all the teacher ever used it for was to smack the chalkboard to get everybody's attention when the class was acting up."
- Rich_handsome
"We use it to push the button on the smoke alarm, get spider webs on the ceiling, and every once in a while measure how deep a snow storm is."
- procrastinatorsuprem
Treadmill... Closets
"Treadmills at home."
"Or any exercising equipment at home... ends up being a clothes holder."
- shubidoobie
Mouths Instead
"Listerine was originally sold as a floor cleaner."
- mtgkajhit
"Listerine was one of those products which was marketed to do literally anything to do with clearing."
"It was also used as a medical antiseptic during surgery."
- Woffingshire
Great for Crafts
"Pipe cleaners."
"Does that count if they're called "chenille stems", brightly colored, and for sale alongside kids' craft supplies?"
"Because if that does count, so should Play-Doh. It was originally invented to clean wallpaper, but once kids started playing with it (it had been nontoxic from the beginning IIRC) they changed the marketing and sold it in lots of colors."
- DBSeamZ
Cell Phones
"Mobile phones, used for anything, except for making phone calls."
- FatCat_85
"Mobile phones are used for their intended purposes, but that purpose has just changed over time."
- Reddit
These products are all a great example of how products can have multiple purposes, which technically means we can have fewer items in our homes, which means fewer things to clean!
And if cleaning the floor is a concern, apparently we can use the Listerine... while brushing our teeth. Who knew?
As children, when we saw grown-ups behave in certain ways, we more than likely promised ourselves we would never be like them.
That we would never lose our temper at minor things, groan over the slightest ache in our bodies, or choose work over fun.
However, when adulthood creeps up on us, certain things about the person you become you have little to no control over.
As a result, you might find yourself screaming at children for being too noisy or going to bed at 9:15 instead of seeing a midnight screening of your favorite movie and realizing that you have become the very thing you've been trying to avoid your entire life.
Redditor UglyLikeCaillou was curious to hear what type of person the Reddit community ended up becoming, despite vowing they wouldn't, leading them to ask:
"What type of person did you swear to never turn into growing up, but did anyway?"
Letting It Out Can Ease The Pain...
"The one that makes noises when I get up off the floor."- tutohooto
The Wise Know The Vital Importance Of Being Silly

"I swore I'd never stop being goofy."
"That I'd always try to find the positive and wouldn't give up hope."
"But then life happened."
"It's hard staying an emotionally sensitive and caring person when so many people are just plain mean."- Lucky_Garbage5537
It's Possible, Even In A Room Full Of People...
"I never thought I would grow up to be so lonely, but here I am."- oldbaldgrumpy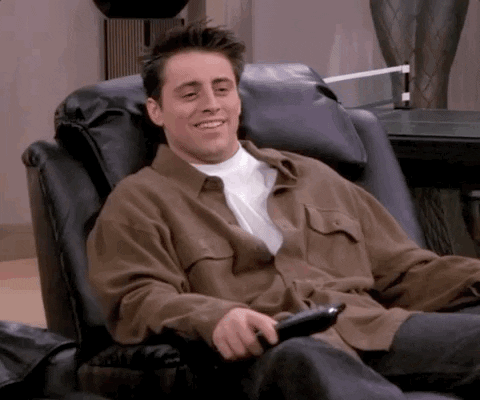 Sad Season 2 GIF by Friends
Giphy
Temper Temper...
"An angry person."
"Life and people are just too much all the time."-Jumpy-Air-3385
Some Call It Frugal, Others Call It Cheap....

"The kind that put something back cause the store brand was 20 cents cheaper."- penndelnj
A Far Too Common Occurrence
"I never thought I'd live paycheck to paycheck by my age."
"I thought I'd be on my way to being financially independent by now, in fact."
"It's always been my goal, I was willing to work so hard from such a young age and never scared to make sacrifices but unfortunately my people-reader is skewed and all I ever really got was taken advantage of."
"It's not too late, I'm smarter now and I'll get there."- FriendCountZero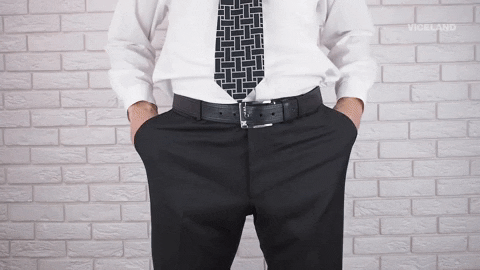 2 Chainz Pockets GIF by MOST EXPENSIVEST
Giphy
Working Hard For The Money...
"A corporate slave."- lapdanze
"My dad was an engineer and I vowed to never be like him in any way."
"Growing up, I always said over my dead body would i become a corporate slave chained to a desk."
"Guess who is a desk jockey engineer now."- Lame_usernames_left
Watch Your Mouth!

"If my child self met my adult self, he'd tell me that I shouldn't say so many bad words."- BarthRevan
The Apple Doesn't Fall Very Far From The Tree...
"My dad."- PolarBearChuck
"The most relatable one, nobody wants to become their parents, it's horrible (unless you have good parents)."- Fine-Macaroon-3202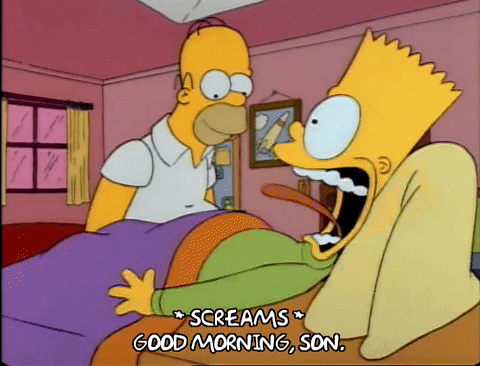 season 2 episode 6 GIF
Giphy
The Comfort Of Your Own Home...
"A homebody."
"In my early 20's I would never miss an opportunity to go out on Thurs, Friday, or Sat night and couldn't understand why my parents would 'waste' a perfectly good weekend night, just to stay home."
"Now I get it. MAN, do I get it."
Derogatory Term, Or Term Of Endearment?
"I remember learning what a nerd was and thinking 'thank God I'm not a nerd' as I went home from school to play Pokemon Emerald and talk on Pokemon message boards about the upcoming Diamond and Pearl games."- hectoByte
Early To Bed, Early To Rise
"The dad that gets up at 4:30 am to exercise, and is ready for bed by 9 pm."- GreyPilgrim1973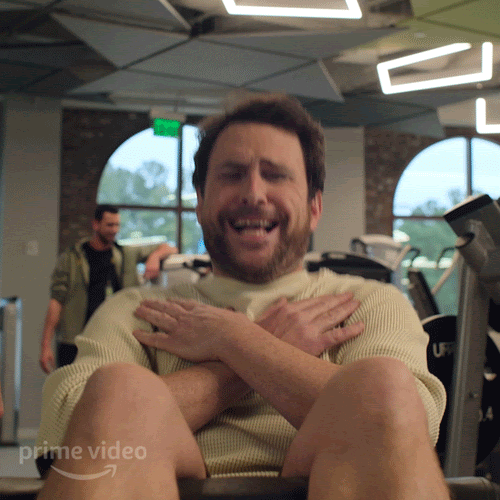 Work Out Pain GIF by I Want You Back Movie
Giphy
Beauty Comes In All Sizes...
"Overweight."
"Not super big, but not skinny anymore."- hoosierhiver
One Can Indeed Be The Loneliest Number...
"Crotchety, single old lady."
"I'm only sometimes crotchety, but I'm almost fifty and still single!"- GimmeUrNachos
Love What You Do! If You Can...
"An office drone."
"Redditing as we speak to avoid looking at yet another ghastly eyesore of a spreadsheet.'
"Why have we done this to ourselves as a civilization?"- onemanmelee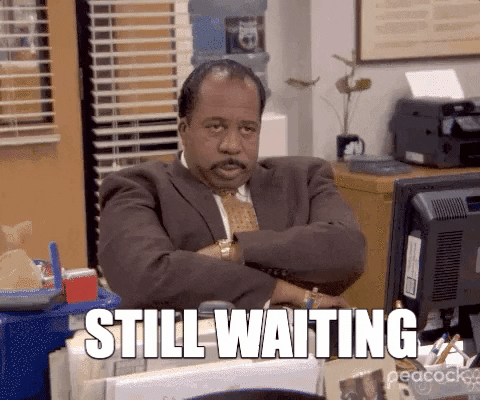 Still Waiting Office Tv GIF by The Office
Giphy
Growing up can be scary, hence why we always promise ourselves we won't turn out a certain way.
Even so, some things about the type of person we grow up to be are completely out of our control.
And rather than bemoan our current situation, it's always best to embrace it and enjoy the precious time we have on Earth with our family and friends.
And maybe cut our parents a little slack for the behavior we judged them so harshly on as children...
My aunt and her ex-fiance were often hailed as the gold standard by my family when it came to romantic relationships. They were perfect for one another and had the healthiest relationship most of us had ever seen. My cousins and I all hoped to emulate their relationship someday.
Then, the marriage we'd all been looking forward to was called off.
Why? My aunt liked to hang toilet paper "over" (which is the right way), and her ex-fiance liked to hang toilet paper "under." When her ex-fiance replaced the toilet paper, my aunt would be annoyed that the toilet paper was hung under, and would complain, but that's where it ended.
When my aunt replaced the toilet paper, her ex-fiance would go so far as to change the position of the toilet paper every time he used their bathroom, and she couldn't take it anymore.
My cousins were so confused. That seemed like a ridiculous reason to call off a wedding. Being a few years older than most of them, I knew realistically, their issues were less about toilet paper and more about the fact my aunt's ex wasn't willing to compromise. However, the party line was that the wedding was called off because of the toilet paper, and to this day, we still tease my aunt about it (who, by the way, found another man, and has been happily married to him for 12 years).
Redditors know people who have called off their own weddings for absurd reasons and are eager to share the stories.
It all started when Redditor AnuragSlNGH asked:
"What's the most absurd reason you've heard of someone cancelling their marriage?"
Prophecy
"One of my friends was engaged and is Catholic. Her husband had to convert and he had a dream where he was in a Catholic Church but not getting married, he was a priest. So he had a vision of becoming a priest and now the wedding is off."
– Southern-Pay9792
All About The Money
"I was going to be a guest at a wedding and found out it was canceled 2 weeks before the date. The bride found out that the groom had gotten a significant discount on the price of the venue and she was insanely angry that anything at her wedding cost less than premium."
"Keep in mind, this was her dream venue that she had chosen. She was just mad that her fiancé was "cheap". Or something."
"I was never super close to either of them, but the last I heard they never ended up getting married."
– NotSureWhatThePlanIs
"Guy dodged a bullet there."
– thefman
"No doubt, my wife and I high-fived when we got a discount on our venue."
– Old_Employer2183
What's In A Name?
"My cousin called it off 3 days in advance because the bride and groom couldn't agree on whether to hyphenate their last names, or use his."
"In retrospect, there was a significant class/ culture divide of which that was merely one symptom."
– thefuzzybunny1
"I used to work with a guy whose last name was West. When he married a woman with the last name Wild, she said she was happy to take his name. He told her that she was insane, and they were not under any circumstances passing up the opportunity to be the Wild West family."
– transluscent_emu
Ban 4
"They realized after everything was already planned, invites sent out etc. that they didn't like the date. They moved it to 2025 so there wouldn't be a 4 in their wedding date."
– MarkmcZack
"Their kids are just gonna jump straight from 3 to 5."
– TripodTheSuperCat
Yikes!
"Bride cancelled the wedding a week before because she was a hardcore disney adult and she was offered a temp job at disney and felt she "couldnt miss the opportunity of her dreams.""
"We live quite a few states away from disney and she said she couldnt do the long distance. Really she just wanted to party like a frat bro in Florida without any repercussions."
"She made a "songs to have sex to" playlist on their shared spotify a few days after they broke up. It absolutely crushed him."
– Reddit
"Oh man, what a sh*tty chick."
"Sounds like he dodged a bullet in the long run, but that must have hurt a ton at the time."
– Sunshine030209
Where's The Ring?
"My friend's former fiancé was a nice dude. Firefighter, easy to talk to, treated her well and got her a nice ring. Every now and then the ring would go missing but he would eventually find it, safe and sound."
"She had a good job, too, and was giving him thousands of dollars a month to fix up a house they had bought to live in after they'd gotten married."
"Turns out, dude was living two lives or attempting to at the very least: he's married for 10+ years and had two kids, the engagement ring was his wife's and he stole it back every now and then to "find" it for her. There was never a house, he never bought one, and used all the thousands he had been given solely on cocaine."
"Needless to say, they cancelled the wedding."
– Zenthoor
Last Minute Non-Planning
"They did nothing."
"They picked a date, sent mails with it to invite people. And then did nothing until a week before said date."
"Of course they could not rent the venue they wanted nor find another one. They couldn't find caterer, dresses etc on time."
"But also, legally, they couldn't get married in such short notice."
"So, they cancelled the wedding, and will get married later."
"It's been 5 years. They're still not married."
– Marawal
"kinda sounds like they're made for each other, lol."
– alohamoraFTW
Worst Prank Ever
"The best man said in his speech that he slept with the bride about 2 weeks before the wedding. All hell broke loose. The groom demanded that the marriage be cancelled. It took a few days to get the truth out & for the groom to finally listen. The best man thought it be a great prank. The groom was apologetic to the bride, but she didn't forgive him. Because he believed in others' lies & won't let her talk."
"He is a big AH. While hunting for the truth, found out best man has a history of sleeping with groom's past GFs & crushes. Still trying to figure out why groom stayed friends with this AH. Awhile ago, bride found out groom is still friends with AH."
– RottweilerBridesmaid
What God Says Goes
"My uncle and ex aunt called off the wedding because "God told them to wait" a month before the wedding. They lived across the country so my parents had to fly with three children under 10 years old and the tickets were non-refundable. My uncle called my dad with the new date, about 6 months after the original date."
"My mom called him later and when he asked if we would be coming to the wedding she said that she spoke to god and he told her to bring her kids to Disney instead. My parents still joke about it today and my uncle divorced that wife a year or two later. Happy ending though, he married his best friend about a decade later and they are truly perfect for eachother. She really is a wonderful woman and we couldn't be happier for them."
– Big_Meesh_
I Wouldn't Give Money Either
"They didn't have enough donations from friends and family."
"They set a date, and when they sent out the invitations, they included a line stating invitations returned without the required minimum would not get seated in the hall, another not allowed into the wedding. The bride and groom would make an appearance outside in the parking lot so they could have a chance to congratulate them, though."
"They received... $0.00!"
"Why? Their minimum was $100. $250 if you wanted food. $500 included "cake service." For alcohol $50 got you 6 drink tickets, and I think the cheapest drink was 2 tickets, and some were 10."
– Demorant
The Future's In The Food
"My Italian uncle canceled his wedding because the bride's family (not Italian) would not serve lasagna at the wedding reception."
"He ended up marrying an Irish woman whose family was okay with serving lasagna at the reception."
– rockyroadicecreamlov
"This actually seems reasonable to me. It doesn't have to be about lasagna but about communication, compromise, and treating the groom as an equal partner. It's indicative of what the entire relationship might be like."
– metmerc