People Divulge What They Believe Some Folks Deserve To Be Shamed For
There are just some people who need a good, spiteful talking to.
The amount of poor behavior I witness on the daily is astonishing.
How are we like this in these modern times?
Instead of serving shame, we're serving justice for improper deeds.
Be a better human.
Redditor ValenFrost wanted to share what people need a little bit of bad spotlight. They asked:
"What do you think people actually deserve to be shamed for?"
---
I shame anyone who doesn't use a turn signal.
Gross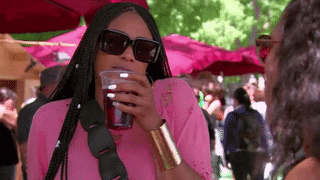 Basketball Wives Ugh GIF by VH1
Giphy
"Leaving pee on the toilet seat when you have guests."
EmeraldDouchebag69
Stay with the truth...
"Knowingly spreading lies about someone."
GolgiApparatus1
"My life was legitimately destroyed by someone knowingly spreading lies about me. I'd been in a new town just a few weeks. It's been almost 10 years and I still can't make friends and my kids still have issues with their friends being allowed to hang out with them over it. All over something that never happened."
pain1994
Don't Toss It
"Littering."
EveFluff
"I remember when I was a kid this guy in a 7/11 threw trash on the ground and another little girl looked at him and said 'you're littering' in that you're in trouble voice. And the guy just said something along the lines of 'I'm an adult, it's ok.'"
wanawanka
Nasty
"Entitled rudeness."
Tobybrent
"Ummmm so I've had a work training that I planned, for MONTHS, and we already had to move the training once because of an internal work crisis. The training was moved to today. It's in an hour."
"This morning alone, 4 people have asked me to move it and they've known the training date for months. It's so disrespectful. Moving the training from our previous date was a $500 fine, and if you can't make it, that's on you. Your poor planning does not constitute an emergency on my behalf."
KMKO926
First Be Better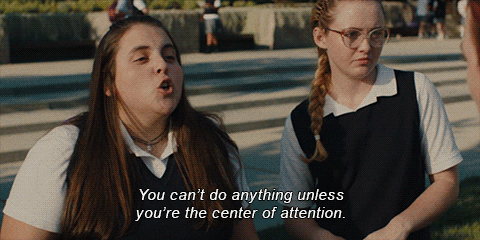 lady bird self centered GIF by A24
Giphy
"Selfishness that harms others."
5s-are-cool
"I think most of us do in some ways. Hopefully people might decide to try harder at minimizing the harm we do while surviving and entertaining ourselves and others."
5s-are-cool
Humans really need to be better.
Wait your turn...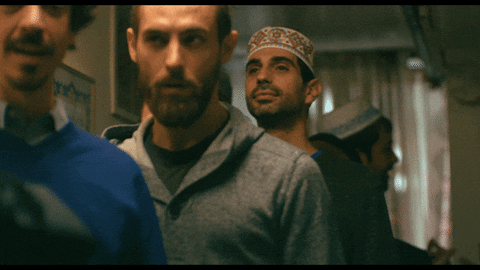 Looking On Line GIF by HULU
Giphy
"Trying to skip a line."
Tankisfreemason
"A lady came up to me once, asking to skip 30 people in line to buy a banana for her crying daughter at Disney, and I told her I can't speak for all 30 people behind me."
MrGurns
"Especially a traffic line where it is going one way and you get every other 15 vehicles behind that will go to the middle lane just cut in line to wait behind even more traffic."
SirGamer247
Not Always Right
"Being entitled and treating customer service workers badly."
potatopride999
"I work in a restaurant and my boss will argue with you and kick you out if you don't behave, downright telling people they are the worst people are so surprised every time they get told to leave after insulting a staff member."
Jesteress
"I dealt with this hard during the early days of the pandemic at Gamestop. When we got crappy no-mask customers when I was working with my friends, we would be rude right back and borderline harass them out of the store. The next several customers would always praise us for not taking s**t. Everyone hates crappy customers, including other customers."
Dr_prof_Luigi
Faults
"Finding the fault in others while ignoring the same fault in yourself."
idrinkkombucha
"An unfortunate truth is that a lot of adults stop emotionally maturing when they're still children. When we're kids, we can't really imagine that there are adults who are less mature than us, but it's actually depressingly common. Something stunts their ability to mature and then they're just stuck with the emotional maturity of a teenager."
"They develop physical skills just like everyone else, and seem to live successful lives. They have careers and homes and families. But they also can't connect with people on a deep level, lack the ability to introspect (so they can't handle any criticism of themselves), and they can't grow as people. It's very sad."
eggjacket
"what the hell dude?"
"Animal abusers."
rfantasy7
"I watched someone try to run over a cat with their car in the Walmart parking lot, like 3 times. It was 2 am and they were speeding and swerving trying to hit the cat. Poor thing was running away terrified. I got out of my car and shrugged at them like 'what the f**k dude?' and they drove off."
"Tried to give the cat food and be nice to it but it wouldn't come near, I think it's just going to be terrified forever."
"Edit: I don't understand it at all. I can at least conceptualize evil for the sake of personal gain, but what do you get from trying to murder a cat? It's evil for the sake of evil and it's freaking sick."
BrokenEffect
Savage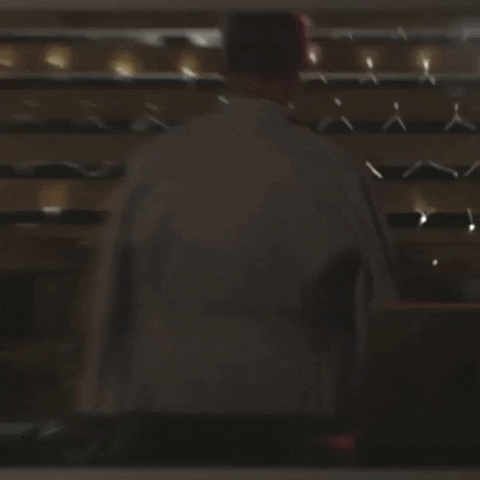 On Air Dj GIF by The Mowgli's
Giphy
"Listening to music from their phone without using earphone in a public place."
SuvenPan
Well all of those people deserve a little shame. Some... A LOT of shame! What is wrong with people?
Reddit user sweet_chick283 asked: 'What's the worst date you've ever been on?'
Finally going out on a date with the person you've been chatting with online is a very exciting yet nerve-wracking first step.
But when you finally meet the person with whom you've developed romantic chemistry online, one of two things can happen–Fireworks or bombs.
In other words, being face-to-face with a prospective love interest for the first time can either confirm your hopes or suspicions about the person whom you know very little about online.
Curious to hear nightmare stories about dating life, Redditor sweet_chick283 asked:

"What's the worst date you've ever been on?"
People and their obsession with their electronic devices is getting out of hand.
Mr. Invisible
"Sat for 15 minutes to hear him talk about himself, work and his future plans, and then as he asked me 'what about you?" his hand went to reach his phone and he starts scrolling. I can't stress this enough, his hand reaches his phone at the same time those words left his mouth. It felt to me like he already decided whatever I am going to say was going to be boring so might as well multitask as I talk."
– dracarysthemdown
Self-Incriminating Date
"Went on a date with a chick that took my phone and put a picture of her on my Snapchat, I got 20 messages almost instantly from chicks that knew her and told me to stay away. She was 2 months pregnant, didn't tell me till my friends did. That was a wild date for sure. She was very upset."
– ThatBrenon131
The Salesperson
"Tinder date. She pulled out her Ipad and started introducing me various insurance plans she is selling."
– IndigoldWeM
"Oooooh god that's almost as bad as trying to recruit a first date into your MLM line..."
– OP
"I had a date that tried to sell me whole life insurance. She told me before the date to meet her at her office. It was downtown so I thought nothing of it. Then she walks me to her desk and tells me to sign some papers."
– Pissedtuna

Sometimes, dates turn out to be disastrous through no fault of participants.
Things Went Downhill

"I thought I would be a little more adventurous and suggest that we go skiing for a first date. At the time, I lived in the south where the closest ski mountain was 2.5 hours away and it was opening day. It became clear that we probably didn't click on the drive up, but I figured we'd still have a fun day of skiing. On the first run, maybe 100 yards in, she falls hard and tears her acl, lcl, and mcl. It was a very long and awkward car ride back, and I ended up staying with her for several days after to help care for her since she lived alone and was new to the area. She was a very nice woman, but that was just a lot for a first date."
– houston_g

People were forced to make a run for it.
The Great Escape
"So many bad dates over the years. One of the worst was this guy I met on a dating site. We agreed to go to dinner at a nearby restaurant. Turned out his profile picture really was of himself but it was just a 'few' years old. BS! In person, he straight up looked like Santa Claus on vacation complete with the Hawaiian shirt. I was a little unhappy about that but it wasn't the end of the world. I thought well maybe he is jolly and fun. That turned out to be a big NO."
"So we ordered dinner and he started talking about ex wife #1. She was a b*tch and crazy. Ex wife #2 was also a b*tch and crazy. Ex wife #3 was a psycho crazy b*tch from hell. He told me ex #3 hit him in the face with a frying pan. He seemed to enjoy my horrified reaction. That was, until I asked what he did he do to her to make her smack him upside the head with said frying pan. Personally, I thought it was an awful date and I couldn't wait to go home. He ordered dessert. :/"
"mentioned getting home soon and he said We can discuss that later as he was paying for my meal and we were going to enjoy our time together. I waited for a few minutes and politely excused myself to the ladies room. He stood up and watched me go in and was watching me when I came back to the table. It was as if he knew I wanted to bolt out the door. I got my chance when he finally went to the men's room. I handed the waitress money for my food plus tip and told her I was on a very bad date. I left the restaurant just before he came back from the men's room. He saw me through the front windows and started screaming like a lunatic. I don't know what he was saying but I ran to my car!"

– SassyDiva13

Tasks First, Eat Later
"Went out with a guy from POF who lived an hour away from me. (I live in the sticks so this is normal.) I texted him to let him know I was on my way and this dipsh*t proceeded to text me every few minutes to ask me if I was still coming. So much so that I finally had to call him and tell him to stop because I can't text and drive at the same time. In hindsight, I should have turned around and went home right then."
"Finally I get to the place we were meeting. It was a store parking lot. Since we were meeting there and going somewhere else right away, I texted him and said I was there, where are you and he replies insisting I come into the store. He absolutely would NOT come outside to meet me. So I had to spend the first hour of this date following him around an auto parts store while he pawed through every display and bin, not talking to me very much at all."
"Finally he was ready to leave the store and I thought we were going to eat, as we had originally planned. I was starving but he said no, I gotta go return my work uniforms to my old job first. Uhh, okay I guess."
"So we drove in his car to this factory where he parks and says hop out so I can lock my car up. It was cold and rainy so of course he expected me to stand out in it? After like 15 minutes I was like f'k this and I went in the lobby of this place to get out of the rain. For some reason it took this guy 45 more minutes to return his uniforms so I was glad I went into the building to get warm. But apparently this was a huge no-no to him because when he came back out from wherever he went to return this stuff he glared at me like I just dropped trou and took a sh*t in his lap and asked me why I didn't just wait outside. In the cold rain. For almost an hour."
"At last he decided it was time to go to the restaurant. I sat there trying to keep a poker face while he talked to the waitress like he was addressing a toddler, messily stuffed his face and chewed with his mouth open wide and kept glancing around every 30 seconds like he was scared someone was going to see him out with a woman in public."
"Plus he kept asking me invasive and crude sex questions the whole time too. Lovely."
"I quickly inhaled a salad and managed to pay for it at the front without him seeing me, I told him I needed to go to the little girl's room and bounced. Luckily this restaurant was across the highway from the store where I had left my car so I crossed it real quick and blocked him everywhere before I even got the car warmed up."
"I'll betcha a million bucks and a house salad that a**hole was married."
– produkt921

It's unfortunate that people on dating apps aren't always forthright about themselves.

Older Woman
"I wouldn't say it was the worst but it was the most interesting. Met a lady on a dating app. A Beautiful woman who claimed to be 38 which is my age. I suspected through the pictures she might be in her early 40s. Her profile said she had 3 kids. We talked and she seemed cool. We then met for dinner a week into talking. I could tell she was older but looked younger than she should because of Botox. Within 15 minutes she said she had to tell me the truth because she really likes me. She does not have 3 kids but 6! She is not 38 but 48!"
– bobismymother
The Date That Wasn't A Date But Actually Was A Date
"I didn't even know it was a date."
"Girl I worked with was talking up a breakfast place in a nearby town, and I was like 'that sounds great, let's go this weekend!'"
"We went, I had a great time, the pancakes were amazing, and I had fun hanging out with a work friend outside of work. I thought she had a good time too, she was laughing and fully engaged with the conversation just like normal."
"Like three weeks later, I was talking to another coworker when it all came out that she'd been telling people we went on a terrible date, how I didn't even make a move or flirt or do anything that guys she goes on dates with normally do, and how I even talked about a date with another girl at one point."
"I was flabbergasted, my fat a** genuinely thought we were just a couple of friends getting pancakes."
– SadlyReturndRS

If you're no longer in the dating pool because you found your person, congrats.
There's no doubt you have kissed some frogs along the way to finding true love.
Because if it weren't for all those "horrible dates," you might not be able to appreciate what you've got when the right person comes along.
A bad@ss is defined as:
"a tough, uncompromising, or intimidating person."
The term is attributed to North America, dating back to 1809. But use remained fairly minimal throughout the 19th and 20th centuries.
The term really took off at the beginning of the 21st century and continued a swift upward trajectory until the present.
Even though the widespread use of the term is relatively recent, the attitude and attributes of a bad@ss goes back to the beginning of human existence.
Reddit user BlackManBatmann asked:
"Who is the most bad@ss person to have ever lived?"
Grandparents
"My Grandpa Liberatus."
"Was working solo on his farm in the 1950's, when both hands were sucked into an auger slicing them up right to the shoulders. Was able to kick the controls to reverse the blades and get himself out, then drove himself in a grainery truck 45 minutes to the hospital, steering and shifting gears with his knees."
"Doctors were able to save one arm above the elbow but none of the other."
"Still worked another 40 years with hooks for arms, fathered 9 children, 6 after his accident and harvested 1000 acres on a hundred year old family farm."
"Smoked like a chimney, drank like a fish, ate red meat 3 times a day, passed away in his sleep 2 days before his 99th birthday."
"He was a hard man, but absolutely devoted to his family and was a great Grandfather to over 20 grandkids. He taught me about resiliency, resourcefulness and mental toughness."
"Every grandkid, on their first birthday, got a rocking horse that he built in his workshop using hand tools that he built custom attachments for his prosthetics."
"I still have mine, from 56 years ago, as a reminder of him when times are tough."
"Grandma was named Elspeth and was a formidable woman in her own right. Raised a family of 11 in a two room farmhouse they lived in until the early 1960's."
"She outlived Liberatus by 4 years and was always canning and preserving food. When we finally started clearing out their house after her death we found in excess of 10,000 jars of pickled and preserved food n her cellar."
"They were hard people, they had to be, but they were also in love right to the end."
"Married for almost 77 years I still remember them in the living room watching Hockey Night in Canada, holding hands on the couch. His arm around her, her gripping one of his hooks."
~ LOUDCO-HD
Giles Corey
"Giles 'more weight' Corey was pretty badass."
"Refused to testify at the Salem witch trials, so they 'pressed' him."
"They piled rocks on top of him as torture to force him to testify that his wife was a witch. They piled rock after rock on top of him."
"His last words were 'more weight', then he died."
~ epicmoe
Rotmistrz Witold Pilecki
"Rotmistrz Witold Pilecki."
"He purposely made himself be caught and thrown into Nazi death camp in Auschwitz to infiltrate it and organize underground resistance and do general recon."
"He then escaped with another prisoner to fight in Warsaw uprising."
~ IloveZaki
"Not just that, but immediately following the Warsaw Uprising, he was thrown into a German POW camp."
"After the war, he returned to his homeland of Poland, even with the knowledge he would likely be killed by the Polish Communist party for being loyal to the government-in-exile and he was in 1948."
"He had also co-founded the Polish Resistance."
~ designing-cats
Joe Medicine Crow
"Joe Medicine Crow, the last Warchief of the Crow."
"He completed all the ritual rights to become Warchief while fighting in WWII."
"Which included taking an enemies weapon, touching an enemy without killing him, leading a war party and stealing an enemies horse—he stole 50 from the SS."
"The war party came naturally and he got the disarm and the touch without killing at the same time but the horses was going to be challenging."
"They came across some SS holed up in a barn. They surrounded the barn and were waiting for dawn to attack, Joe convinced his CO to let him go and release the horses because they don't deserve to die."
"He snuck past the guard and opened up the whole corral and got onto a horse bareback and rode off with 50 horses while chanting a Crow war song. Meanwhile the Americans are mowing the platoon of SS down as they come out and try to stop Joe from riding off with their horses."
"The dude was a straight up f**king gangster."
~ RIPnts
Desmond Doss
"Private Desmond Doss (Hacksaw Ridge is the movie about his life)."
"He refused to use a gun but carried 75 men to safety including two of the wounded Japanese soldiers on the other side & used his medical knowledge to save their lives."
"He is the only conscientious objector to be awarded the Medal of Honor as awarded by President Harry S. Truman."
~ Redditor
"Hacksaw Ridge is missing a neat fact about him."
"At that battle he was wounded (I think 6 times but I'm not positive) but it was left out of the movie because it was felt to be too unbelievable."
~ Supraman83
Mary Vincent
"Mary Vincent."
"She had her arms amputated a serial killer, was left for dead in a drainage pipe, and somehow got herself to safety and survived."
"She was able to testify, but 14 years was the maximum penalty.
"She worked to get him put on death row after he was released early for good behavior and killed a mother of three in 1998."
~ kittengoesrawr
"She couldn't afford to buy high-end prosthetic arms, so she created her own using parts from refrigerators and stereo systems, and she taught herself to draw and paint using her inventions."
"A depraved killer cut off her arms, and not only did he only get eight years, but the state couldn't even be bothered to pay for her prosthetic arms."
~ MrDownhillRacer
Galvarino
"Galvarino."
"He was a Mapuche warrior whose hands were amputated by Spanish conquistadors."
"His response?"
"He rigged blades to his wrist stumps and led a rebellion against the Spanish."
~ DontBuyAHorse
Vasily Aleksandrovich Arkhipov
"Vasily Arkhipov, the man who saved the world."
"He was a Soviet naval commander (brigade chief of staff) during the Cuban missile crisis who refused to launch a nuclear weapon.
"The ship he was on required three officers to be in agreement to fire the weapon, and only Arkhipov was against it, despite the potential career and personal repercussions."
"It's possibly apocryphal, but it's said that he swallowed his key so the weapon couldn't be fired unless he was cut open."
"Stanislav Petrov also saved the world from nuclear war in the 80's, and that should never be forgotten, but I'd argue that the stakes were higher for Arkhipov and the threat of nuclear war was much, much more imminent in the midst of a pissing battle between the Kennedy's and Khrushchev."
~ designing-cats
Raul Perez "Roy" Benavidez
"Master Sergeant Roy Benavidez, an Indigenous Yaqui and Mexican member of the Army Special Forces."
"On May 2, 1968, a 12-man Special Forces patrol with nine Montagnard (Indigenous Vietnamese) tribesmen, was surrounded by a North Vietnamese Army (NVA) infantry battalion of about 1,000 men."
"Benavidez heard the radio appeal for help and boarded a helicopter to respond. Armed only with a knife, he jumped from the helicopter carrying his medical bag and ran to help the trapped patrol."
"According to his Medal of Honor commendation, Benavidez 'distinguished himself by a series of daring and extremely valorous actions and because of his gallant choice to join voluntarily his comrades who were in critical straits, to expose himself constantly to withering enemy fire, and his refusal to be stopped despite numerous severe wounds, saved the lives of at least eight men'."
"During his Medal of Honor ceremony in 1981, President Ronald Reagan told the press, 'If the story of his heroism were a movie script, you would not believe it'."
"At one point in the battle an NVA soldier accosted him and stabbed him with his bayonet. Benavidez pulled it out, drew his own knife, killed him and kept going, leaving his knife in the NVA soldier's body."
"He later killed two more NVA soldiers with an AK-47 while providing cover fire for the people boarding the helicopter."
"After the battle, he was evacuated to the base camp, examined, and thought to be dead. As he was placed in a body bag among the other dead in body bags, he was suddenly recognized by a friend who called for help."
"A doctor came and examined him but believed Benavidez was dead. The doctor was about to zip up the body bag when Benavidez managed to spit in his face to show that he was alive."
"Benavidez had a total of 37 separate bullet, bayonet, and shrapnel wounds from the six-hour fight with the enemy battalion."
~ ComesInAnOldBox
But, there's more...
"His Medal of Honor isn't even the craziest part. Let's talk about his career before that."
"In 1965 he stepped on a landmine, and doctors said he would never walk again. He was so upset by this diagnosis that against doctors orders he secretly got up in the middle of the night and rehabilitated himself."
"Benavidez would crawl using his elbows and chin to a wall near his bedside and (with the encouragement of his fellow patients, many of whom were permanently paralyzed and/or missing limbs) he would prop himself against the wall and attempt to lift himself unaided, starting by wiggling his toes, then his feet, and then eventually (after several months of excruciating practice that, by his own admission, often left him in tears) pushing himself up the wall with his ankles and legs."
"After over a year of hospitalization, Benavidez walked out of the hospital in July 1966, with his wife at his side."
~ iamspartacus5339
Benavidez served in the Texas Army National Guard beginning in 1952 at age 17 during the Korean War until 1955 when he enlisted in active duty Army where he served until retiring in 1976 at age 41.
In retirement, Benavidez became a public speaker, volunteered for youth organizations and wrote three autobiographies: The Three Wars of Roy Benavidez, The Last Medal of Honor and Medal of Honor: A Vietnam Warrior's Story.
He died on November 29, 1998, at the age of 63. Master Sergeant Roy Benavidez was buried with full military honors at Fort Sam Houston National Cemetery.
There are some definite bad@sses in this list.
Who would you add?
The United States Department of Homeland Security was created November 25, 2002 in response to the terrorist attacks of September 11, 2001. Some existing agencies were transferred to the jurisdiction of the newly created cabinet post.
Among the agencies moved to Homeland Security were Customs and Border Protection, Federal Emergency Management Agency, United States Secret Service and the United States Coast Guard.
Some agencies were created to address new security measures then placed under Homeland Security. Among the new agencies created post 9/11 was the Transportation Security Administration (TSA).
TSA was created on November 19, 2001, to "improve airport security procedures and consolidate air travel security under a dedicated federal administrative law enforcement agency." TSA handles security for transportation systems within and connecting to the United States.
For most people, their interaction with TSA is at the airport. Those interactions aren't always pleasant for travelers.
Reddit user B2utyyo asked:
"What's the stupidest reasons the TSA gave you a hard time?"
Medication
"My Humira."
"I have a bag with an ice pack since I'm on Humira to treat an auto immune disease."
"Taking the caps off primes the injection. Each pen costs 500$ each. They uncapped all 8 of them."
"I raised a stink. Because I couldn't travel without this and then my doctor raised a stink when I called him for an emergency script."
"They were even in a special bag made for TSA in mind with all the drug info."
"Silver lining was I was able to file a claim and they were found negligent."
"They are not supposed to mess with medication."
~ Faedan
Clothing
"They said my shirt was a jacket."
"I kept telling her it was a blouse and all I had was a bra underneath and wasn't going to take it off."
"After this exchange 4 times she finally let me through."
~ Phylace
Baby Supplies
"I brought formula through TSA for my 6 month old and they told me I had to dump it or consent to a full body pat down, which was conducted behind a sheet for privacy."
"I didn't have the money for more formula. I consented to the pat down."
~ Risky_Bizniss
"Every time we actually did fly with pumped milk or premade formula, they had to go stick each and every item in our diaper bag one at a time into their magic detector box."
~ jkster107
Wounds
"Dude they just waved a whole f*cking family through, then proceeded to aggressively fondle my balls and manhandle a bandaged injury while harassing me for not having a f*ckton of luggage."
"F*ck the TSA."
~ LurkerOrHydralisk
Wounds
"Had 14 stitches on my neck from a dog bite, 9 on one side, 5 on the other. Dog closed his jaws so both upper and lower teeth got me."
"TSA agent: 'it's time to take off your Halloween makeup' and actually handed me an antibacterial wipe then made to pull off one of the bandaids."
"It was March? I don't even know where to start."
"I like to think I'm fairly quick on my feet but my brain absolutely ground to a halt while she stared at me with the most misplaced smug expression I've ever seen."
"I slapped her hand away when she reached for my neck, honestly I think that reaction was a product of how completely offline my brain was because obviously that was not the ideal response."
"Anyway she wigged out, I got pulled out of line and dumped in a room for about an hour before the supervisor got there. I am not terribly proud of how I acted, but it was a less than an hour domestic flight and my grandmother was actively dying in the hospital."
"I let loose with applicable pent up things I never said to certain family members during COVID, which is why I'm not proud of it because some of what I said was particularly nasty."
"But when that woman reached for my neck I just about saw red—that was beyond comprehension."
"The supervisor let me go and had someone drive me on a cart to the gate so I made it with minutes to spare. He also apologized, which I appreciated."
~ goose_theslayer
Organic Matter
"Got flagged for organic material."
"It was a funerary urn."
"They asked me to open it."
"I refused."
"Only time I have ever made a stink in my life, supervisor finally let me go."
~ Cw2e
Sarcasm Service?
"I got like four sarcastic answers in a row trying to figure out which line to join (pre-check or regular)."
"Both lines backed up past the regular start, so there was no signs clearly visible, but there was an agent nearby."
"I asked casually which was pre-check, and he said 'if you don't know what pre-check is, then you don't belong in that line'."
"When I clarified I knew what it was and just couldn't tell which, he said 'you don't think it's the one that's probably moving faster?'."
"When I pointed out that neither was moving especially quickly, he said 'Well I guess it doesn't really matter then, does it?'."
"When I asked if there was a separate area for pre-check at a different spot, he said 'if there was, don't you think everyone would go there?'."
"Like guy I don't want VIP treatment, I just want to know what f**king line to stand in."
~ Art--Vandelay--
TSA Approved
"A small pair of scissors/hair trimmers, still in factory packaging, clearly marked TSA approved."
~ EverLastingSquint
Knife? No Problem
"I was coming back from a trade show and forgot I put one of those snap blade box cutters in by back pack."
"Went through X-ray, no problem and I only realized I had it once on the plane."
"Hair gel that came in a 120 ml tube that was well over 50% used? 'Come with me sir'."
~ ShoulderPossible9759
"The TSA fails 95% of undercover operations run against them, sneaking in knives, fake guns, fake bombs, etc..."
"But god forbid you don't take your iPad out of your book bag."
~ _TheNorseman_
Mistaken Identity
"My uncle and father have almost comically common last names."
"Last time they visited the US they were stopped and held because there was a warrant for someone with my uncle's name."
"Only problem, my uncle was nine inches shorter and thirty years older than the suspect."
~ probablynotaskrull
"This happened to my little cousin!"
"He too has an extremely common first and last name, and was held at the airport by security for being on the no fly list and having a warrant."
"Notice how I said 'little' cousin?"
"Yeah, that's because he was a six year old boy; they were looking for a grown man!"
~ throwfaraway212718
Medical Equipment
"Wheelchair cushion (on which I was sitting, bc paraplegic)."
"TSA agent: 'That could be anything! We need to open it up!'."
"Me: 'Sure. Put that in writing and also give me a letter guaranteeing that a replacement cushion (custom, costs $6k) will be waiting at the gate'."
"TSA agent: 'oh, yeah, well, go on then'."
"People worry about the airlines but the real obstacle if you're disabled and use any equipment is TSA agents."
"I think they get paid to be their worst selves."
~ Pretend-Panda
"My CPAP is often chosen for extended testing."
"I think it was Chicago where two separate TSA agents were alternately yelling at me, one that I had to stay there while they tested my CPAP, and one that I couldn't stay there and had to leave the security area."
~ hymie0
"Several years back, I was flying with an orthopedic boot because I broke my foot a few weeks before. Nashville TSA was yelling at me and flipping out about it."
"I got yelled at about asking to sit down to take the boot off, yelled at for holding up the line because I needed to take it off, yelled at while it was off demanding to know why I would need it in the first place, yelled at to stop lying when I said I broke my foot, then yelled at one final time over how I was holding up the line needing to put it back on."
"Meanwhile, they were sending the boot itself through the scanner multiple times."
"Oakland TSA just glanced at the boot and waved me through. Quite a stark contrast."
~ HeyFiddleFiddle
Since the agency's creation they've come under scrutiny for inconsistencies and repeated failures during surprise testing.
What's your TSA horror story?
When I was a little girl, I adored the American Girl books. These were books about girls in different historical periods of time in America. They weren't just books, however. There was a lot of American Girl merchandise, including dolls.
I adored the doll I had of Felicity Merriman, my favorite American Girl. A few years ago, I started reading the American Girl books to my cousin. She had her own favorite character, Samantha, and I decided it would be nice to get her a Samantha doll for her birthday. I went to order one only to find out they had archived the dolls of the four original American Girls, including Felicity and Samantha.
Eventually, new versions of the dolls were re-released, but they looked completely different from the characters from the books, which the original dolls captured. These dolls are just one thing that existed in my childhood that no longer exists.
I'm not the only one who has experienced these. Redditors have identified plenty of things from their childhood that no longer exist and are eager to share.
It all started when Redditor lil-gatorwrangler asked:
"What is something from your childhood that no longer exists now?"
Breakfast Gifts
"Cool spoons from cereal boxes!!! i miss the color changing and straw ones."
– pompomcinnamon
"Nothing like only buying a box of cereal because of the cool lil gift inside. 🥹"
– lil-gatorwrangler
"This reminds me I haven't seen my Taz spoon in a while. It makes Taz noises when you dip it in milk."
– TransformerTanooki
Family Phones
"Yelling "SOMEBODY GET THE PHONE."
– Jfonzy
"Adjacent: "Get off the internet! I have to make a phone call!""
– cold_dry_hands
"The ring tone was......the phone."
– DEADFLY6
Slime!
"Nickelodeon game shows. I miss Legends of the Hidden Temple and Guts."
– ShawshankException
"Every time I have to take a headrest out and put it back in my car seat, I pretend I am completing a mission from LotHT."
– ReineDePlatine
Ah, The Book Fairs
"Do you remember filling out book orders when it was time for your school's book fair? :'("
– sn0wballa
"Omg yes!!! And just say dreaming about all the books I could have, if I could afford it lol."
– FlannelPajamas123
"Oh my god the happiest days of my school year."
– clover219
​Cell Phone Plans
"I remember when cell phones were newish and scheduling your calls to after 7 on weekdays and anytime on weekends because nights and weekends were free and didn't count toward your monthly allotment of minutes. You also only had a limited amount of texts per month included in your plan."
–cartertucker
The Old Food Options
"Wendy's salad bar."
– SirBlack_
"Wendy's 4 for $4. Rip 🥲"
– lil-gatorwrangler
Toy Stores
"KB toys."
– AcademicSavings634
"It always felt so cramped and jam packed full of stuff that every time you went you felt like an explorer."
– MrMojoFomo
"I worked at KB Toys throughout college. Can confirm that cramming stuff in there was a corporate policy, maybe for exactly this reason."
"Had to be careful going exploring though— more than once I found a dirty diaper someone had hidden behind a bunch of Barbies. I feel like everyone should work retail for at least a little while, so they can get a taste for what monsters people really are."
– Engelbettie
"Toys-R-Us. I miss that place. I remember my dad taking me and I'd just wonder through the aisles amazed at all the toys. I got one of my childhood favorite Barbie dream houses there."
– FrostQueen05
A Thousand Words
"Photo Albums. My mother has been cataloging some of the old photos she never got around to putting in albums recently. It is a different experience than looking through someone's phone at curated pictures. You would get the pictures back and 90% of them would go in the album. No editing, no my hair looks like crap. You would find photos of yourself years later that you never knew existed. When your grandparents die and you start looking through albums for their memorial and can reminisce. It is so nice."
– HighFiveYourFace
Christmas Was Never The Same
"I recall hearing about a concept mentioned in movies known as a 'Christmas bonus.'"
– mockhouse
"I actually worked at a place where I got to see the idea of a Christmas bonus die."
"They had, for years, given out a Christmas bonus the 2nd week of December that was a cash bonus equivalent to about 1 week's pay. It wasn't huge but it was just that little extra for people already living paycheck to paycheck to have something to buy the wife and kids some Christmas presents."
"Then one year some dude in management came up with this really awesome idea: Instead of giving each employee a couple hundred dollars in cash we should totally give them a frozen turkey."
"It will be great! everyone needs a frozen turkey for Christmas dinner and we can order a whole semi truck trailer full of of them for a great bulk discount so they only cost like $20 each... employees win and we save money!"
"So that is what the company did."
"Only they did't tell anyone that was what was going to happen until the truck backed into the loading dock and happy managers started handing out frozen chunks of discount birds to people who had been budgeting their entire Christmas shopping on getting the cash instead."
"Christmas morning the owner of the company woke up to find hundreds of rotting turkeys on their front lawn."
"We never got a Christmas bonus again at that company - cash or cold turkey."
– varthalon
MY Personal Info
"Privacy. Mostly in the sense that we didn't have big Meta mining our data/location/listening."
– ilike2makemoney
Weekend Mornings
"Saturday morning cartoons. Nothing beat the joy of waking up early in Saturday morning to watch five hours of your favorite cartoons, most of which were only on at that time on that day."
– nijaxi4567
"I know what you mean. There are cartoons on Saturday morning but with cable and YouTube and streaming and because those run 24-7, it isn't an event."
"Few things beat running downstairs, pouring yourself a huge bowl of sugary cereal, and flipping on a full hour of Ninja Turtles, Garfield, Ghostbusters, and topping it off with Saved By the Bell all while your parents slept in."
– vmikey
Movie Night
"Blockbuster movie rental."
– lordharliquin
"Oh. My favorite thing we used to do is we would go to the video store and blindfold one of us and pick out a movie and just watch something random. It was so fun fun!"
– darforce
"I WAS LOOKING FOR THIS!! Those are some of the best memories from my childhood! So much better than Netflix!"
– betaflc
No Streaming
"Yelling "IT'S OOOOOOOON" as your siblings hurtled themselves back into the living room and across the couch after the ad break. That 'will I make it' few minutes of just not knowing if you had time to both pee and ALSO get kitchen snacks, were andrenaline-inducing."
– wildgoats2345
That was me and my brother as we watched Avatar: The Last Airbender. Sometimes, I really miss those days!