People Share Their All-Time Favorite TV Sitcom Couples
Among the many reasons people watch, and rewatch, sitcoms is to imagine your life was more like the one you were watching.
Being able to afford a two-bedroom apartment in Greenwich Village on a line cook's salary, somehow always having the comfortable sofa available at your favorite coffee shop whenever you pop in, or having your best friends always available at your beck and call whenever you need them.
For the romantics, however, it's wishing you could have a romance like you've seen on television.
True not all sitcom romances are exactly the sort that makes you go all aflutter (Were Ross and Rachel actually on a break? And don't even get me started about Ted and Robin.)
Other sitcom couples are so captivating, though, that we would have given anything to be at their wedding... or at the very least go to their home for dinner every Friday.
And this includes plutonic couples, as there is nothing more heartwarming than a lasting friendship.
---
Redditor kea32 was curious to hear who people considered the best sitcom couples, both romantic and plutonic, of all time, leading them to ask:
"What is the best couple in sitcom history?"
Creating An Even More Welcoming Community
"Troy and Abed. A couple of friends."- aghzombies
"They did grace the cover of Best Friends Weekly."- DwightsEgo
Sorry Amy...
"Peralta and Doug Judy."- DavosLostFingers
"Reunited and it feels so good 🎶."- Ghostenx
"PSYCH"!... No, Seriously...
"Shawn Spencer and Burton Guster."- dazedcap
"'I'm Black, he's Tan'."- CrueGuyRob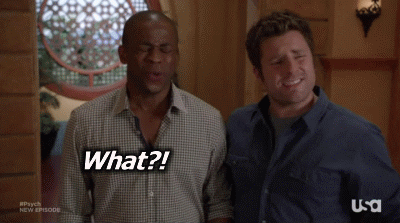 Shawn Spencer What GIF
Giphy
"Snap, Snap."

"The correct answer is Gomez and Morticia Addams."- Reddit
"They loved each other dearly. "
"They were completely enamored with each other, spent time with their kids, their family."
"Accepted everyone as they were."
"It wasn't til I was an adult That I realized married couples weren't meant to hate each other."
"My mother had many partners in my childhood, she's toxic and things were always chaotic."
"And watching 90s sitcoms, I thought married people were meant to hate each other, and I always wondered what the point was."- MissMurder8666
Overshadowed By Their Middle Child...
"Hal and Lois."- MrRocketman999
"As a husband, I don't think I can live up to Hal."
"He sort of sets a really high standard lol."
"He loves her like they are still in the honeymoon phase."
"So infatuated with her lol."- treathugger
A Better Couple? Many Would Say, "Knope"...
"Ben and Leslie."
"I' love you and I like you.'"
"Simple line, yet so powerful."- Radkeyoo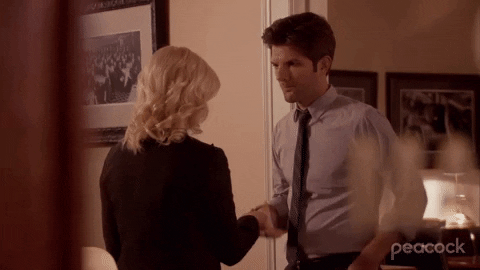 Amy Poehler Ben GIF by Parks and Recreation
Giphy
"Gruesome", But Adorable
"Frank and Charlie from Always Sunny in Philadelphia."
"The gruesome twosome."- Herr_Poopypants
The Parents Everyone Wished Were Theirs...

"Bob and Linda from 'Bobs burgers'."- shashybaws
"All of the Belchers have such great relationships with each other. "
"They're wholly accepting and supportive (even if they disagree)."
"They really love each other, and it shows."- SummerOfMayhem
UK Version Only, Of Course...
"Moss and Roy (The IT Crowd)."- pentapotamia
"'I'm your wife, Roy!'"- Summerof5ft6andahalf
"'If anything, I'm the husband!'"- pentapotamia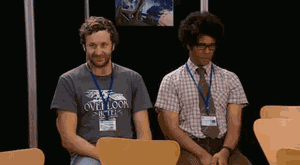 it crowd chris odowd GIF
Giphy
Afterlife Be Damned... Or not, Actually...

"Eleanor and Chidi from 'The Good Place.'"
"How can you beat two deeply flawed people who together make each other better over and over again?"- hotbimess
Ruining All Food For Viewers, One Food Group At A Time...
"The only correct answer is - Scully and Hitchcock."- Prestigious-Net-2236
"Back off! It's our microwave! Ours! GRRRRRRR!"- Lvcivs2311
Nostalgic And Wonderful
"Kitty and Red from That 70s/90s Show."- saginator5000
"I like how Red on the surface seems like a mean parent who doesn't let his kids have fun."
"But he's watching out for his kids."
"And he's a good man."
"He has a hard and stressful time supporting his family and he is grumpy sometimes but he would do anything for his family and he really loves them."
"What he does for Hyde is amazing."
"He just doesn't put up with BS."- themanfromvulcan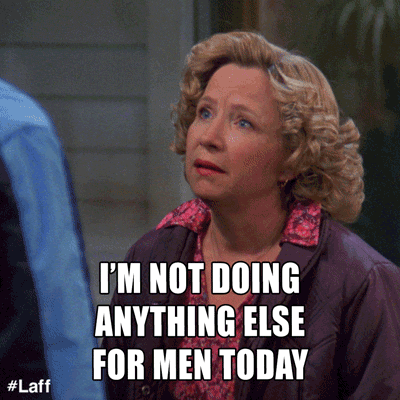 Mothers Day Woman GIF by Laff
Giphy
It Seems Everyone Is Better With Turk At Their Side
"Turk and Carla."
"Or Turk and JD. (Scrubs)."- JCBAwesomist
"Turk and JD all the way."- nunyabidnez76
Can't We Get Back What We Once Had?...
"Homer and Marge had a lot of beautiful moments back in the older seasons."
"Sadly, seasonal rot has ruined a lot of that."
"I miss a lot of how the characters used to be."
"Like, Homer was an oaf and a brute, but he loved his family immensely and deeply and would (and DID) do any and everything for them."
"He'd catch details like in that episode about the streetcar play that you wouldn't think he would."
"He gave up beer for a month for Marge and we got to see that, for him, it wasn't just a minor thing."
'Lisa might have been intelligent but she not only had ample 'dumb/shallow' moments, she also was very close to Bart and, likewise, Bart was close to her."
"He might struggle in school but he also showed he wasn't dumb either."- Snowtwo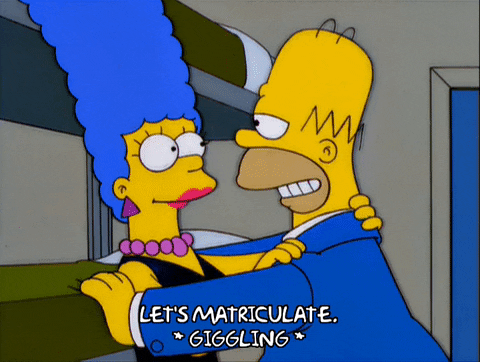 homer simpson love GIF
Giphy
Be they married in the first episode or on and off again for an insufferable amount of time (looking at you, Jeanine and Gregory in Abbott Elementry!), sitcom couples give us people to root for and fill our own hearts with hope.
So much so that we don't mind following the arc of their love stories over and over again.
And yes, the episode where David meets Patrick's parents remains a tearjerker, no matter how many times you watch it.
Reddit user cloudtdaz asked: 'What food have you tried liking but just can't?'
There's a misconception that some foods are so superb in flavor or quality that everyone will love them, but taste is extremely subjective. A person's sense of taste can vary greatly even within the same family.
There's also some debate about the capabilities of the human tongue.
Biology suggests human taste buds only detect four flavors:
sweet
bitter
sour
salty
But most culinary experts speak in terms of seven flavor profiles:
sweet
bitter
sour
salty
meaty/umami
cool/minty
hot/spicy
What one person tastes is likely not an exact match to what someone else does.
Some people love spicy foods while others feel physical pain when eating foods featuring chilis. Some people are sensitive to salt while others add extra salt to everything they eat.

Because our sense of taste is so individual, it's inevitable some popular foods won't be palatable to everyone. And that's not even considering texture, smell or appearance which can also turn a diner right off.
Curious about which foods left people disappointed, Reddit user cloudtdaz asked:
"What food have you tried liking but just can't?"
Peeps
"Peeps,the Easter sugared candy."
"I like to think I can digest anything covered in sugar BUT NOT THAT...."
~ Asapdustybraids
"They're best when they're stale. I can't eat them fresh."
~ Vicktrolia
"My grandmother would send them to my dad every single year. He would leave them in the cabinet for probably 2-3 years. When the new pack arrived on Easter he popped open the 3-year-old pack."
~ DrKennethNoisewater-
"He dry aged peeps. That's incredible and terrifying."
~ BeesNeverSting
"Peeps are some of the foulest creations that have ever hit the food realm. Whoever invented them needs to have their existence removed from history."
~ shatteredhelix42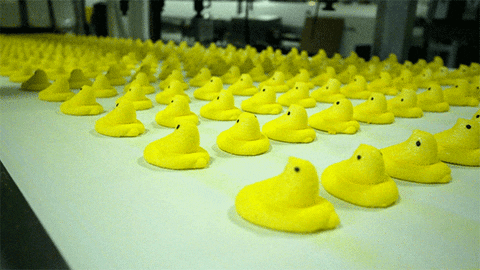 Giphy
Grape-Nuts
"Grape-Nuts."
"I hated them as a kid but as an adult I decided to try them again, thinking maybe my tastebuds had matured by then."
"Nope. They were still just as awful as I remembered."
~ kanna172014
"My grandpa used to eat them every morning with coffee instead of milk."
"I'm not sure if he was lactose intolerant or what but good grief, I can't imagine what that combination tasted like."
~ hornet_teaser
"As a kid, I never felt more lied to."
"I liked grape juice and grape flavored candy, so why wouldn't I like 'Grape-Nuts'?"
~ triton2toro
"Hate the cereal, but love the ice cream."
"Not sure if it's just regional, but here in Maine Grape-Nuts ice cream was around for decades. I think only Gifford's still makes it commercially."
~ LakotaGrl
Just Offal
"Intestines/innards of any kind and solid portions of fat on meat."
"One of my husband's favorite dishes is barbequed intestines (Japanese barbecue) and I can smell its appeal, but I physically can't deal with the texture."
"And it really saddens me because I've always wanted to eat menudo and I know the soup is bomb AF 😭."
"I think I have some sort of fat/chewy PTSD from when I was forced to eat gristle off of meat as a kid."
~ LeocadiaPualani
"Yeah I can't do innards either."
My mom loves that stuff because 'it was the cheap stuff back then" and they had a big family. I guess I'm glad I'm an only child."
~ ilovepeachpie
Black Licorice
"Black licorice."
"I've accepted my DNA just can't stand the stuff."
~ slimpawws
"My mom loves it. She makes it look so good."
"I'm 29 and I still think 'hmm maybe this time...'."
"Nah. It's like tar vomit."
~ lpcoolj1
"Same with my mom."
"Black licorice, black jellybeans. She loved 'em."
"I inherited exactly ZERO of her taste buds for that."
"It is the foulest flavor ever."
~ Retro_Dad
"Black licorice tastes like depression."
~ pr0f0undleader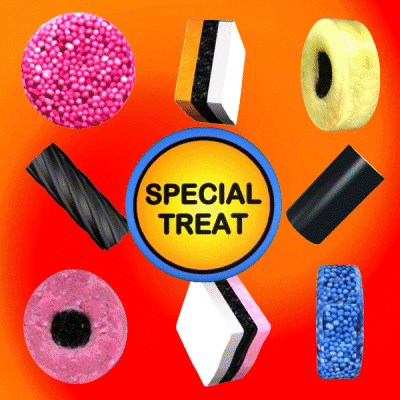 Giphy
Eggnog
"I can't drink eggnog."
"Every year I give it a shot and try to like it, but I just can't."
~ cyberzed11
"I mean , it's essentially drinking (sometimes alcoholic ) custard. So that's fair."
"I myself cannot be trusted with eggnog and should not be left unsupervised or I will put a straw in a half gallon container and slowly sip years off my life."
~ logicjab
"I've always thought it tastes like bad bubblegum so I've never really been a fan either."
~ Huntsvegas97
"Liquid snot."
~ SalesTaxBlackCat
"Yep this. I give it a shot every year to see if it's changed. It doesn't."
"I give it to someone else in my house who likes it; or pour it down the drain."
~ Electric_Leopard
"It's truly awful. Texture taste smell, all just bad."
~ ruffsnap
Liver
"Liver the smell alone makes me sick."
~ Redditor
"I just wonder how Humans get to that stage."
"They find something, it smells foul, cook it, still smells foul, AND THEN DARES TO EAT IT."
"We're glorious as a species."
~ xseodz
"I'm guessing when we first started eating liver, humans didn't smell very good either."
~ LakotaGrl
"I have tried it maybe 15 times, different preparations because people claim their recepie makes it not taste like sh*t."
"Lo and behold, it still tastes like funky iron meat."
"I don't even like foie gras for the same reason, that metallic taste comes through, ugh!"
~ doomLoord_W_redBelly
Kombucha
"Kombucha, smells like stinky feet and taste like vinegar to me."
~ -LordKromdar-
"Kombucha absolutely DOES taste like vinegar, coming from someone who loves it. Other kombucha enjoyers will try to deny the vinegar taste, I embrace it because I bloody love vinegar."
"I even have 'sipping vinegars' in my fridge in various flavors, to add to cocktails or to pour a shot glass of and sip on… just pure vinegar."
"Very strange of me, and I totally understand why other people would not like that flavor."
~ UnderwaterParadise
"Oooh people used to drink vinegary things a lot more because they were refreshing! Try raspberry shrub!"
~ lyan-cat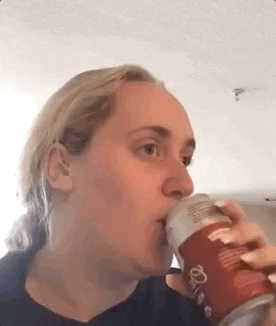 Giphy
Sparkling Water
"I know this is a drink, but sparkling water."
"I like some flavors, but I can't stand that after taste. Bleh!"
~ TruBluBritt
"The way I describe it: 'it's what tv static would taste like' or 'it's the same flavor as hitting your funny-bone'."
~ LazyLich
"We were given some flavored water at work and my employee said it tasted like 'a strawberry farted in the water'."
~ g-e-o-f-f
"My son calls LaCroix a piece of fruit waving to to a can of water."
~ pittipat
"I say with Perrier that someone yelled a flavour into the water."
~ structuredchronicles
"My favorite is 'someone placed a lime skittle next to some soda water'."
~ DosiMoe
Overnight Oats
"Overnight oats. They're basically lumpy, cold snot in my throat first thing in the morning."
"I gag just thinking about adding chia seeds."
~ DarkDesireX
"This comment has me literally confused as to if I actually like my overnight oats or just tell myself I do."
~ Lord_Knorr
"Oh man. I feel this."
"It just looks like refrigerated vomit to me. Absolutely not."
~ slmr38
"I tried to like overnight oats for a couple of weeks."
"Tried a bunch of different recipes, but they all ended up being disgustingly sweet slop."
"The only one I sort-of liked was the 'chai latte' one, which emphasized spices over sweets."
"Still not worth the effort to make them—I'd rather just make microwave oatmeal."
~ Noise_Cancellation
Wine
"Wine. Every year I'll try it around the holidays with family and it's still gross."
~ Redditor
"You can only appreciate wine after you have tasted the bitterness of life."
~ Spirited-Site-Hunter
"Once in my life I have tasted wine that I actually liked, and that was Golconda wine, which I tried in Darjeeling."
"After I got back to the USA, I decided that I would, for the first time in my life, actually spend money to acquire wine."
"Went to a wine shop. They had never heard of it."
"Turns out it's not exported, and if you want some, you have to go to India."
~ Wild-Lychee-3312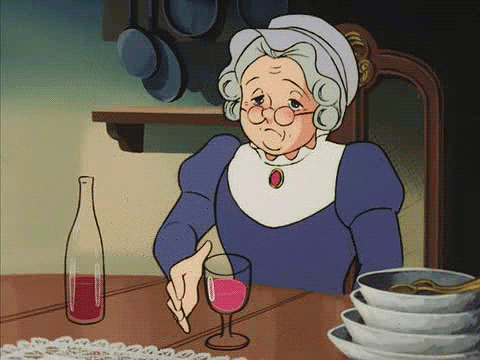 Giphy
Olives
"Olives. I've tried many varieties."
"I always try them because they look like they'd be good but they're just not."
~ TRIGMILLION
"As a bartender for over a decade, I'm constantly surrounded by olives."
"They always look good & once in a while I'm like 'do I like these yet?'."
"No. I still hate olives, & I hate myself more for trying again each time & expecting different results."
~ kandixchaotic2
Matcha
"Matcha ! Just tasteslike grass to me."
~ mulberrycedar
"I worked in a business park that had a matcha headquarters in it. They moved out and dumped big boxes full of matcha samples that they took to trade shows."
"Never tried it before but I was thinking what a treat I had found, I would be enjoying free matcha for at least a year if not longer."
"Boy was I wrong."
~ TiogaJoe
"Seriously, I do not get the hype about it at ALL."
"Like when people tell me matcha frappes at Starbucks are the best I'm just like 🥴🥴 bffr dude?"
"That sh*t tastes like creamier wheatgrass. Nasty."
~ SilverWorry8047
Mushrooms
"Any kind of mushroom."
"It's not the texture there is always a taste that i cant do for some reason."
~ Correct_Ad4937
"Taste and texture for me! It's the only food I absolutely hated since I was a child."
~ BelenadaSilva
"Same. I can eat them on a supreme pizza because they just get lost in everything else, but if I can taste them, I'm out."
~ notonrexmanningday
"Eating cooked mushrooms feels like chewing on rubber."
~ Icy_Ad_9134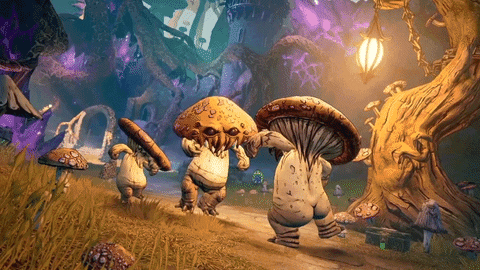 Giphy
Beets
"Beets. I just can't."
~ Many_Dirlam
"What got me to like cooked beets was a beet and goatcheese salad at an upperscale restaurant."
~ dilfybro
"Nope! Tried one of those and they still taste like dirt."
"I don't care how you prepare them, pickled, roasted, whatever the f'k, they taste like dirt."
~ vandelayATC
"Vile root.
"Wash them, peel them, boil them, add sugar, mix with sour cream, put in a salad, all you accomplish is different tastes to accompany the overwhelming flavor of DIRT."
~ logicjab
Okra
"Okra."
~ crablegsforlife
"Soggy fried okra is the dinner of my nightmares."
~ Bigsam1514
"Okra is an abomination."
"I like damn near all vegetables but that slimy bullsh*t can f'k right off back to the ectoplasmic bog it slithered out of."
~ An_Appropriate_Song
"Okra? She's not that bad."
"You have to at least admit she was generous with the audiences and she's a decent interviewer."
~ Redditor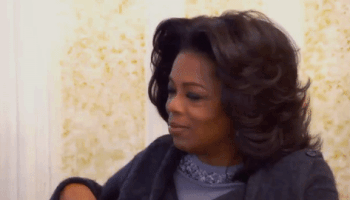 Giphy
I have two to add that weren't mentioned:
Which is embarrassing as both are culinary staples in my culture.
Lima beans are probably disliked by plenty of people, but salmon is on lots of restaurant menus. I've tried it over a dozen ways—poached, broiled, grilled, pan-seared, smoked, marinated, as sashimi, dried, loafed, baked—and I just don't like the taste of it.
Salmon is the only fish or seafood I've tried that I dislike and I've had both octopus and sea urchin. I'm sure my ancestors are mocking me.
Have you ever really wanted to like a popular food but ended up giving it a hard pass?
Share your experience in the comments!
The human race is supposedly touted as a superior species compared to other lifeforms on Earth.
Sadly, the generalization does not apply to everyone.
And while the notion that "nobody is perfect" is perpetually expressed to console those who've made regretful mistakes, that is not entirely true.
We see them in the news all the time.
Dimwits–which may include those with no social graces or lack of basic life skills in order to survive adulting through life–are among us.

Curious to those who've face-palmed in response to an individual's intelligence level, Redditor Joker101001 asked:

"Albert Einstein once said 'The difference between genius and stupidity is that genius has its limits.' What are some examples of this that you have experienced?"
People shared their observations about our intellect..or lack thereof.
Touché
"You shouldn't believe every quote you read on the internet. — Abraham Lincoln."
– _PM_ME_PANGOLINS_
"I think he was re-quoting Julius Caesar who made this comment the morning he was warned not to go out that day."
– Emergency-Ad-7002

Humbling Realization
"I think the more educated we become, the more we know how little we actually know, and it's humbling, but ignorant people really have no idea what they don't know, leading them to be confident about their ignorant stances."
– PuzzleHeadedNinny
Reaching Limitations
"Physics has kind of reached a point where we realized we don't know how anything works at a fundamental level. Every theory breaks down at tiny or gigantic scales. There is a crisis in cosmology, spinning glaxies have either disproven gravity or proven undetected dark matter, and the vast majority of matter and energy is undetectably dark. We don't know why matter exists (as opposed to antimatter, given their symmetries). We don't know how time and space work inside black holes, how many dimensions there really are, or whether space and time are quantized. We've kinda figured out ordinary matter at human scales, but that's it."
– turbotong
The Thing About Doubt
"There are limitations to human knowledge and our understanding of things. Rather than acknowledging these limitations, people fill them in with supernatural explanations. When you express uncertainty or doubt, you are mocked or they ascribe to a lack of self confidence."
"Doubt is the beginning of wisdom, not the end of it."
– RecalcitrantMonk

Knowledge Vs. Intelligence
"Knowledge is knowing a tomato is a fruit."
"Intelligence is combining the tomato with other ingredients to make something better."
"Knowledge is what we learn, intelligence is what we do with what we have learned."
https://pubmed.ncbi.nlm.nih.gov/7183572/
"Charisma is the exact opposite of what I just did - citing an academic paper on reddit."
– egregori3

People shared their most dullest interactions.
Dumbfounding Stupidity
"Oh boy. I once met a guy who was so stupid that he thought the ocean was alive and waves was it breathing. I remember one time in school he was doing homework for another class and asked the teacher "Where were the Canaanites from?" She jokingly said Nova Scotia. He asked how to spell it. This guy thought Beauty and the Beast was based on a true story about a girl and a bear. He would constantly make bets that he lost and never learned his lesson. He didn't know that chicken the food came from chicken the animal. I have met a lot of stupid people in my life but I have never met anyone quite so bafflingly stupid that I had to wonder if they, in high school, could even read."
– Not-sure-wtf-I-am

"A friend of mine once met a young woman who thought that fluttering leaves caused the wind to blow."
– Ancguy
"A former classmate of mine (in college, mind you) once said the sky was blue because it reflected the ocean."
"She thought the sky was blue everywhere, even hundreds or thousands of miles inland, because of the ocean."
– CrypticBalcony
Scam Fail
"I worked at an embassy. One day a guy came to me, completely explained a scam he did. It had failed and he wanted to know how I could help him "as we are countrymen".
"Called my colleagues at home and set them on his a** too."
– Dependent-Cress-948

Expected Expectations
"As a high school math teacher, I cringe when students hand in a test and say 'I think I aced it.' It's almost always an F."
– kasgar77
"One time I left a stats exam in college and texted my friend, "if I knew a test was going to kill me and I went anyway, is that suicide?" She said "I think it's more like when you walk through a bad part of town alone at night and get shot. It's not really your fault."
– FlockofDramaLamas

Kiwi Get A Clarification?
"When I was in middle school I convinced a girl that the kiwi birds laid the kiwi fruit as food for their babies. It wasn't that hard to convince her."
– ChaoticCauldron
Conspiracy Theorists
"Flat eathers. It is difficult to find more dumb."
– DrowningInMyFandoms
"These days, there's quite a bit of overlap there. Flat earthers tend to be very anti-establishment, but because they also tend to be very religious and Trump is supported by many fundies, there's a definite connection there. Plus, his support of conspiracies makes him seem like 'one of them'; some flat earthers thought Trump would be the one to expose NASA and the fake ISS, but that never happened."
– SyntheticGod8
I think COVID pulled back the curtain on the lack of intelligence on display.
Irrational mob mentality prevented US citizens from critical thinking and drawing irrational and false conclusions from sheer panic.
Remember the toilet paper shortage and the anti-vaxxer movement?
I was more terrified of our lack of humanity and compassion than the virus that was being allowed to spread thanks to ignorance.

More often than not, when men try to do something "sexy" in an effort to impress a woman, it tends to backfire on them.
Perhaps it is the visible amount of effort behind what they're doing or the fact that they don't do it as well as the movie star they took inspiration from.
Either way, despite their best efforts, women tend to find this sort of behavior anything but sexy.
In fact, more often than not, men have a way of turning people on without them even realizing it.
As it's often the little things that can make someone blush, anything from opening a door or slicing into a ripe tomato.
Redditor finnjakefionnacake was eager to hear all the sexy things men do without their even realizing it, leading them to ask:

"What things do men do that are sexy that they don't realize are sexy?"
When They Don't Even Know Their Own Strength

"Was getting busy with a girl one time and her head was too close to the headboard, trying to save her a potential concussion, I moved backwards and grabbed her under her hips and pulled / lifted her about two feet down the bed towards me."
"The sound she made and the look she gave me is still in my head lol."
"Afterwards she brought it up and said it was incredibly sexy how I could just handle and move her around so easily with so little effort."- Mage2177

So, So, Hot...
"I once changed a radiator in my house and that, without doubt, got me more attention and flattery from the women in my life than anything else I've ever done."- Jasper-Packlemerton
It's The NOT Knowing...

"It's a trap fellas, just live in ignorant bliss."
"Once you realize something is sexy, you will become a self-conscious dork about it and it will no longer be sexy."- PMMeUrHopesNDreams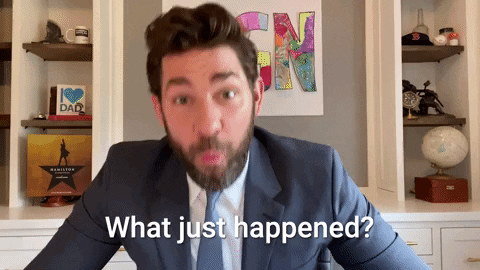 What Just Happened Wtf GIF by SomeGoodNews
Giphy
Magic Fingers

"My bf and I went to eat at this restaurant before we knew we had feelings for each other."
"While I would talk he would either laugh or smile and once while doing so he circled the rim of his glass with his finger."
"I later found out that he did it unconditionally but I short-circuited while he did it."- AsasLowkey
To Each Their Own...
"An ex of mine once got turned on when I told her I put a hand on the wall when I pee."
"I'm not sure I fully understand that one."- PaleAleDale
One Hand, One Heart...
"My wife has told me taking my shirt off with one hand is a thing."
"That kind of blew my mind."- trugrav
"One- handed steering wheel grip, reverse parking with their arm resting behind the passenger seat."- getupandstudy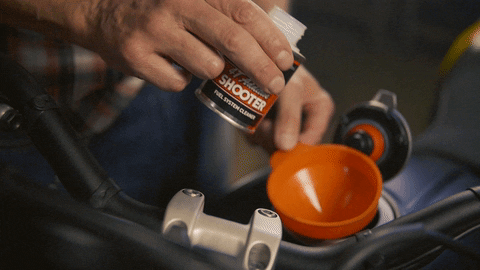 motor oil shot GIF
Giphy
Doing It For The Thrills... And Then Some...
"My girlfriend was locked out of her apartment and I picked her lock."
"I picked the hell out of that lock."- paulo39Atati
Hits The Spot...
"My heart does a little flip each time my significant other, ever so slightly puts his hand on my back when we're walking (to guide me), or if he's trying to squeeze by behind me."
" I don't know why that gets me fired up lol."- princess19977
Knowledge Is Power!
"Being booksmart."
"If I ask my boyfriend a history question and he randomly knows the answer to it or if I ask about a math problem and watching him figure it out is the hottest thing, like yea you divide those numbers baby."- maneaterlex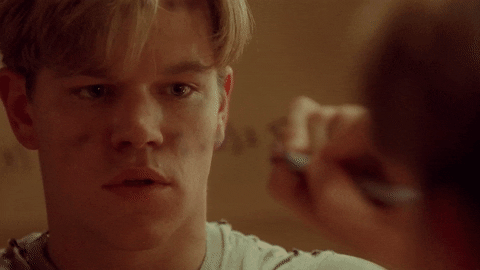 Matt Damon Math GIF by MIRAMAX
Giphy
Nice And Oily...

"An ex said it was hot watching me change her car's oil."- SafeAndSane04
Compassion Is Always The Answer
"Caring for helpless things."- Maleficent_Scale_296
Speed Can Be A Turn On...
"There was a study done in Japan to see what school-aged ladies saw as attractive in their male counterparts and 'running fast' was like number one or two for elementary and middle schoolers."- Embershot89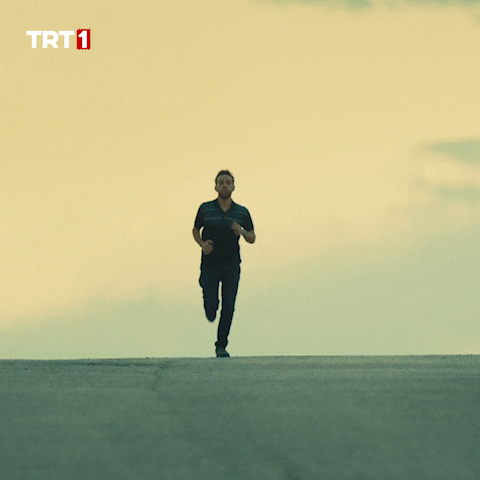 Run Fast Running Man GIF by TRT
Giphy
There's Someone Out There For Everyone
"I heard one million power in 'Rise of Kingdoms' gets you any girl you want."- Key_Vermicelli_3138
Strong And Efficient...
"Carrying as many folding chairs as you can at once."- KbossDPT2019
Most of the time, the sexiest things are also the most unexpected.
That being said, any good boyfriend knows that a wet t-shirt now and then can't hurt...