People Share Their All-Time Favorite TV Sitcom Couples
Among the many reasons people watch, and rewatch, sitcoms is to imagine your life was more like the one you were watching.
Being able to afford a two-bedroom apartment in Greenwich Village on a line cook's salary, somehow always having the comfortable sofa available at your favorite coffee shop whenever you pop in, or having your best friends always available at your beck and call whenever you need them.
For the romantics, however, it's wishing you could have a romance like you've seen on television.
True not all sitcom romances are exactly the sort that makes you go all aflutter (Were Ross and Rachel actually on a break? And don't even get me started about Ted and Robin.)
Other sitcom couples are so captivating, though, that we would have given anything to be at their wedding... or at the very least go to their home for dinner every Friday.
And this includes plutonic couples, as there is nothing more heartwarming than a lasting friendship.
---
Redditor kea32 was curious to hear who people considered the best sitcom couples, both romantic and plutonic, of all time, leading them to ask:
"What is the best couple in sitcom history?"
Creating An Even More Welcoming Community
"Troy and Abed. A couple of friends."- aghzombies
"They did grace the cover of Best Friends Weekly."- DwightsEgo
Sorry Amy...
"Peralta and Doug Judy."- DavosLostFingers
"Reunited and it feels so good 🎶."- Ghostenx
"PSYCH"!... No, Seriously...
"Shawn Spencer and Burton Guster."- dazedcap
"'I'm Black, he's Tan'."- CrueGuyRob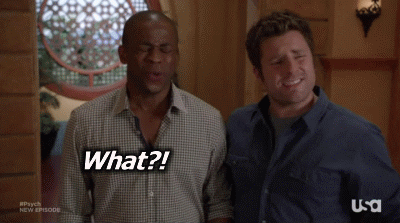 Shawn Spencer What GIF
Giphy
"Snap, Snap."

"The correct answer is Gomez and Morticia Addams."- Reddit
"They loved each other dearly. "
"They were completely enamored with each other, spent time with their kids, their family."
"Accepted everyone as they were."
"It wasn't til I was an adult That I realized married couples weren't meant to hate each other."
"My mother had many partners in my childhood, she's toxic and things were always chaotic."
"And watching 90s sitcoms, I thought married people were meant to hate each other, and I always wondered what the point was."- MissMurder8666
Overshadowed By Their Middle Child...
"Hal and Lois."- MrRocketman999
"As a husband, I don't think I can live up to Hal."
"He sort of sets a really high standard lol."
"He loves her like they are still in the honeymoon phase."
"So infatuated with her lol."- treathugger
A Better Couple? Many Would Say, "Knope"...
"Ben and Leslie."
"I' love you and I like you.'"
"Simple line, yet so powerful."- Radkeyoo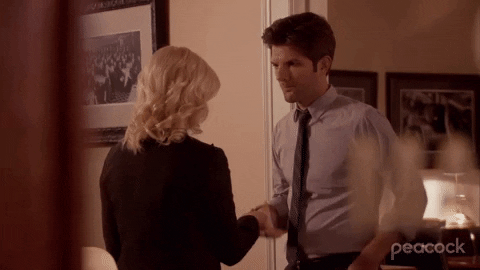 Amy Poehler Ben GIF by Parks and Recreation
Giphy
"Gruesome", But Adorable
"Frank and Charlie from Always Sunny in Philadelphia."
"The gruesome twosome."- Herr_Poopypants
The Parents Everyone Wished Were Theirs...

"Bob and Linda from 'Bobs burgers'."- shashybaws
"All of the Belchers have such great relationships with each other. "
"They're wholly accepting and supportive (even if they disagree)."
"They really love each other, and it shows."- SummerOfMayhem
UK Version Only, Of Course...
"Moss and Roy (The IT Crowd)."- pentapotamia
"'I'm your wife, Roy!'"- Summerof5ft6andahalf
"'If anything, I'm the husband!'"- pentapotamia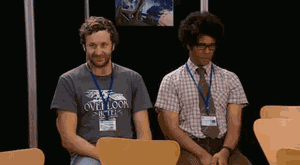 it crowd chris odowd GIF
Giphy
Afterlife Be Damned... Or not, Actually...

"Eleanor and Chidi from 'The Good Place.'"
"How can you beat two deeply flawed people who together make each other better over and over again?"- hotbimess
Ruining All Food For Viewers, One Food Group At A Time...
"The only correct answer is - Scully and Hitchcock."- Prestigious-Net-2236
"Back off! It's our microwave! Ours! GRRRRRRR!"- Lvcivs2311
Nostalgic And Wonderful
"Kitty and Red from That 70s/90s Show."- saginator5000
"I like how Red on the surface seems like a mean parent who doesn't let his kids have fun."
"But he's watching out for his kids."
"And he's a good man."
"He has a hard and stressful time supporting his family and he is grumpy sometimes but he would do anything for his family and he really loves them."
"What he does for Hyde is amazing."
"He just doesn't put up with BS."- themanfromvulcan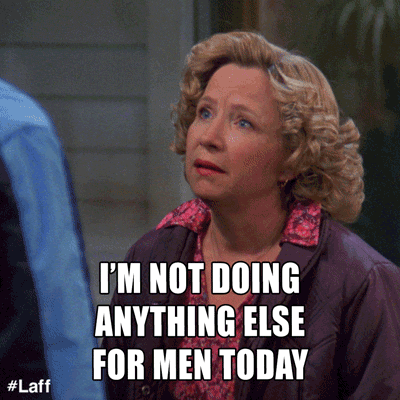 Mothers Day Woman GIF by Laff
Giphy
It Seems Everyone Is Better With Turk At Their Side
"Turk and Carla."
"Or Turk and JD. (Scrubs)."- JCBAwesomist
"Turk and JD all the way."- nunyabidnez76
Can't We Get Back What We Once Had?...
"Homer and Marge had a lot of beautiful moments back in the older seasons."
"Sadly, seasonal rot has ruined a lot of that."
"I miss a lot of how the characters used to be."
"Like, Homer was an oaf and a brute, but he loved his family immensely and deeply and would (and DID) do any and everything for them."
"He'd catch details like in that episode about the streetcar play that you wouldn't think he would."
"He gave up beer for a month for Marge and we got to see that, for him, it wasn't just a minor thing."
'Lisa might have been intelligent but she not only had ample 'dumb/shallow' moments, she also was very close to Bart and, likewise, Bart was close to her."
"He might struggle in school but he also showed he wasn't dumb either."- Snowtwo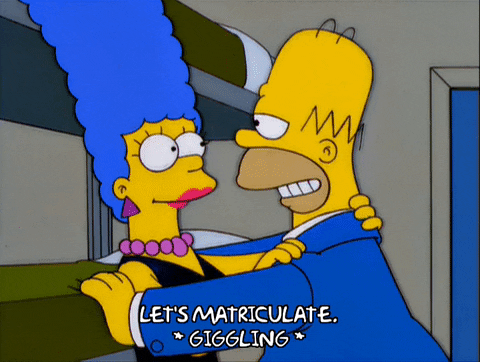 homer simpson love GIF
Giphy
Be they married in the first episode or on and off again for an insufferable amount of time (looking at you, Jeanine and Gregory in Abbott Elementry!), sitcom couples give us people to root for and fill our own hearts with hope.
So much so that we don't mind following the arc of their love stories over and over again.
And yes, the episode where David meets Patrick's parents remains a tearjerker, no matter how many times you watch it.
Phones are a blessing and a curse. Sure, the world is at our fingertips—but they can also get us into a lot of trouble. Take, for example, these phone moments gone horribly wrong. From disturbing, creepy calls to notifications that revealed dark secrets, these stories are enough to make us want to drop our phones in the toilet and then leave 'em there.
It's a small world, and nothing proves this more than when you randomly bump into a friend or someone else you know (or used to know) accidentally.
I've bumped into old friends at my local library, gym, and Starbucks. It's not all that strange, and if we used to be good friends, it's nice to catch up.
However, sometimes, we bump into friends in weird places or through some strange coincidence. I switched workplaces and apartments a few months ago. On my first day, when I took the train home, I bumped into a co-worker at my previous workplace.
We didn't know each other too well, but it turns out we live in the same neighborhood and take the same train home!
Redditors have some stories about randomly running into friends in weird places as well, and are ready to share.
It all started when Redditor Eshoosca asked:
"What was the weirdest place you bumped into a friend?"
Other Side Of The World
"I was on a train in the Beijing Metro. It pulled up to a stop and the door opened at a random station and a friend from the UK stepped on."
– Theduckbytheoboe
"And to state how even more impressive that is, Beijing metro system has 478 stations!"
– luketas
"Happened to my dad on the Great Wall, ran into a friend he hadn't seen in a decade. They were there with 2 different tour groups. He used to joke he never met a stranger but running into someone he knew on another continent was impressive even for him."
– misoranomegami
Saw It Happen
"Not me, but I witnessed it in one of the big lifts coming up from Russell Square station on the London Underground. Two Australians in their 60s or so; one was working as a professor, the other on holiday with his family. Hadn't seen each other in about 20 years from what I could gather, was so lovely to see!"
– arrowtotheaction
Bumped Into For A Drink
"I met a friend from Aberdeen, Scotland in a bar in Baku, the capital city of Azerbaijan."
– Mission_Progress_674
"I agree. People running into each other at airports or major tourists destinations is not so weird.. But this? Yeah."
– sterofGandalf
Getting In Trouble
"A coworker of mine here in Sweden told me she once had a boyfriend from the US who was here playing ice hockey. He only lived here for about a year. Almost 20 years later she was travelling in the US as a tourist, and somewhere in the endless corn field that is Illinois she got pulled over for speeding. Guess who the cop was that pulled her over?"
– Livid-Natural5874
Thinking Of You
"I was backpacking in Malaysia and met this cool english chick; we spent a week travelling together."
"3 years later, I had a layover at Changi airport. Singapore reminded me of her and I wondered what she was up to as I walked through the airport."
"I didn't have to wonder for long as she was a few gates down from me, waiting for a flight back to London."
– abe_froman_king_saus
That's Lunch
"During winter break I was coming home from snowboarding and stopped at a random McDonald's in the middle of nowhere. I'm waiting for my food and in walks 2 of my friends from college. I'm like an hour away from where I live and they're like 3 hours away from where they're from. Apparently they were seeing a football game and heading back and we all just happened to go to the same McDonald's in the middle of nowhere at the same time."
– pops992
From North Carolina
"My Dad and I went to play golf at a nice course in Ireland. Since it was just two of us, we were paired with 2 other random players."
"The 3rd was one of my Dad's former college roommates from the University of North Carolina (where I went as well) and the 4th was a similar aged guy who went to NC State."
"So we're in Ireland and all of the players were from the same part of North Carolina. Most bizarre coincidence of my life."
– councillleak
Kitty Reunion
"I went to visit my sister when she was living in Queens, NY. I hopped on the subway near her apartment and sat down next to the girl I had given away my cat to when I left college a few years earlier. It turned out she lived one stop away from my sister and they both worked in Times Square. I stopped by her apartment the next day to give my old cat a scratch."
– arothmanmusic
Nothing Like College
"I'm visiting a friend in the large freshman tower of her big school."
"We're in a tower of about 500 dorm rooms, chilling in her room and all of a sudden, my cousin busts through the door yelling "I.m so sorry, hey can I hide I'm running away from the security police…. Wait cuz! That's you!?!? What's up Jamie?!" We're like wait, how did you find us?"
"He had been in a field party, the cops came and sprayed tear gas to disperse, he stole the keg and put it in the back of his VW. He then drove to the freshmen towers, because he didn't have anywhere to sleep and thought he could sleep on the communal furniture. When he realizes there is security at the front he walks by them and they start to chase and then he is in a multi floor chase with them! On the like 10th floor, he just randomly had just tried any dorm door"
– Pawpaw-22
If Only He Knew
"My girlfriend wants to take me to a burlesque show. I know two girls from high school that are involved in stuff like that. Names are passed along, no match, we're good. We get there and I've just sat down when one of the girls comes up behind me and says "Oh my god! Fox, is that you?""
"Apparently I know at least three girls from high school involved in stuff like that..."
– FoxtrotSierraTango
Yikes!
"Was a stripper. Weirdest moment was when my dad walked into the bar I was dancing at…"
"Told him he had to leave and he did"
– Fragrant_Jelly9198
Comment In Passing
"My wife and had only been married a couple of years in 1989 and went on vacation the same week my Dad went on honeymoon with his third wife. He lived in Tennessee and we lived in Florida. He was going to Virginia and we were staying in the mountains in West Virginia. None of us had cell phones in those days, but we joked before we all left that we should meet up since we'd be a lot closer than normal. On a whim my wife and I decided to go to Washington DC for the day and we ran into them at the Capitol."
– DistantKarma
Where Are They Now?
"Not a friend per se... I went to a drama/dance camp when I was 13ish. It was a lot of fun, and one of the camp leaders was a regional actor. This camp was about 2 hours from my hometown. Fast forward over 10 years later, I'm in a completely different city (90 min in another direction), taking an elevator in my work building. On steps this guy...dressed as a clown, carrying balloons. I'd recognize him anywhere. I got to tell him how much that camp meant to me, and it seemed to make his day. Until..."
"Him: "So what do you do now?""
"Me: "I'm an accountant.""

"He seemed disappointed LOL""
– Roopie1023
"He was disappointed in you for being an accountant? What a clown!"

– Superfly_1963
You Are Where I Am
"I don't know about weird, but me and my one friend have bumped into each other several times completely by random and we live nowhere near each other. One time we were both driving on the highway and came to a light, looked at each other at the same time and were both surprised. Another time was in the middle of Manhattan walking on the sidewalk through thick crowds. We literally bumped into each other."
– DisThrowaway5768
Fated To Be Friends
"Met a guy at the Mexico City airport in 2017, Paul. He's from Spain, I'm from Texas but living in Guatemala. We're both just at a layover, we smoke a cig or two together and chitchat about music and whatnot."
"Fast forward to 2019 (pre pandemic), met him again at Pacifica Sole (a beach resort in Guatemala). Totally random."

"Fast forward AGAIN to 2022. He was staying at the same hotel in Aruba with his new wife. We exchanged numbers finally cause at that point it was just weird..."
"Sh*t, he's probably reading this... hey Paul!"
– GladCricket
I want to meet a fated friend!
Do you have any similar stories to share? Let us know in the comments below.
Every now and again, we can't help but make an "impulse purchase."
When we see something in a store window, in a catalog, or while surfing online, and think to ourselves, "I must have that!"
Then we waste no time in buying it.
Even if it was more money than we likely wanted to spend.
Of course, down the line, we might realize that doing so probably wasn't the best idea.
Be it an item of clothing that doesn't fit, a gadget that doesn't work, or something that just wasn't at all what it appeared to be, we find ourselves wishing more than anything that we didn't make this purchase.
Or at least kept the receipt.
Redditor CelineC6622 was curious to hear about all the purchases the Reddit community deeply regretted making, leading them to ask:
"What's the most regrettable purchase you've ever made?"
Anything But Luxurious
"When I was in my early 20's bought a used BMW with 80k miles."
"Everything in that car was crazy expensive to fix."
"Had it for a 1.5 years before I sold it."
"The amount of money I spend on buying+fixing that car I could have bought I brand new BMW."
"Learned my lesson, never buy used luxury cars."- Steve83725
And So Began A Habit They'd Do Anything To Break...
"That first pack of cigarettes."
"Should have never started."- xipisiw577
...BWAHAHAHAHAHAHAHAHA...
"A $300 pogo stick."
"I still don't know what the f*ck I was thinking when I ordered that thing."- xayep54838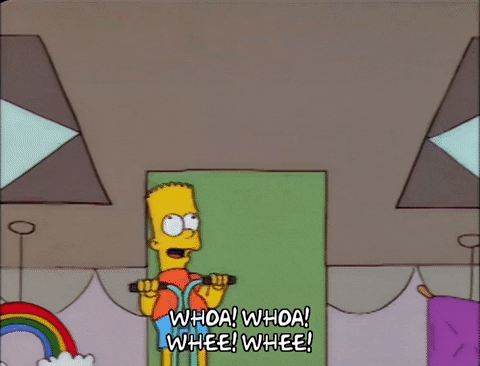 bart simpson pogo stick GIF
Giphy
You'd Think Science Lovers Would Have Been More Meticulous...
"A shower curtain with the periodic table."
"We couldn't find it here in Denmark so I had to order it from the US which meant a huge shipping fee."
"Then there was added a custums fee making the total price almost $100."
"All of this would not have been so bad if not for the fact that we forgot to check the measurements, as it turned out to be only 180 cm long leaving a big gap at the bottom where water would splash through making the floor soaking wet."- xipisiw577
Not As Advertised
"A remote control car I begged and saved for when I was 9."
"It was terrible and I still haven't got over the disappointment 30 odd years later."- thencamethethunder
Way To Soon...
"I bought a planner in January 2020."- Dear-Original-675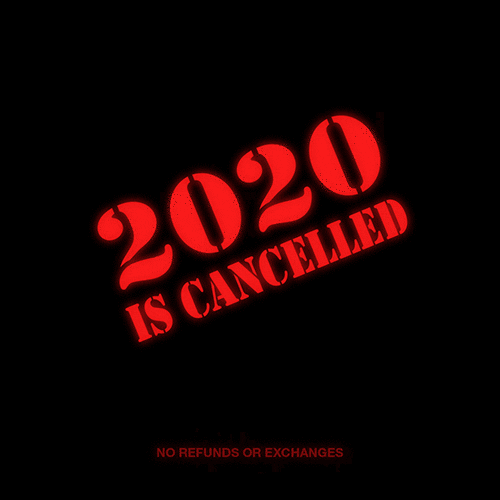 Typography No Refunds GIF by Abel M'Vada
Giphy
Oof...
"2 engagement and wedding rings."- Tawebuse
Planning Ahead Doesn't Always Pay Off
"I was engaged for a little over a year, and since she didn't want to be on the pill, we used condoms."
"One time we ran out, and I bought a great big box of new ones, different flavors and ribbings and what not."
"Then the relationship ended, and I could feel the box lying there in my drawer, mocking me, almost untouched."-nadoba1473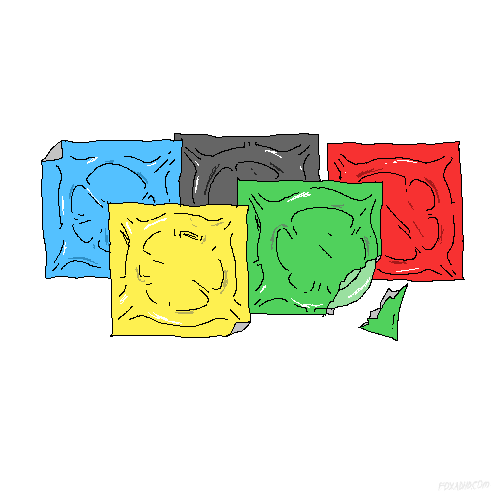 winter olympics lol GIF by Animation Domination High-Def
Giphy
Good For One Good Ride?
"Gotrax scooter."
"That company is a joke."
"Their products' life cycle is measured in weeks before your scooter is a piece of plastic going to the landfill."
"I tried going through their customer service for repair parts and got some covered by warranty, only to have those parts break after a few days of light use."
"Even worse, when I asked for a tracking number for the parts, their CSR emailed me a spreadsheet of EVERY part order they had that day, complete with names, addresses, emails, telephone numbers."
"Only thing missing was the CC numbers."- AdWonderful5920
Hopefully They At Least Look Nice
"I bought some running shoes, I enjoy sitting down."- kenow18890
Timing Is Everything
"I bought a KIA two months before the Kiaboyz TikTok challenge went viral."
"Of course some teens tried to steal my car causing $2,500 worth of damage to my ignition and steering column."- Aldous_Hoaxley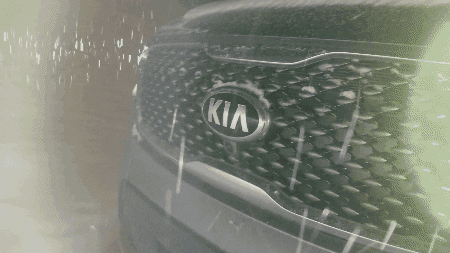 car driving GIF by A Magical Mess
Giphy
Planning Ahead To The Max...
"A grave for me besides my father's grave."
"Bought it for $6.000 +- it was bad because there was a monthly fee $40 +- , after 5 years paying that fee I've had enough so I decided to sell my grave."
"Then i couldn't sell due to one contract clause wich gives the cemetery practically all the selling money."
"As i result i had to return the grave to the cemetery for nothing."
"Good for them , stupid me lost all that money."- Icy_Cow4578
No Golden Ticket Either...
"When I was about three years old, I was with my family in a store that sold trading cards."
"There were a lot of packs of cards everywhere with different colors and pictures on them."
"All fairly standard trading card size."
"But then there was this one package that was definitely not a pack of cards."
"It was a candy bar."
"I could tell because it was extra long and shaped exactly like a candy bar."
"I asked my parents to buy it, but they didn't want to."
"They asked why I wanted these cards so bad and I explained that they weren't cards, but a candy bar."
"I essentially threw a fit until they decided it was just be easier to buy it for me."

"And then with some help, I opened my first and only ever pack of NASCAR trading cards."
"Definitely not a candy bar."
"I was inconsolable at the time, and still think about it to this day."- BillionaireGhost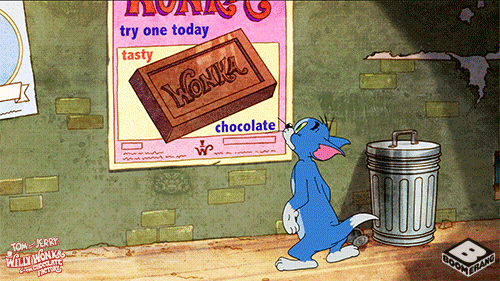 tom and jerry eating GIF by Boomerang Official
Giphy
Advertising can be very persuasive, and sometimes all it takes is looking at a picture to make us think we positively need to have something.
Once we unwrap this, possibly expensive, impulse buy though, we are reminded that imagination and fantasy is always more appealing than reality.
Oh, the conversations that can be overheard in small spaces.
It feels like people have given up the will to care about who is listening.
Kids, parents, strangers, priests... we're all fair game.
But hearing drama on a plane can make you feel the most claustrophobic.
And those are the conversations you write down and write plays about.
People just can't help themselves in the air.
Redditor TheRealWhoDat wanted to hear about all the drama overheard in-flight, so they asked:
"What's the craziest thing you've overheard on a plane?"
Planes, trains, automobiles... stuck in any conversation in a small space can drive anyone overboard.
Pull Over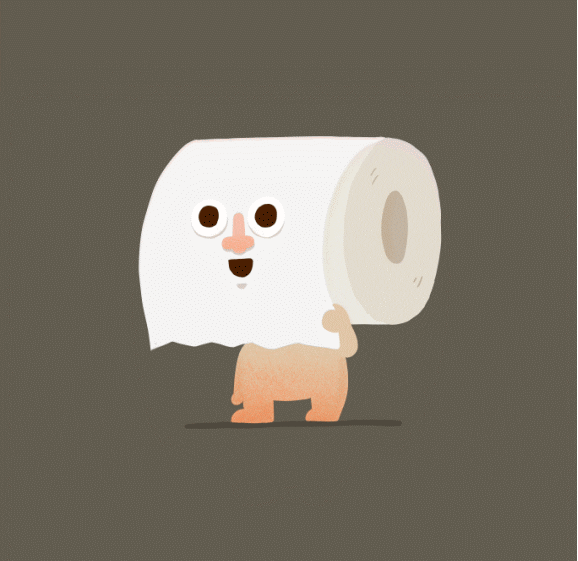 toilet paper lol GIF by xxiyaa
Giphy
"A 5-year-old boy once said 'Dad, can you ask them to pull over so I can go to the toilet? Haha."
RonnyLuvsU
Sweetie...
"There was this kid behind me that kept telling her dad she lost her tooth and the dad was disgruntledly trying to find it, and some guy nearby said 'Hey kid, I hear if you lose your tooth on a plane, the tooth fairy gives you 50 bucks' to which the dad replied, 'Hey look, sweetie, the tooth fairy decided to sit next to us on the plane!'"
monkeysolo69420
POOP
"Everyone is boarded and the plane is in the middle of the taxi when a kid about 10 seats up and on the left side (I was on the right side) starts crying and screaming at the top of his lungs 'I NEED TO POOP' and 'I'M GOING TO POOP' over and over again until the seatbelt signs came off. I've never seen so many worried faces and the look of panic as the mother picked up the kid and bolted to the toilet."
cmcorms
Dishelved
"I am a pilot for a major airline. Decades ago I was running for a deadhead flight home and managed to snag the last seat. A mother and young daughter were seated next to me. Halfway through the flight the mother, seeing my disheveled look after flying all day, asked if I wanted her daughter's PB&J sandwich that she wasn't going to eat. I politely declined, but she insisted. That was the best Peanut Butter and Jelly sandwich I'd ever had!"
Delicious_Ad8201
Gaslighting
"The lady beside me told me that she was farting a lot, and she didn't care about telling me because she wouldn't see me again."
Pawpaw-22
Is a little social grace too much to ask?
Gotcha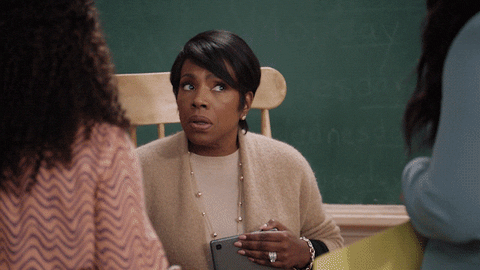 Elementary School What GIF by ABC Network
Giphy
"A guy coming home early to bust a cheating wife. He was on the phone with a friend/family who told him the other guy was at his house and they didn't expect him back until the next week."
mauore11
Fiji
"Ladies and gentlemen, we've been facing some strong headwinds and... it appears we burned up a little more fuel than we anticipated so we will be making a diversion to Fiji."
"This was flying from the US to Australia in a 747. I had seen on the trip map that we had been flying in the wrong direction for like 2+ hours."
"When we did land we landed hard and they told us that because of the landing we had to sit on the ground with the engines off in Fiji in the summer while technicians looked at the plane."
"When we were airborne again, our destination was fogged out and we diverted from Sydney to Melbourne. I don't ever want to spend 26 hours on a plane again."
thrax_mador
Up in the Air
"I was flying to Seattle from Atlanta and there was a baby crying for the majority of the flight. The parents were doing their best and it really was not their fault, just a shi**y situation. About halfway to Seattle, the man seated in front of the baby snapped and started screaming at the baby and his parents, cursing at them saying how they're awful parents... when they land."
"The pilot had to come on and tell everyone to calm down, or else we had to make an early landing. We made it to Seattle and the guy ended up having to be tackled by 4 cops at the gate because he was trying to run away after being approached by them."
_surya_p_
TMI
"I was sitting next to a dad and his daughter who was about 5. He was super cool and was chatting away while his daughter started talking to me. She was so sweet and bubbly. And gave wayyy too much information to me. She said something along the lines of 'I went to my grandma and grandpa's house and they're married, I wish my dad would marry my mom but they can't talk to each other but I always wish they were married like my grandma, and grandpa.' Her dad would have been horrified. And I was just sad."
lpcoolj1
Conversion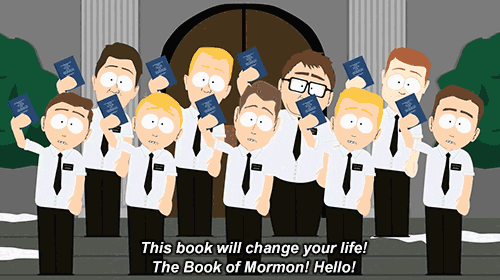 south park hello GIF by The Book of Mormon (Musical)
Giphy
"Two Mormon missionaries trying to convert the sweet, naive man sitting between them the entire flight."
floweringsouls
This is why I never leave home without headphones and music.
Appropriate conversation is dead.