People Share Their All-Time Favorite TV Sitcom Couples
Among the many reasons people watch, and rewatch, sitcoms is to imagine your life was more like the one you were watching.
Being able to afford a two-bedroom apartment in Greenwich Village on a line cook's salary, somehow always having the comfortable sofa available at your favorite coffee shop whenever you pop in, or having your best friends always available at your beck and call whenever you need them.
For the romantics, however, it's wishing you could have a romance like you've seen on television.
True not all sitcom romances are exactly the sort that makes you go all aflutter (Were Ross and Rachel actually on a break? And don't even get me started about Ted and Robin.)
Other sitcom couples are so captivating, though, that we would have given anything to be at their wedding... or at the very least go to their home for dinner every Friday.
And this includes plutonic couples, as there is nothing more heartwarming than a lasting friendship.
---
Redditor kea32 was curious to hear who people considered the best sitcom couples, both romantic and plutonic, of all time, leading them to ask:
"What is the best couple in sitcom history?"
Creating An Even More Welcoming Community
"Troy and Abed. A couple of friends."- aghzombies
"They did grace the cover of Best Friends Weekly."- DwightsEgo
Sorry Amy...
"Peralta and Doug Judy."- DavosLostFingers
"Reunited and it feels so good 🎶."- Ghostenx
"PSYCH"!... No, Seriously...
"Shawn Spencer and Burton Guster."- dazedcap
"'I'm Black, he's Tan'."- CrueGuyRob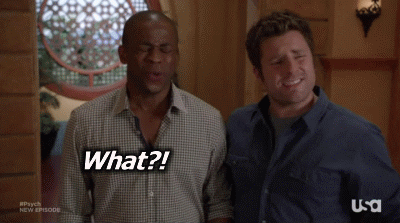 Shawn Spencer What GIF
Giphy
"Snap, Snap."

"The correct answer is Gomez and Morticia Addams."- Reddit
"They loved each other dearly. "
"They were completely enamored with each other, spent time with their kids, their family."
"Accepted everyone as they were."
"It wasn't til I was an adult That I realized married couples weren't meant to hate each other."
"My mother had many partners in my childhood, she's toxic and things were always chaotic."
"And watching 90s sitcoms, I thought married people were meant to hate each other, and I always wondered what the point was."- MissMurder8666
Overshadowed By Their Middle Child...
"Hal and Lois."- MrRocketman999
"As a husband, I don't think I can live up to Hal."
"He sort of sets a really high standard lol."
"He loves her like they are still in the honeymoon phase."
"So infatuated with her lol."- treathugger
A Better Couple? Many Would Say, "Knope"...
"Ben and Leslie."
"I' love you and I like you.'"
"Simple line, yet so powerful."- Radkeyoo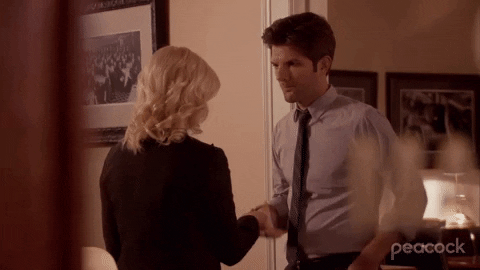 Amy Poehler Ben GIF by Parks and Recreation
Giphy
"Gruesome", But Adorable
"Frank and Charlie from Always Sunny in Philadelphia."
"The gruesome twosome."- Herr_Poopypants
The Parents Everyone Wished Were Theirs...

"Bob and Linda from 'Bobs burgers'."- shashybaws
"All of the Belchers have such great relationships with each other. "
"They're wholly accepting and supportive (even if they disagree)."
"They really love each other, and it shows."- SummerOfMayhem
UK Version Only, Of Course...
"Moss and Roy (The IT Crowd)."- pentapotamia
"'I'm your wife, Roy!'"- Summerof5ft6andahalf
"'If anything, I'm the husband!'"- pentapotamia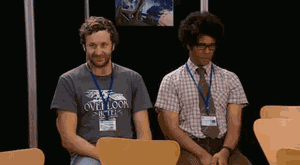 it crowd chris odowd GIF
Giphy
Afterlife Be Damned... Or not, Actually...

"Eleanor and Chidi from 'The Good Place.'"
"How can you beat two deeply flawed people who together make each other better over and over again?"- hotbimess
Ruining All Food For Viewers, One Food Group At A Time...
"The only correct answer is - Scully and Hitchcock."- Prestigious-Net-2236
"Back off! It's our microwave! Ours! GRRRRRRR!"- Lvcivs2311
Nostalgic And Wonderful
"Kitty and Red from That 70s/90s Show."- saginator5000
"I like how Red on the surface seems like a mean parent who doesn't let his kids have fun."
"But he's watching out for his kids."
"And he's a good man."
"He has a hard and stressful time supporting his family and he is grumpy sometimes but he would do anything for his family and he really loves them."
"What he does for Hyde is amazing."
"He just doesn't put up with BS."- themanfromvulcan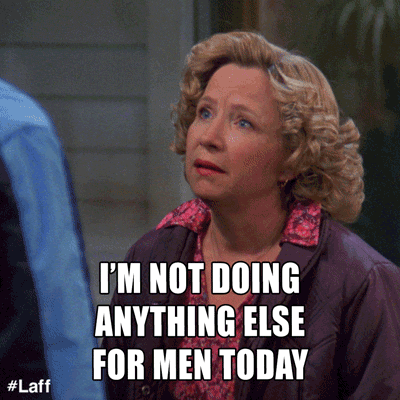 Mothers Day Woman GIF by Laff
Giphy
It Seems Everyone Is Better With Turk At Their Side
"Turk and Carla."
"Or Turk and JD. (Scrubs)."- JCBAwesomist
"Turk and JD all the way."- nunyabidnez76
Can't We Get Back What We Once Had?...
"Homer and Marge had a lot of beautiful moments back in the older seasons."
"Sadly, seasonal rot has ruined a lot of that."
"I miss a lot of how the characters used to be."
"Like, Homer was an oaf and a brute, but he loved his family immensely and deeply and would (and DID) do any and everything for them."
"He'd catch details like in that episode about the streetcar play that you wouldn't think he would."
"He gave up beer for a month for Marge and we got to see that, for him, it wasn't just a minor thing."
'Lisa might have been intelligent but she not only had ample 'dumb/shallow' moments, she also was very close to Bart and, likewise, Bart was close to her."
"He might struggle in school but he also showed he wasn't dumb either."- Snowtwo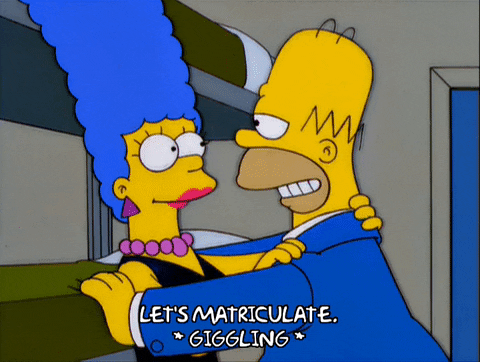 homer simpson love GIF
Giphy
Be they married in the first episode or on and off again for an insufferable amount of time (looking at you, Jeanine and Gregory in Abbott Elementry!), sitcom couples give us people to root for and fill our own hearts with hope.
So much so that we don't mind following the arc of their love stories over and over again.
And yes, the episode where David meets Patrick's parents remains a tearjerker, no matter how many times you watch it.
Reddit user hamsterdumbster asked: 'What screams "single male lives here"?'
Whether we realize it or not, we have certain "tells" that will signal to other people what life is like at home, whether we're hard workers or parents or travelers.
Even single men, despite their age, have certain characteristics that can be spotted from a mile away.
Curious, Redditor hamsterdumpster asked:
"What screams 'single male lives here'?"
Questionable Decor
"Anything but a curtain acting as a curtain."
- Some-Nice-Basil
Minimalist By Nature
"When I first heard the description of a minimalist I was confused because as a single male, I had been living like that for years..."
- jnd_photography
A Glimpse into the Bathroom
"Three empty bottles of head and shoulders still in the shower, prob another bottle half full with tons of excess shampoo dried all around the outside."
"A small pile of leftover Irish spring soap bars maybe we can smash 'em together and make a full bar one day."
- Omnivore_Omri_23
Very Elaborate
"There's just a mattress on the floor in the bedroom."
- gambito705
Bottle Collections
"Empty liquor bottles lined up as decor."
- miranda_alexis
No Place for the Garbage
"There's no trash can in the bathroom."
- Iilsmokey
Key Characteristics
"Empty fridge except for a random beer and leftovers. White plastic chair. Everything black...black couch, black picture frames, black desk. Etc."
- elvishranger
Central TV
"A really big single-seat recliner in front of a massive TV with game consoles under it. Not that there's anything wrong with gaming, but there's a certain level of being committed to staying single when you have just one chair in your loungeroom, lol (laughing out loud)."
- Totallycasual
Shaving Day
"Stubble in the sink."
- Ok_Wave_7358
"And behind the sink faucets."
- Urrrsagrrl
National Pride
"A random flag hanging on the living room wall."
- bucktop
New Standard in Bedding Sets
"Using tee shirts as pillowcases. Lol (laughing out loud)."
- Ok-Mood9454
"Can confirm, have done this. They're about the same size and sometimes I can't (be bothered to) find a pillowcase."
- whyamionfireagain
Stereotypical Decor
"According to 90's romcom/sitcoms: Lava lamp and a beanbag chair."
- sorentomaxx
"Can confirm: I love lava lamps."
- ithinkoutloudtoo
External Closet
"Speaking from experience. I got tired of having a floordrobe so I got an absolutely giant clothes drying rack where all of my clean clothes go."
- Bribase
"'This pile is clean, that pile is dirty.'"
- GSturges
"'...That pile is dirty but wearable.'"
- wageslave645
The Single Man Starter Pack
"Bare white walls or a s**tty poster on them... A large TV with no furniture other than a futon serving double duty as a bed... Beer everywhere, even on the ceiling."
- Barmacist
Enough Said
"All of the pizza boxes."
- somedream
"I called it the leaning tower of pizza."
- TheMohawkMan
While there's nothing wrong with being single, a guy should be mindful of what he keeps in his home, how he behaves, and even how his clothes appear, if he for some reason doesn't want to disclose to others that he's single or living alone.
Thoreau may have said that "Wealth is the ability to fully experience life", but what he should have added is that it is also the ability to fully experience the crazy. From mind-blowing bridezillas to caviar-eating kids, these shocking Reddit stories reveal how the ultra rich really are different from the rest of us. And not in a good way.
When horrible bosses cross the line, they leave their employees no other choice but to get even.
These Redditors tell their stories of times when work became so frustrating, they couldn't help but enact vengeance on the other people in the company. In some cases, the revenge was tame; in others, things got messy.
We've all lied, or been lied to at least once in our lives.
Some lies are easy to spot, right from the get-go, while others might have you fooled for years, if not your entire life.
Then there are the lies that made international headlines, and had the world fooled for years.
From Anna Anderson fooling the world that she was the Grand Duchess Anastasia Romanoff, to Mill Vanilli (need I say more?), some people were so convincing with their deception, that we are still kicking ourselves for being fooled.
Indeed, there are some who may have died peacefully knowing they had everyone fooled till the end of their life.
Redditor clueless-game was eager to hear what the Reddit community considered the greatest lie ever told, leading them to ask:
"What is the most successful lie in the history?"
"Honesty Is The Best Policy"... Or Is It?
"If you tell the truth you won't be in trouble'."
"Yeah mom, I fell for that a few times and learned that lesson quickly."- glucoseintolerant
Always One Step Ahead...
"During WW2 the British put faked documents on a corpse and dropped the body in the waters to be found by the Axis."
"It detailed an attack that never happened."
"Here's the best part."
"The plans for D-Day were found in a similar manner."
"The actual plans."
"But they were ignored cause the nazi leaders thought it was just another ruse."- Happy-Personality-23
We Can All See More Clearly Now...
"One of the most impressive ones was when Great Britain convinced everyone during WWII that carrots were the reason why their vision was great when it was really the recently discovered airborne interception radar technologies."
"I still know people that are convinced eating carrots as kids will ensure 20/20 vision for life."- KickArseDuke·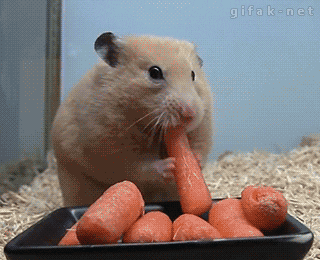 hamster GIF
Giphy
The King Of All Lies
"The lie that made a man the ruler of a third or quarter of humankind."
"Darius the Great (r. 522–486 BC) governed the Achaemenid Empire at its peak."
"His rule extended from the Indus valley to mainland Greece and from the Scythian steppes to Egypt."
"A remarkably high and possibly unparalleled percentage of the world population were his subjects."
"Darius reorganized the satrapies, which made the administrative system of his empire more efficient, and introduced major financial reforms as well."
"It was never a secret that Darius became the King of Kings after a successful coup."
"He and a small group of other aristocrats (primary sources refer to seven men in total) infiltrated the residence of the previous ruler and killed him after a brief clash with his guards."
"Shortly afterwards, Darius, who was also a member of the royal house, emerged as the leader of the conspirators and assumed full power."
"So far so good."
"Things become strange when it comes to the identity of Darius' predecessor."
"As far as the primary sources are concerned, Cyrus the Great (r. 559–530 BC) had two sons: Cambyses (r. 530–522 BC) and Bardiya."
"The former succeeded him as King of Kings, while the latter was given governorship over the eastern provinces."
"Fearful of opposition, Cambyses had his brother assassinated, but kept it a secret."
"Then he undertook the campaign that ended up bringing Egypt into the Persian fold."
"While Cambyses was in Egypt, he started acting cruelly and erratically: suspected everyone, disrespected the local traditions and the sort."
"Then a rebellion broke out back in Persia led by a magus (Zoroastrian priest) named Gaumata."
"The man claimed to be Bardiya, and the people, ignorant of the latter's death, flocked to his banner."
"It also helped that he took short-term populist measures such as tax cuts."
"Cambyses rushed home to quell the revolt, but died on the journey."
"His death was listed as an accident or even a suicide out of desperation for the usurpation."
"Gaumata got to rule as Bardiya and even took over the latter's harem."
"Almost nobody suspected he was an impostor, because on top of everything else he also bore an uncanny physical resemblance to the dead prince."
"The first man to suspect something was off was a nobleman named Otanes, who would later become one of Darius' six companions."
"Otanes knew about Gaumata's existence and was also aware that at some point his ears had been cut off as a punishment."
"So he asked his daughter, who was Bardiya's (and now Gaumata's) wife, to check his ears while he slept."
"The truth was brought to the light."
"Needless to say, the story was very convenient for Darius."
"By killing Gaumata, he saved the empire from a fraudulent, cunning and ruthless liar who had gone as far as to assume a dead man's identity and risk civil war in order to take the throne for himself."
"Darius simply punished him for his crimes and reinstated the royal office to the house it belonged to: the Achaemenid dynasty."
"But what if the whole story was a lie?"
"What if there was no Gaumata, and the man Darius killed was the real Bardiya?"
"Indeed, scholars have noticed a lot of problems with the traditional narrative, apart from its convenience."
"How could the real Bardiya's death be kept secret for so long from everyone except a simple magus — and what for?"
"How likely is it that Bardiya had a doppelganger who had also the knowledge, courage and brains necessary to take his place at the right moment?"
"And how is it possible that not even Bardiya's wives and inner circle were able to see through Gaumata's lies?"
'Some scholars go as far as to suspect that Cambyses' madness might have been the product of Darius' propaganda."
"Herodotus, for example, narrates that the King looted Egyptian temples, insulted the local gods and even killed the sacred bull Apis."
"The problem is, none of that appears in any contemporary Egyptian source — in fact, there are inscriptions showing that Cambyses honored the bull that died in 524 BC with a rich sarcophagus."
"If things were so, it cannot be excluded that Cambyses was also assassinated by Darius, who we know served as his spear-bearer."
"His death might have prompted his brother Bardiya to take power, since Cambyses was childless."
"Darius proceeded to eliminate him too and then created the lie about Gaumata."
"Of course, it cannot be excluded that Bardiya did indeed rebel against Cambyses — that doesn't change the crux of the matter, which is the story about Gaumata."
"So there you have it."
"One of the most powerful monarchs of antiquity and a possible lie that went unquestioned for millennia by almost everyone."- bradlux01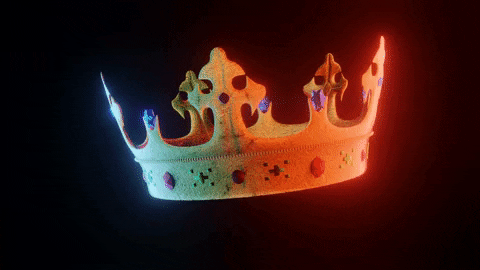 Gold Crown King GIF by SureYeah
Giphy
Or The Fact That Wrestling Is Scripted Entertainment...
"Maybe in the old days, but there was a time I used to believe without a doubt, that Undertaker and Kane were brothers, and Kane wore a mask because Undertaker threw acid on his face out of animosity."- ufc_007
Added To Prolong Your Agony...
"'Please listen carefully as our menu items have recently changed'."- Raspberries-Are-Evil
All In Moderation
"'Fat will make you fat'."
'Eating that full of sugar premade meal won't'."- Rhaenelys
No Doubt Some Actually Do
"'I acknowledge that I have read and agree to the above Terms and Conditions'."- K333N4N
It's An Ongoing Search
"We don't know the most successful lie because it's a lie we don't know of yet."- lolhappypoo
You Wonder How They Got Their Names...
"Iceland and Greenland."- SuvenPan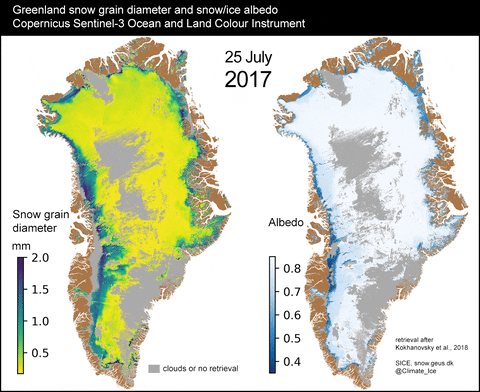 Giphy
Strange How This Was Also The Case Yesterday...
"'We are experiencing higher than normal call volume'."
"'Your call is very important to us'."
"Every. single. customer service line."- depikT
Name Brand Isn't Everything...
"Just get good marks in high school."
"Once you go to a top tier college, your life is practically set and sorted."- from_my_future
Beauty Does, Indeed, Come From Within...
"'You are not beautiful'."
"'But you could be with this product'." Reddit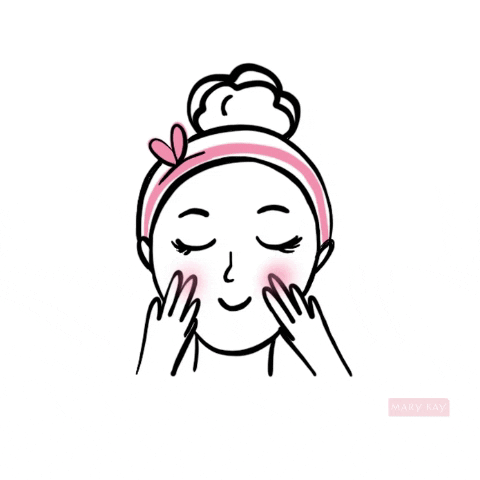 Skin Care Pink GIF by Mary Kay, Inc.
Giphy
It's highly debatable whether or not there is, in fact, such a thing as a "good lie".
Even so, a lie that has the whole world fooled for any stretch of time deserves a commendation of some sort or another.