Actor Patrick Stewart will be reprising his role of Jean Luc Picard, the captain of the starship USS Enterprise-D, in his own series.
The title of Star Trek: Picard, was announced in October 2018 and fans have been chomping at the bit for more details ever since.
---
But finally, Trekkies or Trekkers, depending on when you joined the fandom, are getting a sneak peek of the highly anticipated series, courtesy of "leaked" set photos.

David Nevins, orginally from Showtime, represented CBS as its chief creative officer for Wednesday's upfronts—the gathering in which television networks woo advertisers to buy commercial airtime "up front" or before the start of a TV season.

David Nevins, who used to run only Showtime, on the #upfronts stage for the first time as chief creative officer fo… https://t.co/FcgVcvZekO

— Kate Aurthur (@Kate Aurthur)1557951282.0
During his presentation, he teased the audience with a clip of Stewart as Picard from the set of his new series.
If you want to brush up on all things Picard, Star Trek: The Next Generation complete series is available here.
A photo from that moment made the rounds on Twitter and got fans theorizing on what might be happening in the scene.
A teeny look at the #StarTrek #Picard show coming to @CBSAllAccess. #Upfronts https://t.co/1uiUkPi81r

— Kate Aurthur (@Kate Aurthur)1557951718.0
The tweeted photo did not leave much to go on, but people shared their thoughts on Stewart's costume and the curious yellow shoulder next to him.
@KateAurthur @CBSAllAccess Those uniforms!

— Carlos Guido (@Carlos Guido)1557952061.0
@carlosguidog @KateAurthur @CBSAllAccess it looks like a DS9/Voy uniform with a built in collar...or possibly a cadet's uniform.

— Darly Tee (@Darly Tee)1557953493.0
@TeeDarly @carlosguidog @KateAurthur @CBSAllAccess I'm hoping cadet. I hope they don't go back to the DS9/VGR style… https://t.co/8JPyd5FTOl

— Chadwick Adams (@Chadwick Adams)1557954855.0
@ChadwickAdams83 @carlosguidog @KateAurthur @CBSAllAccess On the other side, Picard is not wearing any kind of unif… https://t.co/64GUSpMmAq

— Darly Tee (@Darly Tee)1557955152.0
Pittsburgh Post-Gazette TV critic Rob Owen shared his observation.
Hmmm @CBS upfront had a clip (or probably something made just for upfront) of "Star Trek: Picard" (what they called… https://t.co/Yg73MHudeo

— Rob Owen (@Rob Owen)1557951766.0
The single photo sparked many thoughts and comments on the thread, and more speculation is expected.
@larrynemecek @KateAurthur I wonder how many times this picture will be analyzed?

— Barnabus O. Scott (@Barnabus O. Scott)1557960256.0
@TeeDarly @ChadwickAdams83 @carlosguidog @KateAurthur @CBSAllAccess Well in universe in the year this is set he's 9… https://t.co/5G8yoe1EUT

— Chimo (@Chimo)1557957024.0
An additional photo piqued fans' interest on the internet. This time, the stealth shot was captured by attendees at a business conference in Anaheim, CA.
In the top left quadrant of the group of photos from the tweet below, Stewart can be seen in his character's uniform from the set of Star Trek: Picard.
Could you make out what might be happening?

While at #BPANLC2019 in Anaheim, Calif., Team TestOut happened to beam up some photos of production on the new… https://t.co/5a0Jrzku12

— TestOut Corporation (@TestOut Corporation)1556816207.0
While it is difficult to point out any significant details for Star Trek fans, Newsweek noted that eagle-eyed fans on a Star Trek subreddit pointed out that the missing rank pips at the collars of some of the costumes indicate that the people in the scene are cadets as opposed to Starfleet veterans.
Fans assumed the series will focus on Picard inspiring a new team of leaders as an instructor at Starfleet Academy.
@KateAurthur @CBSAllAccess God help me that I'm this excited by a yellow shoulder. MUST SEE THE UNIFORM!!!

— Dan Gunther (@Dan Gunther)1557953897.0
CBS is skimping on plot points, but fans could enjoy this lovely new graphic and logo.
#StarTrek: Picard will stream exclusively on @CBSAllAccess in the United States, on Amazon #PrimeVideo in more than… https://t.co/GSevJ81fR3

— Star Trek (@Star Trek)1557955813.0
Stewart finished his TV journey as Picard when Star Trek: The Next Generation wrapped up with the final airing on May 23, 1994.

However, he did make appearances in the feature films, Star Trek Generations (1994), Star Trek: First Contact (1996), Star Trek: Insurrection (1998), and Star Trek: Nemesis (2002)—which marked his last turn as the character.
Little did fans know it they would not see the last of Picard.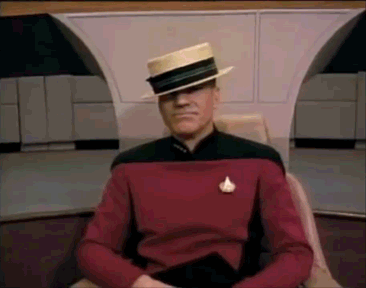 GIPHY
Stewart is also serving as an executive producer along with Alex Kurtzman, the creator of Star Trek: Discovery. Pulitzer Prize-winning author Michael Chabon will serve as executive producer and writer for the new series.

The show's premise remains unknown, but CNET did confirm Picard will take place in 2399, two decades after the events of Star Trek: Nemesis.

Star Trek: Picard will be available to stream on CBS All Access at the end of the year.